Alabama Football: Power Ranking the Top 10 Offensive Players of the Saban Era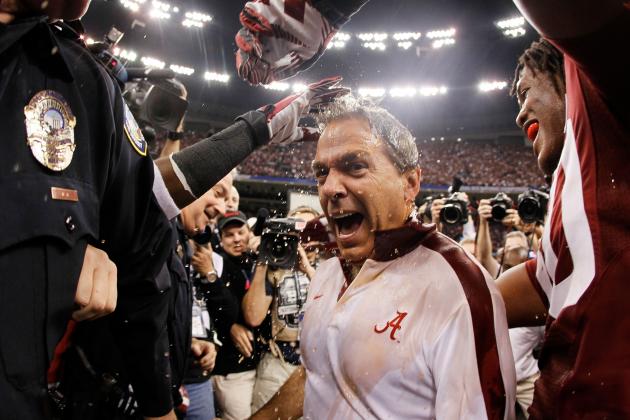 Kevin C. Cox/Getty Images

The Nick Saban era at Alabama has been quite impressive to say the least. Saban has produced an amazing 68 wins opposed by only 13 losses, including three BCS national championships and an SEC title as well.
The Tide has not seen a stretch of success this prosperous since the days of Bear Bryant and all indications are that the end of this glory is nowhere in sight.
One of the sidebars to this story is the endless list of superstar players that have helped to lead Alabama during these last seven seasons.
The Tide is placing more players in the NFL more regularly than ever before and every recruiting class seems to bring in even better talent than the prior class.
Trying to create a top 10 list of the best offensive players of the Saban era is not as easy as one might think. Every season, the Alabama record books are being rewritten and new stars emerge on the national stage.
Here is our list of the top 10 offensive players of the Saban era. Please keep in mind that career success was placed at a premium in creating this list and valued greater than single-season marks.
Feel free to comment at the end and add your own favorites.
Begin Slideshow

»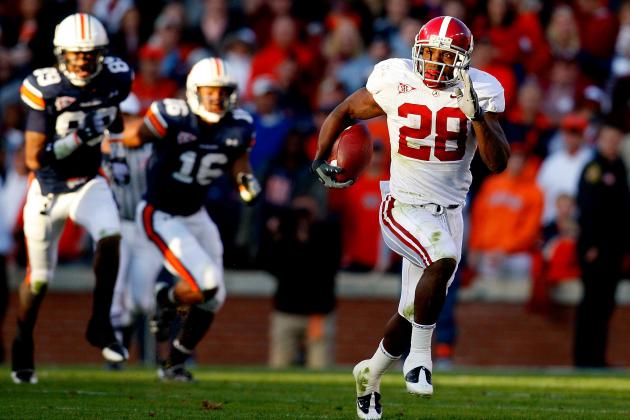 Kevin C. Cox/Getty Images

Although Javier Arenas spent most of his time in a Tide uniform playing in the defensive secondary, the Alabama speedster was one of Alabama's biggest offensive threats via his amazing ability to return kicks.
From 2007-2009, Arenas returned 72 kickoffs for Alabama, totalling 1,822 yards,
He was even better as a punt returner, gaining 1,467 yards and scoring five touchdowns for the Tide. He finished in the top 10 nationally in yards per return in all three years and led the nation in 2008 with three touchdowns.
In all, Arenas tallied just under 3,300 yards in three seasons under Saban on special teams alone.
Arenas has spent the last three years as a defensive back and punt returner for the Kansas City Chiefs.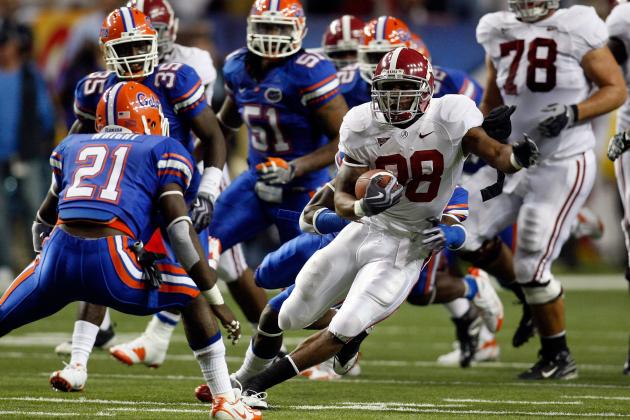 Chris Graythen/Getty Images

Running back Glen Coffee played just two seasons under Saban.
After running for 545 yards and four touchdowns in 2007, Coffee became the feature back in 2008. As the leader of the ground attack, Coffee ran for 1,383 yards and 10 touchdowns while averaging over 5.9 yards per carry.
With help from Coffee, the Tide beat LSU 27-21 in 2008, thrusting them into the SEC Championship Game with Florida. Against the Tigers, Coffee ran for 126 yards and a touchdown on 26 carries.
He finished that campaign second only to Georgia's Knowshon Moreno in rushing for SEC ball-carriers.
After a successful rookie season in the NFL with San Francisco, Coffee walked away from football, citing that his hear just wasn't in it.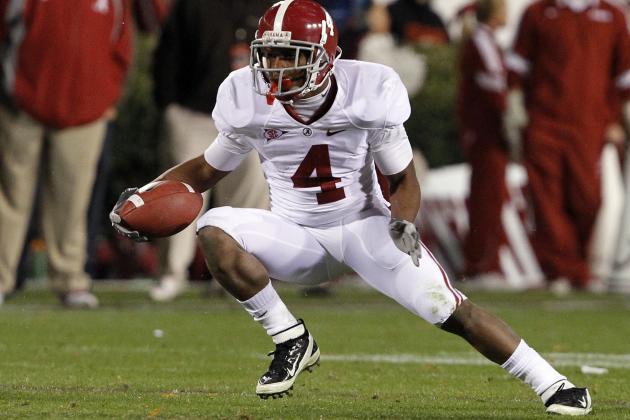 Butch Dill/Getty Images

In four seasons under Saban, Marquis Maze caught 136 passes for over 1,800 yards and eight touchdowns. Often living in the shadow of Julio Jones, Maze was a smaller speedster of the Tyrone Prothro mold.
Like Arenas, Maze was a kick and punt returner, totalling another 1,200 yards for the Tide.
In 2009-2010, Maze was second only to Jones in receiving for Alabama. In his senior season of 2011, though, Maze led the team in receiving with 56 catches and 627 yards.
Sadly, his last game at Alabama ended abruptly when an injury forced him out of the national title game against LSU, ending his career on a sour note.
Maze signed a free-agent contract with the Pittsburgh Steelers in 2012, but was waived right before the start of the season. Fortunately, no one can take away his two national title rings.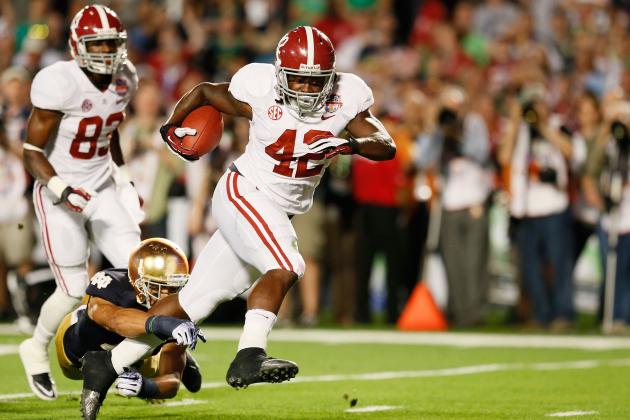 Kevin C. Cox/Getty Images

In each of his three seasons at Alabama, Eddie Lacy averaged over six yards per carry. The running back and future NFL draftee was 25th nationally last season with 1,322 rushing yards and scored 17 touchdowns.
In his career, Lacy ran for over 2,400 yards and 30 touchdowns for the Tide and was a vital part of two national championship teams. Were it not for a series of nagging injuries, Lacy could have been even more of a destructive force.
Lacy's best efforts came in his last two games at Alabama. Against Georgia and Notre Dame, Lacy ran for a total of 321 yards and three touchdowns while leading the Tide to the 2012 BCS title.
It seems that the only ones who could stop Lacy from running were Trent Richardson and Mark Ingram, who he played behind in his freshman and sophomore years.
It will be interesting to see what the master of the "circle button" spin move will do at the next level.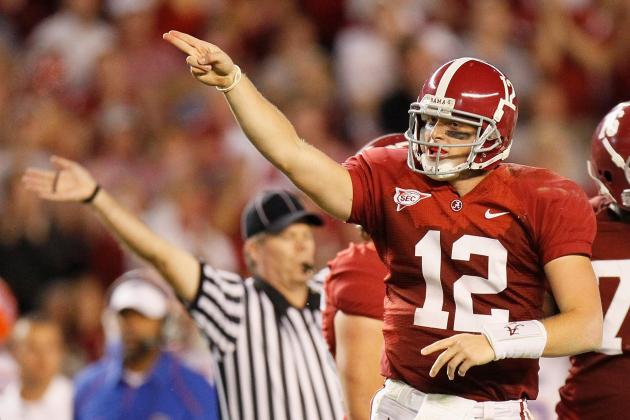 Kevin C. Cox/Getty Images

Greg McElroy was the starting quarterback for the Tide for two seasons, leading Alabama to its first national title in 17 years in 2009.
He threw for over 5,400 yards with 37 touchdowns and just nine interceptions for the Tide. More impressively, McElroy completed over 70 percent of his passes in 2010 and recorded a quarterback rating of 168.99, finishing in the top five nationally in both categories.
For a "game manager," the 'Bama quarterback led the Tide to a 24-3 record in two seasons.
Now heading into his third year with the New York Jets, the Rhodes Scholar finalist is hoping to compete for the starting job.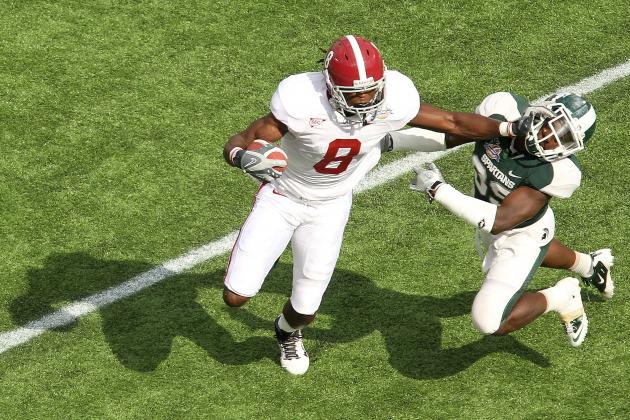 Mike Ehrmann/Getty Images

Current NFL Pro Bowler Julio Jones came to Alabama as one of the most hyped recruits ever. He didn't disappoint.
In each of his three seasons with the Tide, Jones led the team in receptions and receiving yards.
It started with his debut game against Clemson in 2008 and the legend grew from there. He finished the 2010 season ranked 14th in the nation in receiving yards with 1,133.
In his Alabama career, Jones caught 179 passes for over 2,600 yards and 15 touchdowns. Often drawing double coverage and suffering from numerous injuries, Jones appears to have found even more success in the NFL.
Heading into his third season with the Atlanta Falcons, Jones has proven himself as one of the top receivers in the game.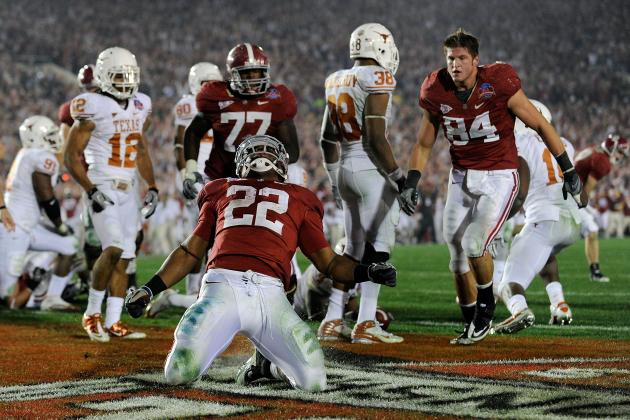 Kevork Djansezian/Getty Images

After playing a backup role to Coffee in 2008, Mark Ingram found the national spotlight in 2009 while leading the Tide to the BCS championship.
Ingram finished the 2009 season fourth in rushing yardage nationally with an amazing 1,658 yards and 17 touchdowns, becoming Alabama's first Heisman Trophy winner at season's end.
In his three-year career for the Tide, Ingram ran for over 3,200 yards and scored 42 touchdowns.
Although his senior campaign was somewhat of a letdown, Ingram will forever be remembered for his 2009 season and the five touchdowns he scored in wins over Florida and Texas to win the SEC and BCS titles, respectively.
He has spent the last three years with the New Orleans Saints in a tandem running back role.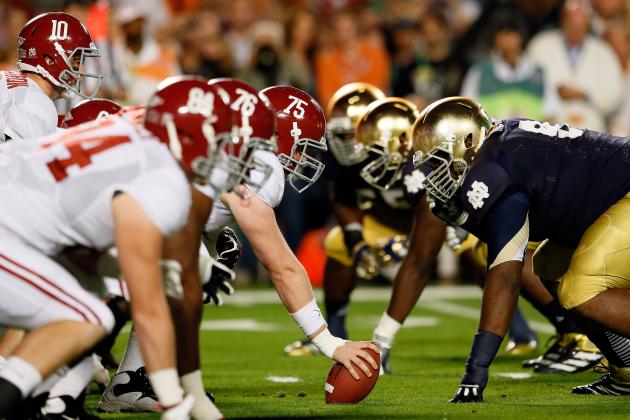 Kevin C. Cox/Getty Images

One of the things that has become the standard for Alabama under Saban is the continued dominance of the offensive line.
This would not be the case without the dedication of the fine young men who rarely garner the credit they deserve for sticking it out in the trenches game after game.
In the Saban era, there are four offensive linemen who have stood out over the rest. They are William Vlachos, Barrett Jones, D.J. Fluker and Chance Warmack.
In his career with the Tide, the All-American Jones started 49 games. Vlachos (39), Warmack (39) and Fluker (35) were not too far behind.
While they don't get the touchdowns or face time on television, these are the men that lay the groundwork for the entire offense, a claim that every other player on this list will surely attest to.
Replacing them will not be easy, but for the Tide to continue its national dominance, it must be done.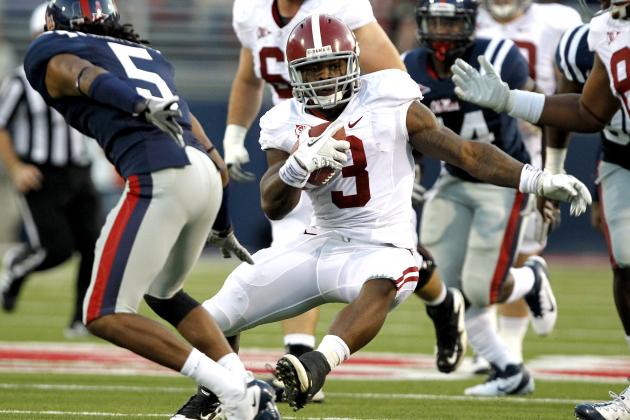 Butch Dill/Getty Images

Another three-year star for the Tide, running back Trent Richardson ran for over 3,100 yards in his Alabama career. He scored 35 rushing touchdowns at Alabama, including 21 in 2011.
Richardson finished sixth nationally in yards and fifth in touchdowns in his junior season of 2011 while leading Alabama to its second national title with him carrying the ball.
With brute strength, Richardson was another impact player from the beginning. As a freshman, Richardson ran for 109 yards and two scores on just 19 carries against Texas in the BCS title game.
He also caught 68 passes for over 700 yards and seven more touchdowns during his career at Alabama.
In his first season with the Cleveland Browns, Richardson ran for 950 yards and 11 touchdowns.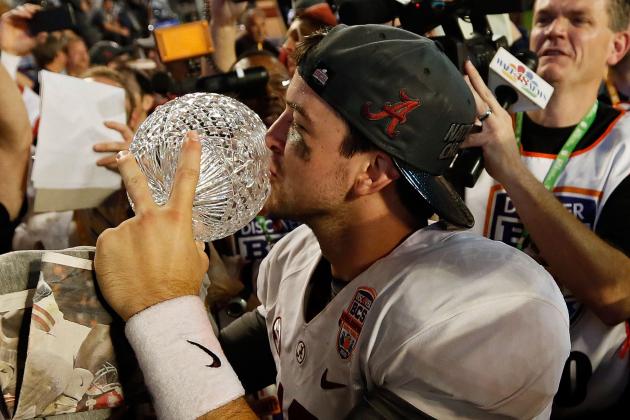 Kevin C. Cox/Getty Images

When it is all said and done, there might not be a more decorated player to ever take the field for the Tide than current quarterback AJ McCarron.
McCarron has won national championships in each of his two seasons as the Tide starter.
He has already thrown for over 5,900 yards and 66 touchdowns, including 30 in 2012, at Alabama. Most impressively is the fact that he has only thrown eight interceptions in his career and led the nation in passing efficiency a season ago.
With the Tide loaded once again headed into next fall, there is a very reasonable chance that McCarron can become the first quarterback to lead his team to three consecutive national championships.
With that achievement, a Heisman Trophy might end up in his trophy case as well.