The 5 Moves the Minnesota Vikings Must Avoid in Free Agency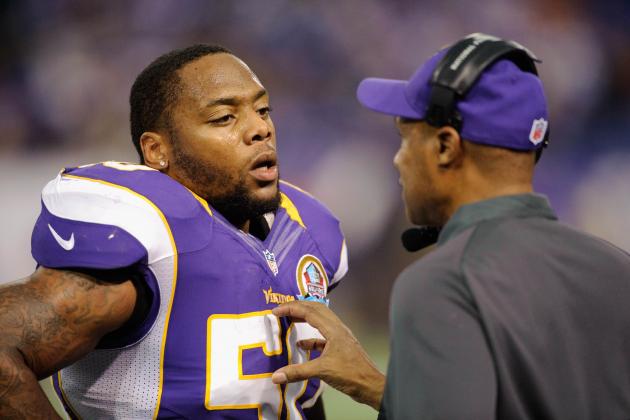 Hannah Foslien/Getty Images

With just under two weeks until NFL free agency opens on March 12, NFL personnel departments are back from the combine in Indianapolis and trying to figure out the best ways to improve their teams while keeping the salary cap in mind.
For the Minnesota Vikings, there are definitely moves to be made—though once again, it would be surprising if the team made any big splashes in free agency. General Manager Rick Spielman has made it clear time and again that he feels the best way to build long-term success in the NFL is through the draft.
Headline making signings can look awfully good in March, but more times than not they don't look so smart after the following season. Last March, the Tampa Bay Buccaneers sunk $102 million into Vincent Jackson and Carl Nicks. A 7-9, non-playoff season is probably not what the Tampa Bay front office had in mind.
That's not to say that signing free agents is a silly thing to do, but to Spielman's thinking, your long-term success is more bankable by drafting well and grooming the players who are in your system.
Coming off a surprising 10-6 season, the Vikings have many decisions to make when it comes to free agency. The Vikings' first priority will be to sign their own to sensible deals and maybe add a player or two from the outside.
Here are five moves the Vikings must avoid in this year's free-agency period.
Begin Slideshow

»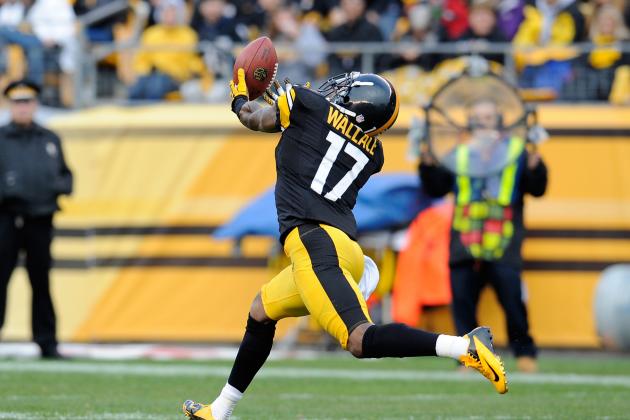 Joe Sargent/Getty Images

It's no small secret that the Vikings need a massive upgrade at wide receiver.
After Percy Harvin, the Vikings are left with scraps of either unproven, old or just not very good wide receivers. Sure, the thought of adding one of Greg Jennings, Dwayne Bowe, Mike Wallace or Wes Welker is intriguing—who wouldn't want an established, stud receiver?
It makes sense on a couple of levels, especially if the Vikings don't plan on keeping Percy Harvin in purple. On paper, Wallace might make the most sense as Minnesota is desperate for a speedster who can stretch the field and open up space for Kyle Rudolph, Percy Harvin and even Adrian Peterson.
The truth is the Vikings would be crazy to invest a lot of money in any of the above.
If you're going to spend the kind of money that group will require, you don't want there to be any question marks. They all have them. Jennings benefited from playing in Green Bay. Bowe has never made his team any better. Wallace is a diva and had a mediocre 2012 season. Welker has already had his peak years. If you spend the kind of money it will take to land one of those players, you want a sure thing.
You want a guy like Percy Harvin.
The Vikings enter this offseason knowing that Harvin is going to have to get paid at some point, whether it be in Minnesota or somewhere else. The Vikings need to draft a couple of receivers this year that can play second fiddle to Harvin while the Vikings come to a decision on whether or not they want to pay Harvin big money.
The Vikings will surely be upgraded at receiver heading into the 2013 season, but it won't be with a big-name free agent. It will be with the return of Harvin along with the likes of Keenan Allen, Justin Hunter or Da'Rick Rogers.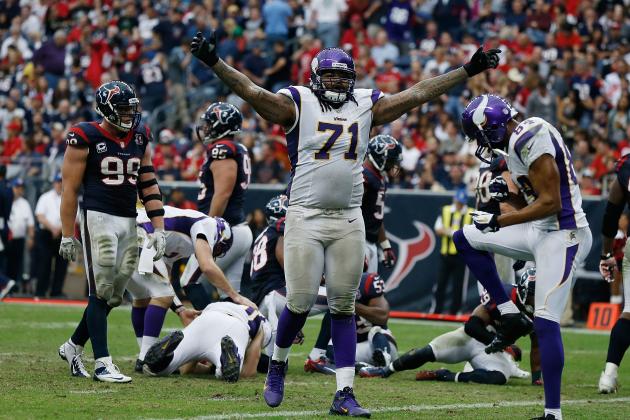 Scott Halleran/Getty Images

Phil Loadholt's agent, Gary Uberstine, should start every conversation with the Vikings with, "Adrian Peterson averaged over eight yards a carry running around right tackle last season."
The Vikings' number one priority in this free-agent period has to be to re-sign their mammoth right tackle. Loadholt has had an up and down four years with the team, but he has always been better than average and certainly had a solid season in 2012.
The Vikings have certainly gone all in as a running team, and Loadholt is a very good run blocker.
There will be plenty of teams sniffing around Loadholt when free agency opens—it's a very good year for Loadholt to be a free agent, as the market isn't very strong for tackles.
Minnesota might have to slightly overpay to keep Loadholt on board, but keeping him together on an offensive line with John Sullivan and Matt Kalil is vital to the growth of Christian Ponder and the Vikings offense as a whole.
If Loadholt were to sign elsewhere, the Vikings would learn very quickly how they might have been taking him for granted the last four years.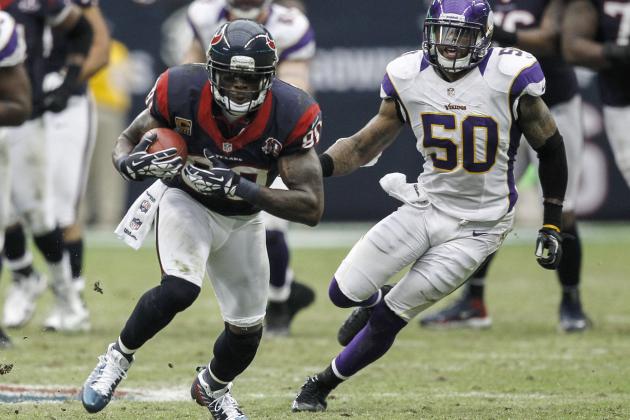 Bob Levey/Getty Images

The Vikings defense improved dramatically from 2011 to 2012, getting much better overall play from their front line and back end.
Where they didn't improve much was at linebacker, where they had one very good starter in Chad Greenway and two less than average players in Erin Henderson and Jasper Brinkley.
Both Henderson and Brinkley are free agents and it should be very interesting to see what the market bears for their services. Neither one of them is a tackling machine and they combined to defend four passes on the season.
They aren't bad players, but neither has really proved to be a legitimate NFL starter either. It certainly wouldn't be the end of the world if the Vikings opened the 2013 season with both guys back in the starting lineup, but they shouldn't pay a lot to have that happen.
Odds on either one being back in purple are probably 50/50.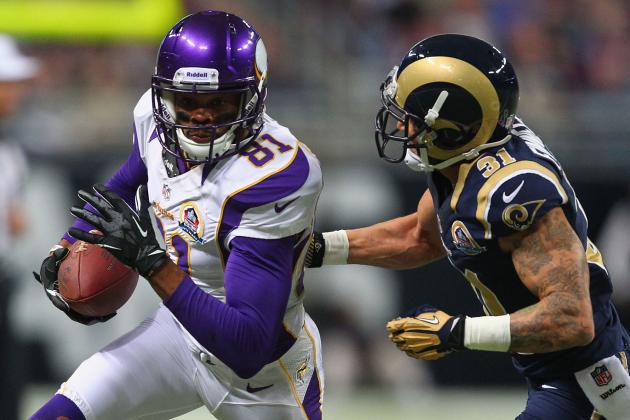 Dilip Vishwanat/Getty Images

As mentioned earlier, the Vikings are obviously in need of an upgrade at wide receiver.
They have a starting quarterback who is still a question mark, and the Vikings can't be sure of what they have with Ponder until they put some talent around him at wide receiver.
There's no question that Michael Jenkins was a better player in 2012 than Jerome Simpson. Having said that, it's time to let Jenkins go and it would be a smart move to re-sign Simpson to another "prove it" deal.
Jenkins is simply too old and too slow (and makes too much money) for the Vikings to keep around. They need to take a chance on some young receivers in the draft to throw alongside Percy Harvin.
Bringing back the disappointing Simpson might seem like an odd decision, but it really would be no different than it was a year ago. He won't cost them a lot of money and he certainly has the potential to be a difference maker. Simpson's back injury was clearly an issue for most of the season, and the hope is that once completely healthy, Simpson can give the Vikings the spark they were looking for when they originally signed him.
Ideally, the Vikings can head into the 2013 season with Percy Harvin starting at one receiver spot, a stud rookie starting at the wideout position, and Simpson, Jarius Wright, Greg Childs and another rookie battling for time as the third option.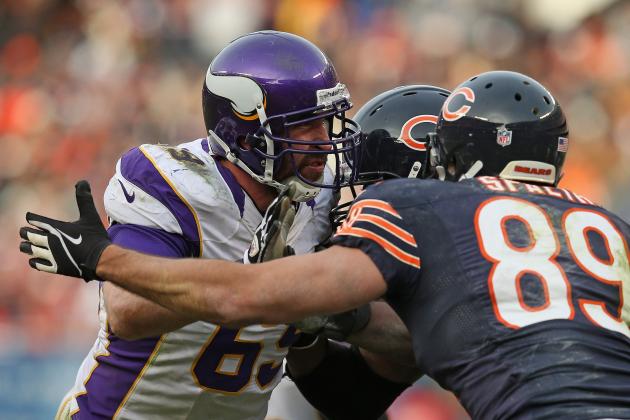 Jonathan Daniel/Getty Images

If Tom Brady is willing to restructure his contract for the good of the team, then anyone else should be too.
There may not be a more valuable player to his team than Brady, who commented that he was willing to restructure to make the Patriots better.
The Pittsburgh Steelers and Ben Roethlisberger just restructured his deal to save the team more than $6 million in salary cap space. This is the world of the NFL in the salary cap era.
The Vikings have an obvious candidate in Jared Allen, who currently will count as $17 million against the cap in 2013. Allen is a warrior and the heart and soul of the Vikings defense—he played his heart out last year while dealing with a shoulder injury for the entire season.
But he's not worth $17 million.
The truth is that Allen will probably never again be as good as he was in 2010, when he flirted with the single-season sack record. Allen will be 31 and coming off of surgery heading into 2013. There is no question that Allen is a different type of cat, so it would not be a surprise if he had a major bounce-back season, but history says it's not likely.
The Vikings will also be looking to restructure Kevin Williams' deal that is set to pay him $7.5 million next year. Williams would like to end his career with the Vikings, but it remains to be seen how much of a salary reduction he'll be willing to take.
Best case scenario for the Vikings would be to have both back as starters in 2013, but making far less than $24 million.