Ohio State Football: 6 Storylines to Keep an Eye on During Spring Practice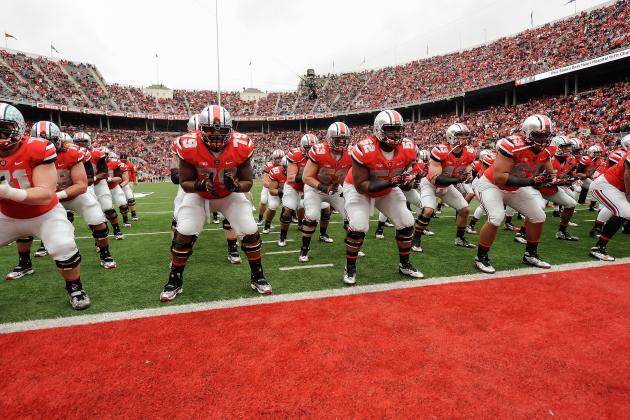 Jamie Sabau/Getty Images

Following an exciting and slightly surprising 12-0 season, expectations in Columbus couldn't be any bigger heading into next season. Urban Meyer and his staff have implemented a winning culture into this program, and with tenacious work on the recruiting trail, they were able to ensure that this success would be sustained. In fact, the 2013 team will most likely be ranked within the preaseason top-five this summer.
Braxton Miller will have a real shot at winning a Heisman Trophy, and players like Bradley Roby could play their way into being a first-round draft pick in 2014. Experts are already mentioning the Buckeyes as legitimate title contenders, and Buckeye Nation will excitedly watch their talented team embark on a possibly historical season come this fall.
However, the first step in this team's journey will be getting though spring practice, and there are plenty of things to observe from afar. The Urban Meyer-led Buckeyes will look to further perfect their new offensive system and fill some major holes on defense during the spring period. Also, due to the departure of a few key starters from last season, this year's spring practices will feature intense position battles and give us a better understanding of how Meyer plans on utilizing his personnel.
Here are the top six storylines for the Buckeyes as they get set to begin spring practice.
Begin Slideshow

»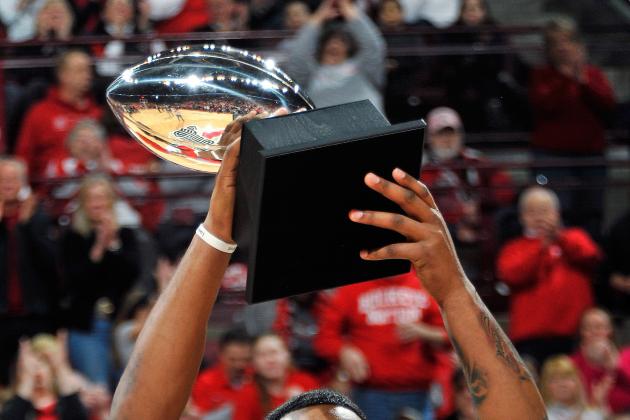 Jamie Sabau/Getty Images

Braxton Miller's running ability is unquestioned. The Heisman contender has been making awe-inspiring plays with his legs since he first got to Ohio State, and they are one of the main reasons why Miller has been receiving Heisman hype. His dual-threat style allows him to stretch plays and turn poor plays into productive ones. Miller's skill-set is tailored for Urban Meyer's spread attack and he must continue to make big plays on the ground.
All this being said, Miller must continue to improve as a passer. The Ohio native has steadily improved his passing game since he's been at OSU, but this advancement has to continue.
In the spring, Meyer and his offensive staff will look to open up their playbook a bit and increase their production in the passing game. It will be interesting to see how Miller improves throughout the spring, and his development will be vital to the Buckeyes, lofty expectations. If OSU's field general can manage to further improve as a passer and become just as dangerous with his arm as he is with his legs, the Buckeyes will have a potent offense and Miller may find himself on a stage in New York this December.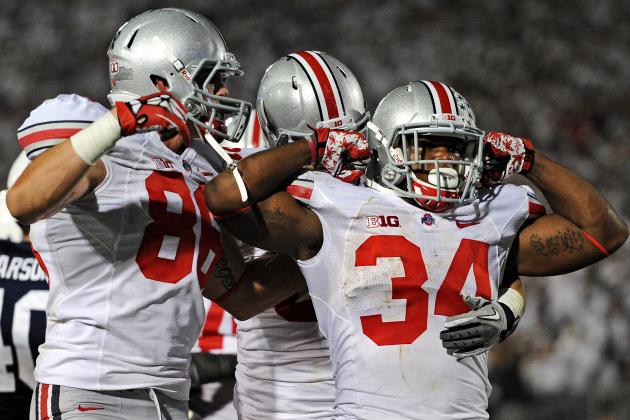 Patrick Smith/Getty Images

With a returning workhouse in Carlos Hyde, a seasoned veteran in Jordan Hall, and a couple of former highly-touted recruits in the Buckeyes running back stable, OSU is stacked at the position.
Hyde's bruising style actually fits Meyer's spread offense well, and this time around, Hall will be actually be healthy enough to fully participate in the system as well. Behind these two rushers rests Rod Smith, Bri'onte Dunn, and Ezekiel Elliot. All three are very talented backs, but due to the amount of talent at the running back position, only one of them will see a significant amount of touches.
It will be interesting to see how many first team reps Hall will get during the spring compared to the amount that Hyde sees. Will Carlos Hyde continue to tote the rock the majority of the time or will Meyer split up the carries more?
Finding out what third back steps up and earns his way onto the field will be intriguing as well. Rod Smith has struggled to hold onto the ball while at OSU, but he does have some impressive natural ability. Dunn is a bigger back that could become a real solid option for the Buckeyes and will give Hall or Hyde a breather. As a freshman, Elliot is a bit of a wildcard at this point, but he was highly-touted out of high school and could very easily play his way into the lineup this spring.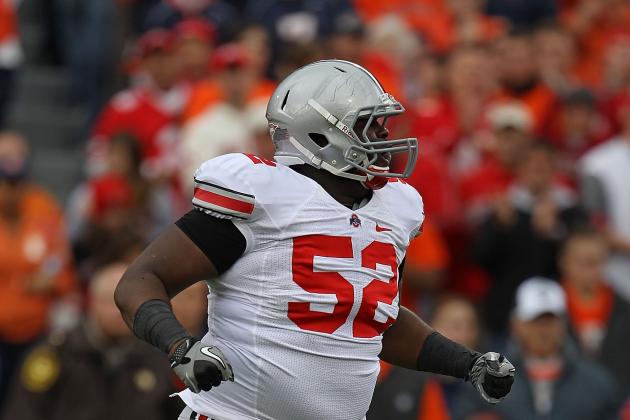 Jonathan Daniel/Getty Images

The Buckeyes stingy defensive line in 2012 was anchored by the herculean efforts of Jonathan Hankins and John Simon. The two linemen were some of the best in the nation and the constant disruptions they caused gave offenses constant headaches.
Along with the loss of Hankins and Simon, defensive end Nathan Williams has also departed from the program, leaving the Buckeyes with three pretty big holes to fill (no pun intended).
Luckily for Ohio State, Urban Meyer and his staff have persuaded some of the best defensive linemen from the past two recruiting classes to join the Buckeyes. In their 2012 and 2013 recruiting classes, respectively, the Buckeyes landed nine highly-rated defensive linemen who are now stuck with the task of filling in for some really solid starters.
The two defensive linemen with the most potential heading into spring practice seem to be Noah Spence and Adolphus Washington. Spence has the speed and athleticism to be a dynamic pass-rusher and Washington's rare combination of size and athleticism makes him a dangerous interior lineman.
That being said, any of these talented linemen could easily compete their way into a starting position, and with so many holes to fill, the competition will get fierce.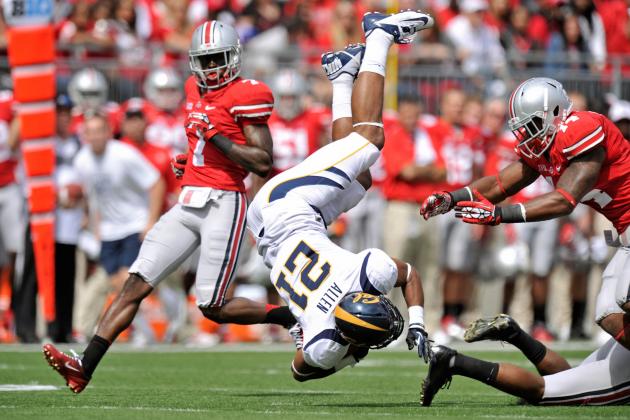 Jamie Sabau/Getty Images

Despite being one of the most highly-touted linebackers in history, Curtis Grant just hasn't figured things out. The extremely gifted linebacker has all the physical tools to be a solid college player but his inability to adjust to the college level has held him back.
Each season, fans and writers alike speculate on Grant's potential and hope for better days, but things haven't panned out for him just yet. Heading into his junior year, time is running out for Grant, and unless he gets things going, he'll go down in history as a major bust.
This spring will be a perfect time for Grant to further grasp the defensive playbook and become the productive linebacker that OSU so badly needs him to be. Keep a close eye on Grant because his development could be huge for the status of their linebacking corps, and if he can turn the corner, he could become a star.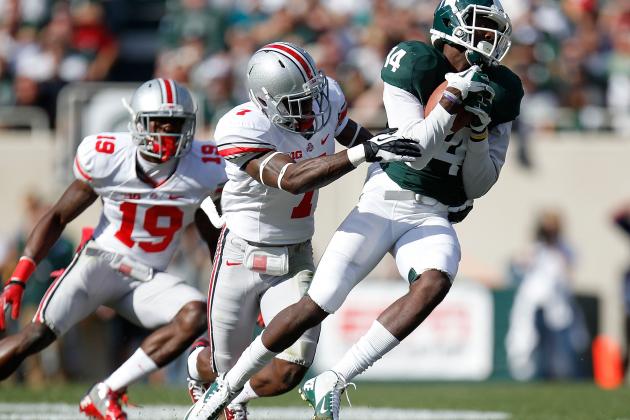 Gregory Shamus/Getty Images

Due to the graduation of Travis Howard, there is now an official battle at the cornerback position this spring. Of course, Bradley Roby will return as the team's top corner, but someone has to step up on the opposite side of the secondary this season.
Doran Grant is considered to be the front runner in this particular race, but there a few others who could compete for the spot as well. First and foremost, Grant must outplay sophomore Armani Reeves, who was highly-touted out of high school.
But what makes this battle truly intriguing is the early enrollees that will be at spring practice.
Both Eli Apple and Cameron Burrows, two of Ohio State's top recruits and some of the best cornerback prospects in the entire 2013 class, will be at spring practice. One of these incoming freshmen could force their way onto the field in their first season in Columbus if they can outperform Grant.
Needless to say, this position battle could get more interesting than we previously expected.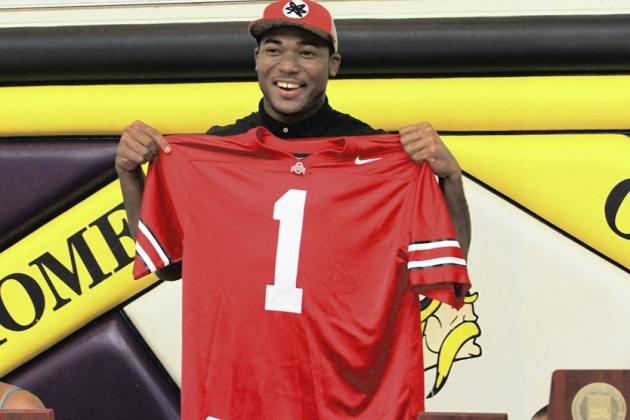 www.rockymounttelegram.com
Six players (one being a preferred walk-on) from the Buckeye's 2013 recruiting class will be joining their new teammates this spring. These six players include J.T. Barrett, Eli Apple, Cam Burrows, William Houston, Tyquan Lewis, and Tracy Sprinkle.
With the exception of Houston, these new Buckeyes were heavily recruited out of high school and are expected to make a major impact during their time at OSU. As two cornerbacks, Burrows and Apple will have some good opportunities to prove themselves with an open starting spot available at the position. The same will go for Lewis and Sprinkle, who could easily earn some playing time on the defensive line with a solid performance this year.
If any freshman is going to make a major impact this spring it will most likely be Eli Apple. The incoming freshman has impressive size for his age and the ability to compete at the next level from Day One. This being said, with so many opportunities available for these freshmen, any one of them could emerge as a productive member of this team in the spring.