Report Card Grades for Thomas Robinson's Houston Rockets Debut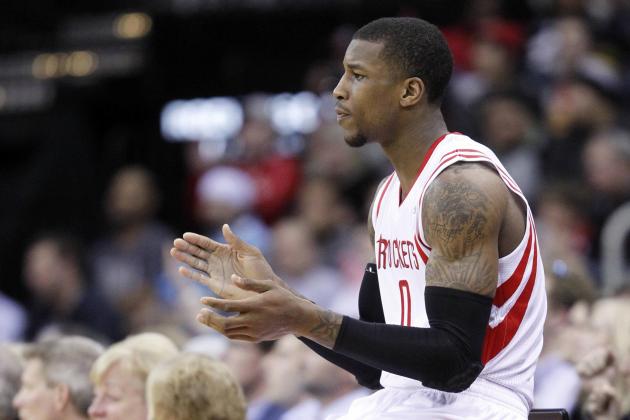 USA TODAY Sports

Thomas Robinson was traded to the Houston Rockets at the trade deadline after playing just 51 games for the Sacramento Kings, and he finally made his debut against the Milwaukee Bucks.
Robinson's stat line wasn't crazy, and neither was the amount of minutes that he received, but we could really see a lot from what he showed off in Houston's 110-107 loss to the Bucks.
T-Rob played just eight minutes, playing in two four-minute stretches in the first and second quarters before the game started to get into sweaty palms range, which seems to be an appropriate amount of time for a rookie's debut with a new team.
The big fellow scored just two points, had one rebound and one assist, along with three fouls, in his eight minutes on the floor. Overall he posted a plus/minus of minus-18 for the game.
Don't let that alarming number fool you. There was quite a bit to be learned about him, and some positive to take away in the loss.
Begin Slideshow

»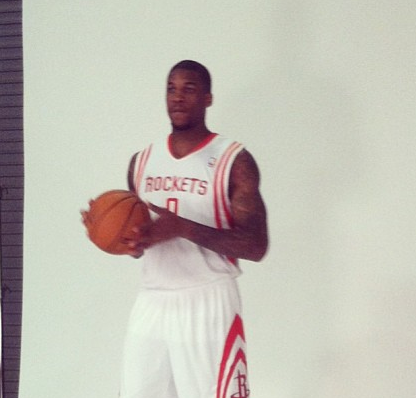 Via Instagram: houstonrocketsnba
One of the first things we notice about a player who has been traded is how he looks in his new duds, so we've got to go ahead and put that to a scale.
He went from the pure Kansas blue to the Sacramento purple and black, and now to the smooth Houston red and white. All great colors, but there is something about the Sacramento purple that doesn't look good on anybody at this point.
It's a positive move for Robinson, and he doesn't look strange because we barely got to see him wearing that purple and black for more than a few months.
Robinson definitely looks a lot better in the white and red, or perhaps it's just the fact that it's the white and red of a playoff team.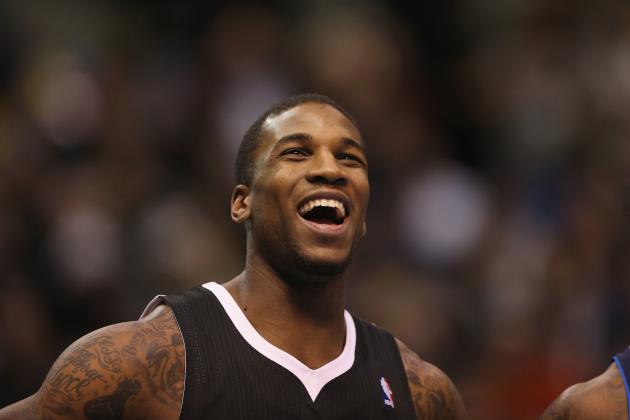 Ronald Martinez/Getty Images

It's incredibly hard to gauge a player based on two four-minute stints with a brand new team as a rookie, but I've got to give it a shot.
The offensive end has been the crux of Robinson's game this year, and he's had no help figuring things out from his teammates.
When Robinson looked best was when he was running up and down the court with the team in transition, while half-court Robinson looked nervous and lost when he was planted in the lane.
He didn't make too many mistakes, but then again he didn't really touch the ball all that much.
T-Rob did have a solid pass down into the post out of trouble to Greg Smith, giving him his lone assist of the night, and his fast-break dunk was magical. Beyond that, he was inactive and trying to stay out of the way.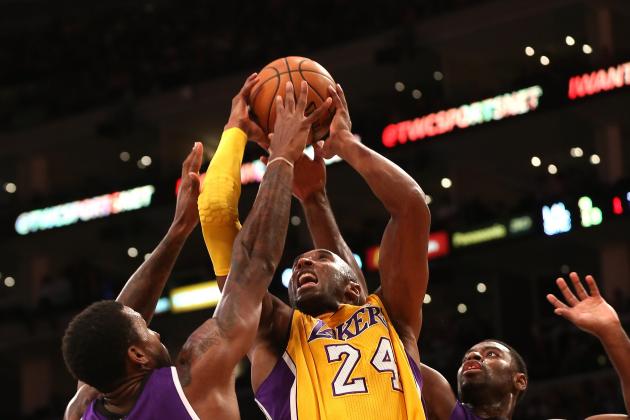 Stephen Dunn/Getty Images

Robinson drew a tough cover in the limited minutes that he was out there. As a bit of a banger, chasing around a floor-spacer can be difficult for him, so covering Ersan Ilyasova gave him troubles early on.
However, when he switched off and started to cover John Henson or Larry Sanders in the post, they struggled with his strength and never had a chance for a rebound.
The biggest problem for Robinson was that he came in overly aggressive, causing him to pick up two quick fouls and get taken out of the game after only four minutes. Perhaps that was the plan coming in, but he was playing well enough initially, so he could have been left in the game were it not for the fouls.
Moving forward, Robinson will calm down, but he'll stay strong. When that happens he's going to be an incredible asset for Houston's ability to have two big defenders in the post for stretches at a time with he and Asik.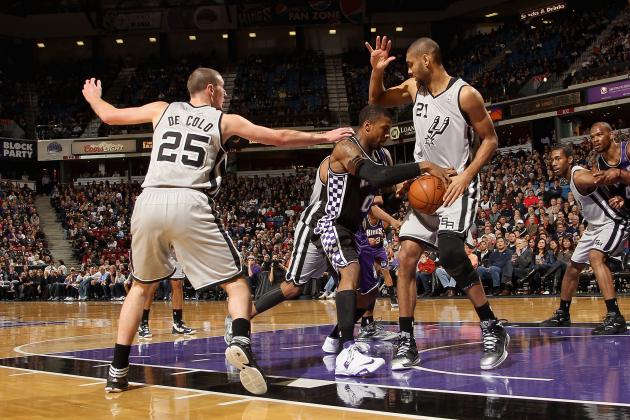 Ezra Shaw/Getty Images

One of the things that Thomas Robinson had to do to separate himself from the pack in Sacramento was get out and run.
He was buried behind DeMarcus Cousins and Jason Thompson while competing for minutes off the bench with Chuck Hayes and James Johnson. Basically he had to bring something the other guys couldn't bring, and it wore on him.
Coming into Houston, he had some practice getting out and running. Not because Sacramento was a particularly up-tempo team, but because he was always moving with the Kings in order to get some more playing time.
Tonight, Robinson played with great energy in the short number of minutes he got, which should go a long way in Kevin McHale's eyes.
As long as he can get out and run, there's going to be a place for him on this team.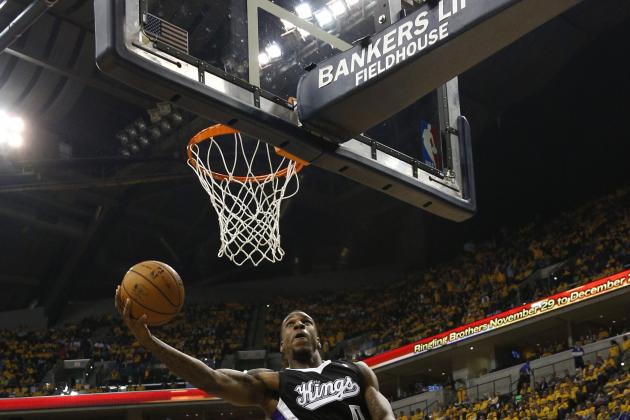 Joe Robbins/Getty Images

With the Sacramento Kings, Thomas Robinson was playing with a bunch of guys who were generally playing their own games alongside each other.
Sacramento didn't play a full-court game, and they didn't really play a half-court game either. Not only were there no players there to push the tempo regularly, which Robinson would have benefited from, there was also no semblance of a structured half-court offense. They tend more toward a no-court offense.
Where Robinson is going to fit in nicely is the incredible speed he has.
The only bucket that Robinson scored on the night was a fast-break shot that he was able to pound down despite being under the basket when the fast break started.
Jeremy Lin got the outlet pass, Chandler Parsons settled along the baseline as it looked as if Lin were about to take it to the hole. Out of nowhere came T-Rob streaking into the lane, ready to accept the pass and slam it home.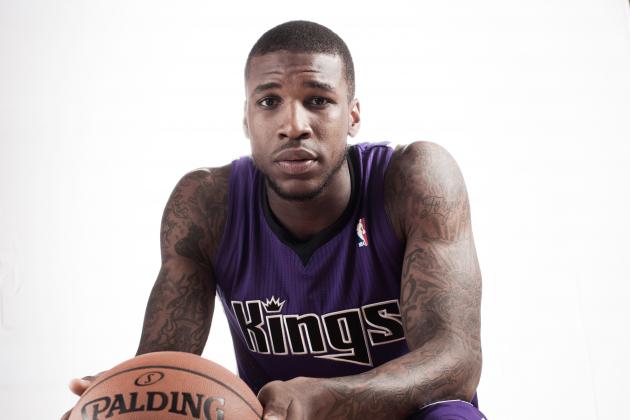 Nick Laham/Getty Images

It was a rough eight minutes for Robinson, with flashes of why he's going to fit in so well with this Rockets team. For that, you can't be too disappointed in what he showed tonight.
Throw out the fact that he was a relative blip on the stat sheet. Robinson came out aggressive and wanted to assert himself whenever possible. That may have led to a few quick fouls, but it also led to a bit of an intimidation factor early on.
Robinson still has a ton to work on when it comes to the offensive end of the floor, but he's got the players to work with who are going to make him better offensively.
Think about how clumsy and ineffective Omer Asik was at the beginning of the year. Looking at him now he's still a bit clumsy, but he's no longer a complete disaster when he puts the ball on the floor.
James Harden and Jeremy Lin are addicted to dumping the ball down into the post when they've got a big man in position, and the more reps Robinson gets, the more his game is going to develop.
There wasn't a lot to see in terms of productivity tonight, but there was plenty to see in terms of looking into the crystal ball.