Sports Pictures That Will Give You Nightmares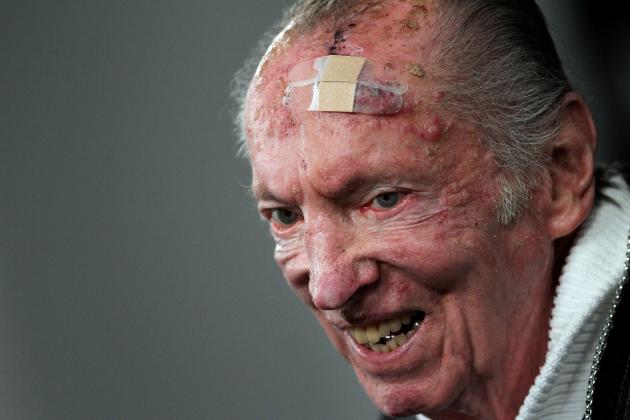 Justin Sullivan/Getty Images

Contrary to popular belief, sports photography isn't all Blake Griffin car jumps and Kaepernick kisses.
And for every thousand inspiring photos of sports figures reveling in their profession, there is one terrible gut-screamer that you can never properly erase from your mind.
This list is dedicated to those awful images—the ones that chill the blood, shrink the pouch and send the creepy crawlers jumping down your spine.
Be warned—some of the following images are graphic injury photos, so if you're a squeamish individual, well, don't be a hero. That being said, it's time to run the grisly gauntlet and get this out the way.
Throw in a mouth guard, grab some holy water and make sure there's a waste basket nearby, because the following images are sports pictures that will give you nightmares.
And they'll burn a hole straight through your dreamcatcher.
Begin Slideshow

»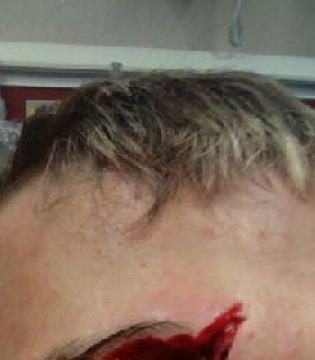 Image via suckerpunchent.com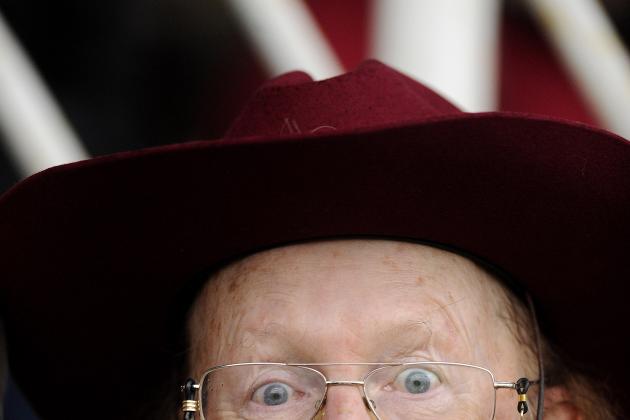 Alan Crowhurst/Getty Images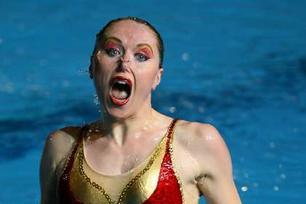 Image via theage.com
Anastasia Gloushkov shows the world the darker side of synchronized swimming—the side where you turn into an aquatic sea harpy with a taste for human flesh.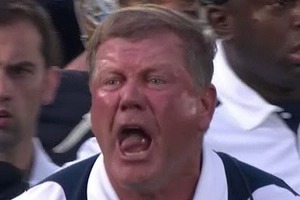 Image via slumz.boxden.com
Oom-pa loom-pa doompity doo—I've got a Brian Kelly for you.
Oom-pa loom-pa doompity dee—if you are wise, you'll listen to me.
What do you get when you're stomping your feet? Huffing and puffing, as red as a beet?
What are you at getting terribly mad? What do you think will come. Of. That?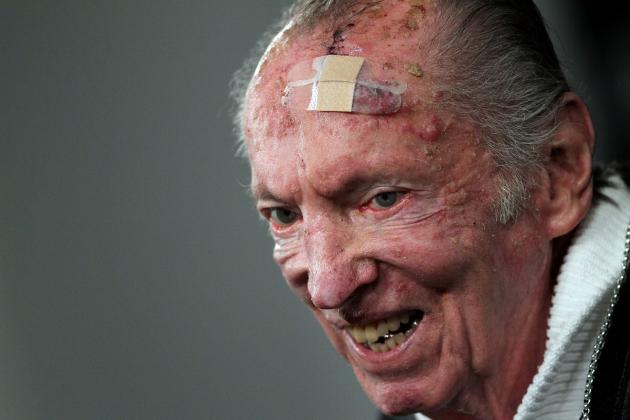 Justin Sullivan/Getty Images

Al Davis—part legend, part shrew and 100 percent the walking undead.
The late Oakland Raiders owner was an eerie sight to behold toward the end of his life, but he'd be damned if he didn't throw on some band-aids and spook the press one last time before punching out.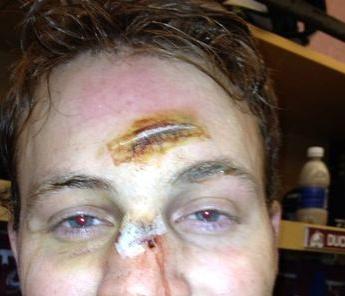 Image via @mitchabov
A face only a mother could love.
It's not the scariest picture in the world, but the Colorado Avalanche's John Mitchell and his diced-up grill makes you think just how terrible taking a goddamn slap shot to the face would be.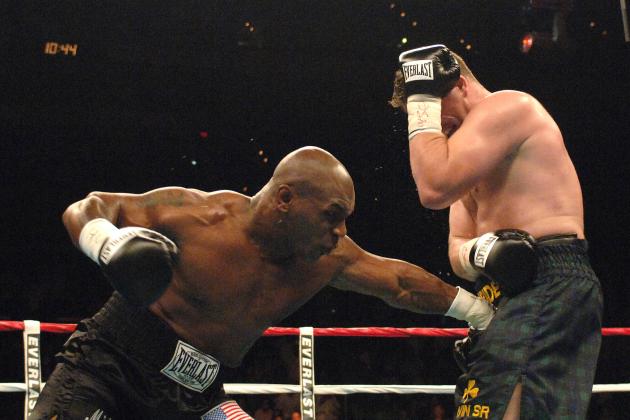 Mitchell Layton/Getty Images

Nothing throws a big icy spike down your spine like dreaming about Mike Tyson upper-cutting your bean barrel into hot Bernaise sauce.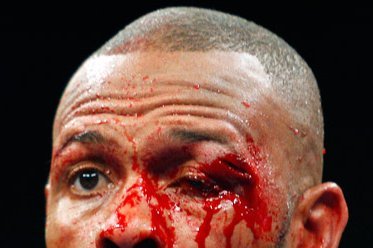 Image via chiropractoralexandria.blogspot.com
You got to give the old man credit—he wears it well.
Roy Jones' eye was split like a ripe papaya during a 2008 bout with Joe Calzaghe and spent most of 12 rounds bleeding like a gut-shot deer.
Blehh.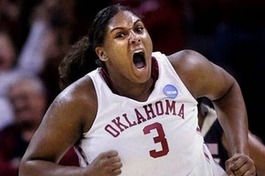 Image via soonersports.com
What is there to say about this player's face that hasn't already been said about Liam Neeson?
She has a particular set of skills, and all of them involve ending your life with extreme prejudice as you slumber.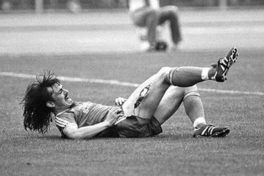 Image via squiddy.myblog.de
Former Arminia Bielefeld midfielder Ewald Lienen received a vicious "studs up" challenge from a defender in 1981, and the result was this awful image.
The yawning gash in Lienen's leg measured some 30 cm in length, and despite the horrible image is invoked, video of the incident shows him getting up to argue his case to officials and anyone who will listen.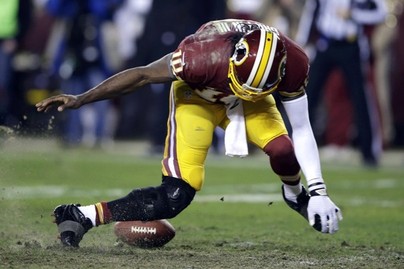 Image via articles.washingtonpost.com
Here's another angle of the infamous ACL-tearing "RG Knee" injury.
Most people won't stand to lose much sleep over it, but it'll hang over Washington Redskins fans every down he plays when football begins again in the fall.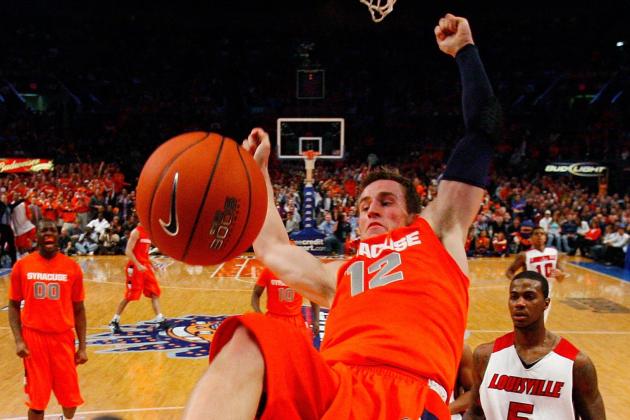 Jim McIsaac/Getty Images

Former Syracuse forward Kristof Ongenaet stopped all action in the arena after taking a precipitous tumble on his neck at the end of a fast break.
Ongenaet, thankfully, wasn't seriously injured in the fall, but the image of him dropping to the hardwood from shoulder height conjures up all sorts of stomach-dropping dream sequences in my mind.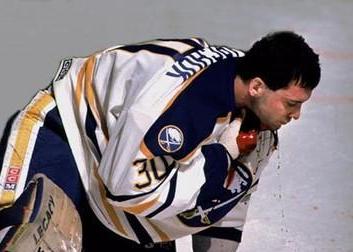 Image via tumblr.com
No words can express the heart-stopping nature of the images showing Clint Malarchuk bleeding out on the ice.
The former Buffalo Sabres goalie survived having his carotid artery opened by a hockey skate during a game in 1989, but the picture will forever be burned in our memories.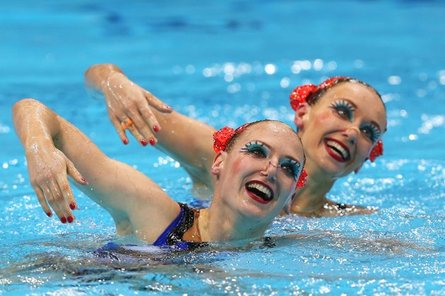 Image via Getty Images
I'll be a good boy. I'll write my thank you notes to my grandparents. I'll call my parents more often.
I'll do anything, but please, God. Dear God. Scour these synchronized psychos from my head movies.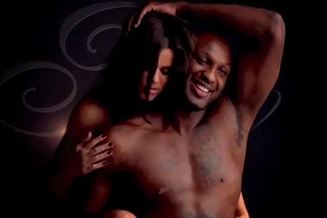 Image via workitla.com
It's not a scary image, but after seeing Lamar Odom and Khloe Kardashian's advertisement for their "Unbreakable" perfume, I still wake up screaming from night terrors involving those two holding me down in a sultry and ambiguously scented stranglehold.
Think about that.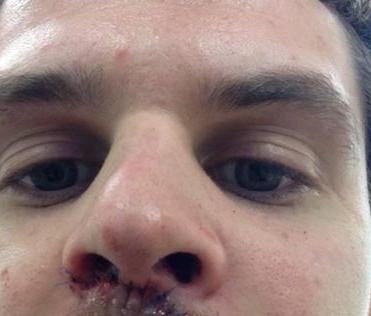 Image via @peaks71
Taking a hockey skate to the face will leave a mark—something Belfast Giants player Craig Peacock learned firsthand this past December.
And if that pic isn't going to disturb your sleep, check out the pre-stitch version of it.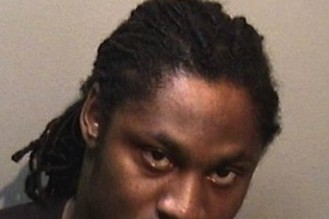 Image via Alameda County Sheriff's Office
After he was arrested for a DUI, Seattle Seahawks running back Marshawn Lynch's mugshot exhibited the cool menacing aura of a person who will sneak into your house at night and eat your dreams for nutrition.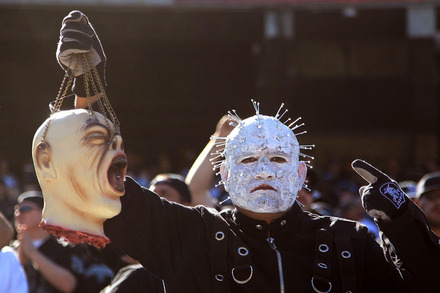 Image via Getty Images
It's not overly remarkable for a Raiders fan, but I spent my entire youth terrified of that Pinheaded bastard from those Hellraiser movies.
His creepy white dome, with those little needles. And he always hid in the guest bathroom of my house.
Oh God! Flashbacks!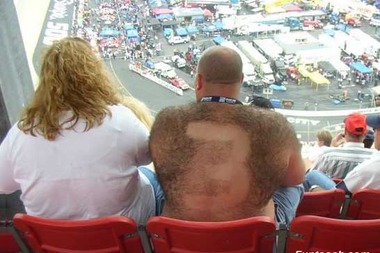 Image via funtoosh.com
Try not to think about buying a hot dog at a food stand in Daytona only to turn around and run straight into this guy's back.
Did I jinx it?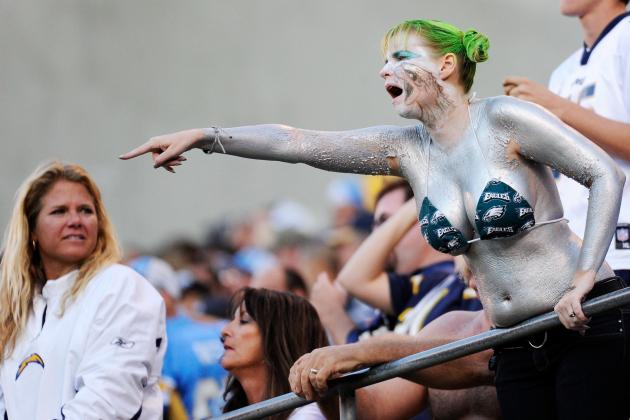 Kevork Djansezian/Getty Images

November 15th, 2009—the day this blubbery Philadelphia Eagles fan launched a shiny, merciless and love-handled offensive on the eyes of an entire nation.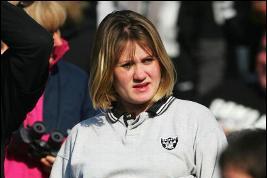 Image via Getty Images
Sweaty mother of Bob.
Just when you think you were safe to turn on a Raiders game, a woman with a bulbous baby belly ruins any and all hope that you'll sleep through the night without dreaming about a silver and black alien punching its way out of your stomach.