Latest Predictions for the Winner of Each Key Cincinnati Reds Position Battle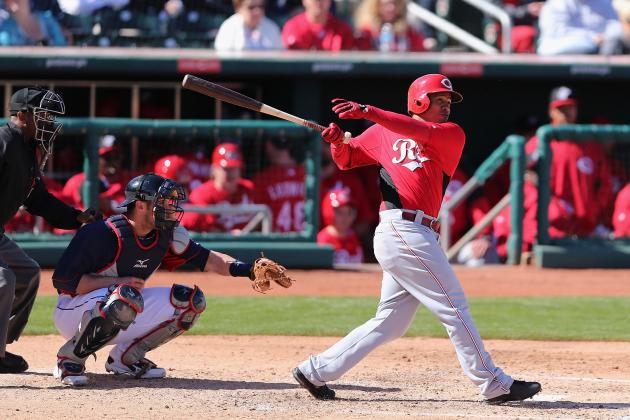 Christian Petersen/Getty Images
Cesar Izturis is battling for a roster spot.
Spring training is only in its first week, so the Cincinnati Reds still have a few position battles going on in camp.
Unlike most teams, the Reds don't have any glaring hole that needs filled. The team has its lineup set and its rotation mostly figured out. Secondary roles are up for grabs right now, but there hasn't been much separation through the first week of spring training.
Cincinnati's biggest position battle, the No. 5 spot in the rotation, is grabbing the most headlines. The team has a plan for Aroldis Chapman, but it does no good to speculate on the plan until he actually pitches.
Not much has happened up to this point through the first week of games. As spring training continues, players will begin to separate themselves from the rest of the pack.
There's still a long way to go until Opening Day, but let's take a look at some of the position battles so far.
(Reds fans: Remember to use #JoeyVotto in your tweets to make sure he is named the Face of MLB by MLB Network.)
*Stats are courtesy of MLB.com unless otherwise noted
Begin Slideshow

»
Rich Pilling/Getty Images
Jason Donald enters camp as the favorite to win the spot.
Jason Donald entered camp as the favorite for the job, but Cesar Izturis was given an invitation to camp to try to win a roster spot. Now all they have to do is battle for the final bench spot.
The only reason Donald is the safer bet to make the roster is because he is already on the 40-man roster. He is also five years younger than Izturis, so that may play a role as well.
Donald was acquired from Cleveland in the Shin-Soo Choo deal, but he hasn't been given much support from the organization.
Cincinnati gave veteran Scott Rolen months to decide if he wanted to return to the team, which would have sent Donald packing. Izturis was signed early in 2013 when the team wanted to improve its bench.
Through the first week, neither candidate has done much to claim the job. Donald is 2-for-8 with four walks, and Izturis is 2-for-8 with three walks. Neither player has an extra-base hit, and Izturis has the only RBI of the two utility players despite being involved in some high-scoring contests.
This team is pretty much set, so this battle will be decided on who is the best all-around player. Neither player has done much offensively in the majors. Izturis does have a Gold Glove under his belt, and that is a big reason why he was signed.
Donald made seven errors in only 30 games in the infield last season and already has one this spring. Izturis played in 53 games and committed three errors, so he is still the better fielder.
Emmanuel Burriss is also in the mix, and he has gone 4-for-12 this spring and stolen two bases. He would have to have an outstanding spring to make the club.
As previously mentioned, Donald is younger and is out of options. Unless Izturis goes on a tear or Donald struggles in the field, Donald gets the spot.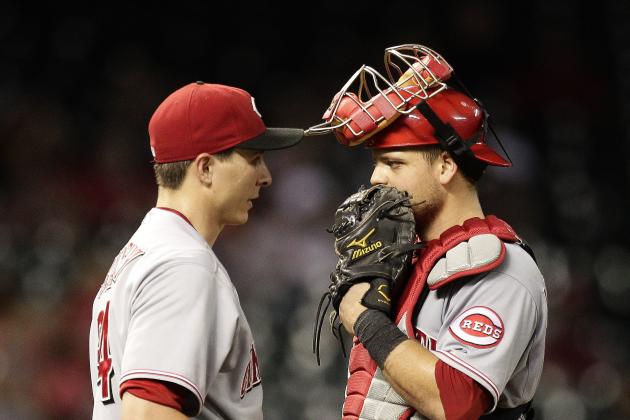 Bob Levey/Getty Images
Devin Mesoraco is looking to bounce back this year.
Outside of the No. 5 spot in the rotation, the battle for the backup catcher job is the most intriguing. Do the Reds keep Devin Mesoraco and let him catch one or two games out of every five, or do they send him to Louisville to try to develop his hitting?
Miguel Olivo was brought in for depth after Dioner Navarro left. It's unclear if he was brought in to compete with Mesoraco for a spot or if he is just going to be sent to Louisville in case someone gets hurt.
Olivo has never been able to hit for average, but he definitely has some pop in his bat. Since 2006, he has at at least 12 home runs every year.
Mesoraco is 1-for-6 with a home run and 3 RBI in four games this spring. In comparison, Olivo is 2-for-8 with a home run and 3 RBI in five games.
He isn't currently on the 40-man roster, which helps Mesoraco. However, this battle is different from most.
Mesoraco struggled at the plate last season and was sent down in August. He hit only .212 as a rookie, and his average dipped to .125 when runners were on base.
Neither Mesoraco nor Olivo has shown the ability to hit for average in the majors so far, but Mesoraco was pretty good behind the plate.
Ryan Hanigan will get the majority of starts behind the plate. Mesoraco would be lucky to catch two out of every five games in the majors (barring an injury to Hanigan), so it may be in his best interest to get normal playing time in the minors.
If Olivo makes the team, he would catch maybe once per turn in the rotation.
It's an interesting decision to make, but Mesoraco has the advantage at this point.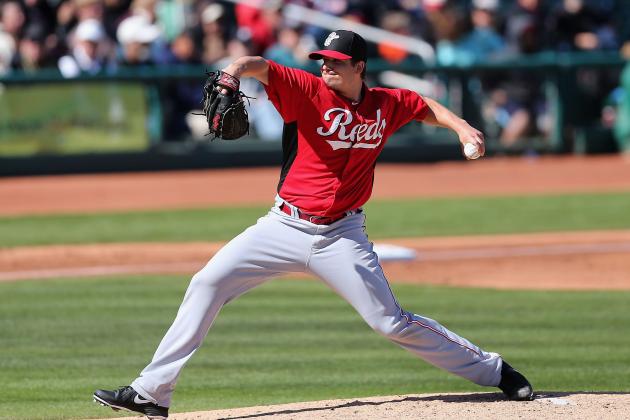 Christian Petersen/Getty Images
Manny Parra gives the Reds another southpaw in the 'pen.
Where to begin?
This battle will be influenced by what happens with Aroldis Chapman. But for now, let's not include Chapman and Mike Leake when talking about the battle for bullpen spots.
Here are the locks for bullpen spots: Jonathan Broxton, Sean Marshall, Sam LeCure and Jose Arredondo. The other spots are up for grabs right now. Manny Parra, Alfredo Simon, Logan Ondrusek and J.J. Hoover are competing for spots as well.
Hoover had an outstanding rookie season last year, but his youth and options will likely send him to the minors.
If Chapman moves to the rotation, Parra likely makes the bullpen because he is a southpaw. He hasn't had an ERA below 5.00 since 2008, but the Reds want another left-hander in the bullpen because Marshall will be the setup man. He helped his case by going two perfect innings, including two strikeouts, on Sunday against the Indians.
Simon is out of options, and he did a good job last year. He ended the year with a 2.66 ERA and was a crucial member of the bullpen. He was usually called upon with the team losing, so he was expected to go multiple innings to save the other arms in the bullpen. He got roughed up on Saturday, allowing five runs in 1.2 innings.
Logan Ondrusek didn't allow a run until the middle of May last year, but his season quickly took a turn for the worst. His 3.46 ERA was the highest of any regular reliever on the team. The right-hander has been a reliable setup man in the past, so he will likely make the team. He allowed a hit in one inning in his spring debut over the weekend.
Hoover struck out two in one inning of work in his first appearance this spring. If Ondrusek struggles with control or Simon continues to get hit, Hoover will be hard to send down.
So here is the projected bullpen as of now (with Chapman in rotation): Broxton, Marshall, LeCure, Arredondo, Ondrusek, Simon and Parra.
However, one prediction is that Chapman won't be in the rotation coming out of spring through. John Fay of the Cincinnati Enquirer has reported multiple times that manager Dusty Baker would prefer to keep Chapman in the bullpen. Leake will probably get a chance to start at the beginning of the season, and Chapman will close out games during that time.
If that's the case, Chapman will take Parra's spot in the bullpen. Mark Sheldon of MLB.com reported that Parra will make $1 million this season. The team should be willing to eat that money if Leake has a good spring and the rest of the bullpen does as well.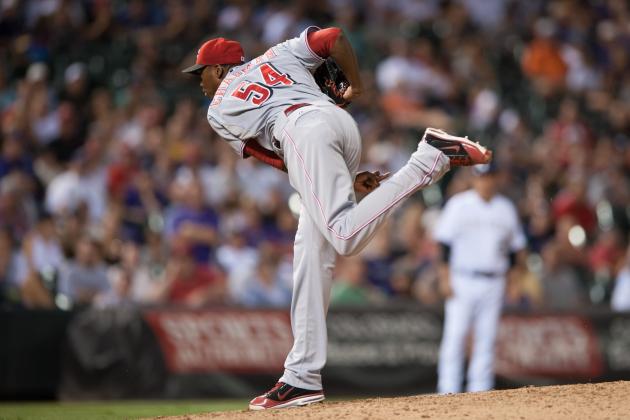 Dustin Bradford/Getty Images
Aroldis Chapman will have a chance to make the rotation.
Here's the battle that everyone is keeping an eye on. Mike Leake and Aroldis Chapman are competing for the No. 5 spot, but the team probably has a plan already set for what will happen.
As mentioned in the previous slide, manager Dusty Baker is opposed to moving Chapman to the rotation. Chapman was arguably the best closer in the league last year, so why change anything?
Neither pitcher has appeared in a game this spring, which means there's nothing to talk about besides speculation.
Unless someone in the rotation gets hurt, Chapman may find himself back in the bullpen to start the season. It would be a way to manage his innings early on and give Leake one more chance to prove himself.
The only issue with putting Chapman back in the bullpen would be deciding which reliever to get rid of, which means dealing with contracts. If he wins the No. 5 spot in the spring, Leake needs to go to Louisville and stay in a routine of pitching on a schedule.