Everton Stats: Comparing the Input of Nikica Jelavic and Victor Anichebe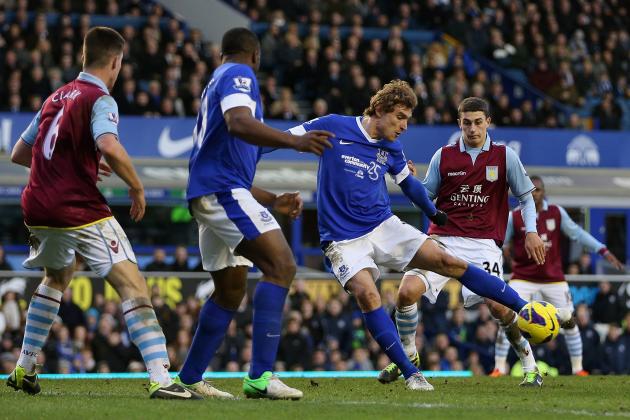 Clive Brunskill/Getty Images

For the majority of his time at Everton, David Moyes has been renowned for operating with a reduced amount of options up front.
Strikers are generally the costliest acquisitions in world football, so obtaining more than one marquee name has been a tough task with the club's financial restraints.
Therefore, if one or two forwards become injured, Moyes has often needed a Tim Cahill or a Marouane Fellaini to fill in and perform a job in attack. Such versatility has always been central to his plans and this season is no different.
Fresh off an impressive inaugural campaign with the Toffees, Nikica Jelavic is the club's leading striker, with powerful academy graduate, Victor Anichebe, the main alternative. Behind that pair there aren't too many recognised options, and without them it would be a case of Kevin Mirallas—who's more at home coming in off a flank—or Fellaini leading the line.
Considering this, the input of Moyes' premier front-men is crucial and has often been what's separated them from making the Champions League.
Using Premier League statistics provided by EPL Index, here's a look at how Everton's two main strikers have fared in recent times.
Begin Slideshow

»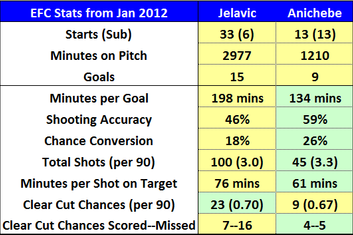 Premier League Stats only (via EPL Index)
First off, here's a look at some attacking results for both strikers, taken from the start of last year when Jelavic joined the club.
The results are somewhat surprising. While Jelavic is currently enduring a lean patch in front of goal, most remember his initial glut of goals for the club and assume his record would still eclipse Anichebe.
However, it's the Nigerian who has significantly better results.
He's been far more accurate, found opportunities to shoot more, hit the target more frequently and been far more clinical when presented with an opening.
His record of a goal every 134 minutes to Jelavic's 198 minutes is particularly impressive and perhaps an unexpected margin for many.
Of course, the Croatian has 15 goals in this period to the Nigerian's nine, but with more opportunities these results indicate Anichebe would have been the more prolific.
Moyes has kept Jelavic on the bench on a few recent occasions and, on this evidence, even considering the Croatian's early burst of form, it's easy to see why.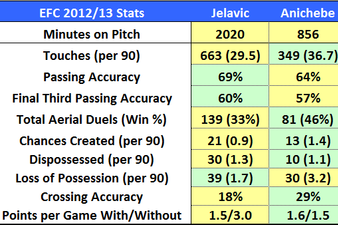 Premier League Stats only (via EPL Index)
With Anichebe dominating the shooting results, here's a look at some other areas where front men need to produce, this time solely from this season.
The results are little more even, but again it's the Nigerian who slightly edges his positional rival.
First off, he's shown to be more involved than the Croatian, although part of Jelavic's game is to hang on the shoulder of the last defender, looking to be played through.
Anichebe's more of a back-to-goal striker who would hold up play, so that number's not overly revealing and can also reflect teammates failing to find Jelavic.
In creative terms, it's the Nigerian who's been more effective and who also boasts better crossing statistics and is far more dominant in the air—with defenders behind them, strikers often record lower aerial duel percentages, so 46 percent is actually fairly creditable.
Both strikers are perhaps not blessed with the cleanest first touch, which is reflected by their loss of possession numbers. Anichebe's is far more unreliable, but it's the Nigerian who defenders find harder to shrug off the ball.
Where Jelavic adds more is in his passing and overall ball-retention skills. Anichebe's passing has always been a weak point of his game; in fact, he finished last season with Everton's worst passing percentage of just 62 percent, so at least there's minimal improvement here. That said, both should be disappointed not to be completing at least 70 percent of their passes.
Anichebe's numbers may be slightly distorted by the occasional stint in a wider berth; yet, once again, he appears the more proficient pick for David Moyes.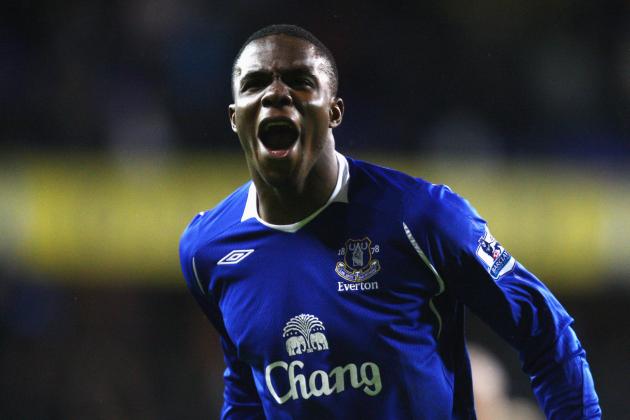 Paul Gilham/Getty Images

It's fair to say Anichebe's career trajectory has finally began to rise, after years of stalling following all-too-brief glimpses of potential.
Injury still keeps him sidelined a considerable amount of time, but he's been available (just not always used) far more often in recent months. Indeed, the 14 starts he's already made this campaign are the most of his career in a single term.
Before the start of last season, in all competitions Anichebe's career read a forgettable 12 goals in 119 appearances (42 of them starts), spread over six seasons at the Toffees.
From that, it wasn't hard to show improvement, but fast forward 18 months and he's doubled his goals tally in 36 games (only 21 of them starts) giving him slightly healthier numbers of 24 goals in 155 games—with still only 63 coming from the start.
As well as starting more, his seven goals registered so far this season mark his best individual scoring campaign, and he will be keen to boost that tally to double figures by May.
It's not just in front of goal where his game has been upgraded, as is reflected in the previous slide. He's still dogged by an inconsistent, heavy first touch, but his play in and around the box and his creative input has been greatly enhanced.
With six assists to his name (in all competitions), it's not Leighton Baines or Steven Pienaar who have created the most Everton goals this season, but a certain Victor Anichebe, which may surprise a few.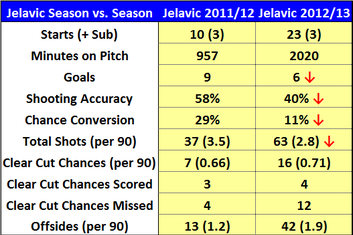 Premier League Stats only (via EPL Index)
At the same time as Anichebe's been progressing, Jelavic has seen his Everton career rapidly halt and even start to regress. In all competitions, the Croatian's now on a miserable run of just two goals in his last 20 appearances.
After initially looking such an assured, potent predator, rarely fazed by a miss; he suddenly cuts the image of a striker bereft of confidence, wildly hashing at any chance that falls his way.
His statistics from this season to last depict exactly that, with his shooting accuracy and chance conversion significantly down on his previous return. He's also fluffing a far higher proportion of clear-cut chances and has been able to shoot far less frequently.
His shooting average actually mirrors his struggle for goals this season and suggests there's more to it than just a lack of confidence.
Up until the Sunderland game in November, with 32 shots in 10 games, he was averaging 3.2 shots per game this season—just a shade under last season's production.
However, in the 16 games since then, he's managed just 31 shots at 1.9 per game, which shows he's either not finding space, or perhaps not being found as much.
There may well be elements of both, yet while he certainly appears more industrious on the eye and out of the penalty area more, there's no escaping the fact he's very much in a rut.
For some more detailed analysis on Jelavic's recent decline, check out Matt Jones' recent piece.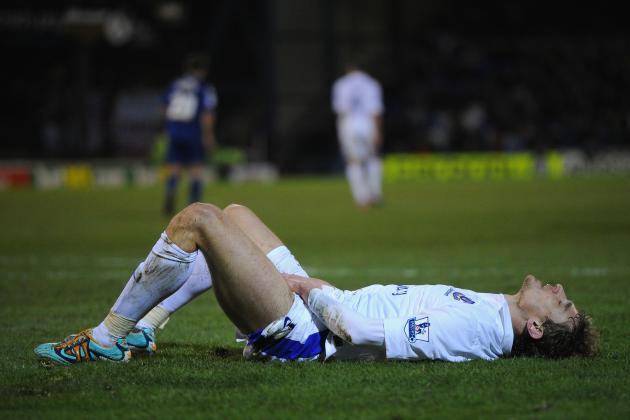 Michael Regan/Getty Images

The main finding in these results is how much Anichebe's contributed to the Toffees when he's been fit enough to take to the field.
Often maligned during the earlier parts of his career, it finally seems he's on track to reach the level so many felt he should.
Of course, the issue with Anichebe is and always has been his fitness. After being recently injured against Oldham, he's currently back on the sidelines, although there hasn't been any indication that this latest setback is at all serious.
Given his obvious development, there's far more weight in arguments to start the Nigerian more often, as David Moyes has recently been inclined to do.
As far as Jelavic is concerned, the numbers are not especially glamorous and the Croatian cannot have too many complaints if Anichebe again usurps him when fit.
There's no denying he's currently far removed from the formidable striker Evertonians first saw last season and it's fair to say his decline has hindered his side's Champions League ambitions.
The Toffees' immediate prospects hang on him rediscovering that identity; however, all that considered, there's no reason to say he won't.
He's been prolific through most of his club career and, given last year's high-class performances, it's still easy to imagine a couple of tap-ins sending him on a devastating scoring spree.
All Premier League statistics via EPL Index