WBC 2013: Japan Lacks Roster Firepower to Win Tournament for 3rd Time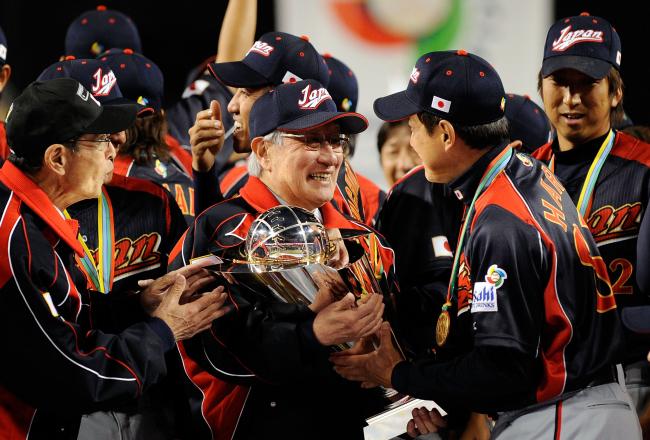 Kevork Djansezian/Getty Images
Japan has won the only two previous World Baseball Classic tournaments, but the third time will not be a charm when all is said and done in 2013.
Without any players from Major League Baseball on the roster, the club can't quite be considered more than an outside contender to take home the title once again.
Pride will definitely be a factor for Japan in maintaining its previous triumphant form, and the home crowd is sure to be supportive of a squad that could definitely reach the semifinals of the 16-team tournament.
But it won't be enough, because Japan's prior success relied heavily on contributions from those who played or have since gone on to play in the majors.
To simply put it, Daisuke Matsuzaka was the most valuable player in both 2006 and 2009, and he won't be playing for his home country this time around. He posted only one dominant season in the big leagues—no longer the imposing force he once was.
Another outstanding pitcher in Yu Darvish also won't be participating, as he is going through spring training in his second season with the Texas Rangers.
His "shuuto" pitch (h/t Baseball Prospectus), which is essentially a reverse slider, befuddled hitters as Darvish led all pitchers with 20 strikeouts at the 2009 WBC.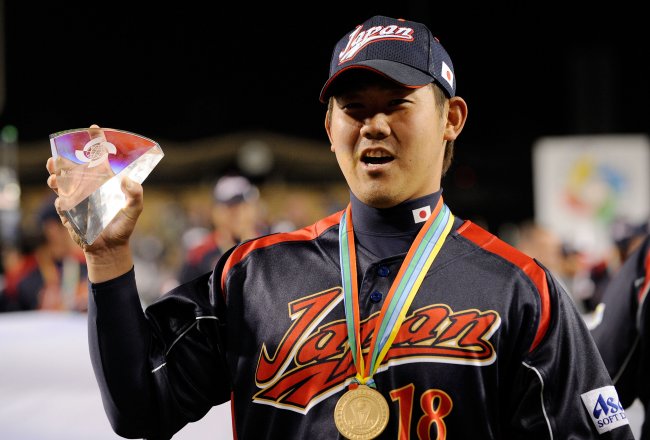 Daisuke Matsuzaka has dominated the WBC's brief history, but he won't be on the bump for Japan.
Kevork Djansezian/Getty Images
So there go two premier pitchers, and another star in Ichiro Suzuki also won't be on the team for 2013. He tied for the lead in the 2009 event with 12 hits and can always be counted on to get on base as well as be an electric presence in the outfield with his cannon arm.
Without one of the best leadoff hitters in the world and its two top pitchers from the previous entry in this tournament, it will be very difficult for Japan to muster enough magic for another championship.
Which country will win the 2013 World Baseball Classic?
That will thrust a lot of pressure onto 24-year-old ace Masahiro Tanaka, the flame-throwing right-handed dealer who must put on a Matsuzaka-esque performance for his team to have any chance.
Great starting pitching is always the key to success in short-term tournaments such as these. While that is a perceived strength of Japan, the team has a lot of unproven, young commodities who will be facing players the likes of which they've never seen before.
For example, the Dominican Republic sports Robinson Cano, Jose Reyes, Hanley Ramirez and the powerful Nelson Cruz. Team USA features Ryan Braun, Mark Teixeira, David Wright and Joe Mauer.
Also vying for victory is Venezuela, who is headlined by Miguel Cabrera and a slew of other good bats to combat whatever Japan throws its way. Outside of prolific-hitting catcher Shinnosuke Abe, Japan lacks the explosiveness to compete with the other star-studded teams despite how much it holds this tournament in high regard.
This young Japan club could easily get off to a great start, but as the finals draw nearer, it is unlikely they will be able to hang with their MLB-dominant competition.
This article is
What is the duplicate article?
Why is this article offensive?
Where is this article plagiarized from?
Why is this article poorly edited?