Norwich City: 3 Players Who Don't Deserve a Place in the Canaries Starting XI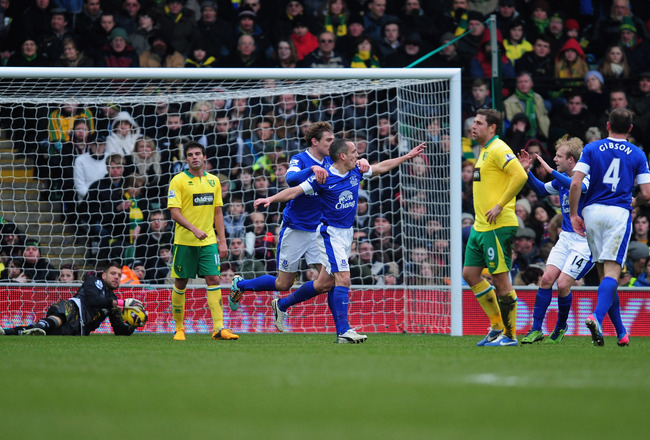 Jamie McDonald/Getty Images
You could almost feel a collective sigh of relief as referee Lee Mason blasted the whistle for full time in Norwich City's remarkable 2-1 triumph over Everton.
A few people had started to become increasingly anxious about the Canaries' prospects for this season, as a run of nine games without a win threatened to undo all of their earlier good work, but those fears were alleviated somewhat thanks to the familiar boot of Grant Holt stepping up once again to secure a precious three points.
It was a wonderful comeback that epitomised Norwich's never-say-die attitude and passion for victory.
However, it's hard to get away from the fact that it was hardly a vintage performance, and the Canaries should always be looking for ways to improve.
Players such as Robert Snodgrass, Sebastien Bassong and Michael Turner can rightly hold their heads high after superb performances in recent weeks, but there are other members of the squad who could perhaps contribute more.
Here are three players who are lucky to be in the starting XI as things stand...
Javier Garrido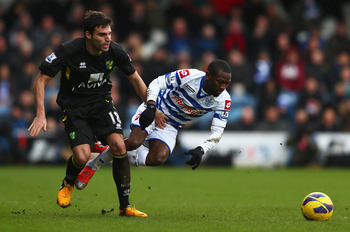 Paul Gilham/Getty Images
Javier Garrido may be seen as a somewhat surprising choice in the eyes of some fans, but I personally believe that the Spaniard could be so much better.
We've seen glimpses of the quality that Garrido can bring to the table, with his wonderful cross to set up Anthony Pilkington in the 1-0 win over Manchester United an obvious highlight.
However, knowing that the 27-year-old is capable of such brilliance just adds to the frustration because the former Real Sociedad full-back has the ability to contribute more than just the two assists he has managed so far this season (via WhoScored.com).
Garrido made his name as an attacking left-back at Manchester City, and that reputation hasn't quite materialised at Carrow Road.
He's got the ability to push wingers back the other way, instead of worrying about them, and if he were to do so he could be a terrific attacking outlet for the Canaries.
The lack of natural competition at left-back is an obvious concern, with Marc Tierney well and truly out of the first-team picture, so you could argue that Garrido has become safe in his position.
With Russell Martin playing so well at right-back, Chris Hughton could be tempted to see what the versatile Steven Whittaker can do in Garrido's place, with the Scot having played there on occasions for Rangers.
Keeping Garrido on his toes may just be the wake-up call needed to get the Lazio loanee firing on all cylinders again.
Wes Hoolahan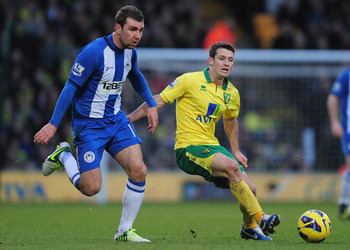 Jamie McDonald/Getty Images
It doesn't take a rocket scientist to work out that Wes Hoolahan is a really influential player for Norwich City, but if Chris Hughton is going to persist with the new 4-4-2 formation, there is simply no place for the Irishman.
The Canaries boss tried to play Hoolahan in a left-midfield role against Everton, but the experiment failed to come off as the former Blackpool man struggled to affect the game.
It wasn't Hoolahan's fault, it's just that his best attributes will never be exploited in a rigid bank of four.
Hoolahan is at his best just off the striker, where he can get on the ball and create chances.
The "Irish Messi" has been so brilliant in that position in recent seasons that both ex-manager Paul Lambert and current boss Chris Hughton have often built their team around him.
However, in a 4-4-2 formation Hoolahan becomes redundant because he doesn't possess the pace or the positional discipline to stay out on that left-hand side and will always look to venture into central areas.
If the Canaries are to play two up front, then they would be better-served in making use of a natural winger in the shape of Anthony Pilkington or Elliott Bennett, who are both more accustomed to such a role.
Of course it is a shame to leave out someone of Hoolahan's ability, but for the greater good of the team it is something that should be done.
Luciano Becchio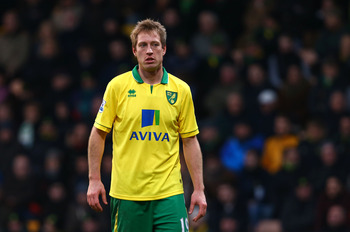 Jan Kruger/Getty Images
This is by no means meant to be dismissive of Luciano Becchio's long-term prospects at Norwich City, but I think it's fair to say that the Argentine has found the step up to the Premier League tough.
Becchio must be given time to adjust to new surroundings (well, not that new considering the ever-expanding Leeds United contingent at Carrow Road!) and two starts is nowhere near long enough to judge a player.
However, with the considerable impact of Kei Kamara from the bench against Fulham and more notably in the win over Everton—Becchio must already be sweating over his starting place.
It's important that Canaries fans don't get too carried away with the impressive early displays of Kamara, but few could deny that the Sierra Leone star appears to have multiple attributes that could be of serious use to the club.
With Kamara continuing to impress from the bench, the temptation for Chris Hughton to throw in a largely unknown quantity must be getting ever stronger, and Becchio would almost certainly be the man to make way.
Having said that, the Canaries boss suggested recently that Kamara may have to wait a little longer for his first start due to a lack of match fitness, so Becchio could have time to make his own impact.
What is for sure is that such fierce competition for places up front can only be good news for the club as they look to finish the season in style.
Follow Andy Ward on Twitter
Keep Reading