Fewer than two weeks away now from the beginning of free agency, the New York Giants still have a lot to think about when it comes to who to bring back and who to let go.
The Giants have already been fairly busy this offseason, releasing RB Ahmad Bradshaw, DL Chris Canty and LB Michael Boley.
But now, with their salary cap heavy on their minds, it will soon be time to look through their free agents and figure out which ones it makes sense to bring back considering their asking prices.
About a month ago, we covered whether or not the Giants should do what they can to get each free agent to stay, or un-sign them and let them go on to other opportunities. Here is an update on that report for each New York Giants free agent.
Unrestricted Free Agents
WR Ramses Barden
Weighing a fair amount upon whether Cruz is re-signed, Barden stepped up impressively when needed last season (such as during Hakeem Nicks' injury) and should be brought back considering the depth he provides and the most likely small amount he would be asking for. Verdict: Stay
T Will Beatty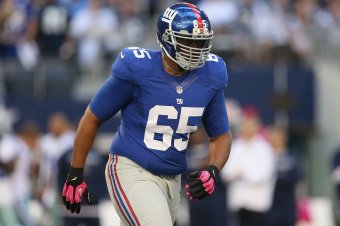 Ronald Martinez/Getty Images
A month ago, it seemed like money would be a huge factor in re-signing Beatty. Now though, as the days get close to free agency, it seems even more obvious how important Beatty is to the team and should be on the verge of a long-term deal. Verdict: Stay
TE Travis Beckum
If Bennett is not brought back, then I would support re-signing Beckum. But the Giants probably will, or at least definitely should, bring him back, and therefore should let Beckum go elsewhere. Verdict: Go
TE Martellus Bennett
There have been seemingly conflicting reports recently about Bennett's future with the Giants, some saying that Bennett wants to explore free agency and others saying that Bennett would be willing to come back for a cheap. The latter makes more sense, but I think he will be worth whatever the Giants pay him. Verdict: Stay
DT Rocky Bernard
Especially with some of the defensive tackles in the draft, it just doesn't make sense for the Giants to hold on to the aging Bernard, who was never as good a player as he was in Seattle. Verdict: Go
Which unrestricted free agent should the Giants focus most on re-signing?
LB Chase Blackburn
I'm changing my mind about this one. Blackburn would only be worth a new contract for the right place, but it wouldn't make sense to get rid of him after already getting rid of Michael Boley this offseason. Verdict: Stay
G Kevin Boothe
It unfortunately seems like money and clearing cap space will a be bigger factor in re-signing Boothe than it was two years ago, but the sixth-year guard should be worth whatever his asking price will be. Verdict: Stay
QB David Carr
The Giants will re-sign Carr, if not for the fact that they have way too many other issues to worry about than finding a new backup to Eli. Verdict: Stay
WR Domenik Hixon
Cruz coming back will decide for how much, but Hixon provides too much depth for not too much money to be let go. Verdict: Stay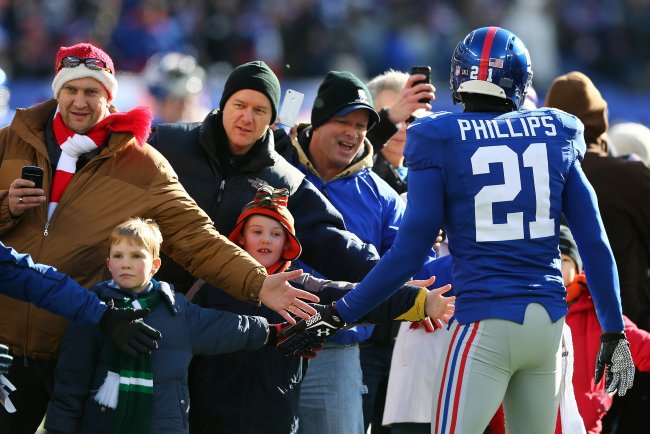 Elsa/Getty Images
T Sean Locklear
Re-signing Locklear makes a lot of sense, especially considering the growing rumors surrounding David Diehl, who may be cut before free agency as the Giants continue to try to make more salary cap room. Verdict: Stay
RB Kregg Lumpkin
With Bradshaw gone, the Giants could conceivably make a move for a running back in a later round to add some more depth. With that, it would also make sense that Lumpkin could see some more snaps next season. Verdict: Stay
S Kenny Phillips
For what Phillips can be worth, the Giants can't take a chance on him putting up another unfortunate season when they're trying so hard to bring back their important players and simultaneously make salary cap room. Verdict: Go
LB Keith Rivers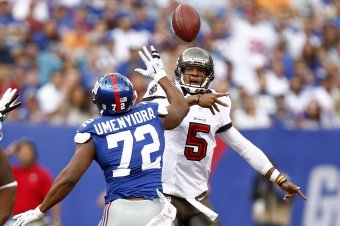 Jeff Zelevansky/Getty Images
Not to go against what I said about Blackburn, but I wouldn't be surprised if either Rivers of Blackburn is gone for next season, although it likely wouldn't be both. I think Rivers should stay, but there are too many options in the draft for the Giants to pass up on a linebacker, and it would be interesting to see if both Rivers and Blackburn come back. Verdict: Stay
CB Justin Tryon
Tryon wasn't incredibly impressive last season, but I feel like Corey Webster could easily be cut sometime before free agency to make cap room. For that, and because a cornerback could easily fit into the Giants cards for Draft Day, I'm changing my mind for Tryon. Verdict: Stay
K Lawrence Tynes
Tynes will go down as one of the key figures in New York's two most recent Super Bowl trips, but on account of the Giants signing veteran kicker David Buehler, Tynes will probably be kicking somewhere else next season. Verdict: Go
DE Osi Umenyiora
As Dan Graziano of ESPN New York notes, Umenyiora is almost certainly heading out of town. Verdict: Go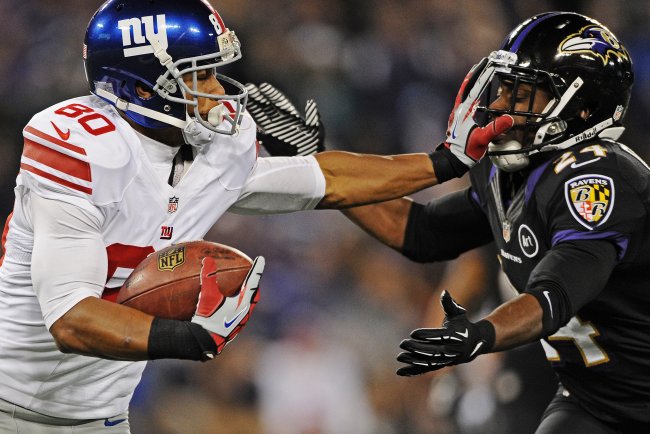 Patrick Smith/Getty Images
CB Brian Witherspoon
Could weigh a lot on whether or not Webster is cut before free agency, but Witherspoon hasn't shown enough to prove himself worthy of being brought back. Verdict: Go
Restricted Free Agents
RB Andre Brown
With no Ahmad Bradshaw, Brown will be competing with David Wilson for the starting job in 2013. And although it's still hard to say who will emerge victorious from that battle, both will be worth whatever they are asking for. Verdict: Stay
S Stevie Brown
Stevie Brown won't cost too much and was too awesome last year to let go. Verdict: Stay
WR Victor Cruz
Cruz and the Giants are still currently in a stalemate over specifics in a new contract for next season. I personally think New York should give him twice whatever he asks for, but I guess re-signing one of the most exciting emerging stars in the league is an important process not to be rushed. Verdict: Stay
RB: Ryan Torain
Nothing special, but considering Bradshaw's departure, Torain's potential to provide some solid depth at the running back position is enough to keep him around. Verdict: Stay
Exclusive Rights Free Agents
C: Jim Cordle
There is a lack of any real experience with Cordle, but his Ohio State play is enough to keep him around to support David Baas behind center. Verdict: Stay
DE Adrian Tracy
Tracy has a lot of potential that has barely been fully tapped into yet. I think he's going to make a big impact in his next few years (hopefully with the Giants). Verdict: Stay
DE Justin Trattou
Less of a sample size to work with than Tracy, but Trattou also has a lot of potential at defensive end and will be worth keeping around. Verdict: Stay