Tottenham Hotspur vs. Arsenal: Key Battles to Watch in North London Derby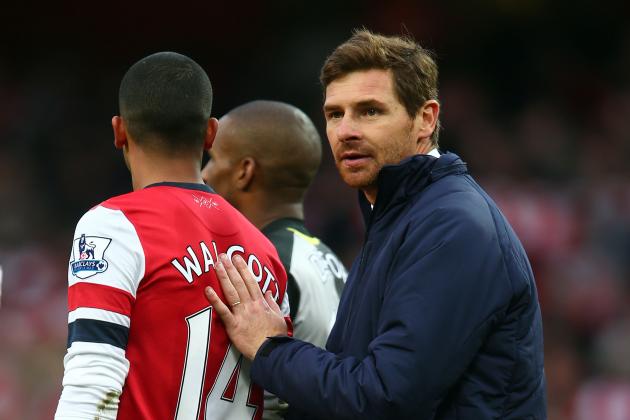 Clive Rose/Getty Images
Tottenham boss Andre Villas-Boas will be thinking about the best way to deal with Arsenal's numerous threats, including that of Theo Walcott
For a few years now the North London derby has been establishing a significance beyond local rivalry. Tottenham Hotspur's re-emergence as a club capable of competing near the top of the table has drawn them into Arsenal's sphere of competition.
Their late-season clashes in particular have had increasing ramifications, though their meeting just over a year ago was the first since 2006 when the result had such a direct impact on both teams.
The same is almost certain to be true of Sunday's fixture at White Hart Lane. Tottenham sit in third place, four points ahead of Arsenal, and will be keen to avoid a result that instigates a collapse similar to what they suffered last season. Arsene Wenger, meanwhile, will be desperate for his team to get a win that sets them on the path to consolidating another top-four place.
North London derbies rarely disappoint for entertainment, and with so much on the line this has the potential to be memorable one.
Here are a few key battles to keep an eye on.
Begin Slideshow

»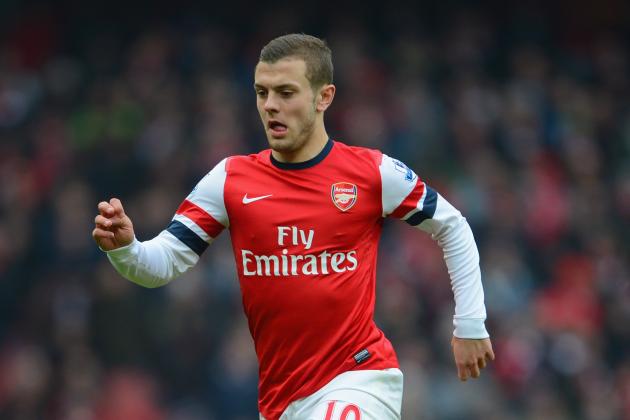 Michael Regan/Getty Images
Jack Wilshere
Mousa Dembele was conspicuous by his absence in Tottenham's 5-2 defeat to Arsenal in November. Injury caused him to miss that game, and Arsenal's midfield, including Jack Wilshere, dominated Spurs without Dembele there to help drive them out their own half.
Dembele is back now, and just like before that Arsenal game, Andre Villas-Boas' lineup has been reaping the benefits of his presence. Now he goes up against Wilshere, one of the other star midfielders of this season.
The nature of both team's midfields—where others like Mikel Arteta and Scott Parker will be heavily involved—means that the battle between Dembele and Wilshere will not always revolve around one another.
As one of their respective side's most influential players, the impact each is able to have on the game could play a big part in which direction the match goes. Hassle Dembele and stop Spurs' flow. Send Wilshere down blind alleys and stifle one of Arsenal's key creative outlets.
On those occasions when they do come into contact, we will get the chance to see two of the Premier League's most dynamic performers try to figure each other out.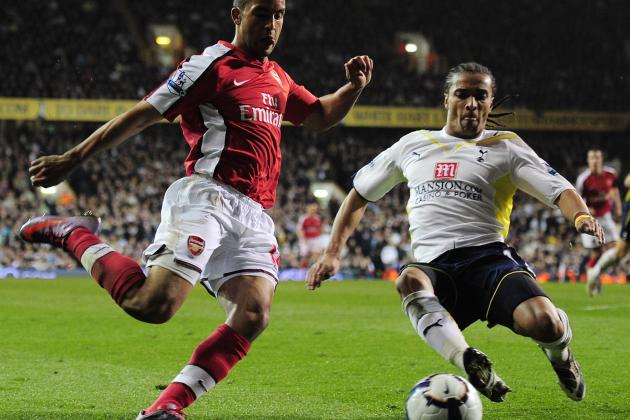 Shaun Botterill/Getty Images
Walcott and Assou-Ekotto in 2010
Benoit Assou-Ekotto was dropped for Tottenham's last game against West Ham as Villas-Boas moved Jan Vertonghen to left-back and brought Steven Caulker into central defense. The aim was to give Spurs more height to deal with some of the Hammers' more physically imposing attackers.
With Theo Walcott to contend with (most likely on the right), Assou-Ekotto will likely be drafted in to renew a familiar rivalry. This has the makings of one of their more decisive contests.
Walcott has fond memories of this fixture. Arsenal's 5-2 defeat of Tottenham last season saw Gunners fans forced to re-evaluate their thinking on him when he sprung to life and scored two match-sealing goals.
It was something of a turning point for the England international, and he has rarely looked back since. In the overall good form he is in, he will once again be one of the danger men Spurs have to most seriously prepare for.
Assou-Ekotto has been up-and-down since returning from injury. He has had to familiarize himself with Tottenham's more advanced defensive positioning and has been caught out a few times on his forays forward in the process.
The balancing act for Assou-Ekotto is not giving Walcott too much space to burst into, while finding a way to try put him on the back foot.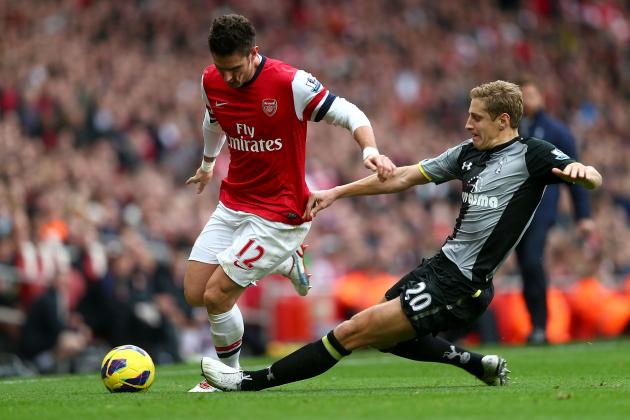 Clive Rose/Getty Images
Michael Dawson tackles Olivier Giroud
November's match between these two sides was the one that prompted Villas-Boas into bringing Michael Dawson into his starting lineup.
Tottenham's defense had been exposed as being organizationally inept and lacking in even the most basic of concentration. The way Olivier Giroud and his Arsenal teammates were consistently getting the run on William Gallas, Steven Caulker, Jan Vertonghen and Kyle Walker was the final straw after weeks of similarly underwhelming defensive displays.
Dawson came on in that game, and though unable to stop a rot that had set in, gave Spurs a semblance of toughness that had been severely lacking. Since then he has played a big role in the team's vast improvement.
Giroud will be one of several Arsenal threats capable of testing Dawson and his fellow defenders on Sunday. The Frenchman will be an interesting case study in measuring Spurs' improvements in dealing with movement of opposition forwards. Dawson has to take the lead in marshaling Giroud as best as possible.
Arsenal will need Giroud to be sharp should any chances come his way. He will also be required to put a shift in off the ball, drawing the attention of the Tottenham defense away from the moves forward of teammates like Santi Cazorla and Theo Walcott.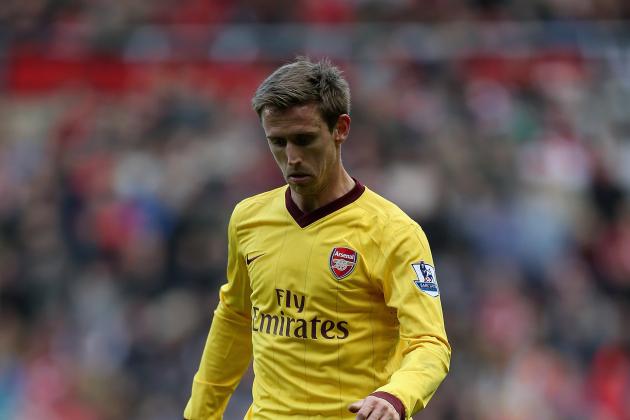 Clive Brunskill/Getty Images
Nacho Monreal
Nacho Monreal is already proving himself to be a shrewd bit of business on Arsene Wenger's part.
The left-back is a sensible user of the ball, but one with the requisite attacking instincts to translate tidy distribution into telling contributions in runs down his flank. The Spaniard is right at home as an Arsenal full-back.
Monreal comes up against his toughest opponent since coming to England when he faces Aaron Lennon on Sunday. He has not had to deal with a winger so capable of turning him inside and out yet, and Arsenal will need him to be on his game to make sure the winger does not get a sniff of an opportunity to get beyond him.
After a great run of form culminated in a very positive showing in Tottenham's 1-1 draw against Manchester United, Lennon has had a quiet month. If he can get at Monreal frequently and effectively, it could be huge for Spurs as they look to lift some of the creative load off of Bale.
Lennon will be keen to have an impact on the attacking side, but he will be just as important to his team in neutralizing Monreal's own threat going forward. Behind him, Kyle Walker is going to have enough to contend with (Cazorla among others). The last thing Walker needs to is to be left exposed to Arsenal double-teaming him.
Jamie McDonald/Getty Images
Gareth Bale
The spectacular nature of Gareth Bale's eight goals in just around a month will have Wojciech Szczesny on high-alert.
Jussi Jaaskelainen had as good a game as any goalkeeper could hope for against Tottenham on Monday night. Yet the West Ham United man could do nothing about Bale's shots from distance. Both of which were placed perfectly out of Jaaskelainen's reach.
Szczesny will be hoping his teammates keep Bale quiet enough that he does not have to contend with such problematic efforts. Inevitably, though, he will be tested by the in-form Welshman.
Bale will feel confident he can beat any goalkeeper right about now. Szczesny will be desperate to keep him out, knowing a big performance in this game could get some of his doubters back on his side.
It might not be the match's most prominent duel, but it could be one of its biggest.