Minnesota Outmuscles No. 1 Indiana in Big Ten Showdown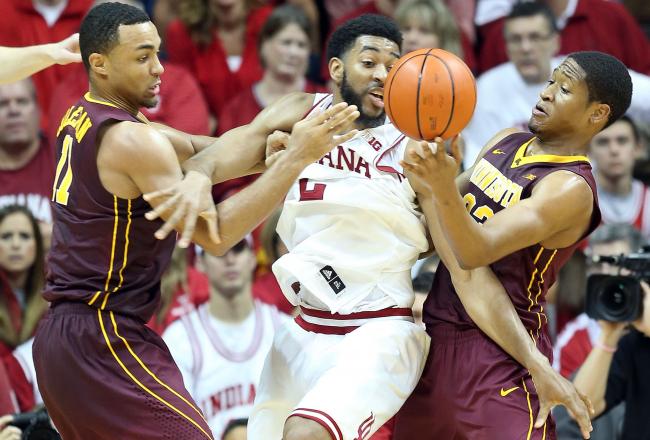 Andy Lyons/Getty Images
Minnesota 77, Indiana 73 (FINAL)
The Minnesota Golden Gophers entered tonight's game in a tailspin, losers of eight of their last 11. The Indiana Hoosiers entered tonight's game as No. 1 in America.
Minnesota left its home court happy, securing a 77-73 win over IU that should ensure that the Gophers will advance to the NCAA tournament.
The Gophers' interior muscle proved to be the difference. UM outrebounded Indiana 38-25, according to the ESPN.com boxscore, although figures given on air depicted an even greater disparity. Of those Minnesota rebounds, 17 were on the offensive end as the Gophers pulled in nearly half of their own missed shots.
Sixth-year forward Trevor Mbakwe recorded his ninth double-double of the season, his seventh in Big Ten play, with 21 points and 12 rebounds. Andre Hollins added 16 points, 12 of them in the second half.
Indiana was led by Jordan Hulls with 17 points, including five three-pointers. However, Hulls was invisible in the second half, going scoreless until four seconds remained in the game. Victor Oladipo added 16 points, but he also had a key three-pointer blocked by Rodney Williams with 16 seconds remaining.
IU drops to 24-4, 12-3 in the Big Ten. Minnesota improves to 19-9 and 7-8 in conference.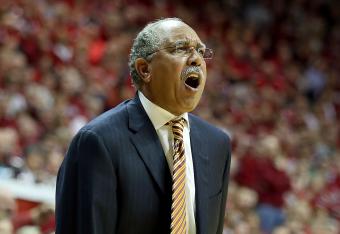 Minnesota 77, Indiana 73 (FINAL)
And the Gopher writers have to duck into Gopher holes as the crowd rushes the court.
Minnesota simply outmuscled IU all night long. They needed to, because the shooting wasn't pretty (43 percent, 20 percent from deep).
And, cue all the indignant (and ignorant) "Gonzaga's a joke" commentary. Thanks, Jeff Borzello:
So...Gonzaga is going to be No. 1.

— Jeff Borzello (@jeffborzello) February 27, 2013
Minnesota 76, Indiana 73 (0:04.2 2nd Half)
Jordan Hulls picks a fine time to score again, making his first basket of the second half.
Meanwhile, the big story is Rodney Williams leaping into the rafters to reject an earlier three from Victor Oladipo. That's part of what Minnesota has missed with his shoulder issues.
Minnesota 75, Indiana 70 (0:26 2nd Half)
Flood of humanity ahoy!
People approaching the court behind me. I'm going to duck and cover if this happens. #Gophers

— Amelia Rayno (@AmeliaRayno) February 27, 2013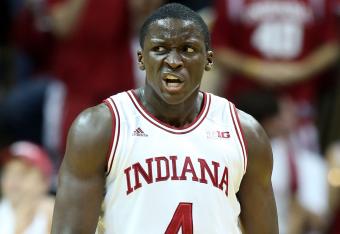 Minnesota 75, Indiana 70 (0:27 2nd Half)
Victor Oladipo misses the first of two free throws before making the second. Odd to see him not making all the clutch plays, but it seems like Goldy's night in the Barn tonight.
(Don't snarl at me like that, Victor.)
Waste of a good ballhandling night for the Hoosiers, with only nine turnovers.
Minnesota 73, Indiana 69 (0:44 2nd Half)
Watford is trying to mount a major late rally to salvage his string of double-figure scoring games. His second three in 13 seconds counters the and-one from Austin Hollins at the other end.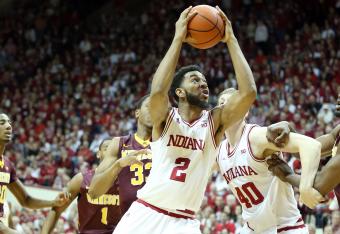 Minnesota 70, Indiana 66 (0:57 2nd Half)
Christian Watford drains a trailing three on the break to cut the lead to four. That basket puts the Watford-Zeller duo on 14 points, one more than the deadly Ahanmisi-Eliason duo for Minnesota.
Inside the Hall's Alex Bozich with the stat of the night. Getting crushed on the offensive glass is no way to go through life, son:
Minnesota with 23 second chance points and Indiana with four. #iubb

— Alex Bozich (@insidethehall) February 27, 2013
Minnesota 69, Indiana 62 (1:38 2nd Half)
Smooth fast break action for the Gophers, and it was all ignited by that man Eliason.
On the other end, no one's sagging off of Jordan Hulls this half.
In other bad news for IU, Cody Zeller has four fouls.
Minnesota 64, Indiana 59 (3:29 2nd Half)
The four non-Mbakwe starters are 11-41 from the floor for Minnesota. Elliott Eliason and Maverick Ahanmisi are the second- and third-most reliable options, and the Gophers are winning?
Perhaps it is Minnesota's night.
Mbakwe is on the bench with four fouls, though, and Eliason is playing with four.
Minnesota 56, Indiana 56 (4:46 2nd Half)
Everyone pray for Amelia Rayno's safety, please:
Legitimate concern: in the event of a court-rushing, I might die. NOT SAYING IT WILL HAPPEN. BUT IF IT DID.

— Amelia Rayno (@AmeliaRayno) February 27, 2013
Indiana 56, Minnesota 56 (5:40 2nd Half)
Terry Hutchens feels like someone's missing:
IU trails by four and Hulls still hasn't scored in second half. That needs to change.

— Terry Hutchens (@indystar_hutch) February 27, 2013
Minnesota 56, Indiana 52 (6:25 2nd Half)
ESPN's graphic says Minnesota has 22 offensive rebounds. The online box score says 17.
Either way, the Gophers are earning a pardon for shooting an ugly 39 percent.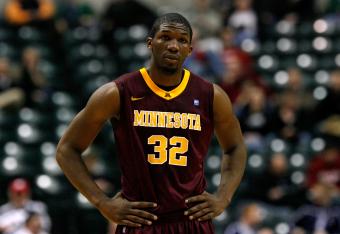 Minnesota 55, Indiana 52 (7:22 2nd Half)
Trevor Mbakwe with a MANLY offensive rebound, then gets rewarded with an entry pass for a basket over Christian Watford. He's up to 18 points and 11 rebounds.
Somebody said he'd be important tonight. That writer needs a raise.
Indiana 48, Minnesota 48 (9:08 2nd Half)
Marcus Fuller has an idea who can make the difference in the late going:
Dre Hollins and Austin Hollins have to feel like if they get out of their funk #Gophers can win this thing. Will need them eventually.

— PiPress Gophers Now (@GophersNow) February 27, 2013
Indiana 48, Minnesota 48 (10:15 2nd Half)
Minnesota's getting a lot better results from quick ball movement and entry passes than it is from one-on-one iso ball with five seconds left on the shot clock.
I made a funny at Elliott Eliason's expense earlier, but he's making plays as we close in on midway through the second half. He's up to seven points and four rebounds.
Indiana 46, Minnesota 44 (11:32 2nd Half)
Minnesota's not an extremely huge team, but the Gophers are crushing Indiana on the glass to the tune of 30-15. Mbakwe has 10 by himself.
If IU does run up against a team with substantial size (say, a Gonzaga) in the tournament and that team's sufficiently motivated, look for some tight games rather like this one.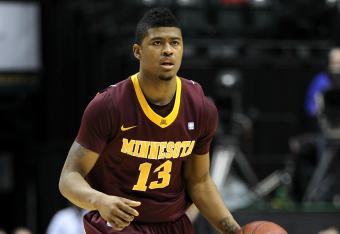 Indiana 44, Minnesota 39 (13:34 2nd Half)
Minnesota's Maverick Ahanmisi has a pair of threes after that one goes down. The rest of the team is 0-12.
Even decent shooting from the Gophers would make this a substantial lead.
Indiana 44, Minnesota 36 (15:30 2nd Half)
Another big run for IU, this one 10-2. A charge on Mbakwe, his third foul, will give IU the ball back after the timeout.
Quiet as it's kept, Victor Oladipo's up to 14 points, five so far in the second half.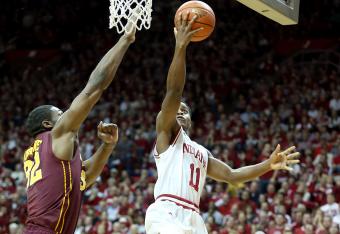 Indiana 39, Minnesota 34 (18:18 2nd Half)
Yogi Ferrell's speed hasn't been on display much tonight, but he uses it well to get his first basket of the night.
If the big men aren't making things happen, let the little man do it, eh?
Indiana 34, Minnesota 34 (19:00 2nd Half)
Like the first half, Trevor Mbakwe starting out fast with back-to-back scores. He's up to 16 and 6.
The Indy Star's Terry Hutchens sees a reversal of fortune from the first meeting:
The first time these teams played Indiana had a great first half and sub-par second. IU fans can only hope tonight is the reverse.

— Terry Hutchens (@indystar_hutch) February 27, 2013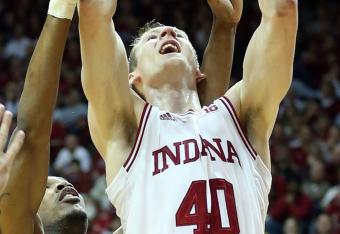 HALFTIME: Indiana 34, Minnesota 30
The Gophers got to the basket at will, scoring 18 points in the paint.
IU worked from the outside in, making 5-12 from long range. That's deceptive, however, since all players not named Jordan Hulls are 1-7.
Minnesota is bailed out by Indiana missing some wide-open threes that they don't normally clank, especially Will Sheehey's final brick with no one within 10 feet. Perimeter defense will certainly need to tighten up, lest Indiana hit a hot streak and stretch the lead in a heartbeat.
Indiana could stand to attack the basket, as 12 of their 28 shots have been from deep. Zeller, though, is struggling against a highly motivated Mbakwe.
Indiana 34, Minnesota 30 (0:16 1st Half)
Faced with a use-it-or-lose-it timeout, head Gopher Tubby Smith elects to use it.
Two fouls each on important figures Zeller, Watford and Mbakwe, as well as the somewhat less important Elliott Eliason.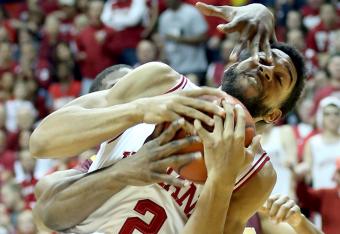 Indiana 31, Minnesota 29 (1:52 1st Half)
IU's leading despite Yogi Ferrell, Cody Zeller and Christian Watford being a combined 0-11 from the floor with three turnovers.
Is it not Minnesota's night?
This article is
What is the duplicate article?
Why is this article offensive?
Where is this article plagiarized from?
Why is this article poorly edited?

Indiana Hoosiers Basketball: Like this team?