Tottenham vs. Arsenal: 6 Most Memorable North London Derbies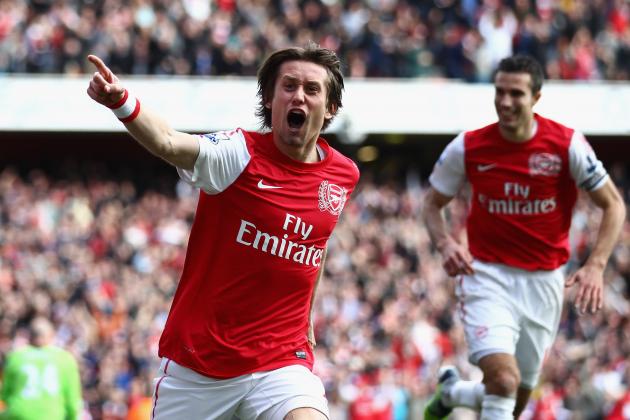 Clive Mason/Getty Images

There's always something a bit different about the week before a North London derby. As Arsenal and Tottenham prepare to resume their old feud at White Hart Lane, both sets of fans are growing more anxious by the day.
This is a matchup that has not disappointed in recent years, with 14 total goals coming in the last two fixtures alone. The Gunners and Spurs are two teams that prioritize their attacks at the risk of exposing themselves at the back. While that may not be the best strategy for winning games, it produces the most entertaining football.
In the spirit of wishing for a thrilling North London derby this Sunday, let's look at six of the best ever played.
Begin Slideshow

»
Simon Bruty/Getty Images

Arsenal have dominated their crosstown rivals for some time. But on April 14, 1991, Tottenham sealed one of their best ever victories over the hated Gunners.
The scoring was opened by Paul Gascoigne, who ripped a thunderous 30-yard free-kick to send the Spurs supporters into ecstasy.
A Gary Lineker tap-in was answered by Arsenal's Alan Smith, but Lineker scored a marvelous second to seal the game for Tottenham and secure their passage to the FA Cup final.
Keep in mind that Arsenal had already clinched the First Division title, losing only once all season in the league.
They would win the cup a month later, the memory of their famous derby win etched firmly into their minds.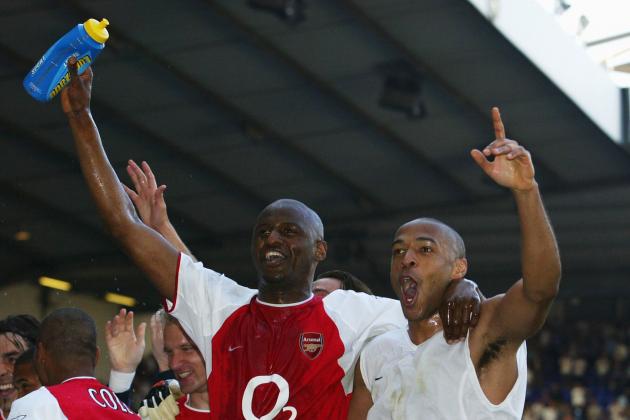 Shaun Botterill/Getty Images

There are few more ways in which this match could be more legendary.
Chasing an unbeaten season, Jens Lehmann gave Tottenham a chance to win the game late by conceding a penalty that Robbie Keane duly converted to equalize.
But at the end of a batty match that saw Arsenal squander a two-goal lead during their best season ever, the Gunners clinched the Premier League title on the soil of their most hated rivals and continued their ultimately successful quest for an undefeated campaign.
Celebrating an historic achievement in such a hostile environment must be an utterly intoxicating and unique feeling.
In the best possible follow-up to Arsenal's title-clinching draw earlier in the year, the Gunners and Tottenham furiously traded blows right up until the final minutes of this game.
Most North London derbies are high-scoring affairs, but nobody expected a nine-goal epic at White Hart Lane that saw both sides throw all caution to the wind and express their true attacking natures.
To realize how utterly insane this match was, consider that the score was only 1-1 at half-time. The seven—seven—other goals were all scored during the second half.
Whenever you thought this game was over, it delivered more twists and turns. Even a Robert Pires goal in the 81st minute could not help Arsenal see the game out comfortably; Frederic Kanoute struck the game's final blow seven minutes later to ensure the nerviest of finishes.
In one of the most memorable matches of the 2008-09 season (and possibly of the entire Premier League era), Tottenham held Arsenal to an eight-goal draw at the Emirates.
Oh, and did I mention that Tottenham were in the relegation zone when the game was played? And that it was Harry Redknapp's first game as Spurs' manager?
How's that for an initiation, Mr. Redknapp?
The most memorable moments from this insane fixture are ex-Arsenal man David Bentley's 40-yard volley over Manuel Almunia and Aaron Lennon's equalizer just before the final whistle.
This match is really the exemplar of the high-octane affairs that the several past North London derbies have been.
Mike Hewitt/Getty Images

Arsenal were sitting pretty near the top of the table when Spurs travelled to the Emirates Stadium in November, 2010. Tottenham had never won at the Emirates, so no problem for the Gunners, right?
Well, it looked that way at half-time, when Arsenal had a comfortable 2-0 lead on their rivals, but, as they so often have in recent years, the Gunners collapsed and handed three points to their opponents.
When Gareth Bale got one back shortly after the break, the wheels started to come off.
Cesc Fabregas inexplicably threw his arm up to block Rafael van der Vaart's free kick in the penalty area, and Younes Kaboul capitalized on Arsenal's weakness from set-pieces to head home the winner.
Cue madness in the blue half of North London and talk of a power shift.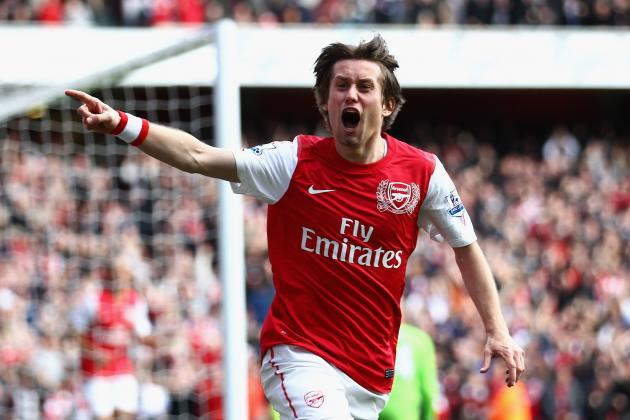 Clive Mason/Getty Images

Speaking of supposed power shifts, Arsenal roundly quashed any notion that Tottenham were finally unseating them as North London's best in this pivotal fixture from last season.
Down 2-0 early on, the entire stadium was baying for Arsene Wenger's head. Humiliation against their most bitter enemies would have been too much for Arsenal's beleaguered fanbase to take. Online communities of Gunners fans would nearly have imploded.
Then, a bit of magic happened—a touch of the miraculous that only occurs in the most important derby matches.
Arsenal scored five unanswered goals to emphatically drive their unwelcome visitors back to White Hart Lane in despair. What started with an emphatic Bacary Sagna header was finished with a bang by a Theo Walcott brace.
The Gunners once again proved that no power shift was occurring north of the Thames and took the first step toward overcoming Tottenham's 10-point lead.