Duke Basketball: 5 Keys to Beating Virginia in an ACC Clash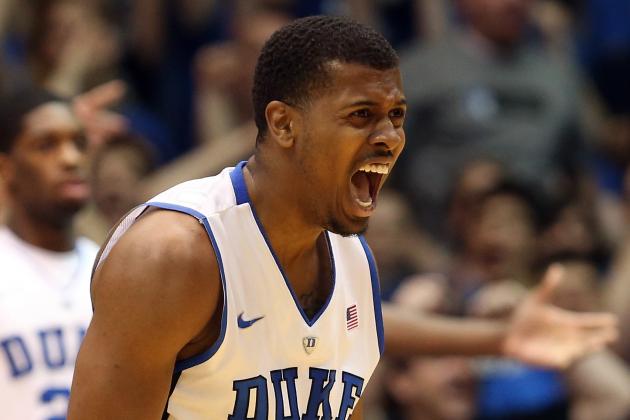 Streeter Lecka/Getty Images

When the Blue Devils play the Cavaliers in Charlottesville Thursday, it will be a battle between two teams that each have reasons to be confident in their ability to pull out a victory.
Duke is coming off two straight blowouts, against Virginia Tech and BC, and probably playing its best defense since Ryan Kelly got hurt. Virginia is coming off a blowout win of its own, against Georgia Tech, and well aware of the fact that all three of Duke's loses this season have come on the road.
If Virginia can pull off the upset, the Cavaliers are positioned to overtake North Carolina for third in the conference and it would help make a case for a better seed in the NCAA tournament. Duke, meanwhile, need the win to keep alive the tiny possibility of tying Miami for an ACC regular season title and to keep the Blue Devils in the running for a No. 1 seed come March.
With a lot on the line, the game will come down to a contest of styles as Virginia will attempt to slow the game to crawl. Solving that slow-down system will be essential for a Duke win, so here are five keys for a Blue Devil victory in Charlottesville.
Begin Slideshow

»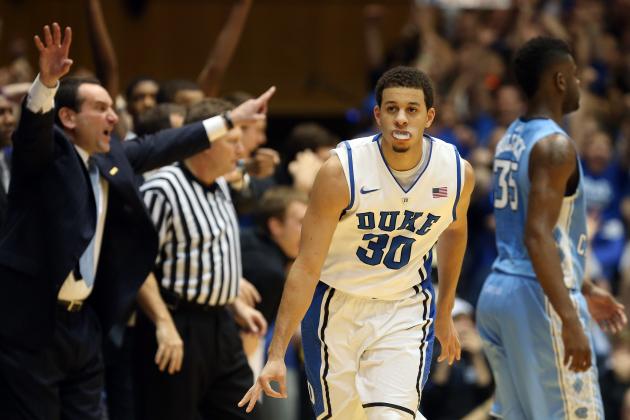 Streeter Lecka/Getty Images

Everyone knows that Virginia prefers to play at a snail's pace. Tony Bennett is following in his father Dick Bennett's footsteps by instituting an offense that runs down the shot clock and limits an opponent's number of offensive possessions.
As a result, Virginia is the Wisconsin of the ACC. Although, given conference realignment and the swirling rumors, UVA might end up in the same conference as Wisconsin. But that's beside the point.
What's relevant is that Virginia wants the game to finish with Duke only scoring in the 60s. Virginia is averaging just 65 points-per-game, so it can't come down to offensive fireworks for the Cavaliers.
Virginia's strength is its defense, which is holding opponents to an average of 54 points per game. That defensive average is even better when the Cavaliers are at home, where opponents have scored just 47.8 points per game.
Personally, I'm not a fan of this slow-down style.
I don't like it because it makes you an inherently limited team. When Virginia played North Carolina, the Tar Heels were able to push the tempo. Unable to play their familiar slow-down style, the Cavaliers simply couldn't match UNC's offense and lost 93-81.
Duke may not run as fast of a tempo as North Carolina, but the Blue Devils average 69.2 possessions per game and score an average of 78.9 points. So Virginia will have to do a lot of work to keep Duke's offense from putting up points.
If Duke can keep the tempo from slowing to the point that it resembles paint drying, then Virginia simply doesn't have the offensive firepower to keep up. In that regard, Virginia can only effectively play one style of basketball. If Duke can't force them out of that system by taking opportunity to move the ball up-court quickly and avoiding turnovers, then Virginia should ultimately fall short.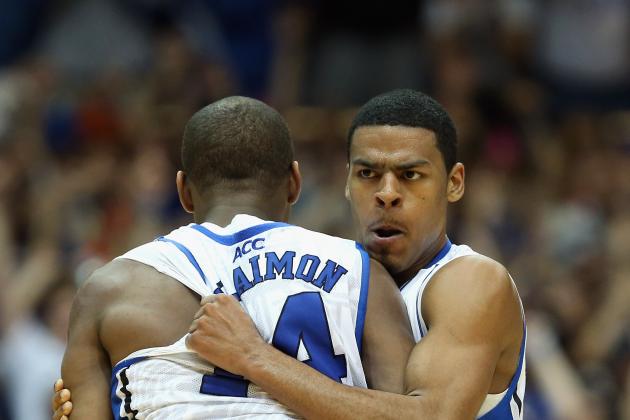 Streeter Lecka/Getty Images

Another reason I dislike the slow-down style of play is, even if a team like Virginia can successfully keeps the point totals low, the games tend to be close. That means even bad teams that have trouble scoring stay competitive throughout the game.
For instance, Virginia has lost to Old Dominion, Wake Forest, Clemson and Georgia Tech. In two of those games, the opponent didn't break 60 points. The highest opponent point total for those four losses Virginia suffered is Georgia Tech's 66 (via ESPN). So when you slow the pace, it's difficult to put away even bad teams.
In games decided by less than six points, Virginia is 1-5. So even if Duke isn't able to run Virginia out of the building on offense, the Cavaliers won't be able to put the Blue Devils in too deep of a deficit and they have a way of letting late leads slip.
Both Duke and Virginia aim to use their defense to frustrate the other team. Duke uses an aggressive defense to accomplish that goal, Virginia is more about defensive containment and a slow offensive tempo. Either way, the object is to disrupt an opponent's offense.
As long as Duke remains composed, even if the game fits Virginia's pace, the Blue Devils can win.
That means Duke doesn't have to force a fast tempo for a full 40 minutes. The Blue Devils just needs to take opportunities to push the ball down the court and not force anything. Turnovers and bad shots from trying to create opportunities that aren't there simply play into Virginia's hands.
As the stats show, even if Virginia wins the tempo battle, the Blue Devils, who are 5-1 in close games, can still pull out a win as long as they don't get frustrated.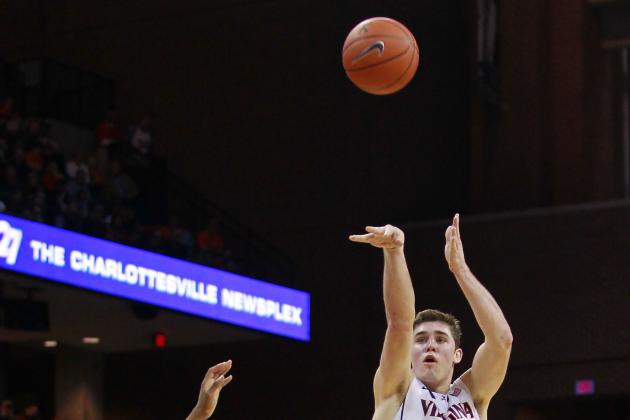 USA TODAY Sports

No, I'm not talking about Virginia's need to focus on perimeter defense (although they'll need to do that if they want to beat Duke). I'm talking about Duke's need to defend against the three.
Virginia's leading scorer is Joe Harris. Though the junior is listed as a guard—he's 6'6" and has dead-eye accuracy from the three-point line—it's hard to find a defender for Harris that he can't simply shoot over.
Currently, Harris is shooting 46.4 percent from three and is very much the focal point of Virginia's offense. The Cavaliers run Harris through screens much the same way Duke does for Seth Curry. So even if Rasheed Sulaimon, the Blue Devil most equipped to guard the dangerous Harris, starts out defending him, the screens will force switches that favor the Cavaliers.
The bottom line, then, is that Duke must make a concerted team effort to shut down the three-point shot. It will be difficult because Virginia will use nearly the whole shot clock to run Harris through traffic and off picks to free him up. That will force Duke to play a full 35 seconds of defense each time Virginia has the ball.
And it's not just Harris who can shoot from behind the arc. As a team, Virginia shoots 40.4 percent from the three-point line. That is No. 5 nationally, just behind the No. 4 Blue Devils, who shoot 41.6 percent from beyond the arc (via StatSheet).
So Duke knows it's dealing with a team that can shoot from deep, but it's easy to lose focus, to have a miscommunication on switches or get frustrated when a sub-par defender like Seth Curry gets switched to a dedicated scorer like Harris. But the Blue Devils need to ensure that Joe Harris is as harassed as possible. If he gets clean looks, even the lackluster offense of Virginia can light up the scoreboard … relatively speaking.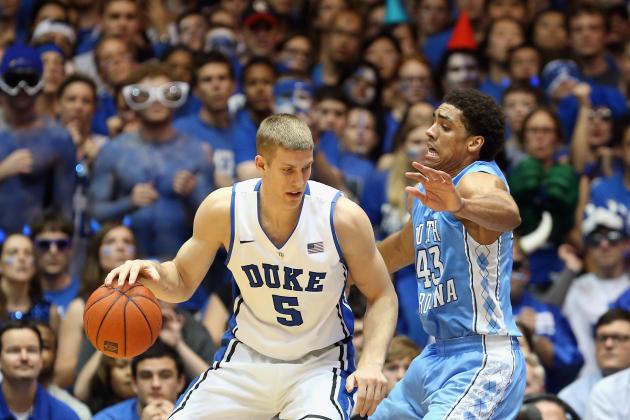 Streeter Lecka/Getty Images

Virginia's defense is going to try to lock down the perimeter and play solid help defense. The goal will be to make Duke work long and hard before a quality shot opportunity presents itself.
Moreover, Virginia will invite Duke to take contested threes or quick shots. If those are going in, great. If they're not, Virginia will have the Blue Devils right where it wants them.
The best way to beat Virginia's defense is through post play. If Mason Plumlee can post up in the paint and force Virginia's perimeter defenders to double-team him, the Cavaliers' help defense will have to scramble to cover Duke's guards.
Virginia, like Wisconsin, is very much about playing within a system. Having to double-team Plumlee would force the Virginia defense to adjust what it normally does. Plus, if Plumlee can give Duke high-percentage baskets, that reliable scoring puts pressure on Virginia to score at the other end.
Quality post play would also help Duke in terms of composure. If the Blue Devils get frustrated and start launching threes or trying to force bad shots, Virginia's upset bid gains serious momentum.
If, on the other hand, Duke remains calm and comes at Virginia with a balanced offensive attack that includes drawing the defense into the post, then Duke should have enough offensive weapons to score substantial points against even the vaunted UVA defense.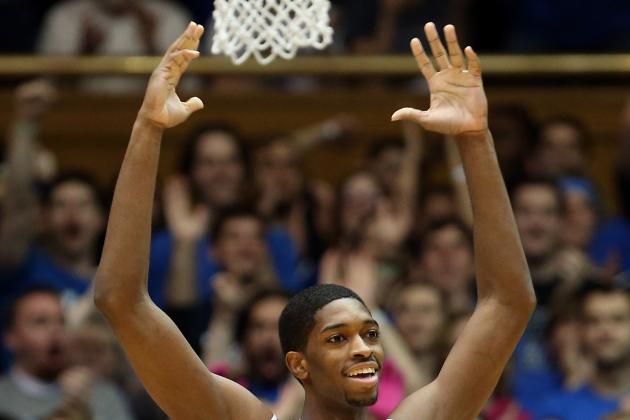 Streeter Lecka/Getty Images

This has been an issue for Duke for much of the year, but recently, the Blue Devils have sorted it out. Mason Plumlee has returned to the aggressive rebounding form he showed earlier in the year and Amile Jefferson and Josh Hairston have stepped up their glass cleaning game.
Rebounding is paramount against Virginia because the Cavaliers want to limit their opponent's possessions. An offensive rebound would give Duke another crack at Virginia's suffocating defense and in a slowed-down game, those extra possessions are invaluable.
Defensive rebounding will also be important. While Joe Harris gets all the attention, Virginia's second leading scorer is Akil Mitchell. The 6'8" forward is extremely active on the boards, averaging 8.7 rebounds per game.
When Virginia finally shoots the ball, it's imperative that Duke rebound any misses. Allowing second chances lets Virginia run more clock and further frustrate a team that wants to get back on offense. Easy baskets off offensive rebounds also give Virginia easy points, which would reduce the margin for error for Duke on the offensive end.
Points come at a premium against Virginia, so you want to maximize your opportunities to score while minimizing the Cavaliers'.
The bottom line is, if you dominate the boards against Virginia, then you'll earn extra possessions and put pressure on Virginia to be as efficient as possible on offense. Teams that play the Bennett family style of basketball are trying to put pressure on its opponents, but if Duke does small things like rebound and score in the post, then that pressure gets put back on Virginia.