Indiana Basketball: 5-Step Plan to Peaking Before the NCAA Tournament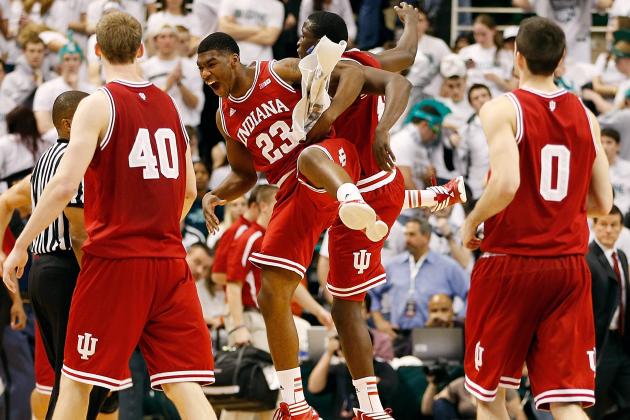 Gregory Shamus/Getty Images

It's odd to think that college basketball's top-ranked team can still improve between now and the NCAA tournament. The Indiana Hoosiers, however, can find subtle ways to strengthen their Final Four case.
The road that remains before IU en route to the Big Ten title is a demanding one, with games against a sneaky Iowa team and the always-dangerous Ohio State Buckeyes preceding a trip to Michigan.
With these minor tweaks, it's not unreasonable to expect the Hoosiers' run through March to be filled with their best basketball of the season.
Begin Slideshow

»
Gregory Shamus/Getty Images

In the loss to Minnesota on Tuesday night, the Hoosiers were pummeled on the defensive glass, snaring only 46.5 percent of the available defensive rebounds.
While second looks weren't a major factor in IU's losses to Wisconsin and Illinois, Butler did manage a similar degree of dominance in December, pulling nearly 49 percent of the offensive rebounds in an overtime win over the Hoosiers.
Attempting to crash the defensive glass can lead to sacrificing some run-outs, but NCAA tournament opponents will be game-planning to take those away to begin with.
Ranked 16th in America at 26.6 defensive boards per game, the Hoosiers don't normally have issues in this area, but opponents have pulled 35 percent or better in seven of IU's 15 Big Ten games.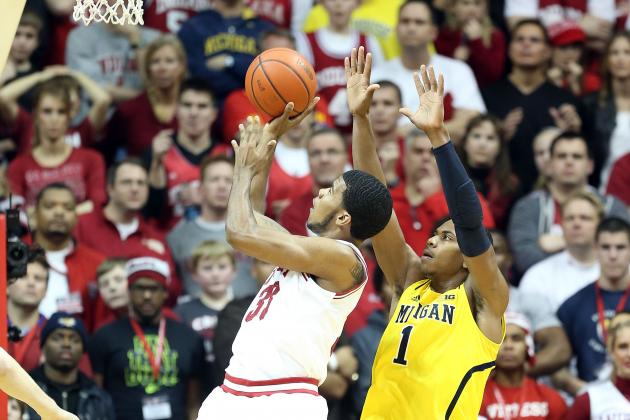 Andy Lyons/Getty Images

At first glance, Indiana's bench looks tremendously productive on the season. IU's non-starters have produced an average of 20.6 points per game, a respectable figure.
Many of those scores, however, came against a non-conference schedule filled with garbage time. In Big Ten play, IU's reserves are producing 13.3 PPG, 7.6 of that from Will Sheehey.
While expecting more baskets from the likes of Remy Abell, Derek Elston and Jeremy Hollowell could be overly optimistic, players such as those do need to produce consistent positive minutes. Elston's been doing his part, racking up 28 minutes in his last three games. He's produced seven points and five rebounds in that span.
Abell, Hollowell and Maurice Creek combined for a mere 15 minutes against Minnesota, scoring only one free throw from Hollowell.
Any rest that can be granted to Victor Oladipo, Cody Zeller et al. will prove vital in the three-day grind of the Big Ten tournament and the short planning windows of the NCAA tournament.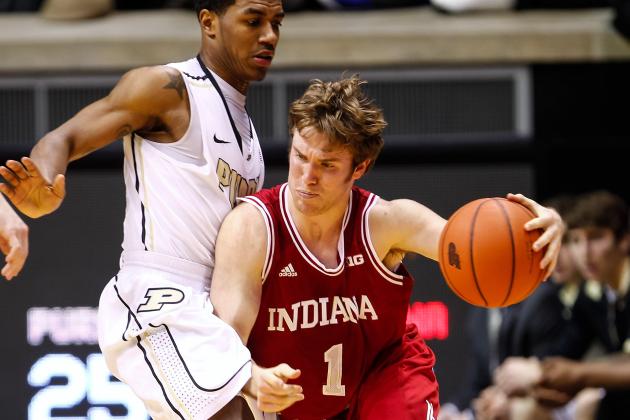 Michael Hickey/Getty Images

Indiana has the Big Ten's third-highest turnover percentage at 19.3 in conference play. With an offense predicated on the transition game, a certain number of miscues can be expected.
At 22.2 percent, Minnesota is the league's worst in that category, but the Gophers managed to cough it up only 10 times Tuesday night. That performance dropped IU from the perch among Big Ten turnover defenses.
Nine times, Indiana has either lost or mustered only a single-digit win in Big Ten play. In those games, IU's turnover margin has been an iffy minus-12. The lack of transition chances has contributed to 43 percent shooting in those games, which has helped to keep them close.
If IU is going to give away free possessions, it will be imperative that it take some away as well.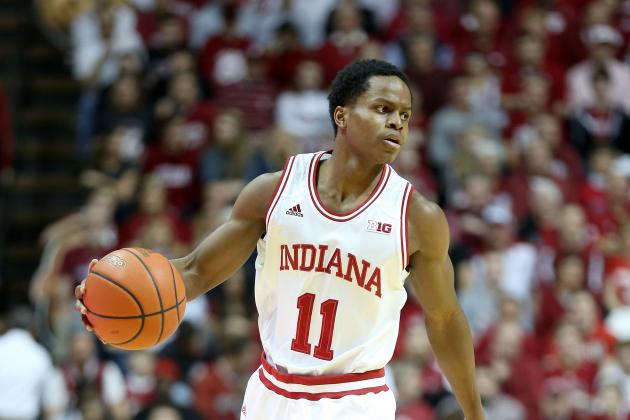 Andy Lyons/Getty Images

This may tie in slightly with the previous slide, but it can still prove important down the stretch.
Indiana's turnovers haven't always done substantial damage, as the Hoosiers have allowed 12.8 PPG off of miscues this season. In Big Ten play, though, that number has increased to 14.1 per game.
The Hoosiers have done well to survive on those occasions where the bleeding has been most severe. The win over Michigan State at Assembly Hall was kept close by MSU scoring 25 points off of turnovers. IU surrendered only 12 in the last-minute win in East Lansing.
Likewise, Michigan scored 21 points off errors in its loss to IU, but the 28 points Illinois produced off turnovers were key in its win at the other Assembly Hall.
A mostly veteran crew, Indiana players' court awareness and athleticism help to keep the damage down when the ball is misplayed. Against the caliber of opposition IU will encounter in the NCAA tournament, they'll need to keep those eyes on the ball.
Gregory Shamus/Getty Images

With guys like Victor Oladipo handling the ball, a little one-on-one action does the Hoosiers good at times. Few teams, though, can afford to neglect their passing and ball movement for long.
IU sits in the middle of the Big Ten pack with a 52-percent assist rate in conference games. Tuesday night's 12 dimes on 22 baskets was actually an above-average night in that regard.
Only about 28 percent of Indiana's two-point baskets have been the result of a pass, according to stats on Hoop-Math.com. The rest are considered unassisted, usually stemming from a dribble drive or tip-in.
Minnesota produced 17 assists on its 27 baskets Tuesday night, a 63 percent rate that represents the third-highest from a Big Ten opponent this season. The two highest were at Northwestern and Iowa, both exceedingly close games.
For more from Scott on college basketball, check out The Back Iron, home of the exclusive Back Iron Index and Bracketometry, telling us which teams SHOULD be in the NCAA tournament come March.