PGA Tour's Hottest and Coldest Golfers Heading into Week of Feb. 26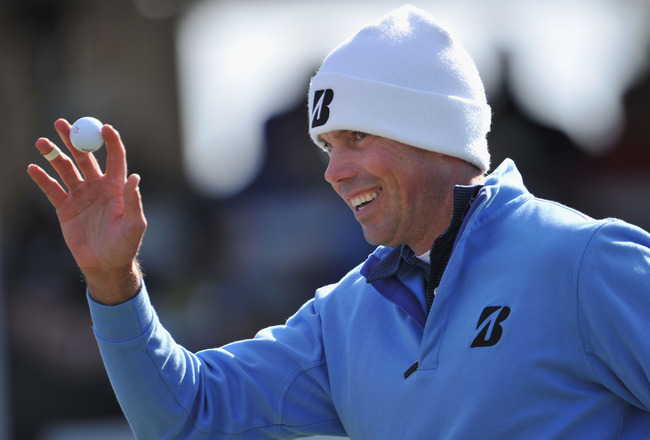 Stuart Franklin/Getty Images
While a desert snowstorm did its best to cool off the world's top golfers, it couldn't keep Matt Kuchar from raising his golf temperature.
Kuchar took the Accenture Match Play Championship title over defending champion Hunter Mahan, after a long, cold and upset-filled week of golf.
So, while everyone hopes the switch in coasts for the Honda Classic in Palm Beach Gardens, Fla. warms everyone up, there are three golfers whose games are in particular need heating.
They, and their counterparts who have games streaking in the right direction, will be highlighted in the following slides.
Cold No. 3: Rory McIlroy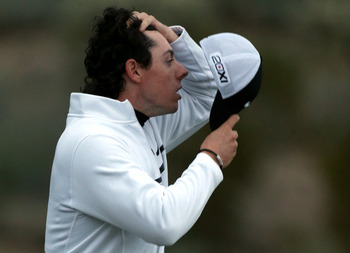 Andy Lyons/Getty Images
Rory McIlroy's recent struggles may just stem from an adjustment period to his new Nike clubs, or it could be a sign of a slump that goes into the heart of his game.
It is still too early to have anything nearing a concrete answer to this question, but it is certainly clear he is slumping.
McIlroy has played just two events this year. He missed the cut in Abu Dhabi after firing two 75's, and then was bounced in his first match at Accenture against Shane Lowry. According to ESPN's Bob Harig, McIlroy again shot 75 in that round.
McIlroy was not getting through the ball and often found his shots pushed off to the right. He battled, but he was unable to score as a result.
We will be a lot closer to knowing this week if these struggles are just a blip on the radar or a sign of worse things to come.
McIlroy is scheduled to play at the Honda Classic, where he is the defending champ. If he slumps to another missed cut, it could be a long year for the world's No. 1.
Hot No. 3: Brandt Snedeker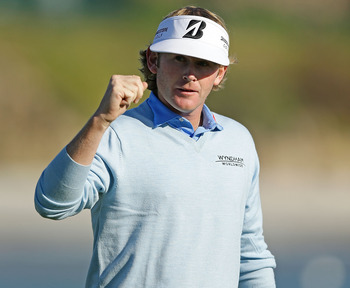 Ezra Shaw/Getty Images
Brandt Snedeker's ribs have him dropping down the hot list. The guy was undoubtedly the hottest player in golf, until his sore ribs found him stranded on the sideline.
Snedeker has not been in action since he was hoisting the trophy at the Pebble Beach Pro Am on Feb. 10. The rest of the tour better hope this layoff cools him off.
He has played in five tournaments this year. In those five, he has a win, two seconds, a third and a 23rd place finish, and he doing this while his strokes gained putting actually dropped from last year.
While inactivity has made the world's No. 4 golfer's inclusion on this list tenuous, his blazing hot start made it a necessity.
The question is, will he be able to maintain this dominance once he returns? My guess is he will. The 32-year-old is in the midst of a career-defining run, and he also bounced back fantastically from rib issues in the middle of last year.
Cold No. 2: Zach Johnson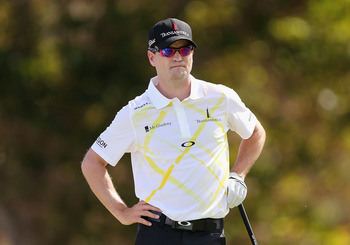 Christian Petersen/Getty Images
Zach Johnson was downright embarrassed at the Accenture. He fell to Jason Day 6 and 5 in the first round.
This only continues what is a terrible start to the year for Johnson.
Following a solid 2012, where the 2007 Masters champ notched two PGA victories, Johnson has forgotten how to putt, and if the light hitter doesn't have it working with the flat blade, he has little chance to succeed.
He is currently 118th in strokes gained putting. He was sixth last year.
Prior to the Accenture, Johnson had played in four events. He missed the cut in two of them. Johnson needs to start getting turned around in a hurry, or this nine-time tour winner is headed for a lost season.
Hot No. 2: Matt Kuchar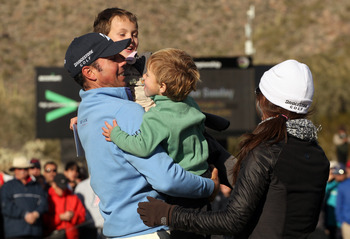 Darren Carroll/Getty Images
Kuchar isn't the type of player to get too hot or too cold. He is a consistent ball striker and savvy, albeit somewhat conservative, player.
That said, the guy just won five straight matches against a field stacked with the best players in the world. He has to be on this list.
This win was a nice sign for Kuchar going forward. He started the season in strong fashion by following up a tied-for-ninth finish at the Tournament of Champions with a tied-for-fifth at the Sony Open.
He then cooled off a bit and entered the Accenture off a tied-for-38th showing at the Northern Trust.
In all, it has been a solid start for Kuchar, and he is in a nice position to build off the momentum from his recent win.
Cold No. 1: Dustin Johnson
Harry How/Getty Images
It's already been an eventful year for Dustin Johnson. He won his first tournament of the year, began dating the daughter of The Great One and has suffered through some of the worst golf of his career.
Since winning the Tournament of Champions, Johnson—in order of his appearances—had to withdraw, finished tied for 51st, missed two consecutive cuts and then was bounced from the first round of the Accenture with four holes to go against Alexander Noren.
This stretch has included venues where Johnson is typically strong—like his missed cut at the Pebble Beach Pro Am.
At the heart of the problem for Johnson is his booming driver. With a 296.5 yard average, he is down over 13 yards from last season, and despite the loss in yardage, he is also hitting less than 50 percent of his fairways.
This is not a recipe for success, and a trend Johnson will have to reverse if wants to save his season.
Hot No. 1: Hunter Mahan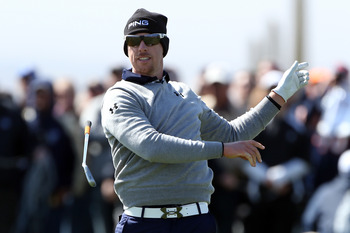 Andy Lyons/Getty Images
The sweet-swinging Mahan is rounding into top form as this year progresses and he started with pretty good form to begin with.
In order, he finished in 26th, 15th, 16th and 16th in his first four tournaments of the year. He cranked it up by tying for eighth at the Northern Trust, and then narrowly missed out on defending his championship at the Accenture.
Mahan's driving stats are down, but he is still hitting 62.7 percent of his fairways.
If he can continue to dial in with his driver while maintaining his short game, he will have a huge year.
Mahan is hitting 73.1 percent of his greens in regulation and he is making it count as he is 15th in strokes gained putting. That is way up from last year, when he finished 112th in the category.
Mahan, who is no stranger to streaks, must find someway to keep this momentum rolling, and if he does, I love his chances at the Masters.
Keep Reading