Wisconsin Football: Complete NFL Combine Results for Former Badgers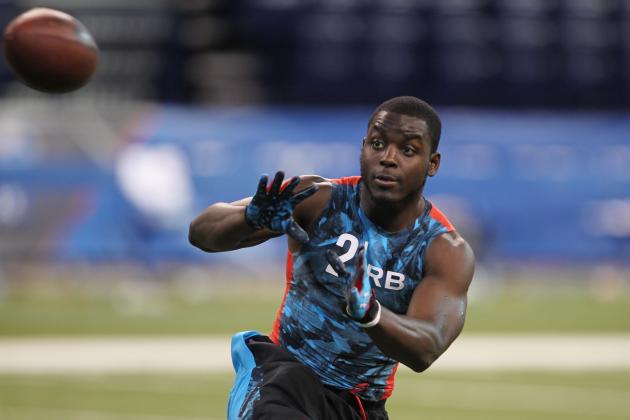 USA TODAY Sports

The allure of the NFL Combine continues to grow year after year, and this version is no different as the Wisconsin Badgers had four players invited to participate in the annual week-long showcase for the NFL Draft.
Of the four Badgers invited to the NFL Scouting Combine, three were able to participate: running back Montee Ball, center Travis Frederick and left tackle Ricky Wagner. Linebacker Mike Taylor underwent surgery for a sports hernia in January and his rehab wasn't far enough along to give it a go.
All three had an opportunity to impress scouts and prove why they have all been projected to be selected in the first few rounds in the past. Of course, there is always the risk of hurting your draft stock by performing poorly in the various mental and physical tests offered by the NFL.
Who impressed? Who disappointed? Click to see complete NFL Combine results and analysis for the former Badgers after their experiences in Indianapolis.
Begin Slideshow

»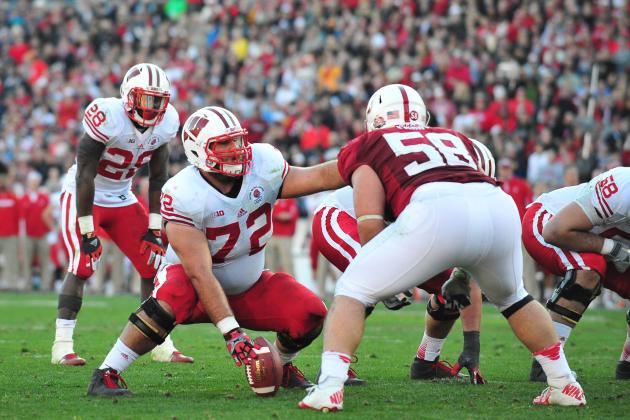 Gary A. Vasquez-USA TODAY Sports

Height: 6'4" — Weight: 312 — Arms: 33 — Hands: 10 — 40: 5.58 — Bench (225): 21 — Vertical: 28.5 — Broad jump: 97 — 3 cone drill: 7.81 — 20-yard shuttle: 4.76
Prior to the NFL Combine, NFL.com analyst Mike Mayock had Travis Frederick listed as his No. 1 center, but that ranking could very well change following Frederick's disappointing showing in Indy.
Out of all the offensive linemen who participated in the 40-yard dash, Frederick tied for the second-slowest time. He was expected to weigh in up to 25 pounds heavier, and yet Frederick still ran a dismal time.
He was also near the bottom in reps on the bench press and his broad jump distance. The one event Frederick actually performed above-average in was the vertical jump, but even that number failed to crack the top 10.
Obviously, it's easy to get carried away with what players accomplish—or fail to accomplish—at the Combine, and the tale of the tape will show that Frederick has the ability to play at the pro level, but he had an opportunity to solidify his standing and failed to do so based on how he performed compared to his fellow linemen.
It's hard to envision Frederick going in the first round of the NFL Draft, especially since Barrett Jones didn't do anything to hurt his stock by not participating due to injury while Brian Schwenke performed admirably in drills—two centers who are also highly regarded coming out of school.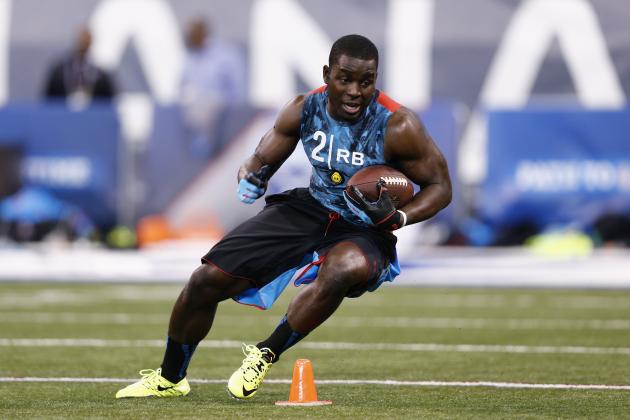 Joe Robbins/Getty Images

Height: 5'10" — Weight: 214 — Arms: 32 5/8 — Hands: 9 — 40: 4.66 — Bench (225): 15 — Vertical: 32 — Broad jump: 118 — 3 cone drill: 6.88 — 20-yard shuttle: 4.40
There were some blazing 40-yard dashes run over the weekend by running backs, but Montee Ball was not among those times as he finished in the middle of the pack with an official time of 4.66 seconds.
While many hoped for more speed from Ball, they were also hoping for more power, but the former Badger tied for the least amount of bench press reps. And his athleticism wasn't exactly on display either, as Ball barely out-jumped teammate Rick Wagner—an offensive lineman—in the vertical and was mediocre in the broad jump.
Ball did impress in the 3-cone drill and shined catching the football, an underrated skill of Ball's and something he was always good at doing in Madison. Coming into the Combine, Ball was ranked as the No. 2 prospect at running back by Mayock in what is a rather weak group.
It's hard to say if his draft stock took a hit based on his performance at Lucas Oil Stadium, but his record-setting college career and tape study is still something he can fall back on. There may not be a running back selected in the first round of the NFL Draft, but Ball still has a chance to be the first tailback off the board.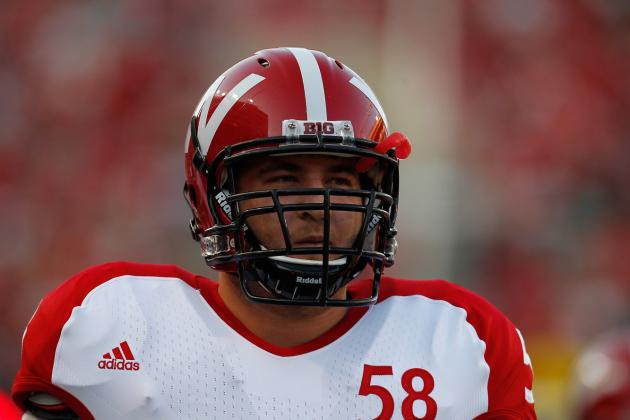 Bruce Thorson-USA TODAY Sports

Height: 6'6" — Weight: 308 — Arms: 34 — Hands: 9 7/8 — 40: 5.17 — Bench (225): 20 — Vertical: 31.5 — Broad jump: 101 — 3 cone drill: 7.94 — 20-yard shuttle: 4.91
Ricky Wagner came to Wisconsin as a tight end, but being converted into a tackle may eventually make him a lot of money.
Prior to the start of the 2012 season, Wagner was projected by some to be a first round draft pick, but that doesn't appear to be in the works, even after a fairly impressive showing at the NFL Combine. It was his performance at the Senior Bowl that turned off some scouts.
Wagner's background as a tight end helps him as tackles are becoming more and more athletic in today's NFL. He showed off his athleticism with a pretty solid 40-yard dash time and finishing third with an elite vertical jump among linemen.
Other than that, Wagner didn't have too much success in the three-cone drill or 20-yard shuttle, but he didn't do anything to hurt his stock.
With Frederick emerging after last season, Wagner became somewhat of a forgotten commodity. Will he be selected in the first two rounds? The odds aren't in his favor, but as a third or fourth round pick, Wagner can still wind up helping an NFL team a few years down the road.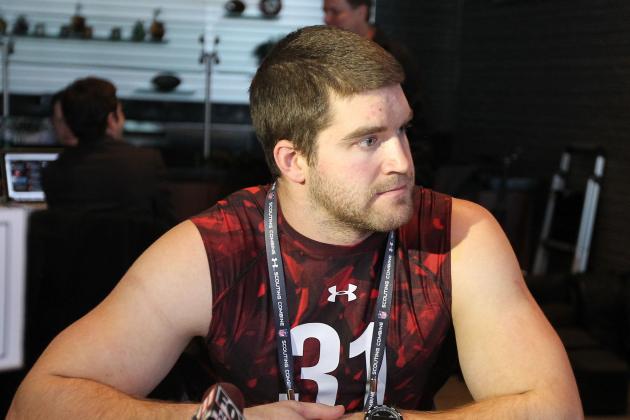 USA TODAY Sports

Height: 6'1" — Weight: 234 — Arms: 32 — Hands: 9 1/4
As noted in the opening slide, Mike Taylor wasn't quite ready to participate in the Combine drills, which is unfortunate considering there is no guarantee that he gets selected on draft day.
Taylor could have had the chance to impress scouts, although there is always the possibility of hurting your stock. As an outside linebacker, Taylor was known more for his run-stopping ability than rushing the passer, so he would probably fit better in a 4-3 formation, but he also played some middle linebacker at Wisconsin.
Perhaps Taylor can latch on as a special teams player and work his way up, but his struggles in pass coverage were pretty well documented early in his senior season, and things only get faster from here on out.
He dealt with a knee injury early in his career, but Taylor battled back to be a very serviceable linebacker for the Badgers and has great football instincts. What Taylor lacks in height, size and athleticism, he makes up for with toughness and hard work, but it will be a tall task for the all-conference performer to earn a starting role with an NFL club early in his career.