8 Predictions for Aroldis Chapman in the Cincinnati Reds Starting Rotation
Hunter Martin/Getty Images

The Cincinnati Reds are playing chicken with the baseball gods this year by transitioning Aroldis Chapman to the rotation. With the bold move comes a lot of uncertainty.
Chapman proved himself to be one of the most dominant closers of 2012 by finishing eighth in Cy Young voting and 12th for the NL MVP.
The Reds are depending on Chapman's steadiness to continue in the rotation and for the remaining contract years.
However, most are concerned how Chapman will fair in his first year as a major league starter. Here are eight predictions for Aroldis Chapman in the Cincinnati Reds starting rotation.
Begin Slideshow

»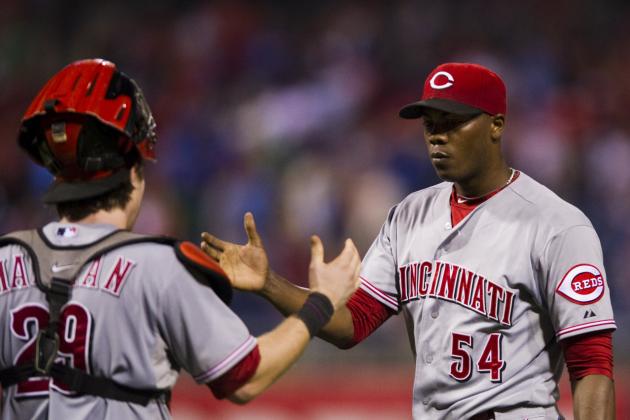 Howard Smith-USA TODAY Sports

Chicago White Sox starter Chris Sale is one of the best pitcher's to relate to Aroldis Chapman. Sales' 17 wins last season is worth comparing to the likeliness of Chapman's win total in 2013.
While some might argue that wins are an irrelevant stat, it will be important to get every drop out of Chapman's 2013 season.
Since Chapman will probably be on an innings limit, 15 wins could play a vital role to a successful season.
Chapman is set for the fifth rotation spot and will likely face weaker NL opponents in the first few months of the season. Easier opponents could appear again with rotations resetting after the All-Star Game.
This will play to Chapman's advantage. The Washington Nationals ace Stephen Strasburg won 15 games in 2012 pitching at the top of the rotation and Sale had 17 as the fifth starter.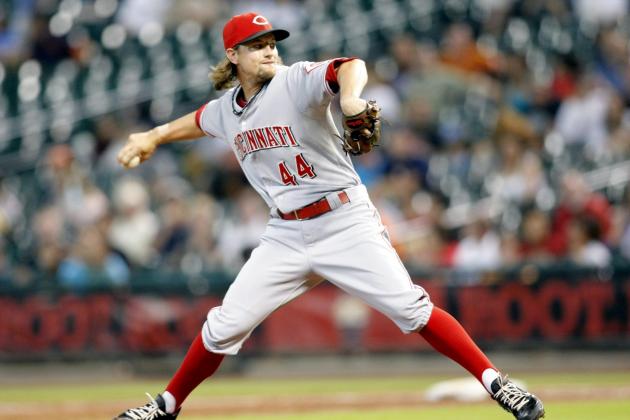 Brett Davis-USA TODAY Sports

With Aroldis Chapman's dominance, comes his wildness. Chapman currently has a career 18 wild pitches in just 135 IP in the majors.
His erratic pitching is typically a concern for injury. Chapman developed shoulder fatigue late in the season last year. While his confidence certainly improved, his health is at a higher risk when pitching every five games.
Expect pitching coach Bryan Price to treat Chapman's arm like a fragile piece of glass. The Reds will monitor any hiccups and can only hope their experiment doesn't turn out like Neftali Feliz's transition.
Mike Leake will be the odd man out for the start of the season. But with the extra caution around Chapman, Leake will spot him if there's any notion of fatigue or deficiency.
As Jonathan Broxton had to briefly relieve Chapman at the closer's role last year, Leake will do the same for Chapman this year.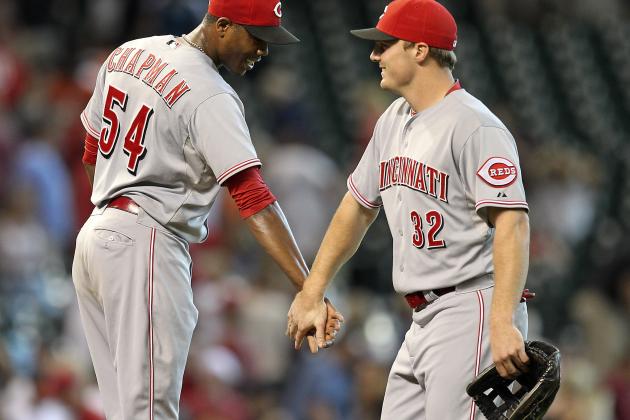 Bob Levey/Getty Images

Aroldis Chapman only had a higher ERA than Craig Kimbrel's 1.01 and Fernando Rodney's 0.60 in 60 plus innings last season. All three closers had phenomenal seasons, but only one is moving to the rotation this year.
It's obvious Chapman's ERA will go up, but it's unlikely that his ERA will jump to 4.75 like Joba Chamberlain's did in 2009.
Chapman's ridiculous velocity is one of the main reasons opposing batters can't hit him. Being a southpaw doesn't hurt since he kept left-handed batters to a .108 batting average last year.
While hitters will have more film on Chapman this year, he will keep his ERA down due to his high strikeout percentage.
Compared to Neftali Feliz's great 2011 21.4 strikeout percentage, Chamberlain's 2008 28.3 strikeout percentage, and even Stephen Strasburg's 2012 30.2 percentage, Chapman's 2012 44.2 percent shows why hitters can't figure him out.
Only Kimbrel beat him with an absurd 50.2 strikeout percentage.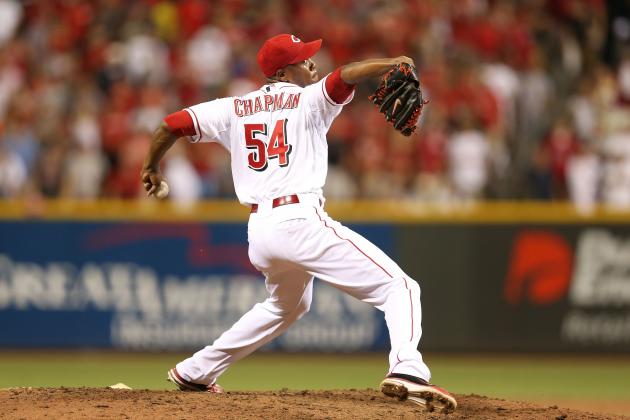 Andy Lyons/Getty Images

Again, Stephen Strasburg and Chris Sale's 2012 season are a good starting point in predicting Chapman's strikeouts. Both fell short from 200, but Chapman has the ability to exceed it in his limited role.
As mentioned earlier, Chapman's insane 44.2 strikeout percentage is a good indicator that he will lead the Reds pitching staff in strikeouts.
Another crucial stat when looking at strikeout totals is S/Str (swinging strike percentage). Last season, Strasburg held a 19 percent S/Str and Sale 17 percent S/Str. Chapman posted a 30 percent S/Str, meaning that nearly a third of his total strikes were whiffed.
Strike percentage runs nearly parallel with all three in 2012, as Strasburg had 63 percent, Chapman 64 percent and Sale 65 percent.
Even though Chapman pitched far less innings than Strasburg and Sale, these stats point to a very possible 200-strikeout season.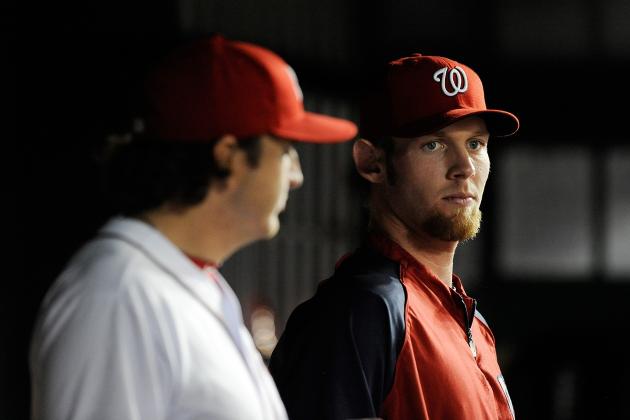 Patrick McDermott/Getty Images

The Reds have a precious commodity in a left-hander that can throw over 100 miles per hour consistently. Aroldis Chapman pitches hard and although he's notably athletic, the Reds won't take any chances on pushing him past their limit.
Just as the media circus hit Stephen Strasburg and the Washington Nationals, the Reds will likely face the same over-analysis with Chapman's inning limit.
Although Chris Sale was able to hit 192 IP last season, the Reds will not risk extending Chapman to that limit. His media buzz will pressure the Reds to not overuse the flamethrower.
Both Sale's and Strasburg's stats began to rise in the second half of the season. There will be no reason to test Chapman's arm if he shows a successful 170 IP.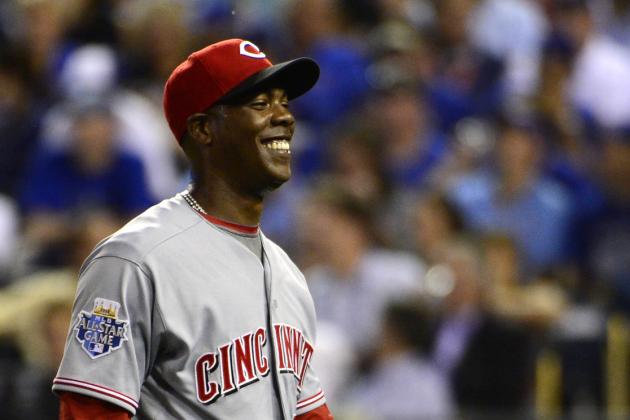 Scott Rovak-USA TODAY Sports

The Reds anticipate another fantastic year from their starting rotation.
If Chapman flourishes as a starter in the first half, he will make the All-Star Game in New York.
It's possible for Chapman to have around 90 strikeouts, an ERA hovering 2.5, and a 1.0 WHIP by the All-Star Game. If he has close to ten wins, Chapman will not only be the Reds' main pitcher at the All-Star Game, but the star of the Reds rotation.
Even if Chapman's numbers are not quite as adequate, Aroldis Chapman should easily make the All-Star game from the success of his transition and the hype surrounding his season.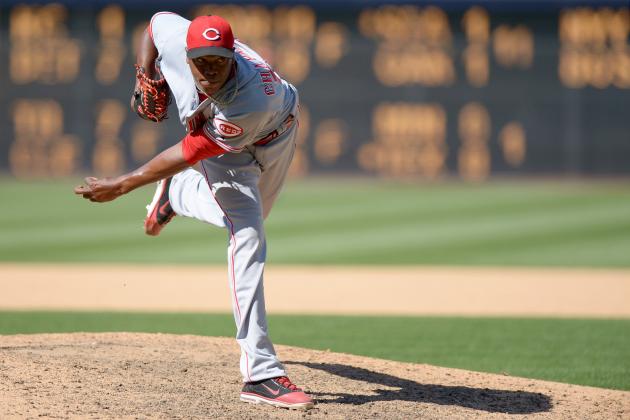 Jake Roth-USA TODAY Sports

Finishing in the top eight for NL Cy Young voting in 2012, Chapman has the ability to get closer to the prestigious award.
Craig Kimbrel and Aroldis Chapman were both in the Cy Young conversation as closers—and rightfully so.
The edge that Chapman will have over Kimbrel this year is his move to the rotation. Even though Cy Young Award voting typically focuses on ERA and innings pitched, Chapman could make the top five in the NL Cy Young voting for his durability as a starter.
Chris Sale received Cy Young votes in 2012 and was also closing games in 2011. However, Sale didn't come close to having a year like Chapman in 2012.
If Chapman is able to reach 170 IP with a 3.15 ERA, while playing half his games in Great American Ball Park, he deserves to be in the top five in Cy Young votes.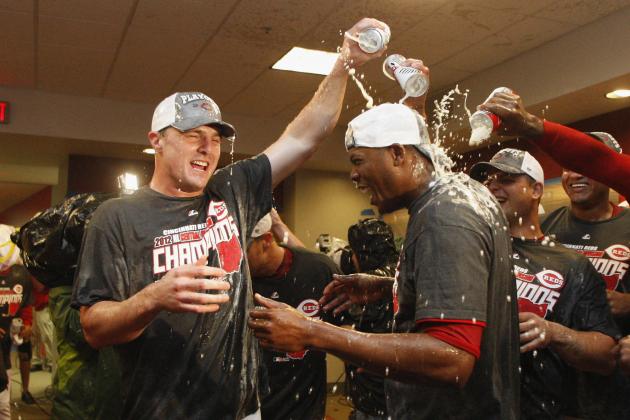 John Grieshop/Getty Images

The most discouraging, but significant prediction is that Chapman won't see the postseason in 2013.
The Reds have only bolstered their lineup with the addition of Shin-Soo Choo, which should inherit more runs per game. A successful transition for Chapman to the rotation will make the Reds starting five one of the best in the league.
If the Reds recreate anything close to their 2012 season, it will insure another postseason appearance.
However, with Chapman on an innings limit, he'll be in the dugout through October much like Stephen Strasburg spent in 2012.
It won't be easy for Redleg Nation, since Chapman's conversion comes on a year the Reds look the most promising. But the club will not take the risk on wearing out his arm.
The Reds are poised to have a bright future through the next few seasons and the club will not risk permanent injury on someone who is so valuable.