5 Georgia Bulldogs the Nation Needs to Notice During the Spring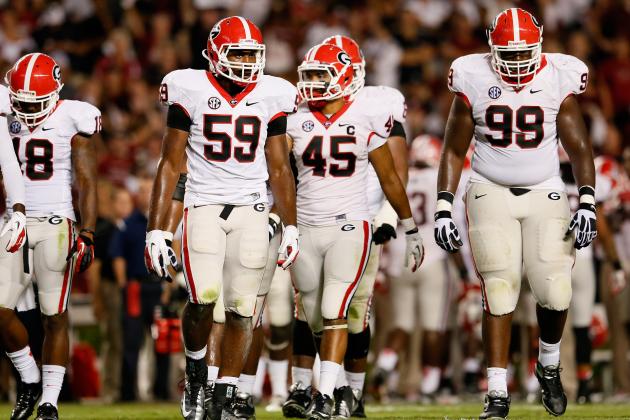 Kevin C. Cox/Getty Images

The Georgia Bulldogs return plenty of big names in 2013, but it's the names they've lost that have some skeptical about the prospects of this team making another run at a national title.
Aaron Murray, Todd Gurley, Keith Marshall and Malcolm Mitchell might already be household names. So were the names Jarvis Jones, Alec Ogletree, John Jenkins, Shawn Williams and Bacarri Rambo.
Defensive coordinator Todd Grantham will need to replace 10 starters lost to the NFL Draft at the end of this past season. Offensive coordinator Mike Bobo will need to replace one of the greatest receivers in Georgia history in Tavarres King.
Georgia has the pieces in place to do just that. Here's five Bulldogs the nation should greet before Spring practice begins.
Begin Slideshow

»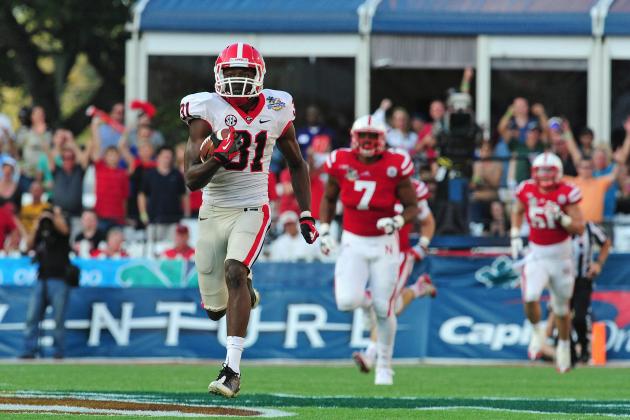 Scott Cunningham/Getty Images

Position (Yr): Receiver (Jr.)
Height/Weight: 6'3", 205 lbs.
2012 Stats: 20 receptions, 614 yards, six touchdowns
Chris Conley finished second on the team in touchdown receptions last year despite catching just 20 balls. There's no reason to believe his production can not only sky rocket, but that he can become the primary receiver in the offense in 2013.
Conley has always been a talent at Georgia, but major depth made it difficult for him to take over a major role in his first few seasons. Marlon Brown went down as a senior mid-way through last year, and Michael Bennett suffered a season ending ACL-tear, opening the door for Conley.
Conley showcased enough upside during his playing time to leverage a starting position he can earn and keep, alongside the ultra-talented Malcolm Mitchell, this spring.
He has the size to be a top target, as well as very good speed. He's also a great locker room leader and is usually targeted by reporters because of his character.
NFL scouts are going to really like Conley in a year or two. The nation should keep an eye on him.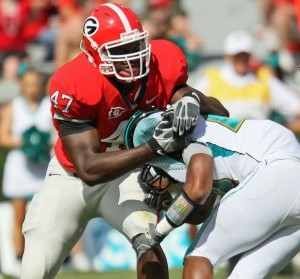 Photo Credit: AJC.com
Position (Yr): Defensive end (Jr.)
Height/Weight: 6'5", 284 lbs.
2012 Stats: 23 tackles, one tackle for loss
Ray Drew saw action in 13 games last year, but it wasn't much.
That won't be the case this coming season. Drew will finally see a starting role, which was previously manned by Cornelius Washington, Abry Jones and Garrison Smith. Washington and Jones ran out of eligibility at the end of the year, while Smith will play alongside Drew.
Drew was one of Georgia's top recruits when he arrived in this first "Dream Team" class in 2011.
His athleticism is through the roof, and he's also a character guy. There's a reason why Drew was nicknamed the "Pastor of Disaster." Not only is he a football player with a career ahead of him, but he's also an ordained minister.
Drew is another guy NFL scouts are likely already looking at. Expect a big time year for No. 47. Wearing that number at Georgia puts a lot of pressure on you to be great, and that's what Drew will strive to be.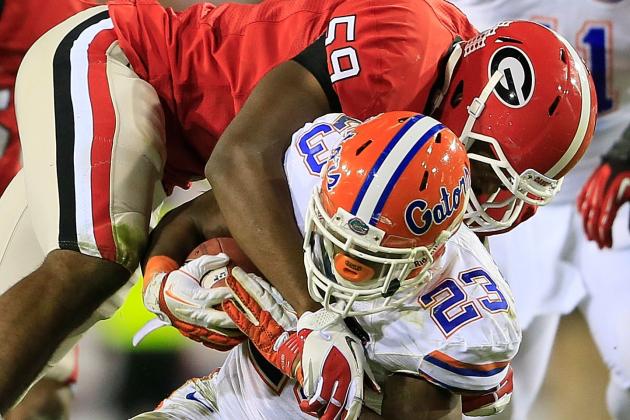 Sam Greenwood/Getty Images

Position (Yr): Rush end (So.)
Height/Weight: 6'3", 257 lbs.
2012 Stats: 31 tackles, eight tackles for a loss, five sacks
No Jarvis Jones? No problem.
Jordan Jenkins, who was one of the top names in Georgia's 2012 recruiting class, saw a lot of playing time as a freshman and made the most of it.
Jenkins registered five sacks and eight stops behind the line of scrimmage despite not taking on a serious role on defense until mid-way through the year.
At 257 pounds, Jenkins is lean and freakishly athletic. He's destined for an All-America mention or two before he's done at Georgia. Like Conley and Drew, Jenkins has great character as well.
And yes, Jenkins could actually be as good as Jones.
Scott Cunningham/Getty Images

Position (Yr): Safety/Linebacker (So.)
Height/Weight: 6'5", 207 lbs.
2012 Stats: 14 tackles, one tackle for loss
Josh Harvey-Clemons is a special player, and not just because it takes overtime hours to stitch his nameplate to his jersey.
Despite registering modest statistics as a special team contributor as a freshman, Harvey-Clemons should make an immediate impact as a starter in the fall.
The question is, where will he play?
According to the Macon telegraph, he could become an outside linebacker this spring.
Wherever the former 5-star recruit lands, he should fit in immediately. Harvey-Clemons skill-set should do a little damage control in the wake of losing Alec Ogletree.
Once this guy grows into his frame, he's going to be a major attraction for scouts. Until then, he'll probably be one of the biggest names in the SEC by Week Five.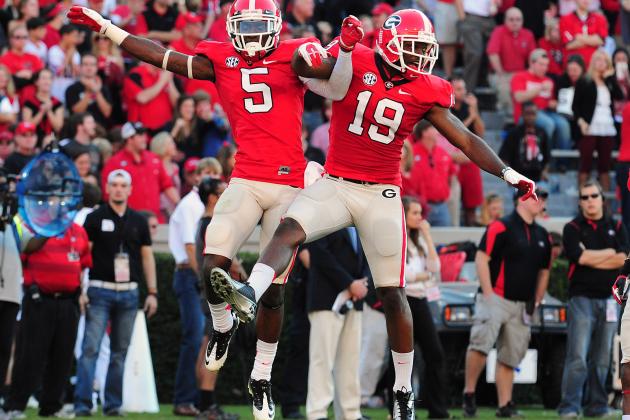 Scott Cunningham/Getty Images

Position (Yr): Cornerback (Jr.)
Height/Weight: 5'11", 189 lbs.
2012 Stats: 53 tackles, 3.5 tackles for a loss, four interceptions, two sacks, two forced fumbles
Damian Swann didn't even start for the Bulldogs last season. Now, take a look at his stat-line again.
Swann, who's entering his third year with Georgia, is set to become an All-SEC corner next season.
Swann has major playmaking ability. In fact, he was already preferred by fans over Branden Smith last season.
He's also the only guy re-taking a position in the secondary, so leadership will be key this Spring. Shaq Wiggins and Sheldon Dawson will levy for the other corner positions, while Tray Matthews and Corey Moore are expected to replace Rambo and Williams at the safety positions.
There won't be anything youthful about Swann, who hit the field two years ago as a pup.