5 Players the Atlanta Falcons Must Avoid in Free Agency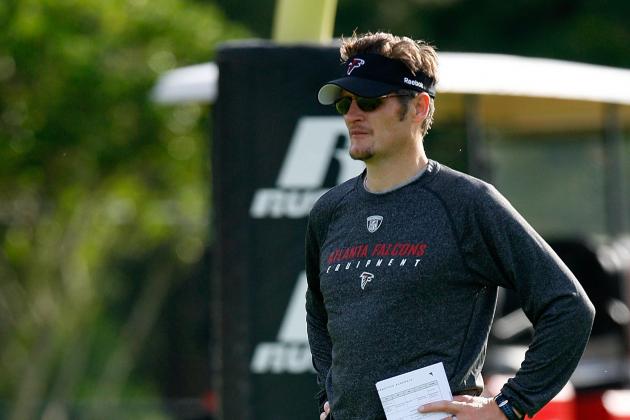 Kevin C. Cox/Getty Images

NFL free agency, which begins on March 12, is just around the corner.
While much of the buzz this week has been around prospective rookie evaluations at the NFL Scouting Combine, teams are likely already plotting as to what they are going to do once the free-agency gun fires in just over two weeks.
Atlanta Falcons general manager Thomas Dimitroff, who has been with the team since 2008 and is simply known as Comrade by avid Falcons followers, has already cemented his name in Falcons lore during his tenure with the organization.
Dimitroff has made himself known for making obscure and calculated moves to build not only a solid on-field product, but also a blue-collar identity and framework that makes Atlanta appear to be an exclusive club, if you will.
Dimitroff won't just let anyone into the facilities in Flowery Branch. Here's five moves he probably won't make this offseason.
Begin Slideshow

»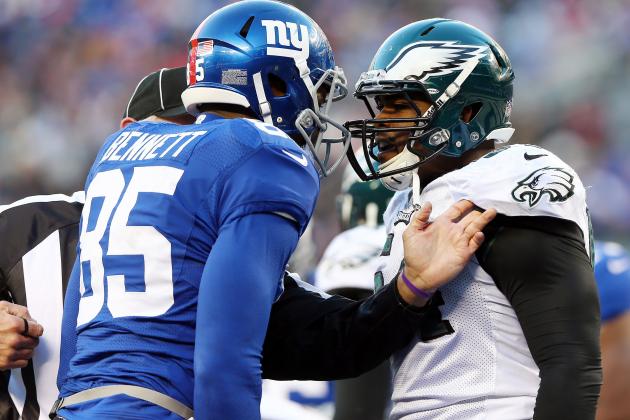 Elsa/Getty Images

If Tony Gonzalez retires, the Falcons' biggest free-agent priorities will be the tight end and defensive end positions.
An attractive duo to fill those needs would be the brother tandem of Martellus and Michael Bennett, who play tight end and defensive end, respectively.
Apparently, the brothers would prefer to play together, but the implications of that are a tad grim.
On 90 targets in 2012, Martellus Bennett only caught 55 passes for 626 yards and five scores. Sadly, that season was hands down better than his seasons in Dallas, where he went for 20, 15, 33 and 17 receptions in four years (and appeared in at least 14 games in each season).
Michael Bennett actually is a nice-looking option at defensive end, but his brother has not shown that he can come anywhere close to replacing the type of production Gonzalez had in a Falcons uniform.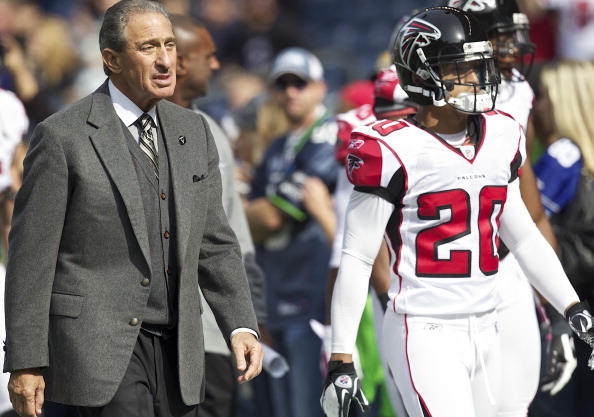 Stephen Brashear/Getty Images

Brent Grimes received the franchise tag from the Falcons last offseason before he went down with a season-ending Achilles injury in Week 1 that sidelined him for the entire 2012 season.
There's reason to believe his value dropped and that he will be hard-pressed to leverage the same type of money he was asking for last year.
Dunta Robinson, who signed a six-year, $57 million contract in 2010, has not necessarily justified the cash in his contract with on-field play. Therefore, bringing back Grimes will likely be a move Dimitroff will want to make.
It would not be too far-fetched to release Robinson and court Grimes into a new contract. The thing is, however, even with the freed money from Robinson's termination, Dimitroff would likely still be conservative with the amount of money he'd throw Grimes' way.
Playing full seasons in 2009 and 2010, Grimes registered 153 tackles and 11 interceptions. He's a Pro Bowler when healthy.
But if Grimes tries to ask for the type of money he wanted last season as a top-flight corner, he probably won't end up in a Falcons uniform again.
Better Option: The cheap version of Grimes (Falcons)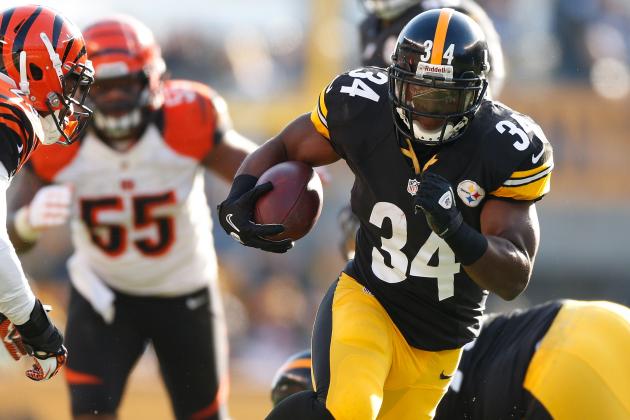 Gregory Shamus/Getty Images

Atlanta will likely release Michael Turner, who struggled mightily in 2012 in offensive coordinator Dirk Koetter's newest system.
Turner is entering the final year of a six-year, $34.5 million dollar contract. After rushing for just 800 yards on 222 carries (3.6 YPC), his pay-for-play ratio is way out of whack.
Atlanta will want to find a back with an inversion of that value to replace Turner. In fact, the Falcons don't need a bruiser or a blockbuster athlete to fill in for a passing system.
Rashard Mendenhall will probably not see a new contract from the Pittsburgh Steelers. Mendenhall failed to reach the 1,000-yard mark in 2011 and missed 11 games in 2012 due to injury. In fact, his career has been riddled with injuries in four seasons.
Versatility will be one of the top traits Dimitroff will be looking for.
Atlanta has already shown interest in Shonn Greene, who ran for 1,063 yards and eight touchdowns with the New York Jets last year.
Better Option: Reggie Bush (Miami Dolphins)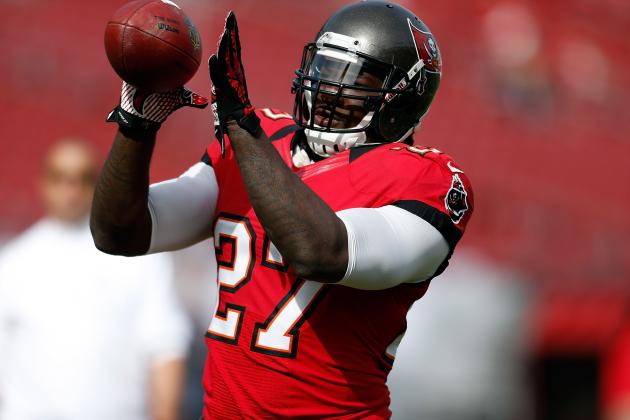 J. Meric/Getty Images

There's no top-tier free-agent tailback Atlanta doesn't want as much as LeGarrette Blount.
Blount, who impressed as a rookie with more than 1,000 yards in 2010, was quickly phased out of the Tampa Bay Buccaneers' offense in the past few years.
Last season he averaged 3.7 yards per carry, only seeing 41 attempts.
At 247 pounds, Blount echoes a running style that is pretty much the antithesis of what the Falcons want out of a new back. Blount's skill set would die in Atlanta.
Plus, his character is something that would never fly in a locker room like the one Dimitroff and the Falcons have built.
Better Option: Shonn Greene (New York Jets)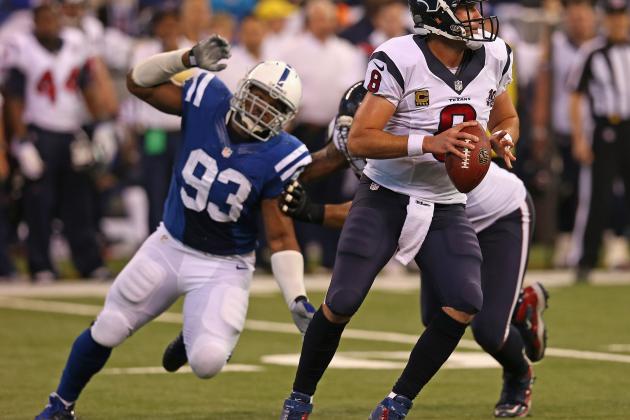 Jonathan Daniel/Getty Images

On Feb. 15 the Indianapolis Colts announced that they would part ways with Dwight Freeney, who has been one of the faces of the franchise since 2002.
Freeney recorded just 12 tackles and 3.5 sacks in 2012, despite playing in 14 games. Last season he had 8.5 sacks and 19 combined tackles. Compare that to 41 tackles and 13 sacks in 2002.
He also forced just one fumble last year, which is well below his career average.
Freeney just flat out isn't the player he used to be. The 10-year veteran will see a new home in 2013, but Atlanta will likely not roll the dice on him.
While the greatness that comes with the label flashes bright, Atlanta already is worrying about adding at least two pass-rushers. Not only was Ray Edwards released midseason for lack of production, but John Abraham's clock is also ticking.
The Falcons will definitely make a move for a dominant defensive end this offseason, but that player will have his best years ahead of him.
With that said, Osi Umenyiora has shown enough solid production as of late and has a home in Atlanta. He's not a bad option if Atlanta can put some depth and future players behind him.
Better Option: Osi Umenyiora (New York Giants)