Texas A&M Football: Complete NFL Combine Results for Former Aggies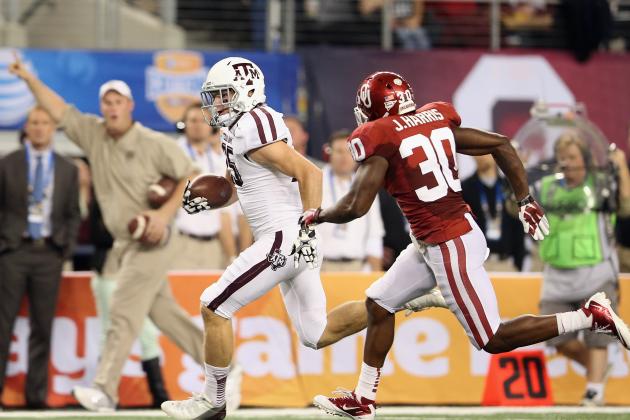 Ronald Martinez/Getty Images

The Texas A&M Football team sent six players to Indianapolis to participate in the NFL Scouting Combine. A few of the players improved their stock, while a couple have some work to do if they want to solidify their standing in the draft.
Four of the six players from A&M were seniors: Ryan Swope, Christine Michael, Sean Porter and Jonathan Stewart.
The other two players were juniors Luke Joeckel and Damontre Moore. They have been projected to be first round draft picks so they left A&M early and took part in the combine.
All six Aggies traveled to Indianapolis in an attempt to improve their status.
Participants in the combine test in the 40 yard dash, the vertical jump, broad jump, do bench press reps of 225 lbs and various agility drills.
This is a look at how each of them performed at the combine.
All combine results courtesy of NFL.com.
Begin Slideshow

»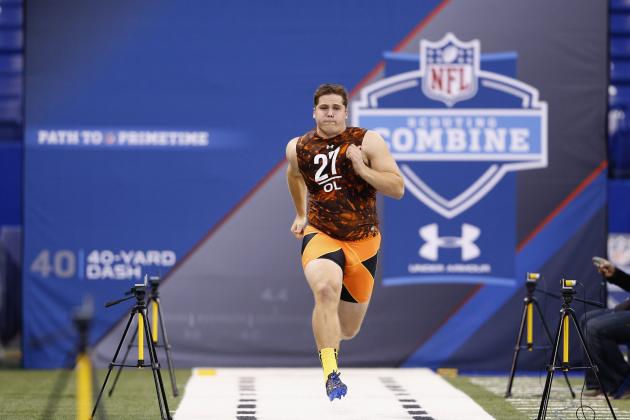 Joe Robbins/Getty Images

Luke Joeckel has started at left tackle for A&M for the past three years. He was named an All-American in 2012 and won the Outland Trophy as the top lineman in college.
Joeckel is projected by some to be the top overall pick in the draft and he did not hurt himself at the combine, but he did not really help himself either.
He ran a 5.30 40 which is just about average for an offensive tackle. He did 27 reps of 225, had a 28.5 vertical, a 8'10" broad jump and a 4.68 shuttle.
All of those numbers are solid for an offensive lineman but ideally Joeckel would have run closer to a 5.0 and done over 30 reps or 225.
Those types of results would have likely guaranteed that Joeckel was the No. 1 selection in the draft.
Joeckel allowed some of the other offensive tackles in the draft creep up on him because of his average showing at the combine.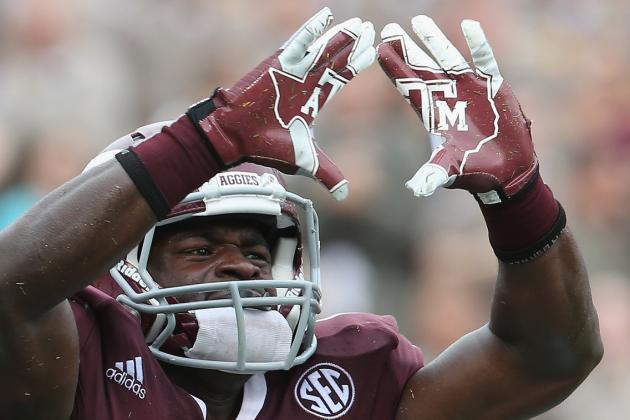 Ronald Martinez/Getty Images

Christine Michael really helped himself out with his performance in Indianapolis. The Aggie running back was near the top of his position group in every category.
Michael ran a 4.54 in the 40.
He had the best vertical leap out of anyone at the combine with a leap of 43".
He was No. 4 overall in the three-cone drill with an excellent time of 6.69.
He had the best time for a running back in the shuttle at 4.02 seconds.
And he did 27 reps of 225 on the bench.
Michael proved that he is one of the most explosive athletes at any position in college football. He also answered any questions there were about the health of his legs—he suffered a broken leg in 2010 and a torn ACL in 2011.
His vertical, shuttle and three-cone results prove that he is an elite athlete with explosive speed and power. Michael likely ensured that he will be a second round selection in the draft.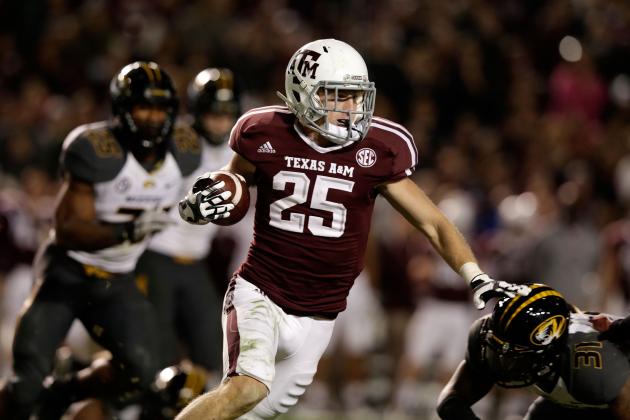 Scott Halleran/Getty Images

Ryan Swope killed some stereotypes with his performance in Indianapolis.
A lot of pundits have compared Swope to Wes Welker during his college career. They both are muscular slot receivers who played for Texas colleges so it is understandable where the comparison comes from.
The difference is that Swope has elite speed.
Welker was a 4.6 guy who was not even invited to the combine when he finished his career at Texas Tech. Swope shocked those who did not watch him actually play in college when he ran a 4.34 40 at the combine.
Swope's time was the No. 2 time at wide receiver behind only Marquise Goodwin's 4.27 time.
He had a 37" vertical, a 10'5" broad jump and a 4.25 in the shuttle. These numbers will jump out at scouts looking at wide receivers.
Swope has ideal size a 6'0" 205 lbs for an NFL wide receiver. His 4.34 speed and production in college should ensure that Swope is drafted somewhere in the third round. He made himself a lot of money with this performance in Indianapolis.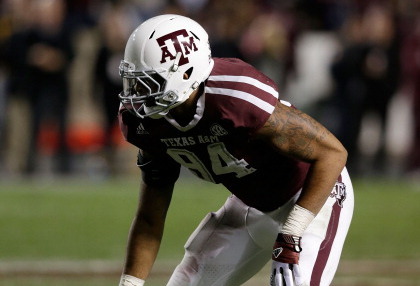 Scott Halleran/Getty Images

Damontre Moore had the worst performance of an Aggie at the combine. He ran a very disappointing 4.95 in the 40 and only did 12 reps in the bench press.
Moore did however have a very good vertical with a leap of 35.5" and a broad jump of 10'2."
Most NFL scouts will overlook a poor bench press if you have speed. They cannot overlook the fact that it appears Moore did not do much preparation for the combine.
Moore was considered by most of be a top 10 selection before the combine. After his disappointing performance in Indianapolis, he will have to have a great pro day performance at A&M to jump back in the top 10.
Moore had a tremendous junior season on the field and his tape is excellent and that will keep him in the first round. Whether or not he will be the first pass rusher selected will depend on how he performs at the A&M pro day.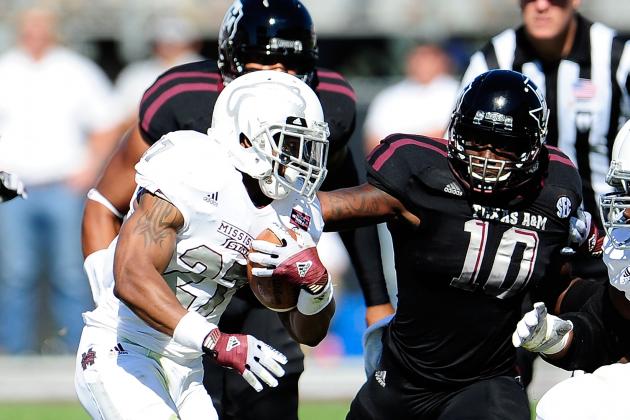 Stacy Revere/Getty Images

Sean Porter had a solid combine but his 40 time was a tad disappointing. Porter ran a 4.75 which is surprising considering how fast he plays on the field.
Porter had a 35" vertical which was one of the top marks for the linebackers. He also did 22 reps of 225 on the bench press.
Porter could have used a better performance at the combine. Other than his vertical leap, nothing jumps out at you. He is a very fast linebacker on the field who can excel in coverage or rushing the passer.
If he had run around a 4.5 he would have likely solidified a second round grade. Right now it looks like Porter will be a second or third round pick.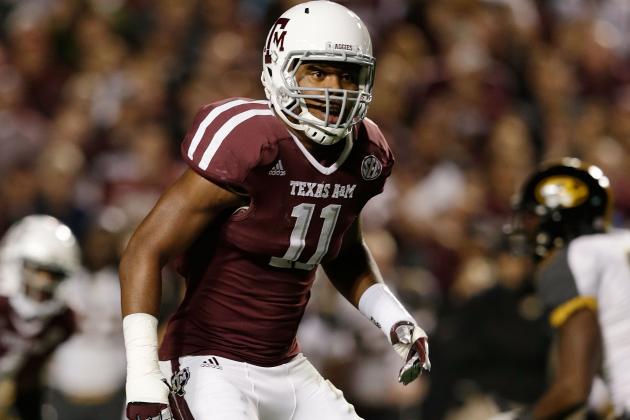 Scott Halleran/Getty Images

Jonathan Stewart performed surprisingly well at the combine.
He ran a 4.68 40 which is shocking to anyone who has watched the Aggies play for the past few years.
Stewart was never a speed demon on the field, but he ran well in the 40 in Indianapolis. He did 19 reps on the bench press, had a 31" vertical, a 9'10" broad jump and ran a 4.53 in the shuttle.
Those are very solid numbers for a middle linebacker.
Stewart's performance in Indianapolis could help him sneak into the sixth or seventh round of the draft. His tape indicates he should be an undrafted free agent, but some NFL team may take a chance on a MLB who runs a 4.68.