UFC on Fuel TV 8: A Fan's Guide to Silva vs. Stann Fight Card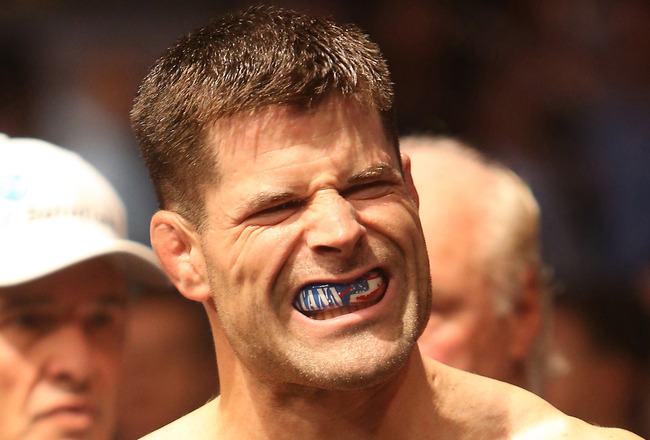 Tom Szczerbowski-USA TODAY Sports
UFC on Fuel TV 8 features a Japanese-friendly fight card.
The main event highlights a great matchup between Pride Fighting Championships icon Wanderlei Silva and brawler Brian Stann. Cue the firework cliches.
If that fight isn't catering toward the crowd enough, the co-main event features fan-favorite Mark Hunt challenging Stefan Struve.
The rest of the card presents multiple Japanese MMA superstars, along with the return of Diego Sanchez.
So, with that said, here's a full card preview for UFC on Fuel TV 8 this Saturday.
Dong Hyun Kim vs. Siyar Bahadurzada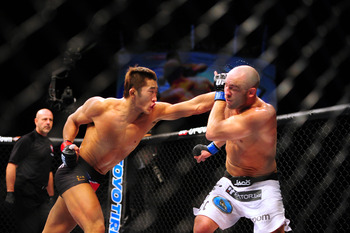 Mark J. Rebilas-USA TODAY Sports
Siyar Bahadurzada has been on a knockout spree.
His opponent, Dong Hyun Kim, has not. Pretty ironic for a man nicknamed "Stun Gun," ay?
Entering this matchup, Bahadurzada has finished his last five opponents by knockout, including his UFC debut against Paulo Thiago last April.
Kim, on the other hand, has not recorded a knockout victory since May 2008. Going off of those facts alone, one might consider Bahadurzada to be the proverbial favorite heading into this bout. They would be wrong.
While Bahadurzada has the advantage on the feet, Kim has an advantage in the grappling game and will most likely take this fight to the ground.
Mizuto Hirota vs. Rani Yahya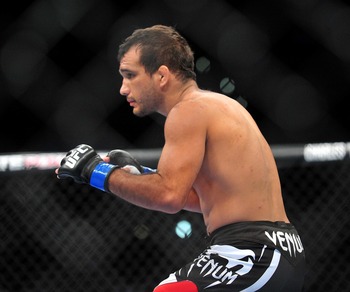 Gary A. Vasquez-USA TODAY Sports
Mizuto Hirota makes his debut in the UFC in front of his home country.
There's a magical story to be found somewhere. Well, that is if he gets past MMA veteran Rani Yahya in his debut inside the Octagon.
Though Yahya only has 24 professional fights under his belt, 10 of those fights have taken place under the Zuffa brand.
More importantly, Yahya's career was revitalized with a north-south submission choke against Josh Grispi at UFC on FOX 4 last year. That makes Yahya 2-3 in his last five MMA fights, so his fight against Hirota is a must win.
The same can be said for Hirota, as he's entering the contest with a loss. The UFC is getting stricter on its roster cuts, so that adds even more pressure on both of these men heading into this bout. Let's see how they handle this high-pressure situation.
Yushin Okami vs. Hector Lombard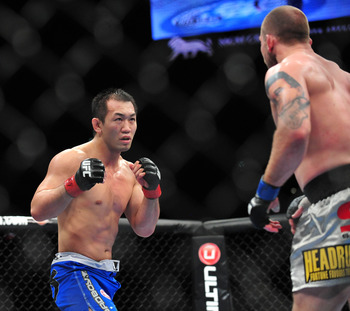 Gary A. Vasquez-USA TODAY Sports
That's more like it, Mr. Lombard.
Hector Lombard was a lightning bolt in Bellator. His flash knockouts and swarm of punches brought fans to their feet. His debut in the UFC against Tim Boetsch did not.
Lombard was hesitant and barely engaged against Boetsch, which led to his first loss since 2006 (25 fights ago). Take two went a lot better for Lombard. Against Rousimar Palhares at UFC on FX 6, Lombard used his power again to set up another brilliant first-round knockout victory.
Now the competition is elevated. Yushin Okami is not only one of the best middleweights in the world, but he's one of the best grapplers in the UFC. In his last fight, he smothered Alan Belcher, which led to a decision win.
So this bout is all about separation. Can Lombard create space and connect with a flurry of punches or will Okami close the distance and take Lombard to the mat?
Takanori Gomi vs. Diego Sanchez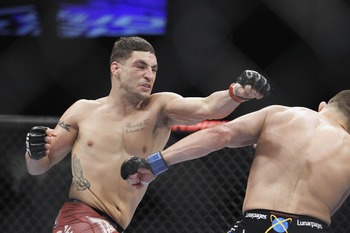 Matt Ryerson-USA TODAY Sports
Let me speak for all UFC fans and say it's about d*** time. (Curse you censorship!)
Finally, after a year of sitting on the sidelines, Diego Sanchez returns to the Octagon.
Sanchez, who's one of the most exciting fighters in UFC history, takes on Takanori Gomi, who was one of Pride's. Anybody want to take bets on Fight of the Night?
Gomi is always dangerous with his power, but Sanchez should hold the technical edge in this matchup. Gomi may try and lure Sanchez into some wild exchanges, and Sanchez should be more than willing to engage.
The smart approach to this fight for Sanchez may be to take it to the ground, but hey, it's been a year since we've seen Sanchez in a wild, back-and-forth war of attrition. He can't resist getting into another memorable battle, can he?
Mark Hunt vs. Stefan Struve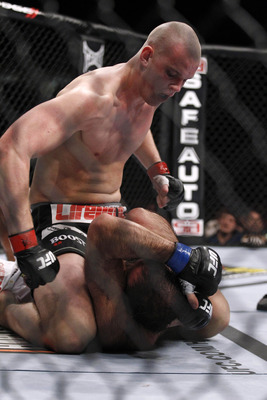 Matt Ryerson-USA TODAY Sports
Hunt is the Cinderella of the heavyweight division.
He has an incredible backing because of his enticing battles in Pride back in the day, and his recent knockout victory over Cheick Kongo has captivated the hardcore fans.
That win marks (pun intended) Hunt's third straight win in the UFC, and if he defeats the streaking Struve, UFC President Dana White will surely hear title cries for Hunt.
But that's a big if, a 7'0", 238-pound one to be exact. Struve enters this bout with four straight wins, all coming by way of stoppage.
Hunt will look to get inside and land powerful shots, while Struve may try to take this fight to the ground and use his Brazilian jiu-jitsu skills to submit Hunt. Either way it goes, it should be wildly entertaining.
Wanderlei Silva vs. Brian Stann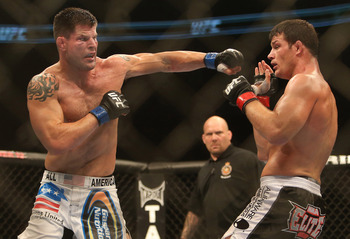 Tom Szczerbowski-USA TODAY Sports
Can you picture it?
Can you hear "Sandstorm" hitting the speakers and visualize Silva making the walk to the Octagon in front of the Japanese crowd in attendance?
Ah, finally Silva is back fighting in Japan, and much like he did back in Pride, he should deliver one of the best fights of the year.
There's no other possibility when Stann is greeting him inside the cage. Both men are coming off of losses, and though there can only be one winner in this contest, it's safe to say we all win in this one. (Yes, I totally used that cliche.)
Stann and Silva should stand toe-to-toe and swing until one of them can no longer stand. And that my friends is how you end a show.
Keep Reading