NY Knicks Coach Mike Woodson's 5 Smartest Moves of the Season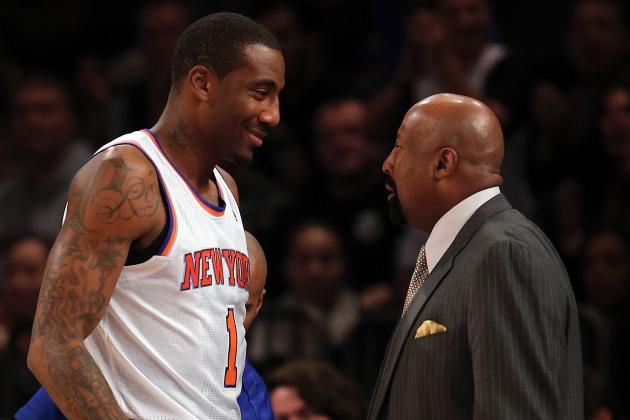 Elsa/Getty Images

In his first full season as head coach of the New York Knicks, Mike Woodson has led the franchise to what has so far been their best campaign in a decade.
The Knicks' no-nonsense leader has established himself as a leading candidate for the NBA Coach of the Year Award with his efforts so far. If he can keep his team amongst the East's top teams for the rest of the season, then there aren't too many coaches who will have a better case for the award than him.
Woodson's season hasn't been without hiccups in some areas, but on the whole he has been a huge upgrade for the Knicks over Mike D'Antoni following his resignation in March.
There are plenty of decisions to choose from, but in no particular order, here are Woody's top five smartest moves this season.
Stats used in this article were accurate as of Feb. 25, 2013.
Begin Slideshow

»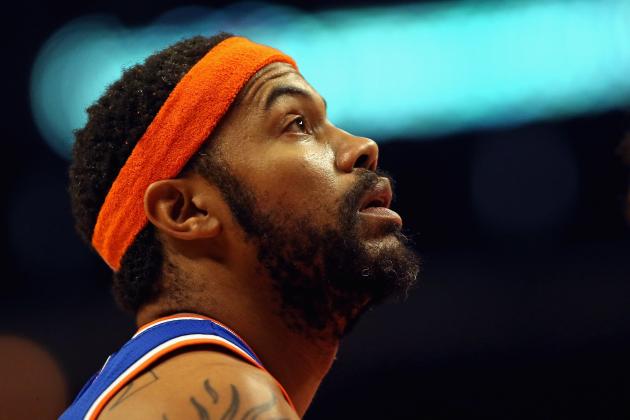 Jonathan Daniel/Getty Images

When Rasheed Wallace joined the Knicks back in October, it was widely considered to be a mistake.
Sheed had been out of the league for two years and was never known to be in good shape at the best of times. Picking him up certainly seemed like a questionable move.
His reputation as a troublemaker was also something people felt would be a detriment to the locker room, as well as his propensity for technical fouls (which, to be fair, has been a problem).
Despite the obvious risks, however, Mike Woodson knew he was getting a bargain when he convinced Wallace to return to the NBA on a non-guaranteed minimum deal. Woodson had coached Wallace as an assistant in Detroit and knew firsthand what a huge presence he could be on the defensive end of the floor.
Though injuries have kept Wallace sidelined for the past few months, it can't be denied that he was worth what the Knicks paid for him. He was instrumental defensively when healthy, and also added some offense with his post game not completely deserting him at age 38.
Sheed still understands the importance of communication on defense, and it's not a surprise that New York has looked a little lost out there without him.
He may not be the Knicks' most important player, but clearly Sheed has proven himself to be someone that can help out if he returns to action by playoff time.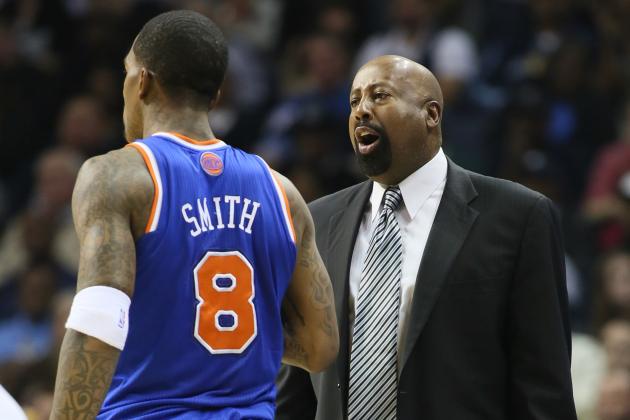 Nelson Chenault-USA TODAY Sports

J.R. Smith may not have been too happy at the time about returning to his role as the Knicks' sixth man this season, but Mike Woodson's decision to keep him there has worked out well for everyone concerned so far.
With Landry Fields leaving for the Toronto Raptors and Iman Shumpert recovering from his ACL tear, the starting shooting guard role had opened up, looking like it was Smith's for the taking.
Woodson, however, liked how Smith worked as a spark off the bench, able to provide energy and instant offense when his team needs it.
The result of Woodson's decision has been a career year from J.R., in which he is scoring 16 points per game and is a serious candidate for the Sixth Man of the Year award.
Smith still isn't perfect, but he's been making big strides under Woodson's tough love. He's a player who could have an All-Star appearance in his future if he decides to re-sign with the Knicks this offseason.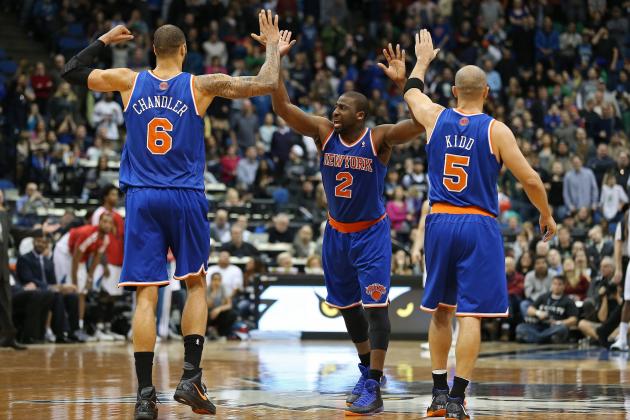 USA TODAY Sports

With J.R. Smith taking his place on the bench, the Knicks needed a new starter at shooting guard, and for that Mike Woodson went with future Hall of Famer Jason Kidd.
Kidd was initially touted to line up at point guard for the Knicks, taking a backup role to the younger and more durable Raymond Felton.
But with another experienced point guard in Pablo Prigioni also on the roster, Woodson moved Kidd to the 2 for the first time in his career, thus making the most out of his backcourt talent.
As a fantastic shooter, Kidd helps spread the floor when on the wing, which has been essential in the Knicks' development as one of the league's best outside shooting teams.
More importantly, it has allowed the Knicks to benefit from Kidd's leadership and passing without having him carry the ball up every possession. As we saw when Felton went down with injury, Kidd slows down the offense, as he simply can't penetrate the lane the way he used to.
Now that Iman Shumpert is back from injury, starting Kidd at the 2 is looking a bit more questionable, but at the time (and until mid-January) it worked out well for New York.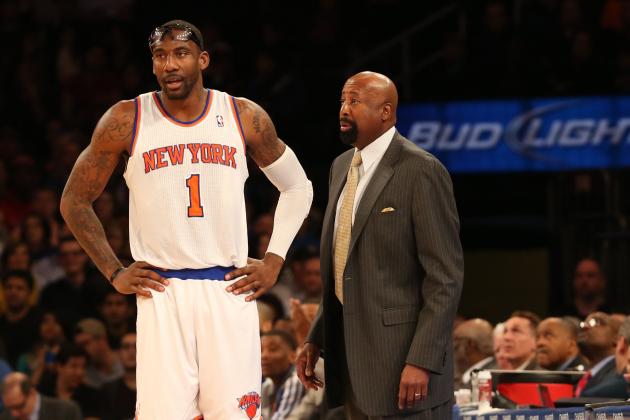 USA TODAY Sports

Amar'e Stoudemire's return was supposed to be a huge problem for the Knicks. Coming off his worst season and yet another knee surgery, there were major questions as to whether he'd fit in with the team.
To his credit, though, Stoudemire has proved all of his doubters wrong, coming back as an efficient scorer and an important piece of the Knicks' title hopes.
That said, Mike Woodson also deserves some credit for Stoudemire's success. By playing him off the bench, Woodson has put STAT and the team in a position to flourish.
Stoudemire now plays a significant number of his minutes against the opposition's second units, making things easier for him and allowing him to get into a rhythm despite not being on the court at the start of games.
Having STAT on the bench has also allowed Carmelo Anthony to continue spending time at the 4, where he has thrived offensively this season.
Coming off the bench, Stoudemire can split time at power forward and center in an almost seamless fashion, despite both Melo and Tyson Chandler playing those positions—something that wouldn't work out quite as smoothly if he was a starter.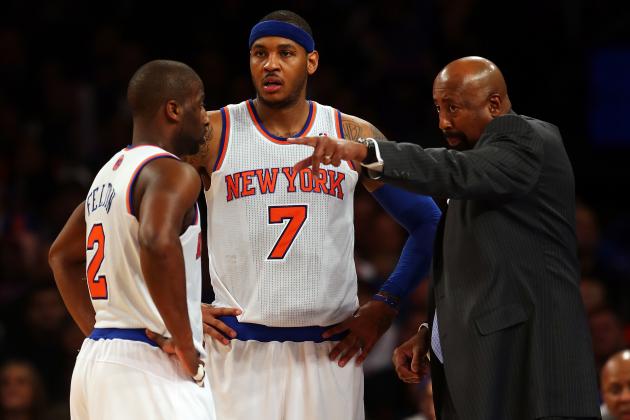 Elsa/Getty Images

When the Knicks were winning at a high rate in the season's first couple of months, the key thing they were doing was moving the ball.
It seems like such a simple idea, but by emphasizing ball movement to the point where players are doing it to a fault, Mike Woodson managed to create one of the league's best offenses.
With players on the roster like Carmelo Anthony, J.R. Smith and even Amar'e Stoudemire, there can be a tendency to defer to isolation plays (as we have seen more recently), which of course are often more inefficient and don't lead to as many good looks.
Partly by starting both Jason Kidd and Raymond Felton, and partly by getting in Melo's and Smith's ears as early as training camp, Woodson ensured that his team's No. 1 priority on offense would be to play unselfish basketball.
Even after recent struggles, the Knicks are still one of the league's top teams in terms of offensive efficiency, which just goes to show how well Woodson's plan in camp worked.
Now if only the team would start passing the way they passed in November...