UFC 157 Results: Top 25 Pound-for-Pound Fighters in the UFC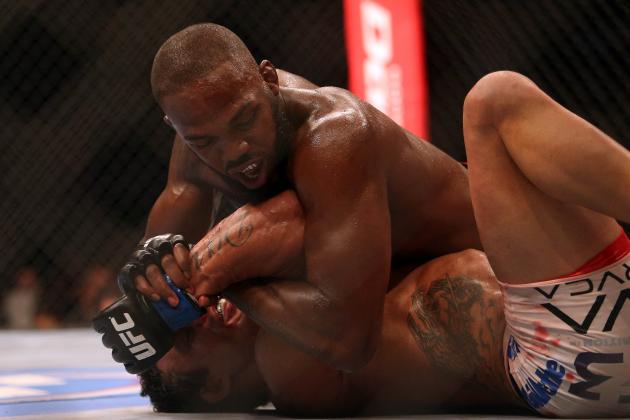 Tom Szczerbowski-USA TODAY Sports

The level of competition within the Octagon seems to evolve and grow on a regular basis. Today, Georges St-Pierre might be recognized as the top pound-for-pound competitor in the business, but all that could change in one month should Nick Diaz find a way to upset the longtime champ at UFC 158.

That's the nature of the game.

Prior to last night's event, the highly anticipated UFC 157, I'm certain most had Dan Henderson ranked higher in the P4P discussion than Lyoto Machida. That obviously changed after 15 minutes of combat, much of which was controlled by the Brazilian karate specialist.

Pound-for-pound lists stand to shift and undulate with nearly every event. Last night was no exception, as a few true talents reminded fans worldwide exactly why they deserve to be recognized as some of the finest athletes alive.
Begin Slideshow

»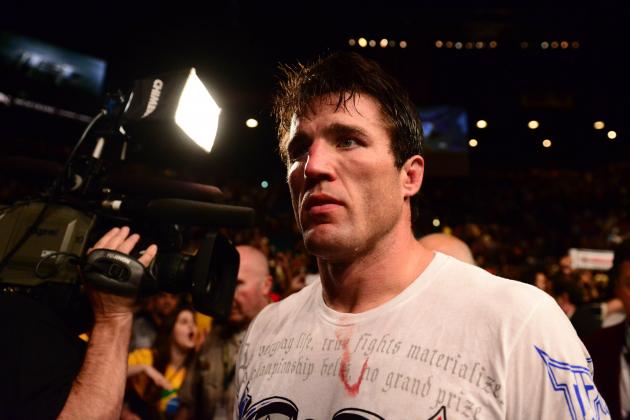 Mark J. Rebilas-USA TODAY Sports

Why is Chael Sonnen ranked so low on this list? Because when facing the best in the business, he falters, and even after more than 15 years in the business, he's still susceptible to the submission.

That said, signal a return to 185, where he belongs, and put anyone not named Anderson Silva in front of them, and he likely steamrolls his way to victory.

He's not likely to defeat light heavyweight champ Jon Jones at UFC 159, but his stock will rise if he manages an impressive showing. If he opts to stick it out at 205 pounds, there are plenty of winnable fights for the man.

Whether campaigning at middleweight or light heavyweight, Sonnen has become one of the absolute best in the business.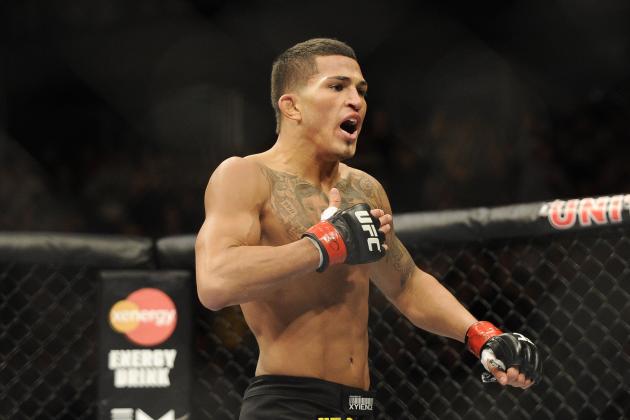 David Banks-USA TODAY Sports

Anthony "Showtime" Pettis would unquestionably slide in a much higher position on this list if his defensive wrestling wasn't a looming question mark. Clay Guida took the man down and completely neutralized him...yet, he managed to beat the very impressive lightweight champion Benson Henderson who himself is a damn fine wrestler.

There are some questions surrounding this kid, and we need to see a few more fights with elite opposition before the verdict is in.

As it stands, Pettis looks to have all the tools to consistently compete with the best of the lightweight and featherweight divisions. His upcoming match with Jose Aldo could work wonders for his career stock.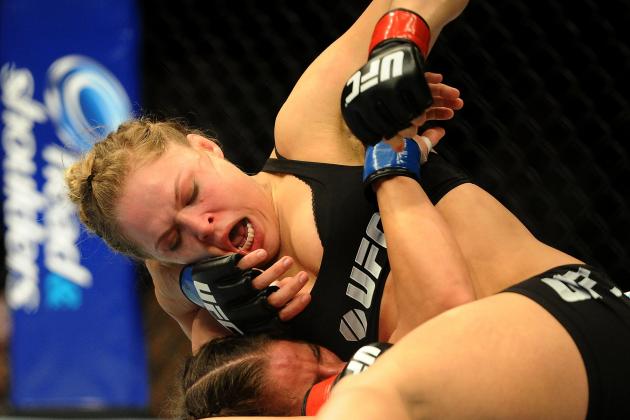 Jayne Kamin-Oncea-USA TODAY Sports

Ronda Rousey may compete in a field that lacks serious depth, but she's proven herself a very unique commodity all the same. In seven fights, she's secured seven first-round armbar submission victories, and she's done so against some respectable competitors.

She can likely rip limbs from any woman actively competing and may very well be able to do the same to a handful of the smaller men on the UFC roster.

Rousey's still got a lot to prove, but she's staking her claim at greatness quickly.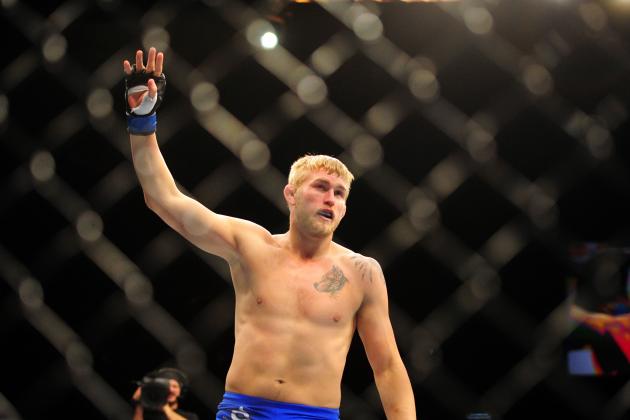 Mark J. Rebilas-USA TODAY Sports

Alexander "The Mauler" Gustafsson has quickly emerged a top contender in the light heavyweight division.

At just 26 years old, the 6'4" Swede has already amassed a solid 7-1 record for the promotion. He's consistently elevating his game, and he's already extremely well-rounded. This dude can submit or knock opponents unconscious, and he's developed some superb takedown defense.

Like champion Jon Jones, he also sports a frame that will likely produce a move to heavyweight inside the next four or five years.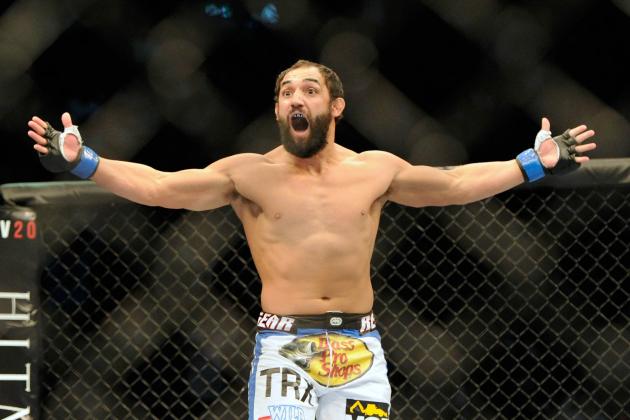 Eric Bolte-USA TODAY Sports

As of now, the only thing we don't know about Johny Hendricks is how well refined his jiu-jitsu is. He's a strong, bull-headed wrestler who can secure and stuff takedowns, but he's got cinder blocks for fists to accompany his grappling strengths.

Hendricks is in his prime right now and will likely continue to produce some amazing fights in the next half-decade.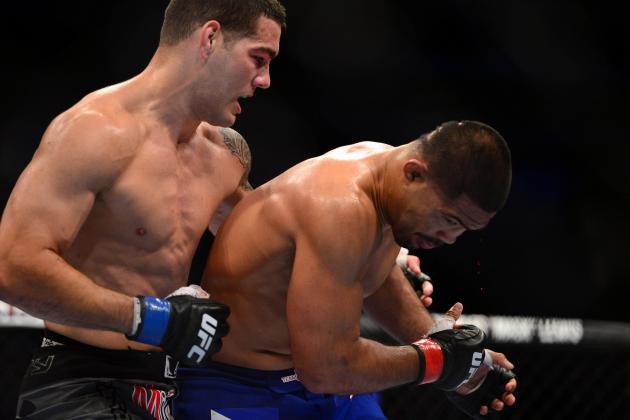 Kyle Terada-USA TODAY Sports

Chris Weidman is another new breed of fighter. These are the guys who come up training in just about every facet of the game like madmen and have transformed that gym work into big success inside the Octagon.

Weidman is a great wrestler with some powerful takedowns, superb top position and solid ground-and-pound. The man's submission game is frightening, and his striking is developing at an unbelievable rate.

If this kid continues to show improvement, he'll hold UFC gold in the future. The only question is, will it be before or after Anderson Silva has retired?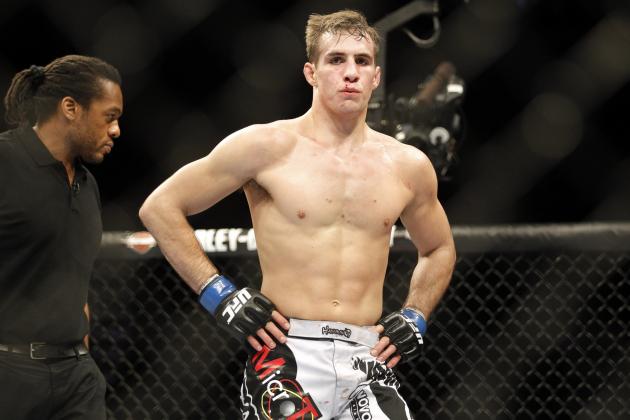 Joe Nicholson-USA TODAY Sports

Say what you will about the awkward personality of Rory "The Waterboy" MacDonald. You won't have a whole lot to nitpick at in regards to his skill set as a martial artist.

MacDonald is profoundly strong, possesses wicked wrestling, some of the most vicious ground-and-pound in the game and an ever-expanding striking arsenal.

The kid looks amazing everywhere the fight takes place, and if there's any welterweight in the game today who might have the necessary tools to defeat Georges St-Pierre, it's MacDonald.

Keep your eyes on this kid. If he can stay healthy, he'll carve a bloody path right through the division's contenders.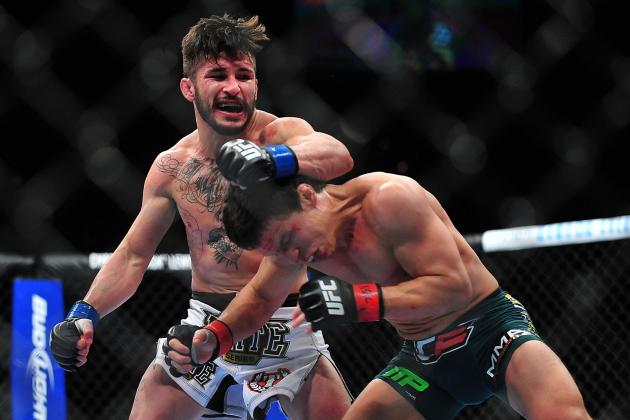 Gary A. Vasquez-USA TODAY Sports

There's such a slight skill disparity between Ian McCall, Joseph Benavidez and Demetrious Johnson, it's ridiculous. Pair any of these men up and the outcome is unpredictable.

McCall arguably beat Johnson, the current champ, the first time they met at UFC on FX 2, Johnson clearly beat him in their rematch at UFC on FX 3. Meanwhile, Johnson convincingly beat Joseph Benavidez at UFC 152, but got caught in a hairy exchange with McCall at UFC 156 before exiting the cage with a unanimous decision nod.

These guys are just unbelievably similar in so many ways, it's tough to rank them accordingly. However, we're keeping things up to date, and while McCall is, no doubt, a top pound-for-pound competitor in the UFC, he's been recently bested by both Benavidez and Johnson, which leaves him trailing the pack of 125-pound representatives.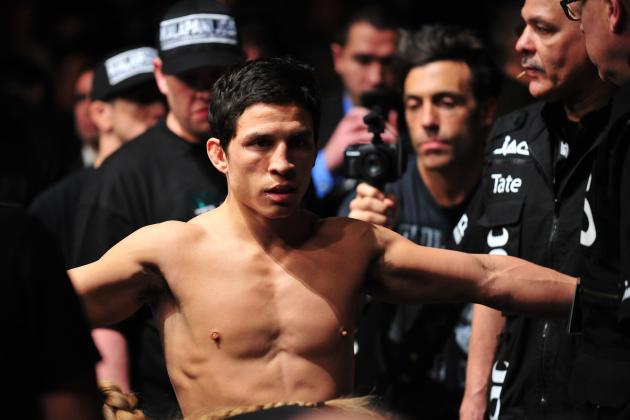 Gary A. Vasquez-USA TODAY Sports

Most of what I discussed in my last slide is prevalent here.

Joseph Benavidez is certainly one of the greatest fighters on the UFC's current roster.

Of the few men competing at flyweight, he's easily one of the top three and one of the more versatile guys you'll see in action today.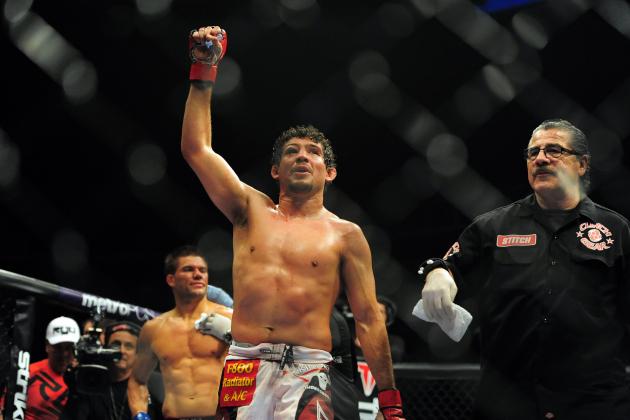 Kyle Terada-USA TODAY Sports

Gilbert Melendez hasn't even had a fight inside the Octagon yet, but it would be criminal to neglect his career accomplishments, thus far.

This guy's won 21 of 23 fights, taken out quality opposition in Josh Thomson, Jorge Masvidal, Tatsuya Kawajiri, Shinya Aoki and Clay Guida over the course of his 11-year career.

The question is, how will he fare against the skill set of wrestlers like Henderson, Pettis and Maynard of the division?

It's going to take some time to unearth those answers, but for now, the man deserves the benefit of the doubt.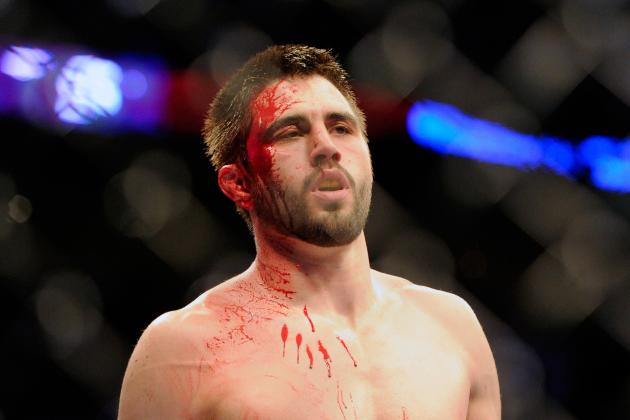 Eric Bolte-USA TODAY Sports

Carlos Condit is one of the most dangerous and least assuming men competing in 2013. The guy looks like a nice guy you could hang out and shoot a game of pool with, but he's also extremely dynamic when engaged in combat.

Condit does it all—great strikes, great submissions, fantastic endurance, a high fight IQ, great scramble work on the ground. His only area of weakness is his wrestling, and given his deep bag of tricks, his wrestling deficiency is often overcome by his uncanny ability to sweep and beautiful timing from his guard.

Condit is and has been one of the best fighters on the planet for years. It's time the world recognized and acknowledged that.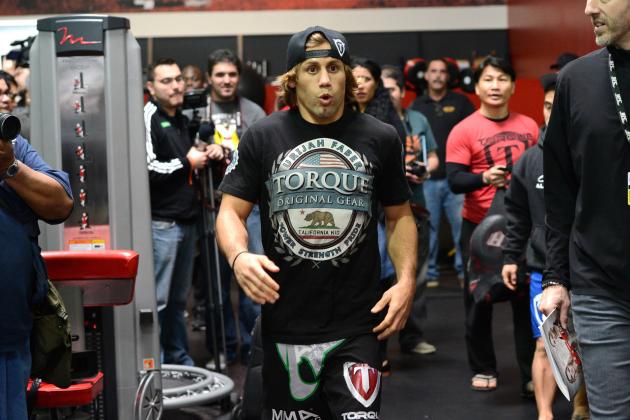 Jayne Kamin-Oncea-USA TODAY Sports

Urijah Faber's days as a champion are likely over, but oddly enough, that makes him more of a nightmare than ever before. It seems "The California Kid" is capable of throttling anyone who isn't named Dominick Cruz or Renan Barao.

It's tough to predict this man's future, as I honestly pick him to beat anyone in the 135-pound division who doesn't sport gold around their waist.

He's clearly ahead of the rest of the bantamweight ranks, but not quite versatile enough to reclaim a title.

A tough position, but an admirable one, as there aren't very many "little guys" better than Faber.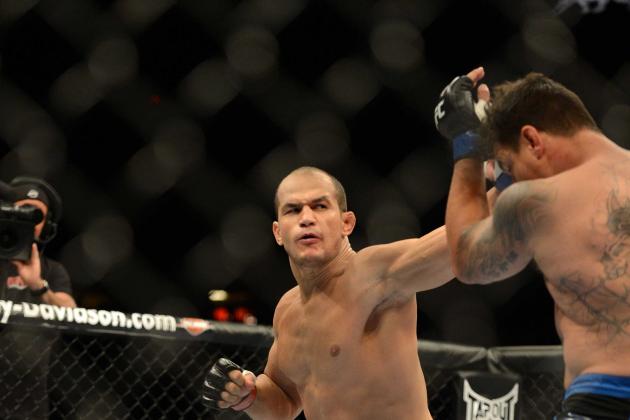 Ron Chenoy-USA TODAY Sports

Junior dos Santos may have lost his heavyweight title to Cain Velasquez at UFC 155, but he's still a top-three heavyweight worldwide, and he's got an aesthetically pleasing style to accompany his jovial demeanor.

The dude is a gentle giant, until he steps into the cage. Once he's engaged in combat, he's effective everywhere, and his talent is only eclipsed by current champion Cain Velasquez and Daniel Cormier.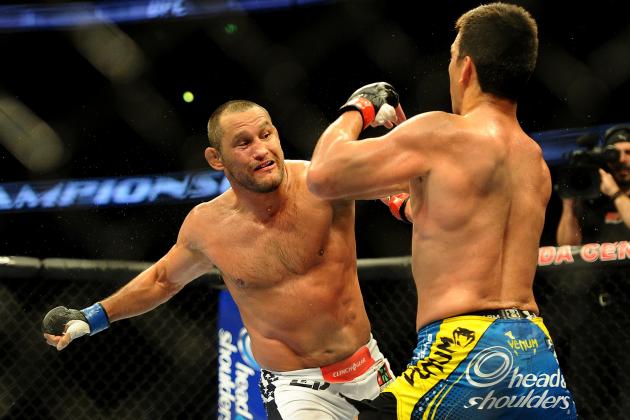 Jayne Kamin-Oncea-USA TODAY Sports

A perennial top pound-for-pound candidate, Dan Henderson has been defying odds and destroying opponents since the 1990s.

Henderson will turn 43 years old this year, and he's just finally looking like a man parting ways with physical prime.

In 2011, Henderson went 3-0, taking out noteworthy talents Rafael Cavalcante, Fedor Emelianenko and Mauricio "Shogun" Rua. That's an amazing feat for a 40-year-old combat sports practitioner.

In his latest bout, Henderson looked as though he's beginning to slow, as Lyoto Machida was able to dictate the pace of the fight and out-land the heavy-handed California rep.

Is the career of "Hendo" finally winding down, or did 15 months away from action lead to a little ring rust? It's hard to say, but Henderson's ability to make the fight with Machida—still a top-ranked light heavyweight—competitive speaks volume to the man's worth as a fighter.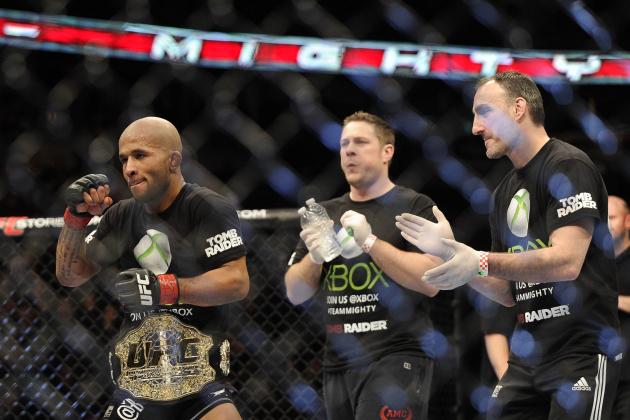 David Banks-USA TODAY Sports

During his brief tenure with the UFC, Demetrious Johnson has captured the flyweight title and defended it. He's already beaten Ian McCall and Joseph Benavidez—the two greatest threats at 125 pounds—and he's gearing up to defend the belt once more come April.

The fastest man on the roster, Johnson's constant evolution has kept him perched on the top of the mountain. It's doubtful that John Moraga has the tools to change that, but we'll find out soon!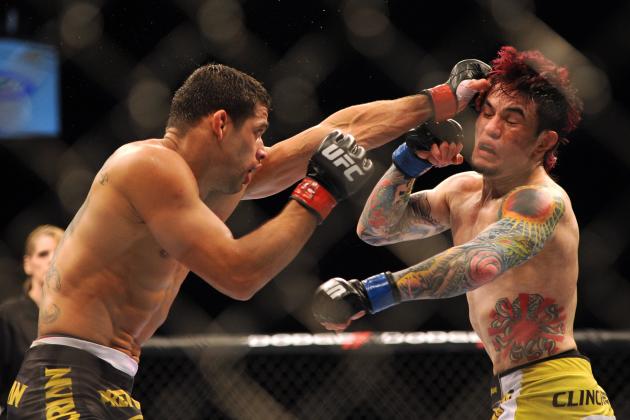 Kelvin Kuo-USA TODAY Sports

There is no question as to who the best 135-pound fighters on the planet are: Dominick Cruz and Renan Barao.

Barao has a varied attack that has proven too complex for every man he's met in the Octagon. The only challenge he's yet to overcome is the aforementioned Cruz, who's been sidelined by knee injuries for more than a year.

If Cruz can successfully rebound from two major knee surgeries, he'll meet Barao to determine who the undisputed bantamweight champion is.

Momentum (Barao is 5-0 inside the Octagon) and health favor the Brazilian, who's rightfully earned a high ranking on this list, thanks to some crazy talent, a gaudy 30-1 record and a pile of battered UFC opponents—virtually all of which are top-notch competitors.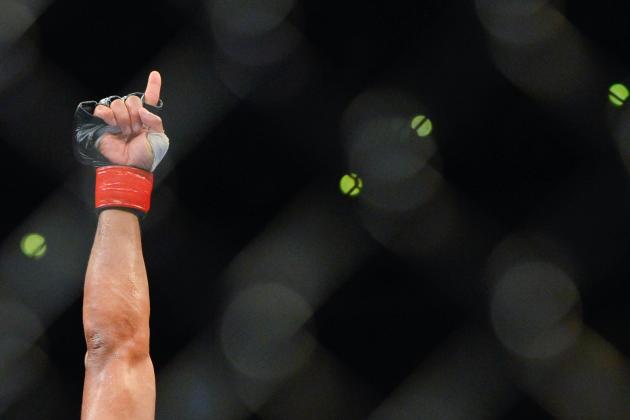 Ron Chenoy-USA TODAY Sports

What can I say about Benson "Smooth" Henderson that actually does his accomplishments justice?

This dude went to war with one of the greatest fighters on the planet, Frankie Edgar, and managed to walk away from both exchanges with his hand raised. He pummeled Jim Miller, Mark Bocek and Clay Guida on his way to winning a title, and he recently made surging top contender Nate Diaz look like a fish out of water.

This man is an amazing athlete, and he's only getting better.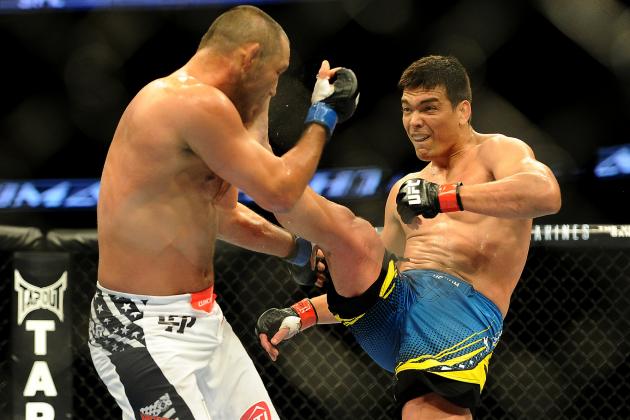 Jayne Kamin-Oncea-USA TODAY Sports

Lyoto Machida's bout with Dan Henderson at UFC 157 wasn't the most scintillating battles. It was a chess match with very few risks taken. However, it proved that, as of today, Machida is a superior fighter to Henderson, even if by the slightest of margins.

With a thinning pool of prospective title challengers, Machida sits in the top position. He's one of the few men to give Jon Jones any form of trouble, and it looks as though he'll get a second crack at the champion, assuming Jones makes it past Chael Sonnen on April 27.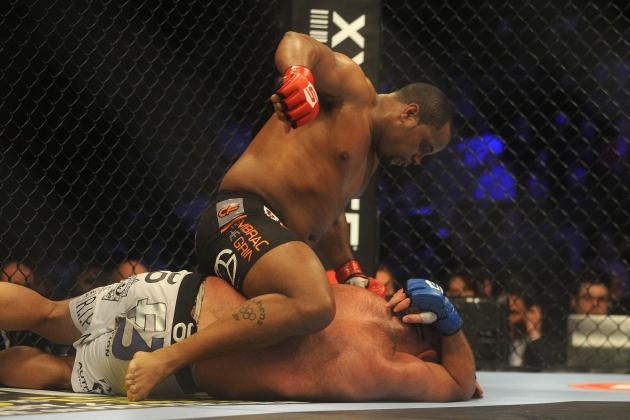 USA TODAY Sports

Here we have another man who has yet to compete under the UFC banner. That fact may leave you puzzled by his top-10 ranking, but he's earned it away from the Octagon.

This guy tore a hole through the Strikeforce heavyweight division and proved far more capable than anyone ever believed.

Daniel Cormier's wrestling is often referred to as the best in the game, and his striking has reached a level that rivals, if not surpasses, that offered up by champion Cain Velasquez. He's also the faster of the two men.

It's unfortunate we won't see these two collide, so long as they both call the American Kickboxing Academy home.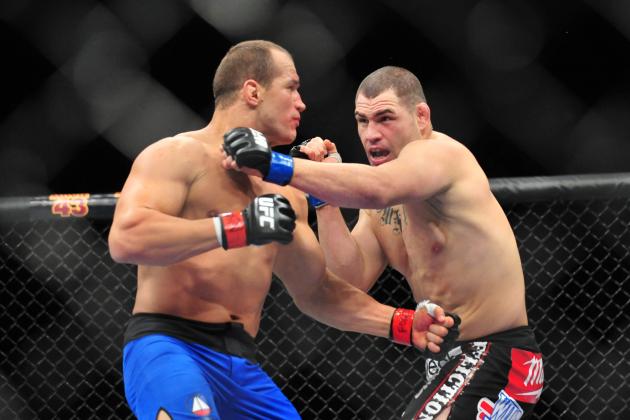 Gary A. Vasquez-USA TODAY Sports

Just one single man has been able to overcome the relentless offense of Cain Velasquez: Junior dos Santos.

That, however, doesn't make JDS superior to Velasquez, which was proven when the two engaged in a highly anticipated rematch at UFC 155. Velasquez caught dos Santos early with a big punch that floored him, and it was all Velasquez from that point on, methodically grinding away on the former champ.

No one on the current UFC roster appears fit to give Velasquez a truly challenging fight outside of Daniel Cormier and JDS, if dos Santos can seal up a few of the holes in his game.

We know Velasquez and Cormier won't be duking it out any time soon, and that means we could see "Velasquez versus JDS Part III" sooner than anticipated.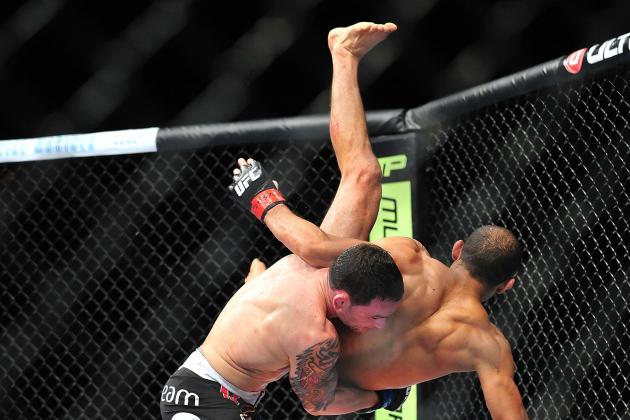 Gary A. Vasquez-USA TODAY Sports

Frankie Edgar is almost the baddest man on the planet. Take note of that word "almost." Every fight that Edgar takes is a close one, typically left to the judges who haven't been all too kind to the New Jersey native recently.

Edgar's razor-thin decision losses to Benson Henderson (the second of which is widely regarded as a win in Edgar's favor) and Jose Aldo prove he's capable of toeing the line with anyone competing south of 170 pounds.

Given this guy's heart, it wouldn't be completely shocking to see him pick up some wins at welterweight before a successful plummet to bantamweight.

No matter where Edgar fights, he's dangerous, from opening bell to final.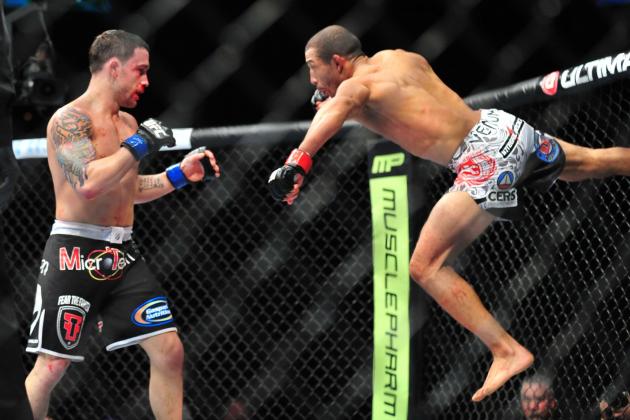 Gary A. Vasquez-USA TODAY Sports

As long as Jose Aldo chooses to campaign at 145 pounds, he's likely to rule the roost. Frankie Edgar likely had the greatest chance of dethroning the dominant champ, and he failed to convince the judges that he'd done so at UFC 156.

It's back to the drawing board for Edgar and back to the confidence that comes with being a champion for Aldo.

Aldo will meet outstanding striker Anthony Pettis in August, and if Aldo can batter the talented Roufusport stud, he may consider a move to lightweight. Regardless of the division, he's one of the best to ever enter a cage, and he's likely to hold a No. 1 ranking wherever he goes.

Benson Henderson beware!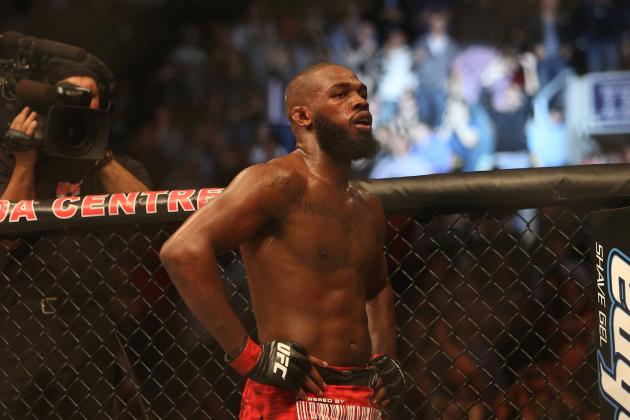 Tom Szczerbowski-USA TODAY Sports

Every decade or so, a real phenom of a fighter comes along—a man (or woman, these days) capable of exceeding all expectations and turning high-caliber fighters into helpless victims.

Jon Jones is that guy.

At 25 years old, Jones has nearly cleaned out the division, having bested Mauricio Rua, Quinton Jackson, Lyoto Machida and Rashad Evans.

A new batch of contenders, fronted by Alexander Gustafsson, Glover Teixeira and Gegard Mousasi, chomp at the bit for a chance at the champion, but it may be old nemesis Lyoto Machida with the greatest chance of stealing Jones' glory.

My money says Jones holds that title for a few more years.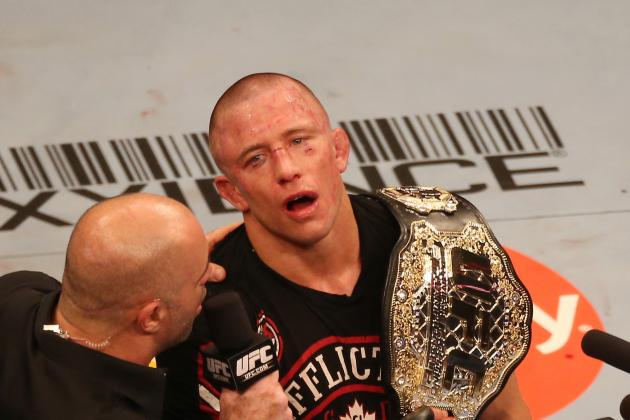 Tom Szczerbowski-USA TODAY Sports

Georges St-Pierre has enjoyed one of the most successful mixed martial arts careers fans have ever witnessed. This man has stumbled just twice in 25 fights (to Matt Hughes and Matt Serra), and he avenged both of those defeats with ease.

He's battled virtually every top contender the welterweight division has produced and looked near-immortal in the process. He's a think tank with the physical tools to support his brain power.

The only thing that prevents GSP from sliding into the No. 1 slot on this list is his difficulty in finishing opponents. In the last five years, he's secured stoppages in just two of eight fights.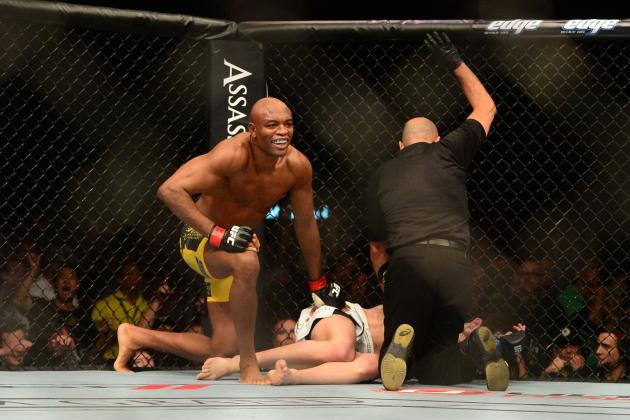 Mark J. Rebilas-USA TODAY Sports

Anderson Silva has done things inside the cage that men have trouble dreaming of. In 16 trips to the Octagon, Silva has never tasted defeat.

He's fluctuated between middleweight and light heavyweight and beaten champions of both weight classes. He's also managed to finish 14 of those 16 fights inside the distance.

Some will call his No. 1 status questionable, lobbying for Georges St-Pierre to fill this position due to superior opposition overcome, but one must ask himself: How are the top dogs that GSP once beat faring these days, and how are those abused by Anderson holding up?

Thiago Alves, Josh Koscheck, Jon Fitch and B.J. Penn haven't exactly been lighting the welterweight division on fire as of late. Meanwhile, a few of Silva's past foes have proven to be relevant figures to this day.
Demian Maia has been running roughshod over talented guys since dropping to welterweight, Vitor Belfort recently dispatched of longtime top-five divisional entrant Michael Bisping, and Dan Henderson has secured wins in marquee bouts at light heavyweight as well as heavyweight.

Silva is the top pound-for-pound fighter currently competing, in the world, let alone the UFC.
Follow me on Twitter.