Ranking All of John Cena's WrestleMania Matches in His WWE Career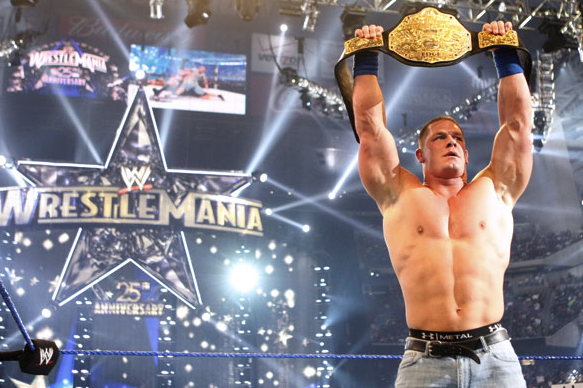 Photo from WWE.com
For the last nine years, John Cena has built a WrestleMania resume that includes several WWE title matches, clashes with superstars that have in some cases, disappointed and in others, thrilled.
At WrestleMania 20, Cena was a fast-rising star—as WrestleMania 29 approaches, Cena stands as WWE's biggest full-time star, a decorated champion and an oft-criticized performer.
Critics will find plenty to pick apart in Cena's WrestleMania career, but will also find that he delivers when the bright lights of "The Granddaddy of Them All" come on.
Cena's bouts at WWE's premier event are ranked here based on how intriguing a story they told, level of excitement they created, their memorability and their worthiness of WrestleMania's grand stage.
Begin Slideshow

»
John Cena and JBL gave the fans at Staples Center an underwhelming slugfest.
JBL, the defending WWE champ was dominant throughout, knocking Cena around the ring. They fought outside atop the fallen fake money JBL had tossed during his entrance. Cena sold well as he looked to be in excruciating pain at points.
What hurts this match is that both men are underperformers in the ring.
Given the right opponent both JBL and Cena can have a great match, just not with each other. Fans likely weren't too surprised when this major title match only went about 11 minutes.
Cena winning the championship was a big moment, but the journey to that point was not main-event material.
There were not as many near falls or momentum swings as you'd expect in a WWE title match at WrestleMania. Other than Cena coming away with the belt, there wasn't much for fans to remember here.
John Cena's WrestleMania debut saw him win the United States title from a dominant Big Show.
It was a solid match that told its story well.
Cena, the young star got a big win over a monstrous giant, propelling him to the next stage of his career. Cena outlasted Big Show, fighting through the big man's overpowering offense.
Big Show surprised us by kicking out of one Attitude Adjustment (FU) only to eventually fall victim to a brass knuckle-laced punch and a second AA. The two men performed well, but weren't asked to be anything other than a warm-up to the night's biggest bouts.
By WrestleMania 27, John Cena was an established main-event star. He had a good match with The Miz that was more about setting up a future WrestleMania match than satisfying with this one.
Cena had a grand entrance backed by a choir.
He and Miz worked well together—Miz playing the desperate heel trying to keep the resilient hero down went over with the fans.
What detracts from this match is the finish.
Cena smashed Miz through the barricade and both men were soon counted out. The Rock came in and announced the match would continue with no disqualifications—setting up Rock giving Cena a Rock Bottom with Miz cleaning up the scraps for the win.
Absent of a resolution, this main event felt unfinished, awkward, as if the words "to be continued…" should have appeared at the bottom of the screen.
Had this match not been forced to follow eventual match of the year—Undertaker vs. Shawn Michaels, perhaps the fans would have been more into it, perhaps it would be judged differently.
As it stands, it's remembered as a good triple threat match outshined by the match it followed.
The action was fluid, Edge, John Cena and Big Show taking turns beating on each other. Big Show came off as the dominant giant and his opponents were the wily ones who worked around his physical supremacy.
Chavo Guerrero tried to help Edge, Big Show got tied up in the ropes and Edge dove through Big Show and the barricade in a match that had its compelling moments. It will likely be most remembered for Cena lifting both Edge and Big Show for the Attitude Adjustment.
Three equal titans faced off in a match that felt like it wasn't quite as good as it could have been.
TJR Wrestling summed up Randy Orton vs. John Cena vs. HHH for the WWE title by writing it was a "good match. Not great."
Cena had vacated the title because of injury and now along with a face Triple H they tried to dethrone the dastardly champ, Orton. There were plenty of high-impact moves, but nothing all that special.
The match's strength though was its finish.
Triple H applied the pedigree to Cena and looked to be closing in on the win. Orton charged in, punted Triple H in the head as he went for the cover then covered Cena for the pin. That flurry of excitement helps the match rank this highly.
Batista, like John Cena. is at his best when he is facing someone who can take the lead. For Cena that has been men like Shawn Michaels and CM Punk, for Batista it was Undertaker for the most part.
Without a ring general, this match suffered from awkwardness.
Cena dropped Batista improperly a few times, delivering some ugly suplexes on the big man. The action wasn't as fluid as you'd like to see. Despite its clunkiness though, the star power of both men made this feel better than it was.
Batista countered a Five Knuckle Shuffle into a spinebuster. Cena later landed the trademark fist drop from the top rope.
The clash of these two powerhouses gained momentum in the last five minutes, thrilling the audience and building to a satisfying climax.
Cena forced Batista to tap out and won his eighth world title in the process.
Two grand entrances preceded an entertaining clash for the WWE title.
John Cena rolled in with fake mobsters, including a young CM Punk. Triple H entered in a barbarian king outfit befitting the grandeur of WrestleMania.
Their match was a hard-hitting affair that kept the audience's attention throughout.
Cena tossed Triple H out of the ring with an Irish whip. Both men clobbered each other with loud clotheslines. With a ref bump and a sledgehammer being played into the final minutes.
Fans who are irked by Cena's Superman tendencies must have hated seeing him kick out after being hit in the head with a sledgehammer. If getting conked in the head with steel isn't enough to put a man away, what is?
In spite of that, Triple H and Cena managed to somewhat win over a heavily anti-Cena Chicago crowd with a back-and-forth battle.
By this time, John Cena was huge, the company's biggest star. In walks WWE's former top dog, The Rock for a showdown of two icons.
There are elements of this match to nitpick like Cena being too goofy at times and Rock getting gassed mid-match, but the two men still delivered a match that felt as large as the stage it was on.
Rock's athleticism worked well with Cena's power. They created drama together, making the most of the crowd's hot energy.
Cena frantically escaped the Sharpshooter in a dramatic moment. Each kicked out of the other's finisher until The Rock finally caught Cena with an emphatic Rock Bottom.
It appears that both men will get an opportunity to top this performance at WrestleMania 29.
The list of men who have had their best match with Shawn Michaels is a long one—especially true at WrestleMania.
Only the Undertaker rises to the occasion and matches the big-feel of the event like Michaels.
Michaels and Cena delivered one of WWE's best matches, hyping the crowd to a frenzy and leaving them exhausted afterwards.
Michaels began the match nonchalantly, playing mind games with Cena. They both did a fantastic job of drumming up the drama before they even landed the first blow.
The match first saw Michaels ground Cena with his superior mat skills. Michaels chopped Cena's chest red with echoing blows. The challenger soon proved how much he was willing to risk to beat Cena.
He halfway hit a moonsault on Cena at the announce table, hurting himself as much as his foe.
Eventually both men were bleeding, drained and barely able to stand. Cena and Michaels struggled to get to their feet, leaning on each other in dramatic fashion.
The ending was captivating, building perfectly on a well-worked match.
After hitting the Sweet Chin Music, Michaels crawled on Cena. He only got a two-count. Cena soon locked Michaels in the STF. With nowhere to go, blinded by his own blood, Michaels was forced to tap.
That is how you end a WrestleMania.
That is how you make the loser look just as good as the winner. That is the standard Cena must strive for at every future WrestleMania.