UFC 157 Results: Questions Answered and Lessons Learned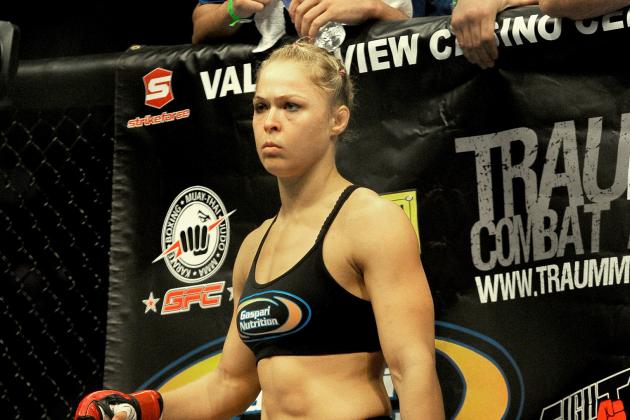 Jayne Kamin-Oncea-USA TODAY Sports

UFC 157 is over. Ronda Rousey defeated Liz Carmouche, but not without a breathtaking close call. In the co-main event, the karate stylings of Lyoto Machida stymied Dan Henderson.
In addition to these fights, there were other scraps throughout the night that taught the MMA world important lessons and answered lingering questions of fans and pundits.
What were these questions answered and lessons learned?
Read and find out!
Begin Slideshow

»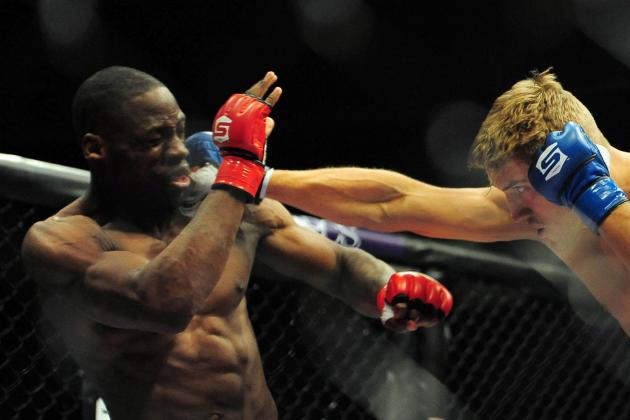 Kyle Terada-USA TODAY Sports
Nah-Shon Burrell in his Strikeforce days.
Nah-Shon Burrell missed the welterweight mark of 170 pounds by a whopping 5.8 pounds. One can only imagine how much more he weighed after he rehydrated. Come fight time, it was clear that Burrell was the bigger man than his opponent, Yuri Villefort.
Villefort performed well despite the weight difference, but not well enough. He was on the losing end of a unanimous decision, and it was apparent during the fight that Burrell's increased size made a difference.
Burrell managed to power out of several compromising positions as if he was wrestling a younger sibling, showing that size does matter indeed.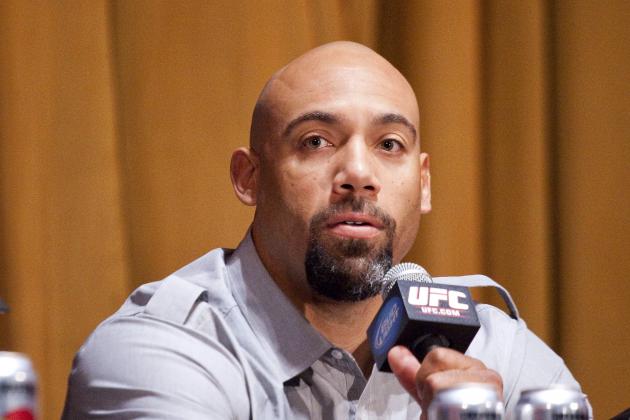 Michael Nagle/Getty Images

Lavar Johnson's skill set is so outdated that it looks like something from the 1990's.
Johnson couldn't stop a takedown to save his life, and that's remarkable considering that Schaub isn't an acclaimed or even an above-average grappler. Johnson couldn't do anything meaningful off of his back once he was brought to the canvas either. Like the fighters of old, he understood one discipline well enough, but had only a hazy understanding of the other aspects of fighting.
If Shane Carwin (a fighter who had a similar fighting style) was called "Tank Abbott 2.0" by fans, then Lavar Johnson is "Tank Abbott 1.5."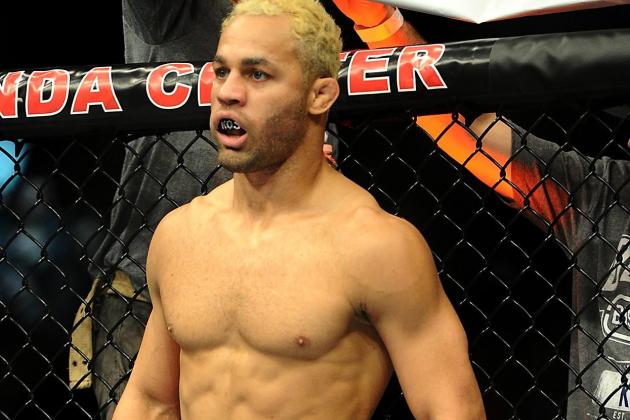 Jayne Kamin-Oncea-USA TODAY Sports

Josh Koscheck is 35 years old, and was 2-2 in his last four fights heading into it with Robbie Lawler.
It was clearly a crucial moment in Koscheck's career—and it ended with him having his head dribbled off the mat by Lawler's fists.
With the news of Koscheck's former training partner and perennially top-ranked Jon Fitch being fired for being "super [expletive] expensive," Koscheck's future might be in question since nobody seems safe from the chopping block.
The sun may have set on Koscheck's time in the UFC, as well as his time as an elite fighter.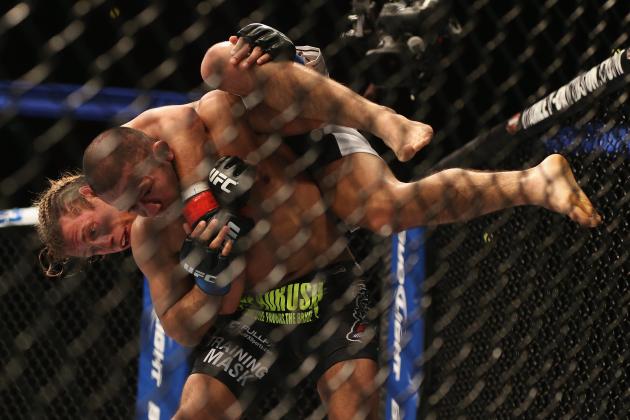 Jeff Gross/Getty Images

Urijah Faber scored a slick submission victory over Ivan Menjivar—and by slick, let's just say if Neo was to submit someone with a rear naked choke, it'd look like Faber's win over Menjivar.
That's all well and good, but let's further examine what Faber has done recently.
Faber is 6-0 in his last six non-title fights, and 0-5 in his last five title fights (this is going back to his WEC days).
Faber can crush anyone as long as a title isn't on the line. Until he captures a title again, he won't lose this "non-clutch" stigma.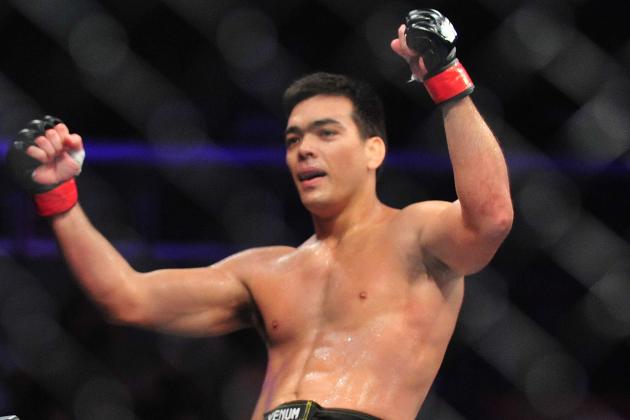 Gary A. Vasquez-USA TODAY Sports

Lyoto Machida and Dan Henderson didn't wow the crowd in attendance, nor the hundreds of thousands watching around the world.
Machida was able to execute his game plan—dodging Henderson's Mac Truck of a right hand and landing carefully timed counter strikes—but that strategy never fails to upset the fans. And despite earning a split decision victory, Machida didn't demonstrate any newly-learned ability or suddenly-gained trait that proves he'd do better against UFC light heavyweight champ Jon Jones.
Dan Henderson didn't impress either. He had his right hand cocked and ready for the entire fight, but only managed to land a glancing blow or two. That, coupled with a few awkward leg kicks and some ill-timed bull rushes, comprised Henderson's failed strategy.
The fight wasn't anything special. Neither guy is the much-sought-out "man to beat Jones."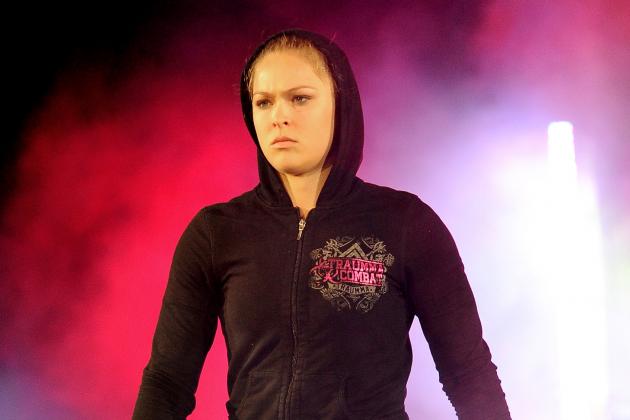 Jayne Kamin-Oncea-USA TODAY Sports

In nearly all of the promotional material for the UFC 157 main event, the UFC claimed that Liz Carmouche—a woman whose list of victories extends to seven wins over opponents who all currently aren't over .500—was the only female on the planet willing to face Ronda Rousey.
And Carmouche nearly beat her.
Midway through the first round, Carmouche took Rousey's back and nearly turned the judo star's head the wrong way in a vicious rear-naked-choke turned neck crank. Rousey gathered her aplomb and managed to reverse her fortunes. Minutes after nearly having her head ripped off, Rousey scored yet another arm-bar victory, bringing her tally of collected arms to seven.
The most dangerous unarmed woman on earth was nearly felled by a woman who had previously only beaten mid to low-level fighters.
Rousey is a talented athlete, as her Olympic accolades and 7-0 MMA record show, but let's not ascend her to godhood just yet.