Notre Dame Football: 4 Players with the Most to Gain in Spring Practice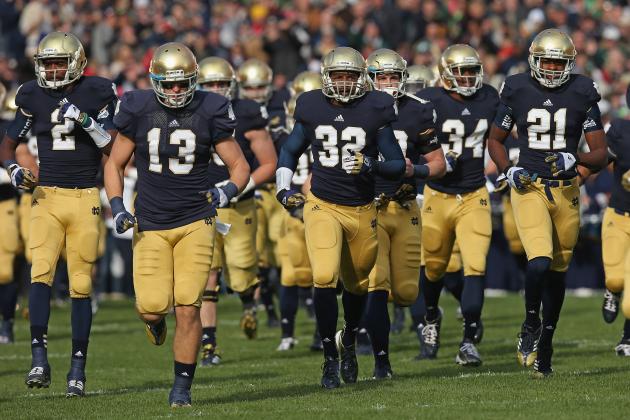 Jonathan Daniel/Getty Images

Notre Dame's spring practice will begin March 22nd and culminate on April 22nd with the Blue-Gold spring game. With big names like Cierre Wood, Tyler Eifert and Manti Te'o leaving, there are several opportunities for current players to move up the depth chart and for incoming stars from Notre Dame's No. 3-ranked recruiting class to distinguish themselves and perhaps see the field as true freshman.
There is also a potential quarterback controversy on the horizon between incumbent Everett Golson and 5-star ranked Gunner Kiel, who has completed his redshirt year and will be out to prove himself this spring.
Where all the aforementioned players end up this fall will depend substantially on how much they can impress this spring.
Here are the four players with the most to gain in spring practice.
*All star rankings via Rivals.com, and all statistics referenced from NCAA.com.
Begin Slideshow

»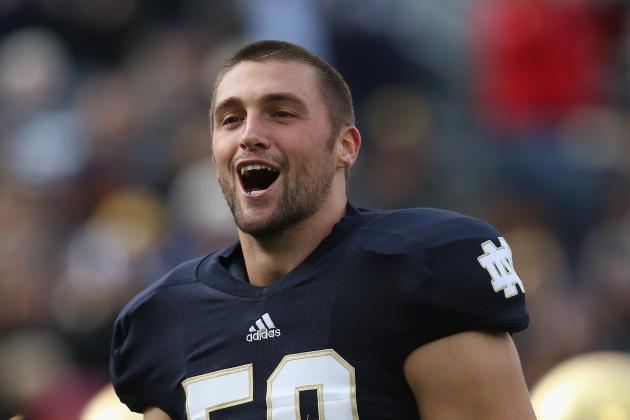 Jonathan Daniel/Getty Images

Jarrett Grace will have some large shoes to fill this spring when he takes over for outgoing Notre Dame legend Manti Te'o.
According to Tim Prister of Rivals.com, Notre Dame assistant coach Bob Diaco pegged Grace as a physical, run-stopping presence in the middle. He has prototypical inside linebacker size and the run-gap-filling style needed to replace Te'o on one of the country's best defenses, but it will be near impossible to replicate his seven interceptions last season.
The onus will be on Grace this spring to elevate his game to the level of able contemporaries Carlo Calabrese and Dan Fox, as the inside linebacker position is perhaps, as Prister put it, of the most concern of the entire defense.
While Grace does not have much to gain per se as he is the clear heir to Te'o's position, he has everything to prove this spring. He did not see much play time last fall so he will need to make up for lost time on a defense that is expected to remain among the nation's elite.
Photo credit: 247 Sports
With Cierre Wood and Theo Riddick gone to the NFL draft, there will be room at the top for a talented running back like Greg Bryant.
On the field, he displays a preternatural ability to read plays and find holes in the defense. His speed off of the snap combined with his great balance and flexibility will make him an Irish star in no time, provided he has a strong showing in spring practice.
Bryant's skills will be much appreciated on a team who's rushing offense ranked 38th nationally last season and 54th in total offense. Indeed, there is much room for improvement among the offensive ranks at Notre Dame.
Should he fail to live up to the promise that garnered him a 5-star ranking, Kelly may have him sit out his freshman year as a redshirt, but I think this scenario is unlikely. Bryant's highlight reel shows a highly dependable player who makes the most of every play and is ready for the next level.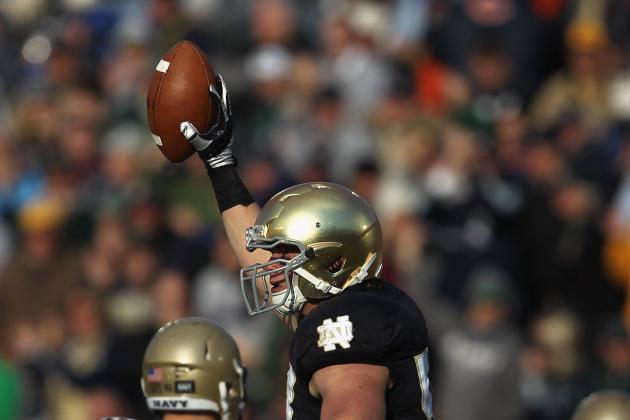 Jonathan Daniel/Getty Images

This fall, Troy Niklas will take over for outgoing Irish star Tyler Eifert. This will be no easy task; Eifert holds Notre Dame's record for tight end single-season receptions and receiving yards.
Niklas himself feels the heat, telling Pete Sampson of Rivals.com that his game "started at the 100 level and now it's the 200 or 300 level. Eifert is still at the 800 level."
While he is virtually assured the starting position, he has much to prove this spring. Last year during Notre Dame's fierce game with Stanford, Niklas was thrown aside by the Cardinal outside linebackers in a play that resulted in a strip sack of Golson in the end zone. Chase Thomas recovered, giving Stanford its only touchdown in a game that will go down in Fighting Irish infamy.
Niklas will have to elevate his game substantially this spring. The Irish offense needs major improvements in order to remain in the national championship hunt, and the loss of Eifert will be a significant impediment for offensive coordinator Chuck Martin to work around.
At 6'7", 260 pounds, Niklas has the size to be a great blocker and receiver, but he will need a great deal of practice this spring in order to fill the shoes of his predecessor.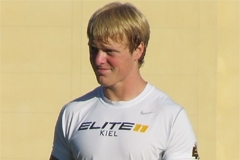 Photo credit: 247 Sports
Five-star recruit Gunner Kiel has completed his redshirt season and enters his first year of eligibility, deep within the shadow of current Irish starting quarterback Everett Golson, who is one year his senior.
Kiel enters spring practice with everything to gain and nothing to lose. He had a poor showing in last year's spring game, leading many to speculate that he would go the way of fellow 5-star recruit Dayne Crist, who fell flat at the college level.
With Golson virtually assured the starting position, Kiel will have to work overtime in the next few months to prove he deserves the second spot on the depth chart. While his reel shows a strong-armed pocket passer with decent running skills, he has yet to prove himself at the college level.
If he fails to distinguish himself this spring, he will be contending with the underrated dual-threat Malik Zaire next season, at which point he might as well transfer if he ever wants to be a starting QB. He could wait it out till his senior season, but if he is unable to surpass Golson's talent, he will most likely not be able to hold off Zaire from leapfrogging him on the depth chart.
This spring will be the defining moment of Kiel's career.