New Golden State Warriors Uniforms Would Have Looked Great in the Past Too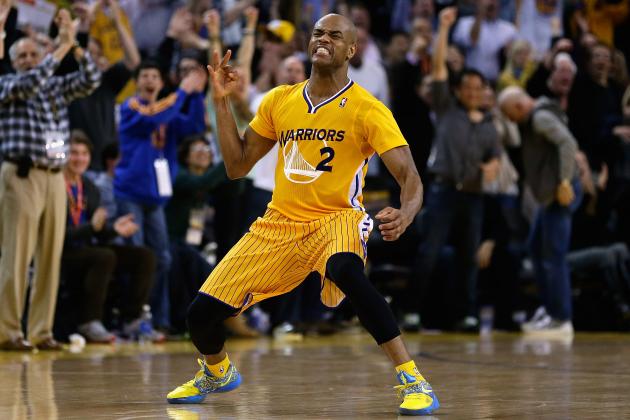 Ezra Shaw/Getty Images

The Golden State Warriors unveiled their new short-sleeved jerseys with pinstriped shorts against the San Antonio Spurs on Friday. And like them or not, they seem to be working.
The Warriors downed the Spurs in overtime 107-101. David Lee went for 25 points and 22 rebounds. Jarrett Jack scored 30 off the bench and dished 10 assists.
It was the Warriors' first win against the Spurs in over five years, a 16-game span.
After the game, coach Mark Jackson told the media, "We're not going anywhere…So get used to seeing these beautiful yellow jerseys" (per Associated Press, via ESPN.com).
But what if we could take these jerseys back in time? What would the all-time greats in Warriors franchise history look like in the resplendent new uniforms?
Begin Slideshow

»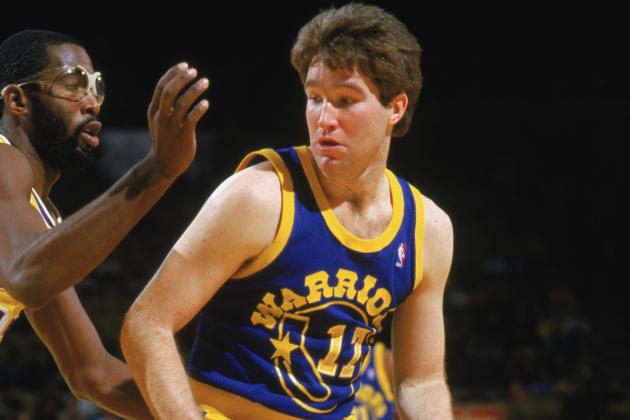 Rick Stewart/Getty Images

In 1987, Chris Mullin had luscious locks of hair. They were short-lived.
The man from Brooklyn played his first 12 seasons in the NBA for the Warriors after bringing the St. John's program to new heights.
Mullin was an excellent shooter, averaging over 50 percent from the field in his career. He scored over 13 points per game in all of his seasons with the Warriors, including a five-year stretch of averaging 25 PPG or more.
He was also on the 1992 Dream Team. 'Nough said.
Mullin's signature flattop (not pictured) would really make those bright yellow compression uniforms pop!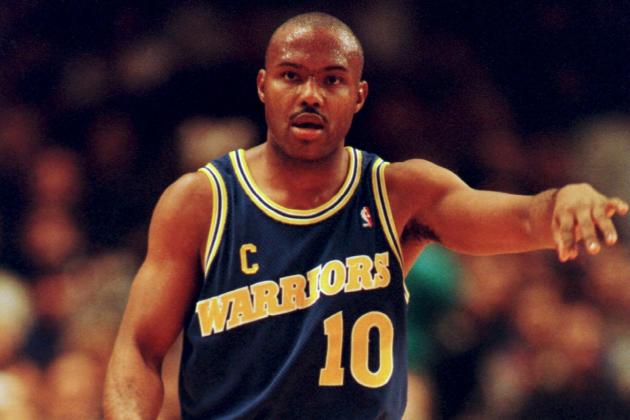 Al Bello/Getty Images

Tim Hardaway wore the captain's "C" for the Warriors in 1995, but when he started out with the Warriors, he had to wear No. 5 because Manute Bol had No. 10.
He got his dime jersey as a sophomore and immediately increased his scoring from 14.7 points per game to 22.9. Hardaway combined with Chris Mullin and Mitch Richmond to form "Run TMC," a potent offensive threat.
He was the perfect match for Mullin, because Hardaway actually made the jersey look cool next to the white guy with a crewcut.
If we're lucky, Hardaway's son will get drafted out of Michigan by the Warriors and we'll see Tim Hardaway Jr. in a yellow compression jersey.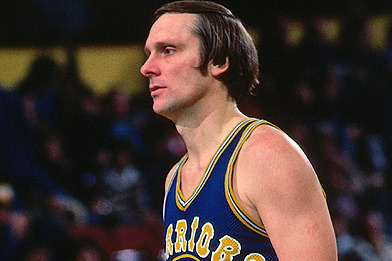 Source: www.nba.com (via Getty Images)
Rick Barry was the master of the underhanded free throw and so much more.
After being drafted second overall by the Warriors in 1965, Barry felt that he wasn't getting adequately paid. That may have been because of the 35.6 points per game he put up in his second season.
The man known as the "Miami Greyhound" chased a payday in the ABA, where he spent four seasons before returning to his old franchise.
By now known as the Golden State Warriors, Barry would never reach the 35-point average he had posted, but he did average at least 21 points in six straight seasons upon returning to the franchise.
Barry would look unforgettable in a jersey with sleeves. The only problem is that it might restrict his signature crablike free-throw motion.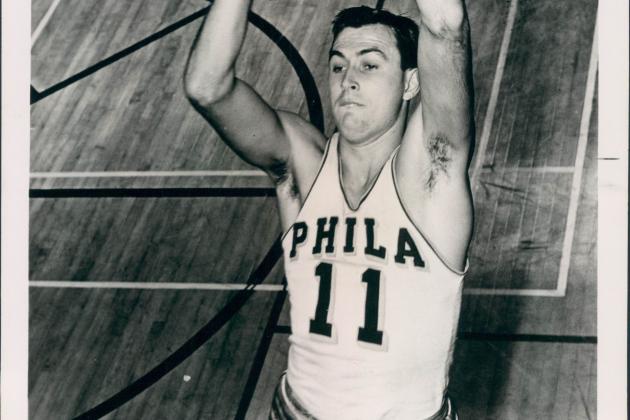 Source: www.mearsonlineauctions.com (via Sporting News)
Paul Arizin played back in an era where the shorts were held up by an actual belt.
The 6'4" Arizin played 10 total seasons, all for the Philadelphia Warriors. The kids from Philly averaged 22.8 points and 8.6 rebounds per game over his career for his hometown team.
After being the league scoring champion in 1951-52, the Villanova product missed the entire 1952-53 and 1953-54 seasons due to military service in the Korean War.
Not only would Arizin look great in a compression jersey with some sleeves—he'd probably closely resemble a pro cyclist—he could also kill you using only his pinkie finger. This guy was no joke.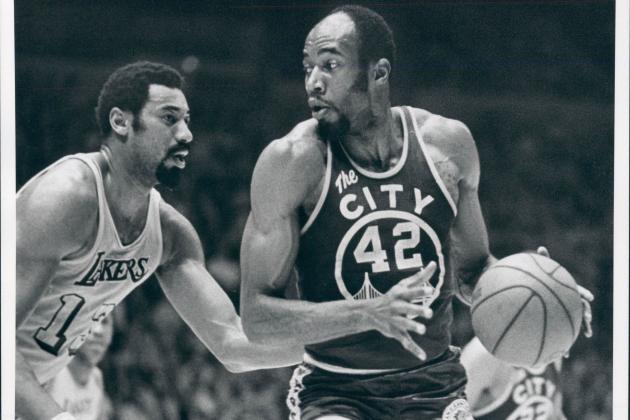 Source: www.mearsonlineauctions.com (via Sporting News)
Nate Thurmond was so good, the Cleveland Cavaliers retired his No. 42 jersey even though he played just 114 games for them.
The San Francisco Warriors drafted the young man from Akron, Ohio third overall in 1963 and he played 11 seasons for them.
After averaging 16.5 points and 18.1 rebounds as a sophomore, Thurmond bumped up his stats to the truly gaudy. He was putting up 18.7 points and 21.3 boards by his fourth year. He then posted 20.5 points and 22.0 rebounds the next season.
He was also an excellent defender. Steals and blocks weren't recorded until the 1973-74 season, but Thurmond was a proficient shot-swatter all along.
The Warriors retired Thurmond's No. 42, so no current player will ever wear his number in the new compression jerseys, but Thurmond would've made that look good with his mutton chops and bushy goatee.
Mike Woodson's barber would be appalled.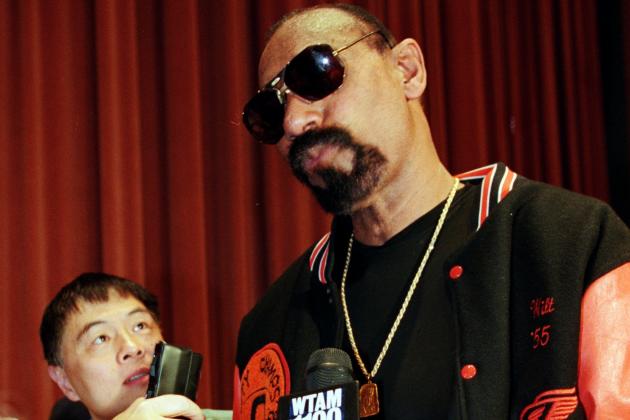 Brian Bahr/Getty Images

He didn't like to be called "The Stilt," but the name just stuck for some reason.
The Philadelphia Warriors drafted Wilt Chamberlain with a very important territorial selection in 1959. He played just five-and-a-half seasons with the franchise and also made the move with the franchise to San Francisco in 1962.
In his time with the Warriors, Chamberlain never averaged less than 37 points and 22 boards per game. In 1961-62, he averaged 50.4 points a night.
This would be the most entertaining of all the jerseys. Wilt would've looked like Big Bird in a canary yellow compression jersey. The sleeves on his uniform would be as long as a normal man's warmup jacket.
And the pinstriped shorts on him would go on for days.