The Texas A&M Aggies were the marquee program from the state of Texas in 2012-13, boasting a far more impressive year than the Texas Longhorns both on the field and in recruiting. But how can the Aggies repeat that success in 2013-14?
Kevin Sumlin and his staff put together an exceptional 2013 recruiting class—ranked No. 10 overall by the 247Sports Composite Rankings—and the Aggies were arguably the hottest program in recruiting for a majority of the cycle.
They were certainly ahead of the Longhorns, and considering Texas' history of dominance both on the field and in recruiting, that statement in itself is a huge testament to the job Sumlin was able to do with Texas A&M's program in 2012.
Who will have the better 2014 recruiting class?
Looking at the state of both Texas A&M and Texas, recruiting is truly a fascinating study in momentum and how it impacts the recruiting trail. The
Aggies
are experiencing a serious influx of hype. Texas—quite the opposite.
The kicker is, any program can ride a wave of momentum and have a good recruiting year. The key to actual legitimate success on the recruiting trail is sustaining that momentum, and that's what we're going to examine in this piece.
Texas is currently ahead of A&M on the 2014 recruiting trail right now (No. 1 and No. 2 respectively so far in the 2014 247Sports Composite Rankings), but it's still very early on and there is plenty of time for things to change.
In order for Texas A&M to sustain their recruiting dominance over Texas, the Aggies will have to experience success in three different ways in 2013-14:
In-State Recruiting
This is the most obvious factor, so it makes the most that we start here. A&M and Texas are the "big fish" within the state, which means that most elite recruits from the state of Texas should at least have both programs on their radar in some fashion.
Winning in-state recruiting battles is imperative to the success of any major program, so Texas A&M will need to be able to out-recruit the Longhorns for recruits that have a major interest in both programs.
The big recruit the Aggies will want to focus on is 5-star cornerback Tony Brown. He's the No. 1 player from Texas according to the 247Sports Composite rankings and both the Longhorns and Aggies are on his interest list. LSU is currently the top team though, so first Sumlin and his staff will have to try to focus on keeping him in state, and then they can worry about Texas.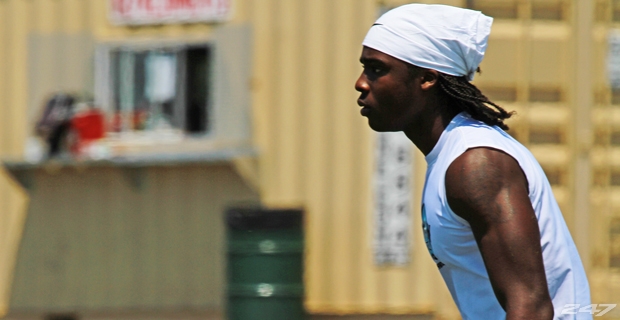 Another big recruit A&M will really want to focus on recruiting is Solomon Thomas. He's a 5-star defensive end and Texas is currently the top team on his 247Sports interest list. The Aggies are listed as a "warm interests" though, so they do have a good chance to overcome the Longhorns if they make a strong push.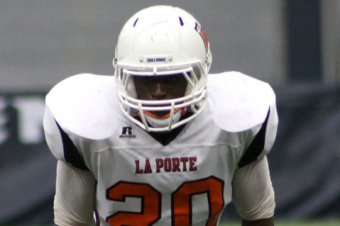 5-star safety
Edward Paris
is another notable in-state recruit with high interest in both programs, and it's more than worth noting that the
Aggies
have already received a commitment from the
No. 2 player
from the state of Texas (247Sports Composite)—5-star outside linebacker
Hoza

Scott
.
Winning the race for in-state 5-stars will be huge, but any in-state recruiting win will be important for the Aggies if they want to keep up their recruiting dominance—especially if it comes at Texas' expense.
On-field Success
Winning is the ultimate motivator and you'll be hard-pressed to convince me that it's not one of the biggest factors on the recruiting trail. Looking back at A&M's 2013 cycle, the hype was always there, but it went off the charts after Johnny Manziel led the Aggies over Alabama in that epic win.
It seemed as if every elite recruit in the nation took notice of the Aggies after that win, and they went on to finish the season on an extremely strong note. That win and Texas A&M's overall success translated onto the recruiting trail, and it made A&M a legitimate option for elite recruits to consider.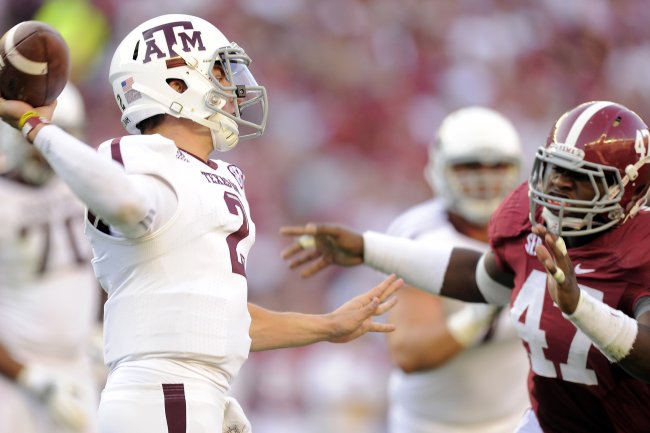 John David Mercer-USA TODAY Sports
The 2012 season and 2013 recruiting class will be all for naught if the
Aggies
don't continue to win big games in 2013.
The season after a huge recruiting cycle is often the most important because it establishes whether or not the previous season was a fluke, or if a program is legitimately turning the corner and becoming a legitimate contender.
If the Aggies can continue to win in 2013, the momentum from last season will carry over and it will continue to build—and Texas A&M will be a powerhouse in recruiting once again.
The "Longhorns Factor"
One would be naive to believe that Texas A&M's in-state recruiting dominance is solely on the Aggies. Part of the reason A&M had such a good recruiting year is because Texas relatively did not.
The Longhorns are still a superpower in college football, but some would argue that they need to refocus and start anew. Texas still finished with a 9-4 record—which is nowhere near the high standard set by past teams—and the Longhorns's 2013 class was ranked No. 17 overall according to the 247Sports Composite.
Again, that's nowhere near the standard.
Here's a bit of what Texas and Mack Brown had to deal with last season...
As is, Texas' program is a far cry from the dominant one that was competing for championships and top recruiting classes, and that has directly impacted Texas A&M in a positive way.
The quasi fall of Texas football has contributed to the rise of Texas A&M football, especially in recruiting.
Texas A&M is now the marquee football program within the state of Texas, and another bad year by Texas on the field would really help the Aggies maintain and establish that.
Once Texas comes back, it will come back strong. The history and expectations of the program are too great to see a complete fall off, so eventually things will even back out and water will find its own level, as they say. At that point, we'll probably see a more even recruiting matchup between both major in-state programs, and it would be one that either program could win on a yearly basis depending on who wins in the categories that I've mentioned above.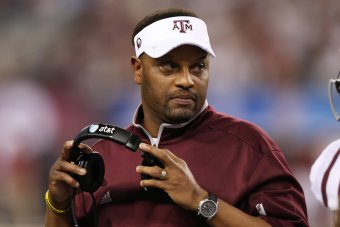 USA TODAY Sports
For now though, the
Aggies
have the opportunity to recruit with Texas in somewhat of a down phase.
That can all completely change if the Longhorns come out and re-establish their winning ways in 2013 though, so that's "The Longhorns Factor" for Texas A&M.
If the Longhorns have another disappointing year on the field, expect the Aggies to fully capitalize on the recruiting trail.
If all three of these factors fall into place for Texas A&M during this next recruiting cycle, it should once again out-recruit the Texas Longhorns.