The Definitive Pittsburgh Steelers Guide to the 2013 NFL Scouting Combine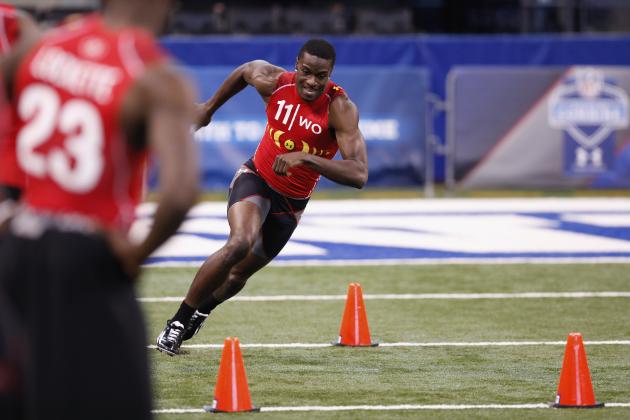 Joe Robbins/Getty Images
Cones! So many cones!
The 2013 NFL Scouting Combine is underway in Indianapolis, though positional drills don't begin until Saturday. The Pittsburgh Steelers are there along with the 31 other teams, trying to wade through the massive amounts of information in order to refine their draft board in preparation for April's big event.
Let's take a look at what the Steelers can and cannot learn from the combine and break down a trio of players they'd be well-served to pay close attention to over the coming days.
Begin Slideshow

»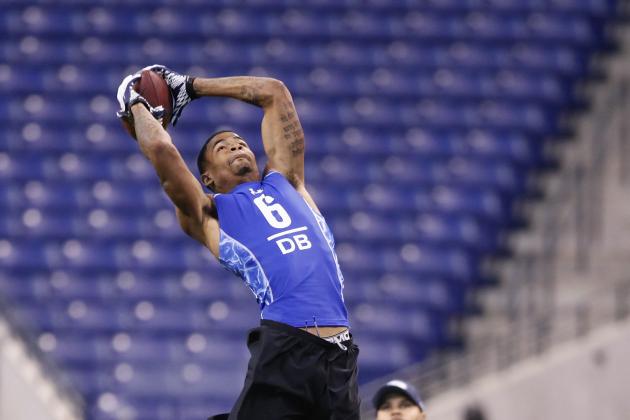 Joe Robbins/Getty Images

The NFL Scouting Combine is a fact-finding session. With 334 players invited, all of whom are weighed, measured and interviewed to an inch of their lives, the Steelers have ample opportunity to gather intelligence on nearly any and every player currently making an appearance on their draft board.
The Steelers also need to pay greater attention to the combine than a number of other teams. Considering their salary-cap situation and the many free agents they aren't likely to be able to afford keeping this year, the draft is their best bet to bolster their roster and find starter-worthy talent.
To fix their running-back situation, to add talent to the offensive line, to bring on linebackers who can contribute immediately—that will all have to happen via the draft for the Steelers this year.
Though the combine isn't the beginning of their draft-day journey, it does provide the Steelers with particular information they couldn't have gotten from scouting and film alone.
Even things seemingly as inconsequential as a prospect being an inch shorter or taller than initially reported can change a team's opinion on him.
Basically, the combine gives the Steelers a more well-rounded picture of certain players they are considering in this year's draft. It will help provide perhaps a modicum of solace that while they might lose a free agent, they can find his heir apparent in a rookie.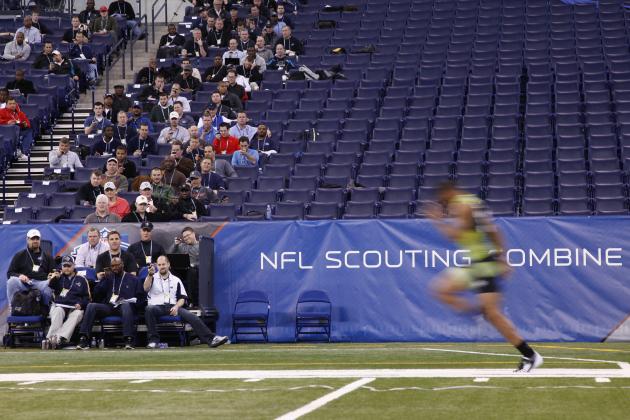 Joe Robbins/Getty Images

The information the Steelers are getting over the course of the NFL Scouting Combine is limited by those who are supplying it—namely that there are but 334 invitees, but there are far more actual draft prospects worth the team's attention.
For those who are on Pittsburgh's draft board who aren't at the combine, getting the same measurables will have to wait for pro days and pre-draft visits.
Further, even those prospects at the combine who might have the Steelers' attention still won't be showing the entire scope of their talents—like running back Eddie Lacy, who won't be running because of a hamstring injury.
The combine itself also limits what teams can learn just because of the format. No one is running or jumping in full pads and there is no contact, so it's difficult to extrapolate what these players will look like on an NFL field just by what they do over the coming days.
That can only be learned via the scouting reports on these players over the years, as well as what happens when they begin practicing after the draft. That's why the combine itself cannot be the only—or even the biggest—source of accurate information about a prospect's chances to be successful in the NFL.
The NFL Scouting Combine isn't a crystal ball that will help predict the Steelers' future—it is rather just a tool to help narrow down their draft board and confirm certain assumptions.
While the events of the coming days may result in the Steelers being so convinced of a prospect's chances to fit into their roster that they ultimately draft him, that is simply a byproduct of the combine, and not the reason for it.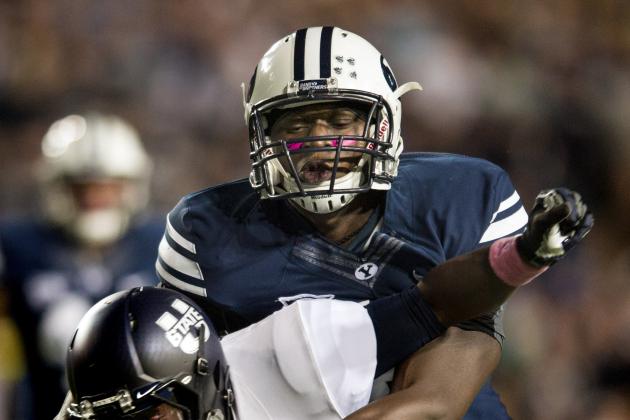 Douglas C. Pizac-USA TODAY Sports

The Steelers need to bring on linebacker depth this year as well as improve their pass rush, and they could certainly take care of these needs in the first round with their 17th overall pick. With that in mind, there will be a number of outside linebackers who will get the Steelers' attention over the course of the combine, one being BYU's Ezekiel Ansah.
Ansah is perfect for the Steelers or for any team that needs an incredibly talented pass rusher—which means that he may or may not be available to them in the first round depending on how well he performs at the combine.
He has the perfect combination of speed, size and power but is somewhat of a slow starter; it will take him a minute to get warmed up to the NFL's demands.
With James Harrison's future in Pittsburgh still up in the air and LaMarr Woodley having dealt with injuries in the past two seasons, bringing on a sure-thing pass rusher would be a major help to the Steelers' linebacking corps.
They need to get more physical against opposing quarterbacks, something Ansah would provide them with immediately.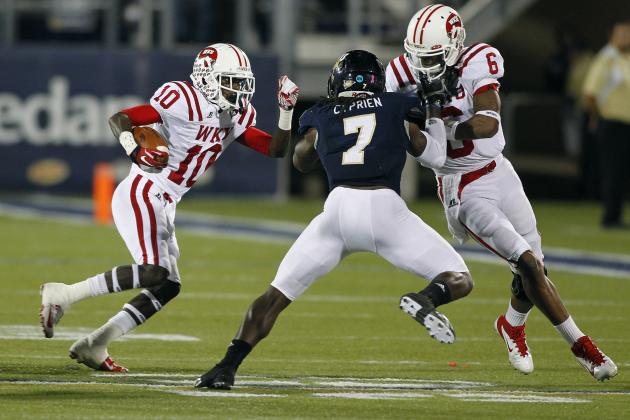 Robert Mayer-USA TODAY Sports

Though the Steelers are likely set at the safety position in terms of starters in 2013, with Troy Polamalu and Ryan Clark reprising their roles, that doesn't mean they're set when it comes to depth.
Both Will Allen and Ryan Mundy are unrestricted free agents and represent the best of their safety depth—okay, "best" might be a stretch when it comes to Mundy—which will require the team to make an addition at the position in the draft.
What the Steelers need is someone who can contribute in nickel and dime situations right away (as well as on special teams) but who could blossom into a starter to replace Clark and/or Polamalu in as little as a year's time.
Luckily for the Steelers, this year's safety class is deep and talented, so they won't need to spend their first round pick on someone who can provide them with that kind of profile.
One option is Jonathan Cyprien from Florida International. As a small-school prospect, Cyprien has the opportunity to increase his draft stock while getting some close attention by scouts from around the league.
Cyprien should already be on the Steelers' radar, however, based on his Senior Bowl performance, which featured both hard-hitting, run-stopping plays and solid coverage skills.
Cyprien's stock could rise enough that he could become a second-round pick for the right team, and the Steelers could certainly make that move; however, he could end up being a high-value third- or fourth-round selection as well.
The combine will give the Steelers a close enough look at Cyprien to help figure out just what he'd be worth for them.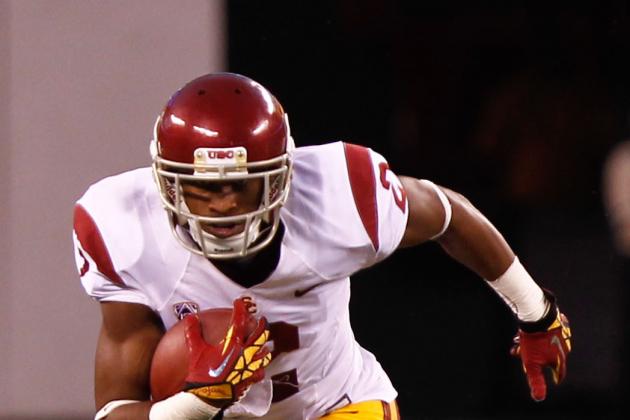 Debby Wong-USA TODAY Sports

With the Steelers on the verge of losing Mike Wallace in free agency, they will need to bring on someone who can fill his big-play void at the right price, which means rookies are in play in nearly every round.
Though the Steelers could choose to address the position early on, they can find both value and talent later in the draft. For example, USC's Robert Woods, with whom the Steelers reportedly have a formal meeting during the combine.
Woods could be a third- or fourth-round option for the Steelers this year depending in part on his showing at the combine, and would be a great plug-and-play replacement for Wallace. He has the speed to be the scoring threat in the way Wallace has been over his time in Pittsburgh, but he doesn't have the rawness when it comes to his route running.
The issue with Woods is that he relies on his speed rather than his physicality in order to make plays. However, that was also one of Wallace's biggest trademarks and it didn't do much to impede him on the field. If the Steelers can go directly from Wallace to Woods, their receiving corps should be in solid shape in 2013—granted, of course, they're also able to retain restricted free agent Emmanuel Sanders.