Ronda Rousey and the 5 Most Dangerous Submission Specialists in the UFC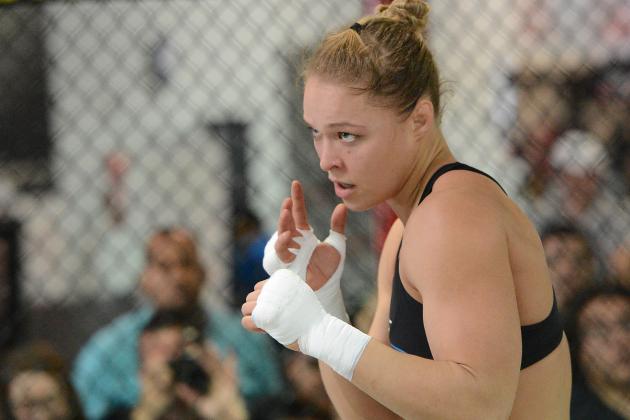 Jayne Kamin-Oncea-USA TODAY Sports

Ronda Rousey's UFC debut is upon us, ladies and gentlemen.
Love her or hate her, Rousey carries a certain aura, a mystique, with her, and fight fans have anxiously awaited her Octagon debut since it was announced in November 2012.
Her opponent at UFC 157, Liz Carmouche, is a solid bantamweight fighter, but few favor "The Girlilla" in this fight, and rightly so.
Rousey, a former Olympic bronze medalist in judo, is an absolute terror once the fight hits the mat. With literally a lifetime of practicing trips and armbars behind her, Rousey is as dangerous as anybody.
Her six-straight first-round armbar victories represents an absolutely bonkers statistic, but is Rousey the most dangerous submission artist in the UFC?
Let's check out the list.
Note: A fighter's overall success inside the cage is not indicative of his/her overall skill on the ground, so some sub-par fighters may appear on the list. We're looking only at who is the most dangerous once the fight hits the ground, so keep that in mind.
Note 2: We're talking about specialty inside the cage, not in professional grappling competition.
Begin Slideshow

»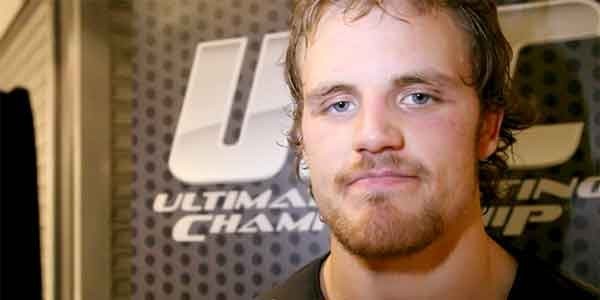 CREDIT: mmaviking.com
Where pure Brazilian Jiu-Jitsu (BJJ) skills are concerned, Gunnar Nelson might just be tops in the UFC.
At 24 years old, Nelson boasts a black belt in BJJ, and he took home gold medals in the 2009 International Brazilian Jiu-Jitsu Federation (IBJJF) Pan American Championship in both the gi and the no-gi divisions.
Needless to say, the dude's got skills.
This list is all about how it has translated to the cage, though, and Nelson, to his credit, has used these skills marvelously.
Six of his 11 career victories came via submission, and he has won one out of his two UFC performances via tapout.
In his second outing, Nelson failed to submit Jorge Santiago at UFC on Fuel TV 7, but Santiago is an accomplished grappler in his own right, and it's hard to fault the young Icelander for that.
For his incredible gift, Nelson kicks off our list at No. 5.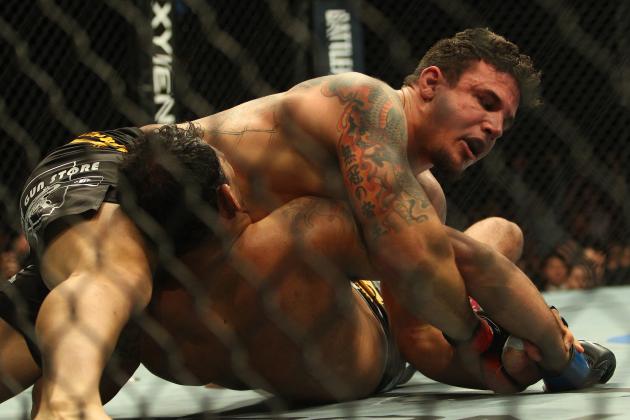 Tom Szczerbowski-USA TODAY Sports

Should I have picked Fabricio Werdum here?
Rarely do I like to defend my choices using numbers in a sport like MMA where numbers can only capture half of a fighter's essence, but here are some digits for you to feast upon:
Nine: The number of submission victories Mir possesses in 22 career fights.
Eight: The number of submission victories Werdum possesses in 21 career fights.
Three: The number of fights Mir has won via knockout or technical knockout.
Five: The number of fights Werdum has won via knockout or technical knockout.
Zero/Six: The number of times Mir has lost a decision/the number of times he has been knockout out.
Four/One: The number of times Werdum has lost a decision/the number of times he has been knocked out.
Judging from this, who relies more heavily on their submission skills? Who is more lost without that specialty?
Werdum's striking is better than Mir's, his gas tank is better and he does not get finished as often. If Werdum cannot snag a submission, he can still hold his own, whereas Mir depends on securing the tapout.
Both of these guys are top-level submission aces, so when deciding who is more of a "specialist," I think you have to go with Mir.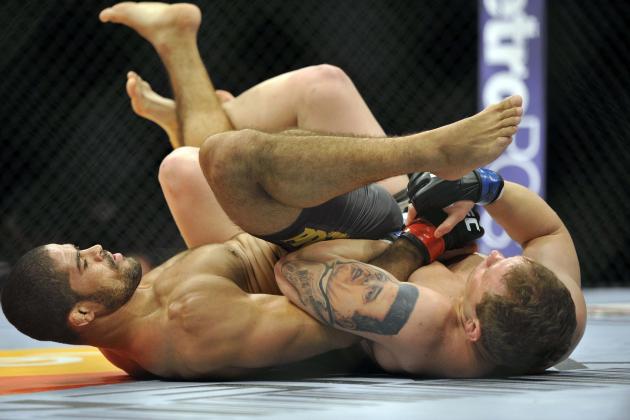 Joe Camporeale-USA TODAY Sports

Rousimar Palhares is the last man on earth I would want to grapple.
He's terrifying.
With muscles upon muscles upon muscles and the "it-ain't-over-until-the-referee-says-it's-over-and-even-then-it's-not-over-until-I-decide-to-let-go" mentality, Palhares strikes fear in his opponents once the fight goes to the ground.
Ten of his 14 career victories have come via submission, and his leg locks...
Well, you tell them, Mr. Massenzio.
What truly makes Palhares a submission specialist, though, is the fact that he is helpless on his feet.
He has never legitimately stopped somebody on his feet, and he transforms from a lion to a kitten (thanks for the help writing this script, "Bigfoot" Silva) whenever he is punched or elbowed.
Because of this, Palhares a submission specialist in the purest form of the word.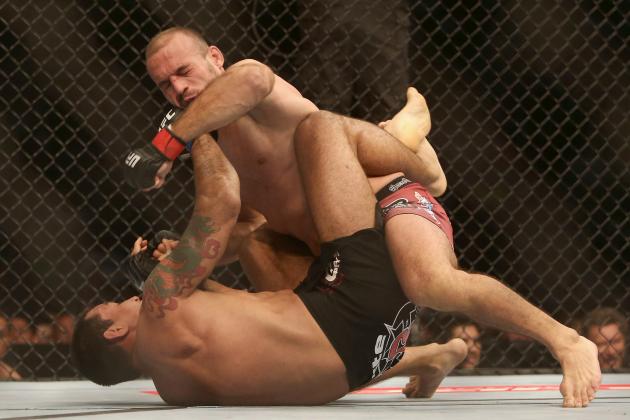 Tom Szczerbowski-USA TODAY Sports
You don't want to play around in Magalhaes' guard, folks.
Vinny Magalhaes is a phenom on the ground.
A black belt in Brazilian Jiu-Jitsu, Magalhaes is great even among other black belts, and he is a multiple-time medalist at the Abu Dhabi Combat Club Submission Wrestling World Championship (he took gold in his weight class in 2011), and he teaches the intricate nuances of the ground game to the likes of Uncle Chael P. Sonnen.
Magalhaes has a triangle armbar, a gogoplata neck crank and a variety of other submissions on his professional resume, and there is no doubting his prowess from any position on the ground.
His striking has improved greatly since his time on The Ultimate Fighter, but there is no denying what this guy wants to do to you: He wants to get you to the floor and make you cry for mercy.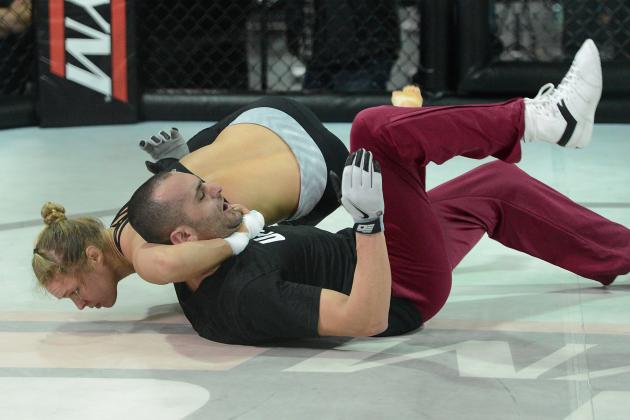 Jayne Kamin-Oncea-USA TODAY Sports

Truthfully, I am not as enamored with Ronda Rousey as most of my MMA-loving friends and colleagues, and this ranking seems a little absurd to me.
Putting her at No. 1 with no UFC experience and little adversity to overcome inside the cage feels strange, but here we are.
Look, she has six—SIX—first-round armbars in six professional fights.
Has she even thrown a punch yet?
Better yet, has she needed to?
The girl is unreal on the mat, and it is impossible to call her anything but a submission specialist at this point.
She's six-for-six, and if I'm a betting man, she'll be seven-for-seven following her much-anticipated UFC debut.
For fans of MMA, heavy metal or general absurdity, Follow @HunterAHomistek.