Detroit Tigers: Full Overview of Tigers' Farm System and Prospects for 2013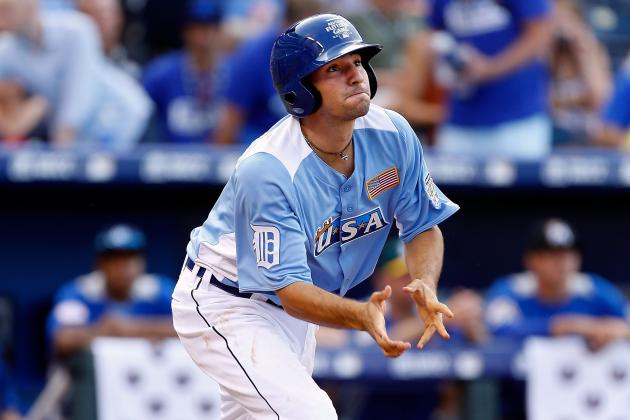 Jamie Squire/Getty Images
Nick Castellanos' bat speed and natural hitting ability has made him pushed him to Double-A at just 20 years old in 2012.
The Detroit Tigers have used virtually all their minor league assets over the last few years in trades to acquire big league players who can help them win now.
On the field, the results have paid off in a big way. The Tigers made it to their second World Series since 2006 last year, though their bats and starting pitching went cold against San Francisco in a four-game sweep.
That isn't to say there is anything wrong with what the Tigers are doing. In fact, one of the best things about prospects is their ability to be dangled in trades to improve the major league team's chances of winning now.
However, all that movement and lack of first-round picks due to free-agent signings has left their system bereft of impact talent. They do have one premier prospect at the top of the system, but a whole lot of question marks after that.
One thing is certain with the Tigers heading into 2013: They are built to compete for a championship now and shouldn't expect a lot of help from the system if/when the need arises.
Here is a complete look at the farm system heading into 2013, with a look at the top prospects, an impact prospect who will be in Detroit soon and a breakout prospect to watch.
Note: All stats and ages courtesy of MiLB.com unless otherwise noted
Begin Slideshow

»
Bruce Rondon has the best fastball velocity in the minors. Does he have anything else? Courtesy of Mark LoMoglio, MiLB.com
No. 1 Nick Castellanos, Third Baseman/Outfielder
Age: 20 (Turns 21 on March 4)
2012 Stats
55 G, .405/.461/.553, 87 H, 17 2B, 3 3B, 3 HR, 32 RBI, 22 BB, 42 K, 3 SB (High-A)
79 G, .264/.296/.382, 85 H, 15 HR, 1 3B, 7 HR, 25 RBI, 14 BB, 76 K, 5 SB (Double-A)
After shredding High-A for two months, Castellanos was moved up to Double-A at the age of 20. His numbers did take a hit and some his of flaws were exposed, but the hit tool is still one of the best in the minors.
Castellanos has an easy, quick swing and gets the bat through the zone quickly. He is a smart hitter, capable of making adjustments in at-bats. He does need to work the opposite field a bit more against advanced pitching, though that will come in time.
He doesn't have elite power potential but should be good for 15-20 home runs and a lot of doubles. His position is up in the air, as the Tigers moved him to the outfield late in the season and during Arizona Fall League since they have a pretty good third baseman in the big leagues and could use Castellanos' bat sooner rather than later.
However, Castellanos' offensive profile fits better at third base than it does in the outfield. He is not great at third base, unsure of what he wants to do at times. But he does react quickly and has an above-average arm.
No. 2 Avisail Garcia, Outfielder
Age: 21
2012 Stats
67 G, .289/.324/.447, 77 H, 8 2B, 5 3B, 8 HR, 36 RBI, 11 BB, 57 K, 14 SB (High-A)
55 G, .312/.345/.465, 67 H, 9 2B, 3 3B, 6 HR, 22 RBI, 7 BB, 38 K , 9 SB (Double-A)
23 G, .319/.373/.319, 15 H, 3 RBI, 3 BB, 10 K (Majors)
A hole in right field opened things up for Garcia to make his big league debut last season even though he wasn't ready. He handled himself well in a short sample size and likely has the inside track on the starting job for Opening Day.
Garcia has plenty of raw power in his 240-pound frame, but because he still lacks patience and discipline at the plate, he hasn't hit more than 14 home runs in a season. Despite his size, he steals a fair amount of bases thanks to his instincts on the bases.
His arm and athleticism, not to mention his offensive profile, lead him to project as an above-average right fielder. Despite what some would have you believe, because both have large frames and are from Venezuela, Garcia is not going to be the next Miguel Cabrera.
Garcia should still be pretty good, though he could use more seasoning in the minors before playing every day in Detroit.
No. 3 Bruce Rondon, Relief Pitcher
Age: 22
2012 Stats
22 G, 15 saves, 1.93 ERA, 23.1 IP, 12 H, 5 ER, 1 HR, 10 BB, 34 K (High-A)
21 G, 12 saves, 0.83 ERA, 21.2 IP, 15 H, 4 R (2 ER), 1 HR, 9 BB, 23 K (Double-A)
9 G, 2 saves, 2.25 ERA, 8.0 IP, 5 H, 3 R (2 ER), 1 HR, 7 BB, 9 K (Triple-A)
Rondon is one of those must-see attractions that you stop in your tracks whenever he comes to the mound. He can pump a fastball in there as hard as anyone—clocking in at over 100 when I saw him during the Futures Game in July.
However, hitters have to fear for their lives when Rondon takes the mound, because he has no idea where the ball is going. His delivery is very violent and his release point varies from pitch to pitch.
He also needs to develop at least an average second pitch if he hopes to pitch in the back of a bullpen. His slider is his best offspeed pitch, though it is still not consistent enough for hitters to respect it.
Given that the Tigers let Jose Valverde walk and didn't sign any other relief help, Rondon, barring a collapse in spring training, will likely get the closer's job to start the season.
No. 4 Austin Schotts, Outfielder
Age: 19
2012 Stats
40 G, .310/.360/.452, 48 H, 11 2B, 1 3B, 3 HR, 21 RBI, 12 BB, 41 K, 15 SB (Rookie)
2 G, .333/.333/.333, 1 H, 1 K, 1 SB (High-A)
One of the best pure athletes in the 2012 draft, Schotts has the tools and makeup to be an above-average center fielder.
Schotts has a vast array of tools that includes terrific bat speed with a line-drive oriented swing, plus speed and range in the outfield to be a plus defender. His throwing arm isn't great but it will play in center.
He has the potential to be a fast mover through the system because he understands the game so well and has already made adjustments in just a half season in rookie ball. He will likely get his first taste of a full-season league in April.
No. 5 Tyler Collins, Outfielder
Age: 22
2012 Stats
126 G, .290/.371/.429, 137 H, 35 2B, 5 3B, 7 HR, 66 RBI, 58 BB, 64 K, 20 SB (High-A)
Collins is not a player who has one standout tool. His best asset is his patience and approach at the plate, but he doesn't have much power potential. He isn't the fastest runner on the field and doesn't have enough range to profile as a center fielder or the offensive profile of a corner outfielder.
What Collins does have, aside from his ability to work counts and hit his pitch, is an incredible baseball IQ. He gets the most out of the skills he has and then some, because he understands the game so well.
Even though he will end up as a corner outfielder without much power, Collins should hit for average and draw walks. If he can get to 15 homers and 25-30 doubles, he will be an everyday player.
Jonathan Daniel/Getty Images
When you have flags flying in the stadium, the system doesn't really look that bad.
According to Conor Glassey of Baseball America (subscribers only), the Tigers have had 12 players from the five drafts between 2008 and 2012 who have made it to the big leagues so far.
The problem with that statistic is not a lot of them have been high-impact players. Alex Avila did have an All-Star season in 2011, though he reverted back to the player it looked like he was going to be throughout his career last season when he hit .243/.352/.384 in 116 games.
Things don't figure to get better in 2013. Nick Castellanos has a chance to be in the big leagues by the end of this season, though his move to the outfield does put more pressure on his bat. He is a fantastic hitter, but his profile doesn't stand out as a corner outfielder.
Bruce Rondon will probably be the closer when the season starts. He can light up a radar gun as well as anyone, clocking in with a fastball that hit 102 at the Futures Game last July. The problem is, he has no idea where it is going and doesn't have a good second pitch.
As soft as the system looks right now, there are players in the low levels of the minors who do have promise. Shortstop Eugenio Suarez hit .288 with a .380 on-base percentage in his first full-season league.
Outfielder Austin Schotts has great athleticism and could take a huge step forward in 2013 with his speed and a very easy swing that allows him to make contact. He doesn't have home-run power, but should hit plenty of line drives into the gap.
Until the team starts investing in talent early in the draft again and doesn't trade all of its best prospects, this system is going to remain near the bottom of the rankings. But when you have an American League pennant flying in the stands, you don't need to brag about how good the system is.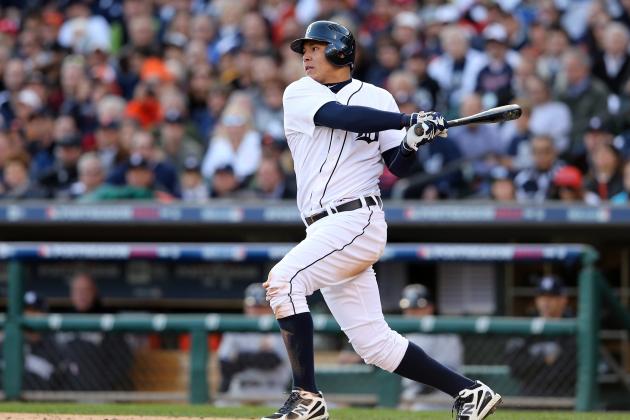 Leon Halip/Getty Images

Bruce Rondon would be the easy choice because he is the favorite for the closer's job, but his complete and total lack of command, not to mention lack of a quality second pitch, makes you wonder how long he will survive.
Instead, we might as well look toward a player who made an impact with the team at the end of last season. Avisail Garcia has an interesting set of tools that could allow him to develop into a quality right fielder.
He does have a lot more power in his body than he has shown in the minors. The biggest reason he hasn't been able to show it in games is because his plate discipline is still below average. He did make improvements last season, striking out 95 times in 481 minor league at-bats.
Since Garcia performed so well for the Tigers in the postseason, odds are good that he will have a leg up on the right field job out of spring training. He could stand to get a little more fine tuning in Triple-A, but team need might supersede his developmental curve.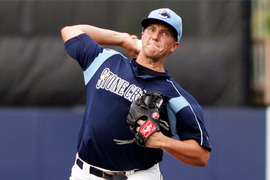 Jake Thompson's size and command could lead him to a big breakthrough in 2013. Courtesy of Nick Martinez, MiLB.com
There might be no better organization in baseball at finding big, tall right-handed pitchers in the draft. That isn't to say that all of them pan out, but this team certainly has a prototype that it looks for in a pitcher.
Last year's top pick (91st overall) Jake Thompson is listed at 6'4" and 235 pounds. He is also just 19 years old. There isn't any projection left in his body, so what you see with his velocity is about as good as you are going to get.
That is not to say Thompson is lacking in stuff. His fastball sits in the low 90s and features good movement. He commands the pitch very well and keeps it down in the zone. His slider is not consistent yet, though it shows flashes of being an above-average offering.
Developing a changeup will be critical in determining Thompson's ceiling. He has the pitch in his arsenal but hasn't thrown it a lot yet because he hasn't needed it.
Thompson has the profile of a solid No. 3 starter in time. He looked impressive in just 28.1 Gulf Coast League innings last season with a 1.91 ERA and 31 strikeouts. The team will likely take it slow with him to make sure he stays on the proper development path.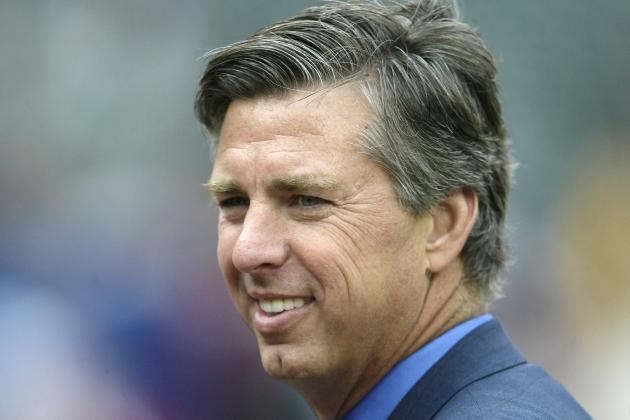 Tom Pidgeon/Getty Images
Dave Dombrowski has put together one of the best core groups of talent in Major League Baseball.
What you see with the big league team is pretty much what you are going to get. Nick Castellanos could be a factor by the end of the season, but he won't have enough time to make an impact before the end of the year.
Moving down the system, the Tigers need to see a few of their top picks in the lower levels of the minors take a step forward to prevent the system from completely bottoming out.
Thompson has shown promise in limited professional exposure. Montreal Robertson has a higher ceiling than Thompson, but he lacks the polish and still doesn't have enough experience against quality competition to have any certainty about what he could become.
Danry Vasquez and Austin Schotts will both play this season at 19 years old and in the Midwest League. They are progressing faster than expected, though it will be interesting to see how they adjust to full-season assignments.
Last year Vasquez was pushed into Low-A as an 18-year-old but only managed to hit .162 in 29 games before being sent down to the New York-Penn League. He could fail again and is still young enough to not be discouraged about his upside, though it would raise some eyebrows.