UCLA Football Recruiting: An Early Look at 2014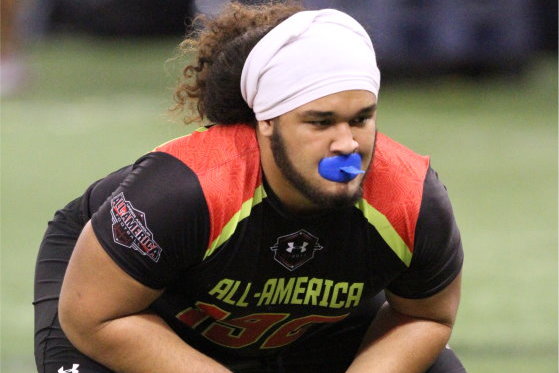 DL Ainuu Taua - Courtesy of 247 Sports
With the 2013 recruiting cycle in the books, it's never too early to look ahead at the 2014 class for the UCLA Bruins.
The 2014 class in the state of California looks to be very strong. There's a litany of versatile athletes that can play both as receivers and as defensive backs in the secondary.
Dually, both the offensive line and defensive line looks be in strong shape out on the West Coast.
Here's a look at some of UCLA's early top targets for 2014.
Begin Slideshow

»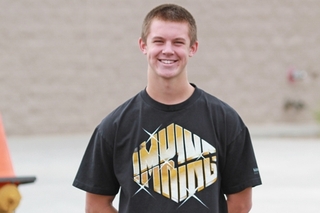 Courtesy of 247 Sports
The Bruins will hope to continue their success in the state of Arizona as they pursue elite quarterback Kyle Allen.
With offensive coordinator Noel Mazzone's connections to the state, it's not surprising that UCLA offered Allen during his junior season.
Allen is a heady signal-caller with good arm strength. He's a polished player with a quick release, and can make things happen with his feet if need be.
In addition to the Bruins, the Scottsdale, Ariz. native already has offers from the likes of Oklahoma State, Arizona State, Boise State and North Carolina, amongst others.
With the Sun Devils losing Joshua Dobbs right before signing day, they'll be expected to go all out for Allen's services.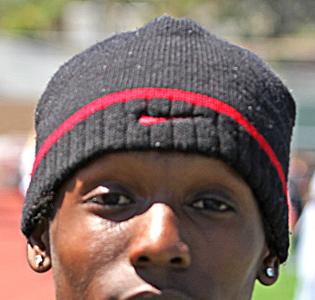 Courtesy of 247 Sports
There might not be a more explosive overall prospect on the West Coast than Junipero Serra High School athlete Adoree' Jackson.
When watching Jackson play, it's not hard to see why he's been compared to Oregon speedster De'Anthony Thomas.
As an offensive player, he's cat-quick with the ball. Jackson's overall agility might be unparalleled in the Southland, and he has that start-and-stop ability that drives opponents crazy.
Defensively, he's always around the ball. His cover skills are impressive, and for a player without exceptional size, he more than packs a punch with his physicality.
Jackson has offers from all across the country, and is thought to be favoring Southern Cal and LSU at this point. However, the Bruins will try with him. He's an elite player in UCLA's backyard, and Jackson's interest in Jim Mora's program might have been perked by the success of last season.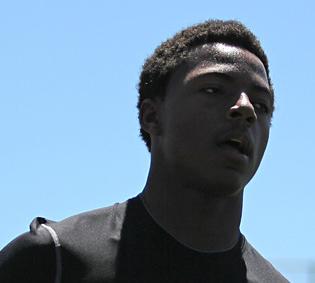 Courtesy of 247 Sports
The Bruins are in desperate need of a true home run threat from the wide receiver position, and Michiah Quick more than fits the bill.
The Fresno, Calif. native is an explosive and slippery athlete out in space. He can truly take a five-yard catch and turn it into a 70 yard touchdown. Quick lives up to his last name—as he's extremely quick with the ball in his hands.
Much like Jackson, Quick is a terrific cornerback. He's more than capable of playing in the secondary on the collegiate level, and some schools are recruiting him to do exactly that.
Quick already has offers from the likes of Notre Dame and Oklahoma. With his recruitment expected to be national, the Bruins need to be on him hard.
One aspect that could bode well for UCLA is that the Bruins recently signed Quick's teammate Johnny Johnson.
Scout has Quick rated as the top wide receiver in the nation for 2014.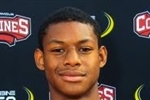 Courtesy of 247 Sports
John "JuJu" Smith out of Long Beach Poly is arguably the top prospect in the state of California. At worst, he's in the top three.
Smith is an agile, smooth athlete that looks as if he's gliding out on the field. Offensively, he can function (if need be) as an explosive playmaker. He led the Jackrabbits this past season with 47 catches for 689 yards.
However, his future in college most likely lies on the defensive side of the ball as a safety.
UCLA has had success recruiting from Smith's high school in the past—including the signing of Smith's teammate Jayon Brown less than a month ago.
While big time programs such as Michigan have started to become involved, expect this to be a UCLA-Southern Cal battle for the talented prospect.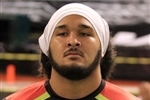 Courtesy of 247 Sports
Up in the central coast of California, one will find scenic ocean views, with rolling green hills dotted all across the landscape.
If you're interested in football, you'll also find an uber-talented defensive tackle at Lompoc High School by the name of Ainuu Taua.
Taua is a squatty lineman that plays with great leverage. A combination of overall strength and quickness makes him extremely tough to block. Taua's also excellent in his pursuit of ball-carriers.
Due to Taua's physique, it might be assumed that he's destined to become a nose tackle. However, his quickness lends itself to the notion that he could play all across the defensive line in a 3-4 alignment.
Taua has already garnered scholarship offers from the likes of Vanderbilt, Ole Miss, Cal, Washington and others.
UCLA was one of Taua's earliest offers. Right now, the Bruins look like the early leader for the talented defensive line prospect.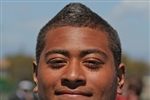 OL Viane Talamaivao - Courtesy of 247 Sports
Here is an early look at other prospects the Bruins will likely target:
OL Viane Talamaivao; Corona, Calif.
RB Demario Richard; Palmdale, Calif.
DE Qualen Cunningham; Chandler, Ariz.
DE Solomon Thomas; Coppell, Texas
QB Manny Wilkins; San Marin, Calif.
TE Tyler Luatua; La Mirada, Calif.
DE Nifae Lealao; Sacramento, Cali.
WR Mark Andrews; Scottsdale, Ariz.
WR Jalen Brown; Phoenix, Ariz.
DT Tashon Smallwood; Fresno, Calif.
OL Natrell Curtis; Phoenix, Ariz.
S Nick Glass; Suwanee, Ga.
OLB D.J. Calhoun; El Cerrito, Calif.
OLB Dwight Williams; Gardena, Calif.
DE Malik Dorton; Bellflower, Calif.
RB Joe Mixon; Oakley, Calif.