Texas Football: 5 Key Spring Football Storylines
Stacy Revere/Getty Images

Spring football is on the doorsteps of many college campuses, and for programs across the country, it will be a time to assess their strengths and weaknesses before entering a grueling 2013 season.
For the Texas Longhorns, a team that finished 9-5 while showing some impressions of progress, spring will be an opportunity to see just how far they've come since undergoing a rebuilding process after the 2010 season.
Every season presents different challenges, and although the expectations for the upcoming season will have surpassed seasons prior, Mack Brown has plenty of questions to address.
How will a new offense take form? Will a true tight end threat emerge? Will there be a youth movement?
All are valid questions, but there are plenty more uncertainties that will create swirling headlines in the coming weeks.
Begin Slideshow

»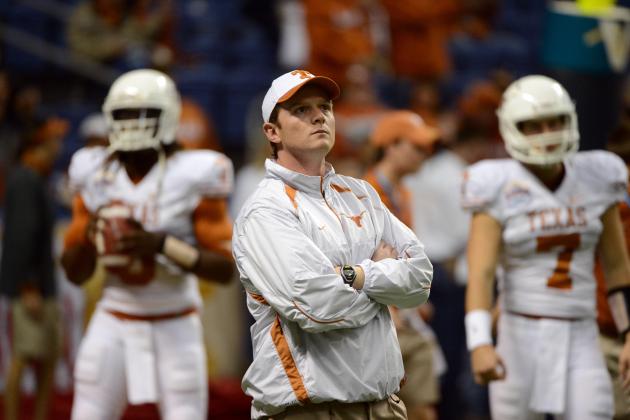 Brendan Maloney-USA TODAY Sports

Call it new if you like—as it was critical to the National Championship Game appearance following the 2009 season—but the Longhorns will be shifting to an up-tempo, spread offense.
With Bryan Harsin having moved on to become head coach at Arkansas State, the transition has Major Applewhite's fingerprints all over it.
In a switch that moves away from the shift-happy, motion offense that Harsin brought with him from Boise State, the Longhorns will look to utilize more of their offensive speed.
If Texas can successfully get the ball into open space in the hands of the right personnel, it has an opportunity to transition smoothly.
Fortunately for the Horns, they are well-equipped to undergo this change mainly because of the type of playmakers they have assembled on campus. Guys like Daje Johnson and Johnathan Gray have the type of explosive speed to become big swingers in this offense.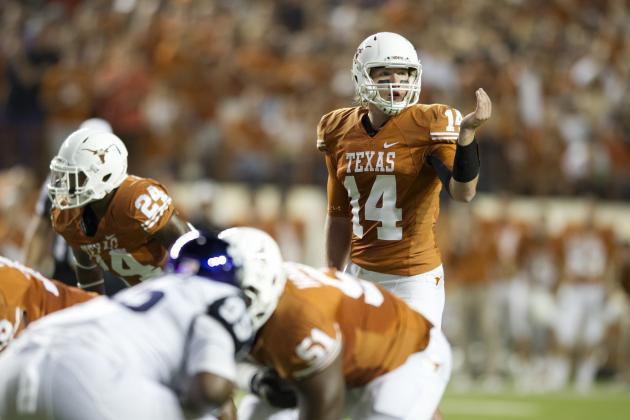 Cooper Neill/Getty Images

In the recent history of Texas quarterbacks, junior seasons have been critical years.
The Longhorns rode on the back of Vince Young in his junior campaign as he led his team to a national title while recording arguably the best individual bowl game performance of all time.
Colt McCoy was the feature of Texas' spread offense that could score points with the best of them.
After struggling during his sophomore season, in a similar way David Ash did last year, McCoy carried Texas to a Fiesta Bowl win over Ohio State, in come-from-behind fashion no less.
With Ash now firmly penciled in as the starter for this coming season, it is his turn to take the next steps as a leader and as a performer. Consistency can bring his game along in ways that we haven't seen yet, but his vocal efforts will have to improve as well if Ash is to take the reigns of this team.
And for a spread offense that is more quarterback friendly, Ash has an opportunity to excel if he can harness the work ethic and determination.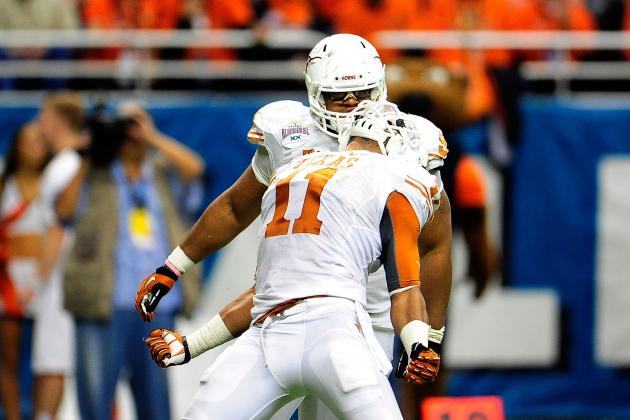 Stacy Revere/Getty Images

The linebackers were the center for much of the criticism stemming from the defensive struggles last season.
After Jordan Hicks went out with a hip injury midway through the year, the Horns were forced to live with the shortcomings of a number of inexperienced linebackers. And in a Big 12 conference where offenses can exploit weak defenses, Texas fell victim to those situations more often than not.
The experiences gained from last season have returned, as well as Hicks' veteran presence.
Progress was marginal during the year, with guys like Peter Jinkens, Tevin Jackson, Steve Edmond and Kendall Thopmson earning some valuable time, and if the Texas defense is to improve, it might have to begin with these youngsters.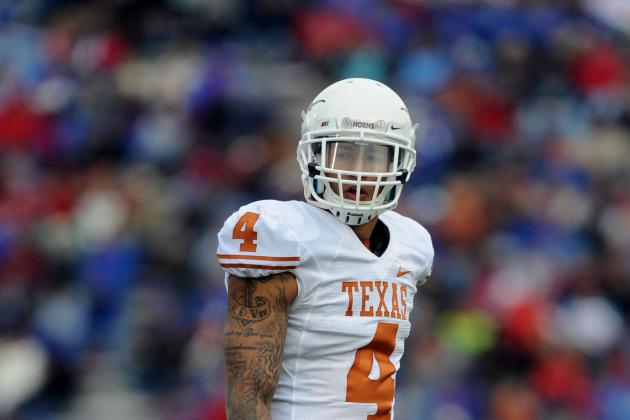 John Rieger-USA TODAY Sports

Texas will have to replace two All-Big 12 performers, Alex Okafor and Kenny Vaccaro, which will be no easy task.
The Longhorns have numbers up front, but it will take a breakout campaign from a young end like Shiro Davis or Bryce Cottrell to help alleviate the drop in production from Okafor's departure.
Keep in mind that Jackson Jeffcoat will miss the spring while recovering from surgery, leaving Reggie Wilson and Cedric Reed atop the depth chart.
On the back end, expect some shifting and diversity in Duane Akina's secondary. To help transition a once veteran group into what is now a healthy mix of youngsters and veterans, Quandre Diggs could make the move to safety, opening up opportunities for a Duke Thomas, Sheroid Evans or Leroy Scott to snatch some time.
Throw in Mykkele Thompson and Josh Turner, and the rotation in the defensive backfield is deep and talented.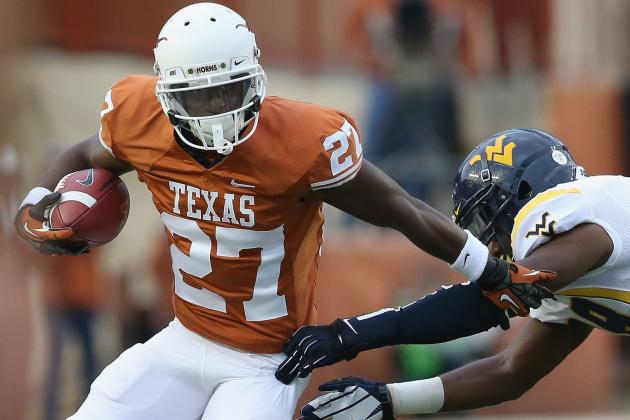 Ronald Martinez/Getty Images

Youth has been a huge part of building the Texas program to where it is today.
Guys like David Ash, Malcolm Brown, Joe Bergeron, Jaxon Shipley, Mike Davis, Johnathan Gray, Daje Johnson, Josh Cochran, Dom Espinosa, Quandre Diggs, Steve Edmond, Kendall Thompson, Tevin Jackson, Peter Jinkens and Carrington Byndom all have made a big impact as underclassmen, and are now the core players in Austin.
So while playing time is hard to come by for younger players, the Longhorns have been keen on developing their youth.
We could see a young receiver emerge after Shipley and Davis' 1-2 combination. Cayleb Jones, Marcus Johnson and Kendall Sanders are all in that discussion.
Keep in mind that Johnson and Gray are only sophomores, and their roles will be greatly expanded in a new offense.
Defensively, Texas has not had to rely on as much youth as it has on offense, but do not discount a Tim Cole or Malcom Brown to push the front end of the linebacker and defensive tackle rotation this spring.