WGC-Accenture Match Play Championship Suspended Due to Snow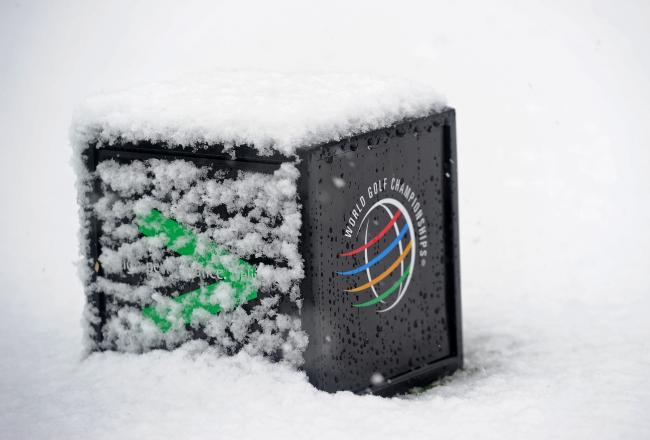 Stuart Franklin/Getty Images
Three straight days of incredibly high winds in Kapalua?
OK, the PGA Tour was playing on a tiny island in the middle of the Pacific Ocean, so that kind of thing isn't entirely unexpected.
A thick, blinding blanket of fog that rolled in off the Pacific and just happened to hover over Torrey Pines for 12 hours? That can also happen from time to time during the winter season on the West Coast.
But two inches of snow in the middle of the Sonora Desert (h/t Mark Lamport-Stokes, Reuters)?
Now that is strange.
The Golf Club at Dove Mountain looked more like the Swiss Alps Wednesday afternoon—until you saw the cacti and realized that you were either in an episode of The Twilight Zone or in the middle of one of the strangest weather occurrences you would ever see at a professional golf event.
Rickie Fowler throwing snow balls in the parking lot while Tiger Woods was changing out of his golf shoes in near-blizzard-like conditions is certainly not an everyday occurrence on the PGA Tour.
The average temperature in Tucson this time of the year is 70 degrees, which was the exact temperature in the area during Tuesday's practice round.
The temperature then somehow dropped by around 30 degrees in less than 24 hours. The temperature was around 40 degrees when players began teeing off Wednesday morning.
A short time later, the clouds had thickened and a cold rain began to fall. About 15 minutes later, it turned into sleet before quickly turning into a thick blanket of snow, dropping three inches on the Sonora Desert.
Ian Poulter had the following to say, via ASAP Sports:
It's absolutely remarkable to think one minute we're playing golf, albeit it's a little cool, and then within a space of 25 minutes, it turns from playable to cold drizzle to sleet and to snow. And within an hour and a half of all that starting, you've got two inches of snow plus on the ground. It's just bizarre.
"I have never seen anything like that at [a] golf tournament," said World No. 1 Rory McIlroy (via ASAP Sports) "I've seen snow on the course when I was a kid, but nothing like that on any of the Tours. It was crazy."
About half of the matches were out on the course when play was suspended at 11:07 a.m. MT, and none of the first-round matches have been fully completed.
Play is scheduled to resume at 9:30 a.m. MT (11:30 a.m. ET) on Thursday if there is no snow or frost still present on the greens, which is a distinct possibility considering that the forecast is calling for temperatures around 37 degrees at 9 a.m. in the Tucson area.
Golf Channel will pick up the coverage at 1 p.m. ET.
Many refer to the 2012 PGA Tour season as the year of the comeback (or the year of the meltdown, depending upon whether you are a half-full or half-empty type of person).
It's too early to begin formulating a label for the 2013 PGA Tour season, but if there was one word that would best describe the season to date, it would simply be "bizarre."
For more golf news, insight and analysis, check out The Tour Report.
This article is
What is the duplicate article?
Why is this article offensive?
Where is this article plagiarized from?
Why is this article poorly edited?