St. Louis Cardinals: Top 5 First Basemen of All-Time
Doug Pensinger/Getty Images

As the 2013 season approaches, the Cardinals have another budding superstar manning first base in Allen Craig.
Craig showed last season that he has the potential to be an anchor there for many years to come. He has a decent glove, but much more importantly, the guy can rake. Hopefully he'll follow up his great 2012 with a spectacular 2013.
But as I think about the potential Craig is exhibiting, it makes me think about all the greats that have manned first base for the Cardinals over their illustrious history.
The list was actually better than I thought it would be. I grew up in the Whitey Ball era where, outside of a rarely healthy Jack Clark, there wasn't a lot to point to. But there are some big names who have manned first base for the Redbirds.
So after some digging, here is my list of the top five first basemen in St. Louis Cardinals history.
Begin Slideshow

»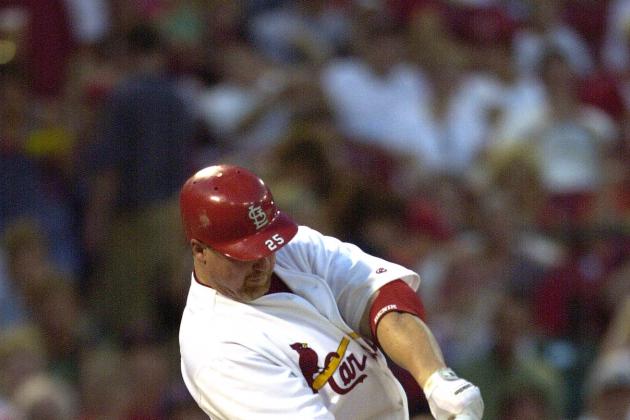 Elsa/Getty Images

Leaving the PED use at the door, Mark McGwire re-energized baseball in St. Louis and throughout America during his time with the Cardinals.
He came to St. Louis at the trade deadline in 1997 and smacked 24 home runs in 51 games. That was just a warm-up for what was to come in 1998.
McGwire and Sammy Sosa electrified baseball in 1998 with their famous home run chase. While it now appears to be tainted with PEDs, it did breathe life back into baseball that was desperately needed after the 1993 players' strike.
Every baseball fan from that era of baseball knows McGwire crushed 70 home runs for the Cardinals in 1998 while batting .299 with 147 RBIs and captivating people across the country.
From 1998-2001, McGwire batted .272 and averaged 49 home runs, 108 RBIs and 107 walks per season. He put a lot of fans in seats and smiles on a lot of faces during his time anchoring first base for the Cardinals.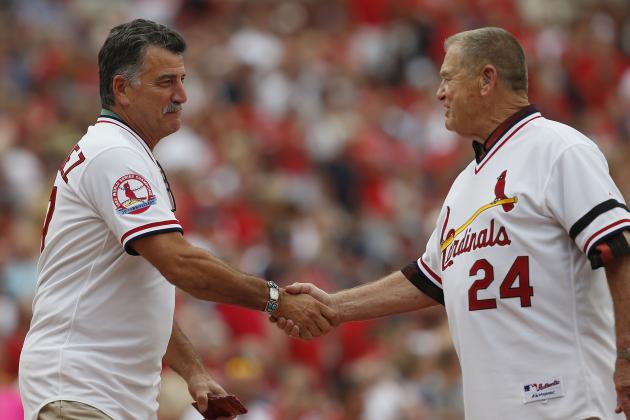 Paul Nordmann/Getty Images

Every time I think of Keith Hernandez, I think of his appearances on Seinfeld. Probably a generational fault of mine, but the baseball memories of Keith Hernandez I have are not good ones.
After all, he played for the Mets when I started following baseball, and the guys my age had two words for the Mets: pond scum.
There were T-shirts circulating when I was a kid that said as much.
But once I found out that Hernandez was an integral part of the Cardinals' 1982 World Championship, I softened my stance on him.
In fact, Hernandez was an excellent first baseman for the Cardinals. He was the co-MVP in 1979, sharing the honor with Hall of Famer Willie Stargell. That season Hernandez blistered the baseball, posting a .344 batting average to go along with 210 hits, 48 doubles and 310 total bases.
Hernandez posted a pretty impressive line during his time in St. Louis as the full-time starter at first base. From 1976-1982, Hernandez had a .302 batting average and posted a .391 OBP.
To along with his great bat, Hernandez dominated the field at first base. He racked up five straight Gold Gloves with the Redbirds en route to his 11 in a row between his time with the Cardinals and the Mets.
If he could have gotten along with Whitey Herzog, he would probably would have been in St. Louis for his entire career. Oh well, he would have never been Jerry's man crush on Seinfeld had he stayed in St. Louis, and that would have been a shame.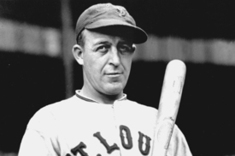 Here is a name that very few Cardinals fans have ever heard of, yet he had a Hall of Fame career and played in four World Series, with the Cardinals winning two in 1926 and 1931.
Jim Bottomley played in an era that I'll admit I don't know much about. But his numbers were very impressive during his time in St. Louis.
Add that to the fact that he was the starting first baseman on four World Series teams and the guy deserves to be on the list.
Bottomley was the NL MVP in 1928 when he hit .325 with 31 home runs and 136 RBI. From 1922 to 1932, Bottomley posted a .325 average and averaged 16 home runs and 100 RBI. His OPS was .924 and he struck out less than 40 times per season.
No question Bottomley was an anchor at first base during a time when the Cardinals were in the beginnings of writing their championship history.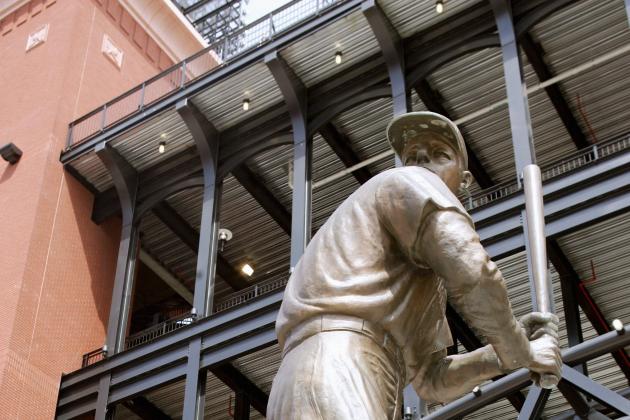 Elsa/Getty Images

With the recent passing of Stan Musial, Cardinals fans and baseball fans in general lost a truly wonderful ball player and human being.
Stan Musial was an icon in St. Louis for decades on and off the field. Baseball fans everywhere knew what a phenomenal hitter he was. But he was also a very versatile player. Musial spent most of his 22-year career roaming the outfield for the Cardinals.
However, he did spend six seasons as the primary first baseman for the Cardinals, including 1946, one of his three MVP seasons.
That season Musial leads the majors with a .365 batting average. He also led the NL in games played (154), at-bats (624), runs (124), hits (228), doubles (50), triples (20), slugging (.587), OPS (1.021) and total bases (366).
I am no Elias Sports Bureau expert, but I can't think of another player who led his given league in all of those categories in a single season.
Musial was a special talent and won the hearts of Cardinals fans for generations. While I was never even close to seeing Musial play, I can only imagine what a treat it would have been. He is the ultimate Cardinal and will probably always be remembered as such.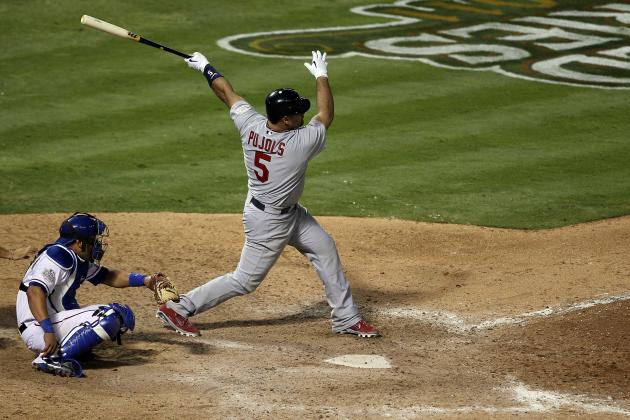 Ezra Shaw/Getty Images

OK, some Cardinals fans may think it blasphemous for putting Pujols ahead of Musial on this list. But it is purely based on the fact that Pujols played exclusively first base for eight seasons for the Cardinals and Musial was full-time for six.
No doubt it hurt many Cardinals fans deeply that Pujols packed his bags and left for the West Coast last season. But his success and numbers can't be denied while in St. Louis.
Pujols helped guide the Cardinals to seven postseason appearances during his 11 years in St. Louis. Two of those seasons saw World Series championships in 2006 and 2011.
During the majority of his time in St. Louis, Pujols was the most feared hitter in baseball. In his 11 seasons, Pujols batted .328, averaged 40 home runs with 121 RBI and 117 runs scored per season. His slugging was .617 and his OPS was 1.037 during that stretch as well.
Pujols collected three MVP awards, six Sliver Sluggers and two Gold Gloves and was Rookie of the Year in 2001. His accomplishments speak volumes about his talent on the field.
If Pujols had stayed for his entire career as Musial did, the Cardinals would have had to make room outside of Busch Stadium next to Musial's statues for one of Pujols. Now they can save that space for another once-in-a-generation talent, who remains to be seen.
That said, hopefully Cardinals fans will remember what a tremendous talent Pujols was during his time in St. Louis and what a dominant force he was on the field.
HONORABLE MENTIONS:
Ripper Collins, Bill White, Orlando Cepeda, Jack Clark, Pedro Guerrero and Gregg Jefferies