North Carolina Basketball: 5 Keys to Beating NC State in ACC Clash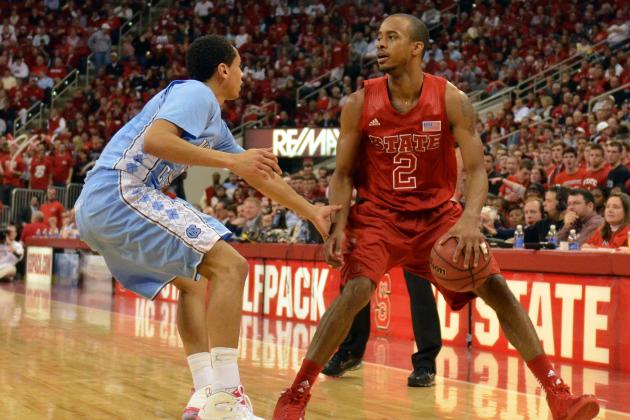 Rob Kinnan-USA TODAY Sports

North Carolina will have at least one more chance to redeem itself against NC State on Saturday afternoon. The Wolfpack topped the Tar Heels, 91-83, in Raleigh last month, but the score is hardly an indication of how that game went.
They let UNC back in the game after building a 61-35 advantage with 13 minutes to go. Kudos to North Carolina for the comeback, and shame on NC State for letting it happen.
But this game will be a little different than the last. Both teams have struggled on the road this season, and this time the game is being played in Chapel Hill. The Tar Heels have also gone small to insert P.J. Hairston into the starting lineup, who put up 19 points in 17 minutes against the Wolfpack.
Most people will probably be placing their bets on NC State, but North Carolina has a legitimate shot at pulling off an upset in this renewed rivalry. Especially if it can follow these five keys to the game.
A win over NC State would not only tie up the season series, but it would also catapult North Carolina into third place in the ACC—and push the program closer to an NCAA tourney berth.
Begin Slideshow

»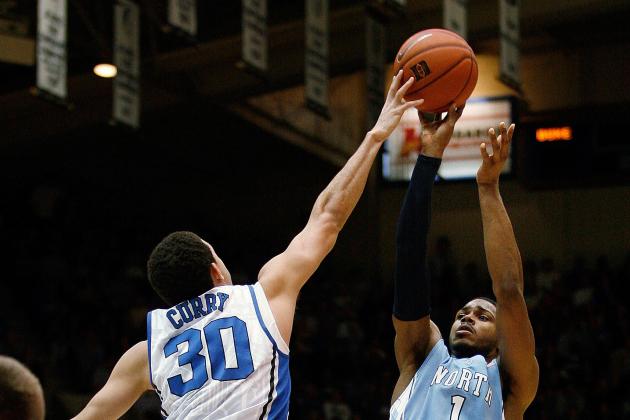 Mark Dolejs-USA TODAY Sports
This is not a quality shot.
It is second nature to Roy Williams teams to play at a frenetic pace. However, that strategy is only at its best when the transition game is in full form and the players are knocking down quality shots.
Whether you want to put the blame on Marcus Paige, Dexter Strickland, the defense or the lack of two dominant rebounders, the transition game just hasn't been as productive this season.
Since the Tar Heels want as many possessions as possible, they sometimes work too fast in the half court. What makes matters worse is the team is guard-heavy.
They like to shoot jumpers and have no problem settling for the first open look. Heck, sometimes they don't even wait for an open look, as evidenced by Strickland's fall-away jumper in the photo to the left.
If they make this a shooting contest, NC State will bury them in a hurry.
NC State ranks fifth in the nation, shooting 49.7 percent from the floor. It also ranks sixth with a three-point percentage of 40.6.
In those categories, North Carolina ranks 124th and 79th, respectively.
UNC needs to spread the floor and penetrate relentlessly. Since implementing the smaller lineup, the players have slashed in the paint with more frequency. The result has been 23.3 free throws per game—4.5 more than the team's season average.
However, the team still falls prey to the temptations of the three. Over the last three games, the Tar Heels are 24-of-66 behind the arc.
UNC's primary focus should be taking it to the bigs and getting them in foul trouble. Jumpers should be its secondary option.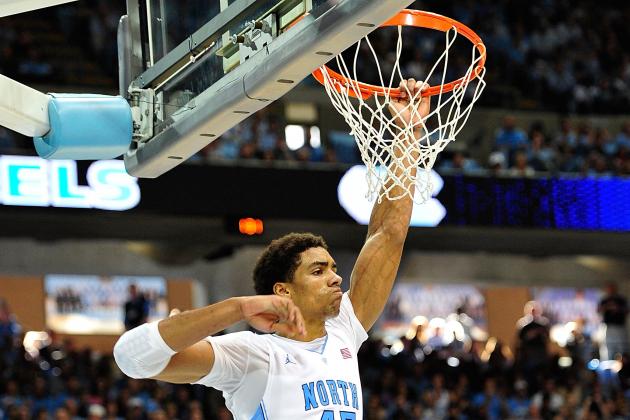 Grant Halverson/Getty Images
That's the enthusiasm the crowd wants to see.
It's all about the dunk.
Dunks are overrated in many people's eyes, as we get blasted with a constant barrage of them in the daily highlight reels. However, this Carolina team seems to underrate them a little too much.
There is no other explanation for these guys choosing to go up soft instead of slamming one home. It's one thing to take it up easy in traffic; it's another to just lay it up in the open floor.
The home crowd is ready to get up off its feet and go nuts as a Tar Heel goes streaking down the court in transition. Then the Tar Heel just lays it up, and you can almost hear the air being sucked from the lungs of the 20,000-plus in attendance.
The home crowd is always waiting for that special moment to erupt, and every dunk passed up is a missed opportunity to make the crowd a factor.
NC State will be working in rival territory. UNC needs to do everything in its power to make the Dean Dome as uncomfortable as it can possibly be for the visiting team.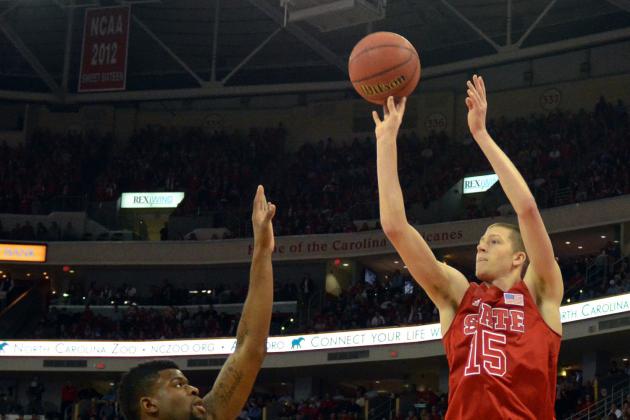 Rob Kinnan-USA TODAY Sports
Don't leave Scott Wood out there alone.
Through most of the season, defense has not appeared to be North Carolina's priority—at least not for a full 40 minutes. The team is prone to mental lapses and lackadaisical play on that end of the court.
Even though the team seems more inspired on defense since shifting to the small lineup, it is still allowing too many open looks from the perimeter.
The smaller Tar Heels did a marvelous job in the first half against Duke, holding the Blue Devils to just 1-of-4 shooting behind the arc. In the five halves since, they have allowed Duke, Virginia and Georgia Tech to nail 25 of 53 treys.
And none of those teams are as complete as NC State.
Yes, Duke has a better record than NC State. But without Ryan Kelly at power forward, the Tar Heels were able to put more focus on the perimeter.
Now the Tar Heels have to deal with a slashing point guard, three players shooting over 40 percent from downtown and an inside duo that can cause all sorts of trouble in the paint. That's a recipe for disaster if the Tar Heels find themselves bunching up on help defense.
On the bright side, UNC is snatching 11 steals and forcing 16.7 turnovers per game since the lineup change. NC State takes care of the ball pretty well, so Carolina will need to make every turnover count by scoring points on the other end.
UNC scored 21 points off turnovers in its last game against Georgia Tech.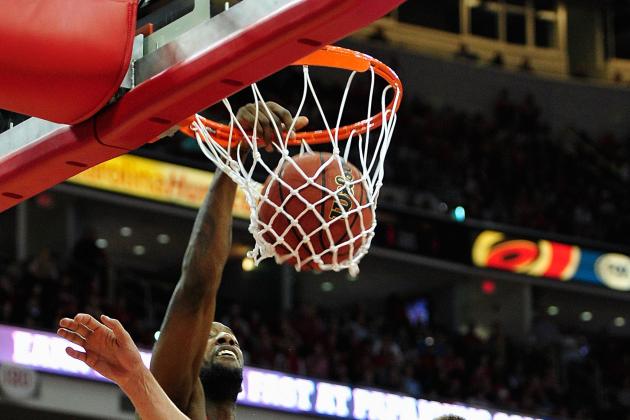 Grant Halverson/Getty Images
That's not winning.
The inside matchup will be James Michael McAdoo and P.J. Hairston versus Richard Howell and C.J. Leslie. This will be the toughest test the new inside duo has faced.
McAdoo and Hairston had a practice run against Georgia Tech's bigs, holding Robert Carter and Daniel Miller to just 15 points. But they are no Leslie and Howell.
The last time these teams met, the Wolfpack duo finished with 33 points and 24 boards. As a team, Carolina only had five more rebounds than Leslie and Howell.
The reality is McAdoo and Hairston simply can't match the size, skill and rebounding of Leslie and Howell. But there is a way the Tar Heels can win this battle.
Get them in foul trouble.
As mentioned before, the Tar Heels are getting to the line at a higher rate since the lineup change. This is because they space the floor better and are more willing to penetrate.
That's the best way to get to Howell. He is averaging 3.1 personal fouls per game and has fouled out six times this season. Leslie isn't quite as aggressive, but he has gotten the yank twice this year.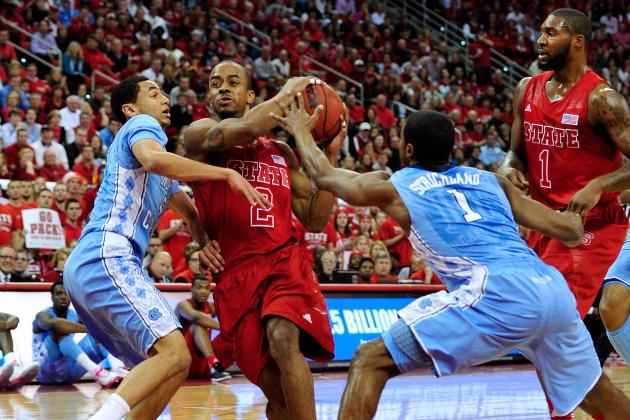 Grant Halverson/Getty Images
Brown is already too far.
The toughest task of them all may be forcing point guard Lorenzo Brown to play on the perimeter. He's a much better scorer going to the basket, and he has the ability drop dimes in tight spaces.
If Strickland and Paige can keep him out of the paint, it will be much harder for him to become a factor in facilitating the offense.
If they have to play off him a little, that's OK. He may have gone 2-of-2 shooting from downtown in the last meeting, but that doesn't happen very often. Brown is only shooting 30.4 percent from that range.
He ran right over Paige and Strickland in Raleigh, scoring 20 points, shooting six free throws and dishing out 11 assists. That's what happens when you let Brown in the paint.
Paige has played much better defense since then, though. He has become a master of poking the ball loose and is averaging 2.5 steals per game over his last four.
But Brown still has five inches and roughly 30 pounds on the freshman.
Not only will Paige have to play his best defensive game of the season, he is also going to need some serious help from Strickland.
As tough a matchup as NC State is for North Carolina, the Wolfpack have played their worst games on the road this season. The 'Pack is just 2-4 on the road against ACC competition. The last one was a one-point win over Clemson.
If the Tar Heels can execute a majority of these keys to the game, they just might send the Wolfpack yelping home.