The first round of the Accenture Match Play Championship was suspended due to a snowstorm on Wednesday, according to a USA Today report.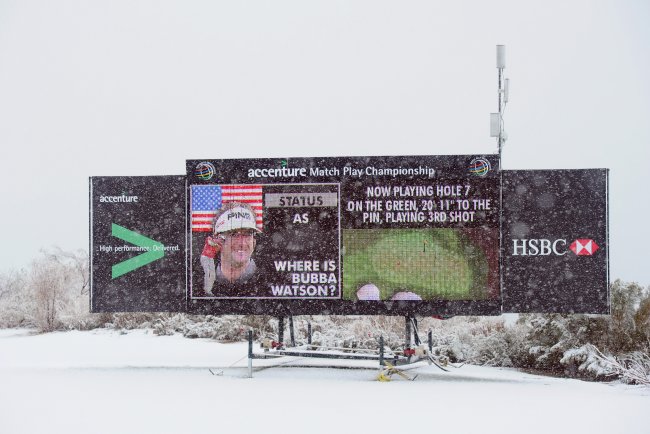 Stuart Franklin/Getty Images
Only 21 of the 32 matches started, according to the report, and Tiger Woods and Rory McIlroy were among those who did not get a chance to hit a shot before play was stopped in Marana, Ariz.
Before we get to some startling pictures, let's just say this is hardly the only time weather has dealt an odd blow to play in the Tucson area. USA Today reminds us there was a snow delay in both 2001 and 2011.
Not that there is anything normal about seeing a tournament look more like a scene from The Day After Tomorrow.
Dustin Johnson seems to have his finger on the pulse of the delay. Now we understand why the tournament was delayed.
Snow on a golf course is a bad thing. #duh

— Dustin Johnson (@DJohnsonPGA) February 20, 2013
My favorite thing about golf is driving the cart, because it is infinitely easier than actually playing golf. Still, I think I would rather skip out on driving around in this, via Golf Week's Sean Martin:
Want a ride? #snowmobile twitter.com/GolfweekSMarti…

— Sean Martin (@GolfweekSMartin) February 20, 2013
I can testify that Luke Donald's tweet is most definitely true:
It's officially snowing, Carl Pettersson with the quote of the day so far"This is only one of few times it's an advantage to be fat" #cold

— Luke Donald (@LukeDonald) February 20, 2013
Thanks to Golf Digest, we now have an image of Rory McIlroy in the snow. You can cross that one off your bucket list.
This weather is officially ridiculous! twitter.com/McIlroyRory/st…

— Rory Mcilroy (@McIlroyRory) February 20, 2013
Also, there is no way ESPN's Sarah Spain could be telling the truth.
Holy cow! The snow is Tucson is out of control right now! Turn on the Golf Channel! Almost more snow than Chicago's seen this year.

— Sarah Spain(@SarahSpain) February 20, 2013
It can't be that bad at Accenture.
Oh.
There is some biblical-level weather going down in the Tucson area.
According to Weather.com, things will remain snowy into the night and finally get sunny on Thursday. At that point, we'll get to see some amazing golfers take some hacks off what I will assume will be a very sloppy course.
This should be an interesting weekend.
Twitter, it's fun in tweet form.