NFL Draft Prospects Whose Stock Relies Heavily on Combine Medical Exams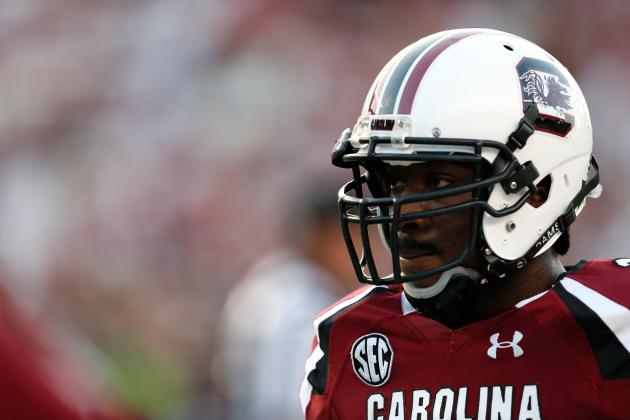 Kevin C. Cox/Getty Images

College football's best and brightest are descending on Indianapolis this week to be poked, prodded and put through their paces at the 2013 NFL scouting combine.
Among the innumerable tests and drills that those players will be put through is a medical examination, with doctors from across the National Football League checking the youngsters from stem to stern to insure that they are in tip-top shape.
For some players there will be no more important aspect of the combine.
For these players a clean bill of health could mean millions of dollars, while a "bad" exam will only add to the medical red flags surrounding them.
Here's a look at a handful of the most prominent ones.
Begin Slideshow

»
There's likely no player with more to prove at this year's combine than South Carolina running back Marcus Lattimore.
If the 6'0", 218-pound junior were healthy, Lattimore would all but certainly be the first running back off the board in the 2013 NFL draft.
However, Lattimore is attempting to bounce back from his second major knee injury, and his recovery from last November's horrific injury will be one of the big storylines this week in Indy.
For what it's worth, Dr. James Andrews—who performed Lattimore's most recent surgery—told Robert Klemko of USA Today that Lattimore is three months ahead of schedule in his recovery, has gained 20 pounds of muscle and it's possible Lattimore could play in 2013.
As respected as Andrews is, NFL teams aren't just going to take his word for that.
How Lattimore's rehab is progressing in the eyes of doctors at the combine will have a huge impact on his draft stock.
With Jarvis Jones of Georgia, it's not a matter of recovery from an injury that happened.
It's the possibility of an injury that might happen.
Jones, who tallied 85 tackles and 14.5 sacks in 2012, has spinal stenosis, or a narrowing of the spinal column.
That condition didn't hinder Jones while he was at Georgia, but doctors at USC refused to clear Jones to play, which led to his transfer from Los Angeles to Athens.
Stenosis cut short the NFL careers of players such as Chris Samuels and Michael Irvin, and the disparity of diagnosis between the doctors at USC and Georgia is cause for concern.
That same disparity may well exist with some NFL doctors in Indianapolis, which could lead to Jones being a top-five prospect on some draft boards and completely left off of others.
What a difference a year makes.
Had USC quarterback Matt Barkley declared after his junior season, he all but certainly would have been a top 10 pick in the 2012 NFL draft.
Now, after a senior season in which Barkley regressed statistically and the Trojans faceplanted, Barkley is hanging onto his first-round status by the thinnest of threads.
It doesn't help that Barkley's college career was ended by a separated shoulder, and now he won't be throwing at the combine because of it, according to Chris Wesseling of NFL.com.
For a quarterback for whom arm strength is his biggest concern, that shoulder is going to carry a lot of weight in Indianapolis, as Barkley is going to have to assure doctors that it can do the same in the NFL.
Quality offensive linemen are worth their weight in gold in the NFL.
Not only is Barrett Jones of Alabama a quality lineman, but he offers a rare commodity, having played every position along the line for the Crimson Tide during his collegiate career.
That would seem to make Jones a mortal-lock to be a first round pick, but there's a catch with the All-American.
As Chris Low of ESPN reported at the time, Jones played the BCS National Championship game on an injured foot, and after undergoing surgery Jones won't be participating in drills at the combine.
Lisfranc injuries can be tricky business, and if Jones is going to cement his status as a first-rounder in Indianapolis, it will be by showing doctors that his recovery is proceeding as planned.
The 2013 NFL draft may be light on quarterback talent in the eyes of many draftniks, but the same certainly cannot be said where pass rushers are concerned.
Of those there is no shortage, and among the many players with a knack for getting to the quarterback is Dion Jordan of Oregon, who had 44 tackles and five sacks for the Ducks in 2012.
Those stats don't tell the whole story with Jordan, an incredibly athletic player who Mike Mayock of NFL.com ranks as the top outside linebacker in this year's class.
However, Jordan sustained a shoulder injury late last year that will prevent him from lifting at the combine, and as Rob Moseley of The Eugene Register-Guard reports, Jordan will soon undergo surgery.
That injury only adds to questions about Jordan's upper-body strength, and showing that the injury is just a small bump in the road would go a long way towards alleviating those concerns.