Rating the Barcelona Players vs. AC Milan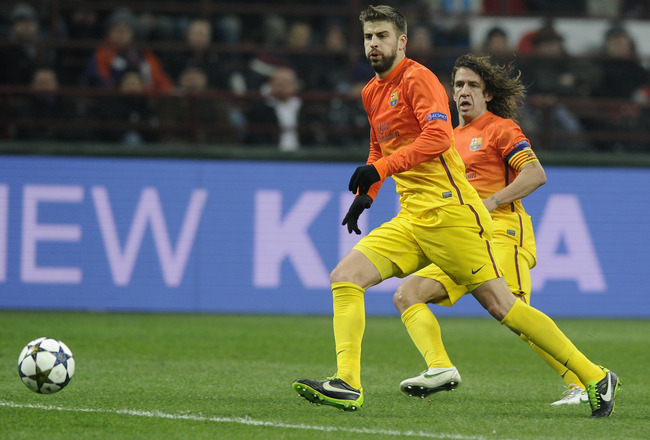 Claudio Villa/Getty Images
Barcelona's Champions League hopes were left in tatters following an expertly carried-out plan by AC Milan.
In a fascinating match at the San Siro, Kevin-Prince Boateng's smart finish put Milan up 1-0 amid claims from Barca's players of handball.
And despite La Blaugrana's manipulation of possession, it was Los Rossoneri who added the game's second goal.
Former Inter Milan player Sulley Muntari provided a finish to match Boateng's, capping of a fine move.
Here's how the Barcelona players rated...
Victor Valdes: 6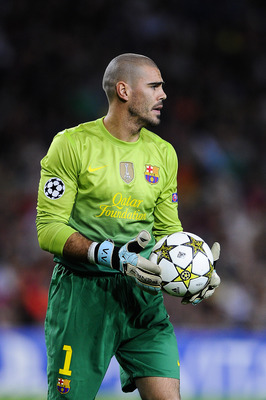 David Ramos/Getty Images
Victor Valdes could do little about either goal—such was the exquisite nature of the two finishes.
He had little to do in a first half in which AC Milan started brightly but were then prepared to sit back in a cliched Italian style.
What he did have to do, he did well, claiming a few crosses but his distribution was unusually lacking.
Dani Alves: 5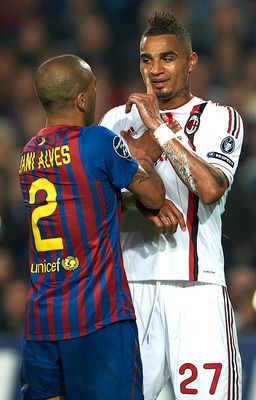 Manuel Queimadelos Alonso/Getty Images
AC Milan clearly felt they could exploit Barca's Brazilian full-back as a witness in pitting him man-for-man against Stephan El Shaarawy.
Dani Alves was up for the fight though and—despite occasionally leaving gaps—got up and down well with the young Italian.
He did give away the free kick for the first goal though, and it was his area of the defense where Sulley Muntari popped up to add Milan's second.
Jordi Alba: 5.5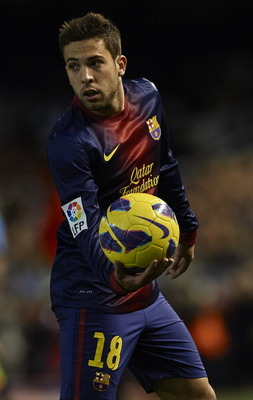 Manuel Queimadelos Alonso/Getty Images
Alba was linked-up well down the left at times, but also offered rare glimpses of carelessness in giving the ball away as options failed to open up.
AC Milan's gallivanting right-back Ignazio Abate also found himself in behind Barca's young left-back on one too many occasions.
That said, he can't be held accountable for either of the goals conceded by La Blaugrana on the night.
Carles Puyol: 5.5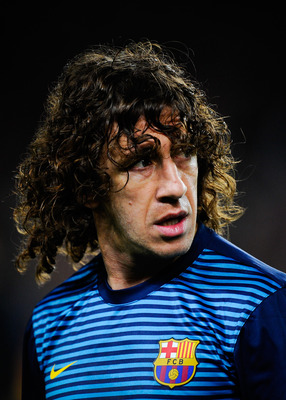 David Ramos/Getty Images
A 16th-minute interception, when Stephan El Shaarawy looked like he was clean through, set the tone for another performance full of heart from Carles Puyol.
Despite that, and with a bandaged-up head in the second half for effect, he made a couple of clumsy challenges on Giampaolo Pazzini and looked uncomfortable at times.
None more so than in the minutes following AC Milan's opening goal. Javier Mascherano replaced him in the 88th minute.
Gerard Pique: 6
Manuel Queimadelos Alonso/Getty Images
Another match, another yellow card for Gerard Pique picked up needlessly for demonstrations following the opening goal.
Like Puyol, he looked panicked in the immediate minutes succeeding that goal too.
He did offer some valuable clearances, interceptions and tackles though as Barcelona found themselves, at times, under pressure they're not accustomed too.
Sergio Busquets: 6.5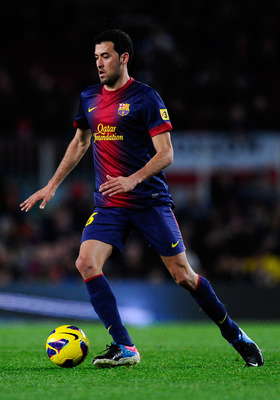 David Ramos/Getty Images
Sergio Busquets did what Sergio Busquets pretty much does all the time.
Of 123 passes, he managed to complete 93 percent and was accurate with five of his six long balls (via whoscored.com).
That was Busquets job done, unfortunately for him there wasn't much action in the Milan penalty area on Wednesday night.
Xavi Hernandez: 6.5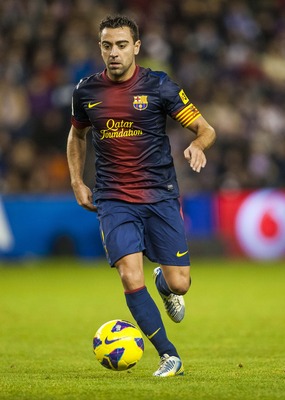 Victor Fraile/Getty Images
Xavi Hernandez returned from his two-week layoff to regain his place in the Barcelona starting 11 straight away.
Once Barca settled in the first half he was—as usual—at the center of most moves, giving and collecting passes and he even tried his luck from 25 yards just after 20 minutes.
He continued in the same vain in the second half—went close with a free kick but couldn't find that penetrative pass.
Cesc Fabregas: 6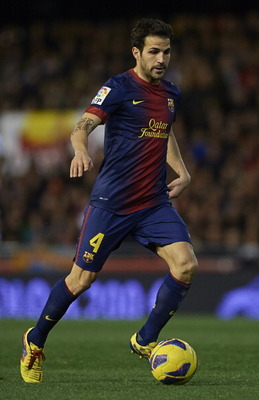 Manuel Queimadelos Alonso/Getty Images
Cesc Fabregas was withdrawn from the game shortly after the AC Milan opener for the Chilean Alexis Sanchez.
He departed having not offered a great deal, other than the usual consistency of passing that comes with being a midfielder in the Barcelona side.
It's games like this where he so often took center stage for Arsenal.
Andres Iniesta: 7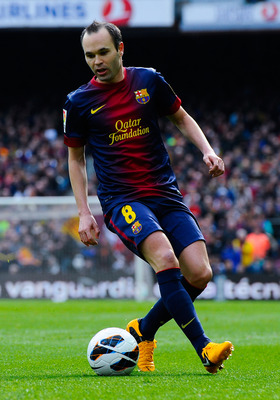 David Ramos/Getty Images
Andres Iniesta looked at his best once he was moved to the middle of midfield following the introduction of Alexis Sanchez.
From then on, he created more with his driving runs and quick exchanges but did little to worry the solid defense of AC Milan.
He did come close with a strike from distance in the second half, which whistled wide of Christian Abbiati's left post.
Lionel Messi: 6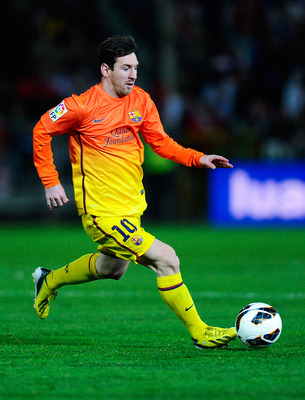 David Ramos/Getty Images
Lionel Messi appeared frustrated at times in the first half as Barca came up against a Milan tactic that they aren't unfamiliar with in the Champions League in recent years.
In the second half though, a well organised Milan with a very clear plan marshaled him as well as has been seen in recent years.
Both he and Barcelona will have to hope for some Messi magic when the two teams reconvene at Camp Nou in March.
Pedro Rodriguez: 5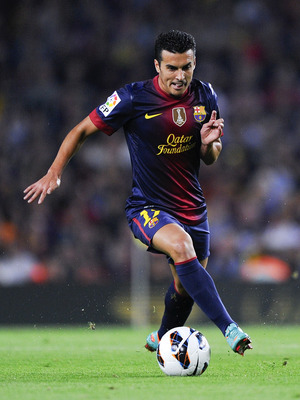 David Ramos/Getty Images
Pedro Rodriguez has a tendency to slip under the radar and play his part in big games.
Not tonight.
He didn't manage even a shot tonight and—as Alves and Messi drifted into his area—at times he looked unsure what his role actually was.
Substitutes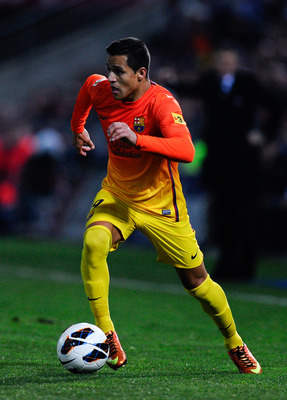 David Ramos/Getty Images
Alexis Sanchez: He came on just after the hour but didn't provide the cameo that his Barcelona career so desperately craves. The best part of his introduction was the shuffling of Andres Iniesta more central.
Javier Mascherano: n/a
Keep Reading