Showcasing Chicago Bears' Biggest Strengths and Draft Needs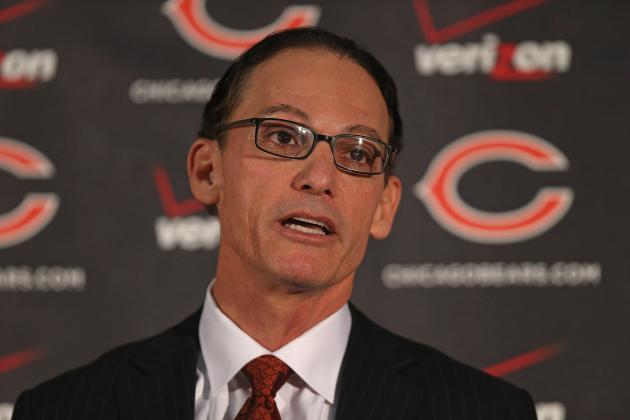 Jonathan Daniel/Getty Images

It is a time of change in the Windy City, as the Chicago Bears decided to fire head coach Lovie Smith following a 10-6 season.
Despite the strong record, five losses in six weeks from Weeks 10-15 spelled doom for the Bears. They had a chance to make the playoffs on the final day of the season, but Minnesota's win over Green Bay crushed those dreams.
Now, with new head coach Marc Trestman and second-year general manager Phil Emery, the Bears are looking to instill a consistent winning culture. All of that starts on the offensive side of the ball.
Even though the Bears are known for their strong defensive prowess, that group is getting up there in age.
When Smith was fired after the season, one of the biggest reasons was because there was never any progress made with the offense. It also didn't help Smith's case that he was hired under former general manager Jerry Angelo.
But now is the time for new beginnings. All of that starts with the 2012 NFL draft, so let's break down the Bears' roster heading into the big event.
Begin Slideshow

»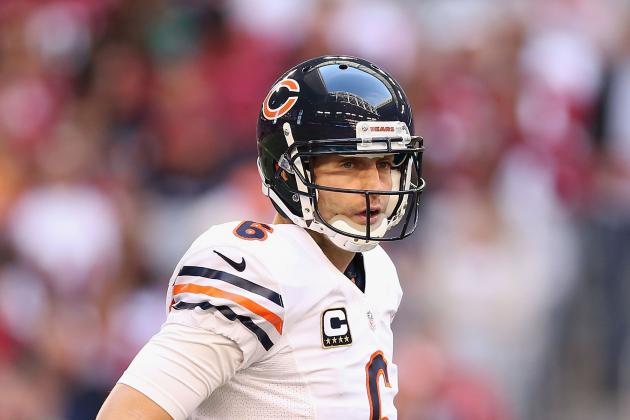 Christian Petersen/Getty Images

For better or worse, the Bears have committed to Jay Cutler as their starting quarterback for 2013. It is foolish to expect him to become more than what he has been, especially at 29 years old and with seven years of experience under his belt.
There are going to be games where Cutler looks brilliant, showcasing that electric arm that made him a first-round pick in 2006. There are also going to be games where he looks like he has no business playing in the NFL.
Cutler will be a free agent after next season, so it will be interesting to see what, if any, impact that has on his play.
Head coach Marc Trestman has a resume of working with quarterbacks like Rich Gannon, Steve Young and Jake Plummer, so perhaps he can find something in Cutler that no one else has.
Jason Campbell and Josh McCown are free agents. Matt Blanchard will be brought back, though it remains to be seen if the team will trust him enough to be the backup.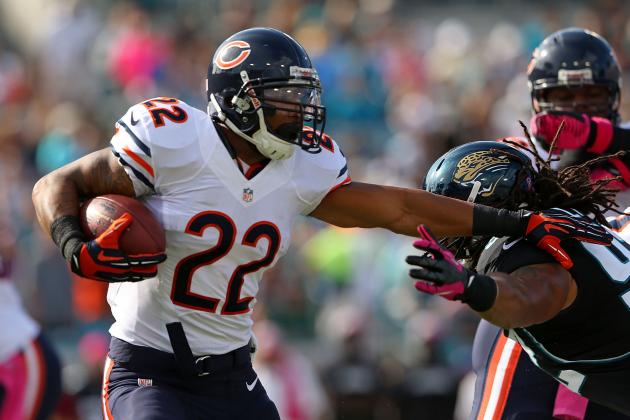 Mike Ehrmann/Getty Images

Matt Forte is in an interesting position as he prepares to enter his sixth season with the Bears in 2013. He has proven time and again that he is one of the best all-around running backs in the NFL.
Last year was the first time in his career that he failed to break 50 receptions (44). But he is the most versatile weapon the Bears have and a vital presence on this offense.
However, because of the offensive line problems the Bears have had, Forte's production continues to decline, and he is entering that dangerous decline age for running backs. He will be 27 next season, but already has more than 1,200 carries under his belt.
Beyond Forte, there is good depth at the position for the Bears. Michael Bush has been a starter before, and he played well as a backup to Forte last season. Bush also tied Forte for the team lead with five rushing touchdowns, despite having 134 fewer carries.
Armando Allen is an exclusive-rights free agent and looked strong as a change-of-pace back with 124 yards on 27 carries.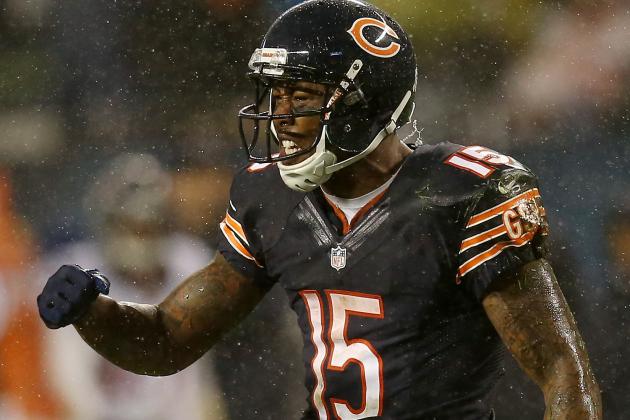 Jonathan Daniel/Getty Images

The gap between the Bears' No. 1 receiver, Brandon Marshall, and No. 2 receiver is so large that you would be forgiven if you thought they just ran plays with Marshall as the only player on the field.
Marshall, who has always thrived with Jay Cutler as his quarterback, caught 118 passes and was targeted 194 times. He also had 11 of the team's 21 touchdown receptions last season.
Just going strictly by receivers and tight ends, because Matt Forte was second on the team in receptions (44) and targets (60), Earl Bennett was the No. 2 option for Cutler. He had 29 receptions, 49 targets and 375 yards.
Rookie wide receiver Alshon Jeffery did show some promise when he was on the field, leading the team with 15.3 yards per reception and finishing second with three touchdowns. But he only played 10 games.
If the Bears pencil in Jeffery as the No. 2 wide receiver heading into 2013, depth is still a huge issue for this team.
Even the tight ends are problematic. Kellen Davis had just 19 receptions with 229 yards. The Bears have to do all they can to find at least one more playmaker at wide receiver or tight end. It doesn't have to be their top priority, but it should be addressed sooner rather than later.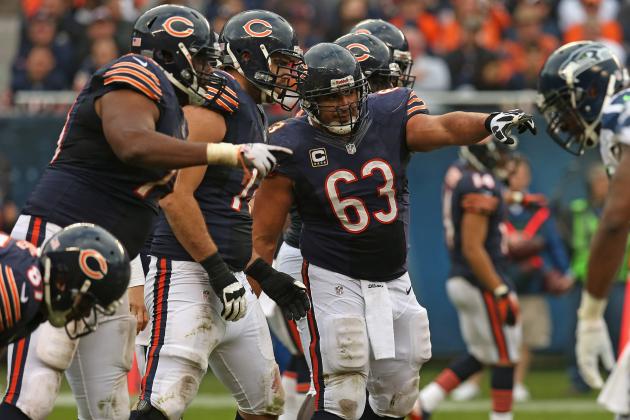 Jonathan Daniel/Getty Images

The biggest problem that the Bears have had over the last few years—one they are still unable to find answers to—is on the offensive line. They have tried investing draft picks into filling those holes, like Gabe Carimi two years ago, with nothing to show for it.
As problematic as Jay Cutler is at the quarterback position, the issue gets compounded when he is running for his life and being sacked 40-50 times every year.
The good news for the Bears is that this draft is incredibly deep on the offensive line. They own the 20th selection, so there is no chance they get one of the elite prospects. But a player like D.J. Fluker or Chance Warmack from Alabama could be available.
Starting right tackle Jonathan Scott is a free agent, so the team has a decision to make on him. He is more of a serviceable player who can make an occasional start than someone you want to build the entire line around. At 30 years old, it will be interesting to see what the team does.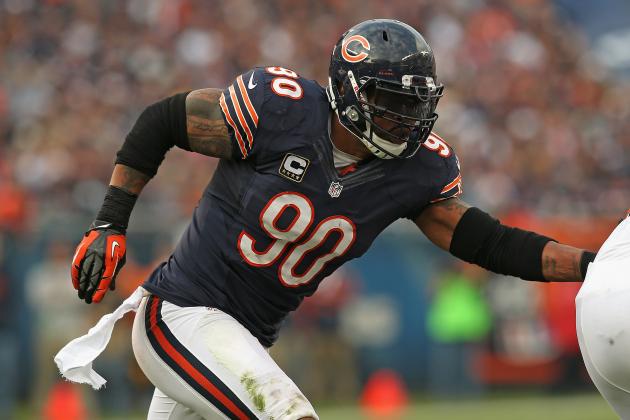 Jonathan Daniel/Getty Images

The Bears will keep the 4-3 defensive scheme under new coordinator Mel Tucker. This defense is built around the front seven, with Julius Peppers and Brian Urlacher still leading the charge.
Peppers, even though he will play next season at 33 years old, remains one of the most productive defensive ends in the NFL. He finished the 2012 season with 11.5 sacks.
But there is star power beyond Peppers. Israel Idonije and Henry Melton, both of whom are free agents this offseason, combined for 91 total tackles, 13.5 sacks and seven tackles for loss.
Like Peppers, Idonije is on the wrong side of 30. But Melton continues to get better and will be just 27 years old in October.
Brad Biggs of the Chicago Tribune reported that "it seems like a good bet" the Bears will use the franchise tag on Melton, which would cost the team $8.3 million next season if a long-term deal isn't worked out.
Shea McClellin, the team's first-round pick last year, was a non-factor with just 14 combined tackles and 2.5 sacks in 14 games. He never seemed like a good fit in the Bears' scheme, but at just 23 years old, they aren't going to cut bait with him.
Age and depth are issues for the Bears on the defensive line that should be addressed in the middle rounds of the draft.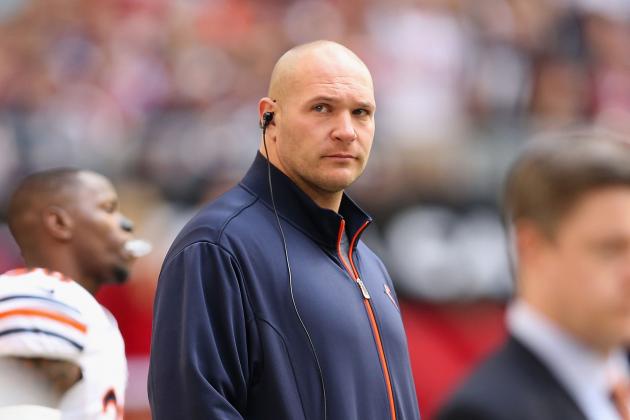 Christian Petersen/Getty Images

The Bears have a big decision to make with Brian Urlacher, who is a free agent this offseason at the age of 34 and is coming off a season in which he played just 12 games.
Even though it seemed like a foregone conclusion that Urlacher would be back in Chicago for his 14th season, head coach Marc Trestman has been quoted as saying (via Sean Jensen of the Chicago Sun Times) that is "premature":
Marc Trestman said it would be "premature" to talk about Urlacher's future. They talked on phone 30-plus minutes

— Sean Jensen (@seankjensen) February 14, 2013
Starting outside linebacker Nick Roach is also a free agent. He is just 27 years old and is coming off his most productive season (66 total tackles and 1.5 sacks), so the Bears have to figure out what to do with him.
Lance Briggs is still the best linebacker on the team, but at 32 years old, it could be time to start thinking about how much time he has left playing at a high level.
One name being thrown around for the Bears in the first round is Notre Dame's Manti Te'o. While it seems like a mistake to ignore the offensive line early in the draft, you could understand the rationale if the team wants to address the linebacker position with its first pick.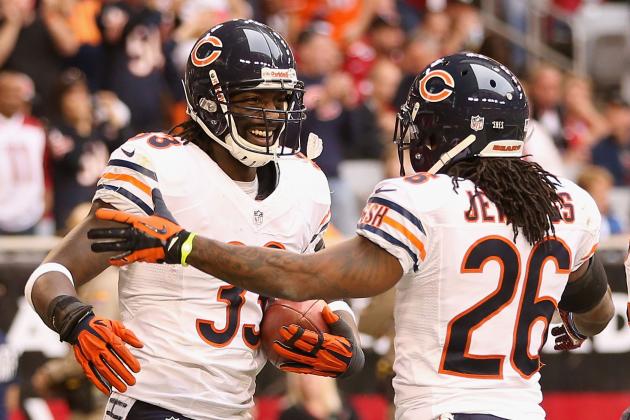 Christian Petersen/Getty Images

The Bears were the best team in the NFL at forcing turnovers last season, with a total of 44 (24 interceptions, 20 fumble recoveries).
A big reason for that success was the play of cornerback Charles Tillman, who is probably the best at swatting the ball out of a receiver's hand. He had 10 forced fumbles last season—a remarkable total for a defensive back. He also had 16 passes defended and three interceptions.
Tim Jennings is a great complement on the other side of the field as the interception machine. He led the NFL with nine interceptions and tied for third with 21 passes defended.
Backup cornerback Kelvin Hayden will be an unrestricted free agent. He is best served as the No. 3/slot cornerback on a roster, though he may want to find a situation that allows him to start.
Major Wright and Chris Conte are terrific coverage safeties. They combined for 17 passes defended and six interceptions. It also helps that both showed so much promise despite being under the age of 25.
Of all the positions the Bears need to address in the draft, they are strong at cornerback and safety. They might try to find depth in the later rounds, but they can rest assured knowing they are set in the secondary heading into 2013.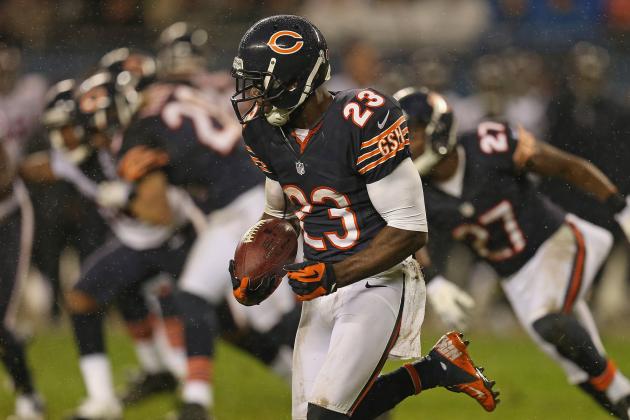 Jonathan Daniel/Getty Images

When you think of Chicago Bears special teams, you immediately think of Devin Hester. He is 30 years old and had no return touchdowns last season for the first time since 2009.
Even though Hester may not be the most dynamic return man in the game anymore, he still ranked 10th in the NFL with 25.9 yards per kick return. The days of him making kick and punt returns look easier than a first grade math test are over, but he is still a very valuable asset to have.
Robbie Gould remains one of the best and most consistent kickers in the NFL. He isn't going anywhere, and the Bears know exactly what they are getting with him.
Punter Adam Podlesh was terrible in yards per punt and net average, yet he finished fourth in the NFL with 34 punts inside the 20. Perhaps the poor average yards per kick is attributed to the Bears putting together short drives and being unable to sustain them.