Early Projections for the Mets' Final 25-Man Roster
Alex Trautwig/Getty Images

With four days to go until the Mets' spring training schedule begins with a home game against the Nationals, some players on the Mets will be trying to play well enough for them to earn roster spots by the time the regular season begins in April.
So far, the Mets infield looks set, as does their starting rotation and most of the bullpen spots. The outfield, bench and a few bullpen spots, though, could all be up for grabs over the next month.
Here is a preseason outlook on what the Mets' Opening Day 25-man roster could look like.
Begin Slideshow

»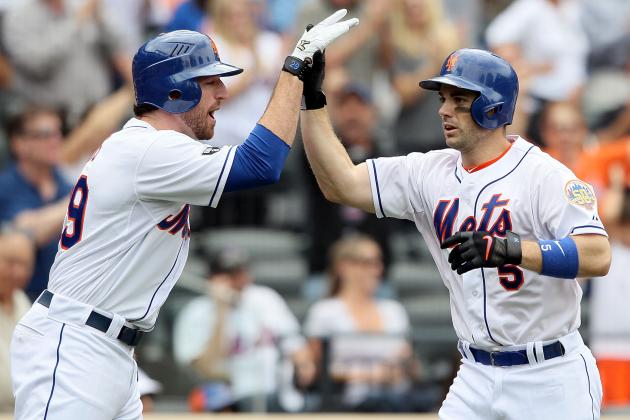 Alex Trautwig/Getty Images

Here is what the Mets' Opening Day lineup could possibly look like.
1. Ruben Tejada SS
2. Daniel Murphy 2B
3. David Wright 3B
4. Ike Davis 1B
5. Lucas Duda LF
6. Kirk Nieuwenhuis CF
7. John Buck C
8. Marlon Byrd RF
It's clear that Davis, Murphy, Tejada and Wright will anchor first base, second base, shortstop and third base, respectively. The outfield, though, is where the real competition will be, but unless Mike Baxter and Collin Cowgill have particularly great months in spring training, Duda, Nieuwenhuis and Byrd should very likely be the three starting outfielders.
Behind the plate, John Buck will start the season as the regular catcher until Travis d'Arnaud is ready to get his major league call-up. At that point, Buck will become the Mets' backup catcher.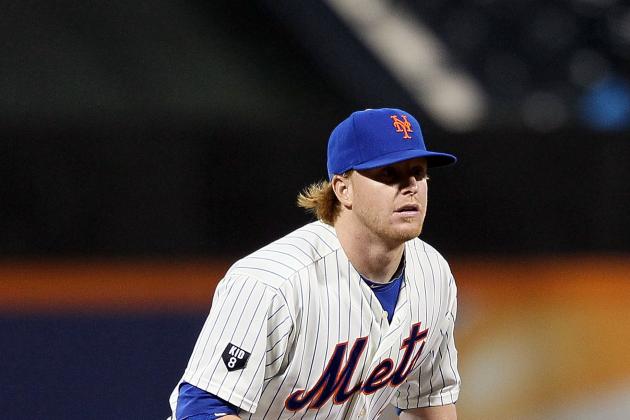 Alex Trautwig/Getty Images

Usually, a major league bench includes a backup catcher, a corner infielder, a middle infielder and two outfielders.
Here is what the Mets bench could look like.
- Anthony Recker C
- Justin Turner IF
- Omar Quintanilla 2B/SS
- Mike Baxter
- Collin Cowgill OF
Assuming Travis d'Arnaud starts the year in the minor leagues, Anthony Recker will likely be John Buck's backup. Once d'Arnaud gets called up though, Recker will almost certainly get sent down to the minor leagues.
Justin Turner should once again be one of the backup infielders, especially because he can play all four infield positions. Turner has also been a good pinch-hitter thus far in his career.
As for the other infield spot, Omar Quintanilla could be viewed as a dark-horse candidate, but during his brief stint with the Mets, Quintanilla hit relatively well with 18 hits in 70 at-bats.
He could also be a successful left-handed pinch-hitter for the team. In addition, he is likely to make a bigger impact with the Mets than Brandon Hicks or Zach Lutz, the two people he will probably compete against for the roster spot.
Unless he becomes an everyday starter, Mike Baxter will be one of the backup outfielders for the Mets. Despite not being signed to a major league contract, Marlon Byrd will be competing for a starting outfield spot, and with his vast major league experience compared to Baxter, Byrd should be the favorite to become the Mets' right fielder. The possibility of Baxter and Byrd platooning together could occur as well.
The Mets acquired another outfielder in Cowgill to give themselves a right-handed bat in the outfield. Cowgill can play all three outfield positions and has a career .298 MLB average against left-handed pitching. Thus, Terry Collins could platoon Cowgill with any of his left-handed hitting outfielders if one of them starts to struggle against southpaws in particular.
Other outfielders who will be competing for backup spots on the roster include Jordany Valdespin and Andrew Brown. Outfield prospects Matt den Dekker, Cesar Puello and Juan Lagares will all be in the mix as well. However, Puello and Lagares in particular are simply not ready for the major leagues just yet.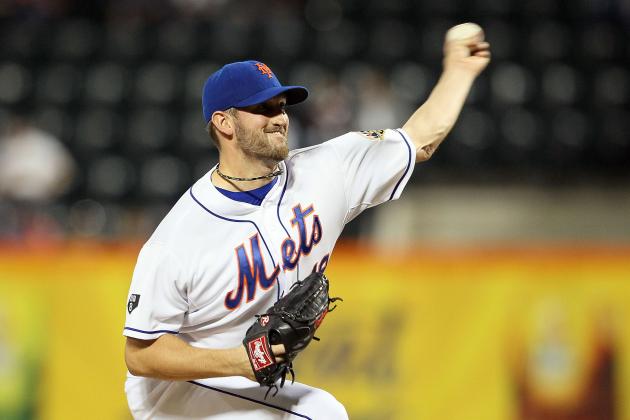 Alex Trautwig/Getty Images

The Mets' starting rotation will most likely look like the following.
1. Johan Santana
2. Shaun Marcum
3. Jon Niese
4. Matt Harvey
5. Dillon Gee
The pitchers who will be in the Mets rotation are set, but the initial order could be slightly different than this. Most of the Mets starters should be pitching for the full season, unless of course, one happens to get injured. The Mets have already announced, though, that Santana will make the Opening Day start.
An injury could open the door for top prospect Zack Wheeler to make his much-anticipated major league debut, which should occur by July at the latest. The most likely candidate to get moved off the rotation would probably be Santana, especially with his recent track record of injuries.
Jeremy Hefner, Jenrry Mejia and Collin McHugh represent additional starting pitching depth the Mets have in case it is needed.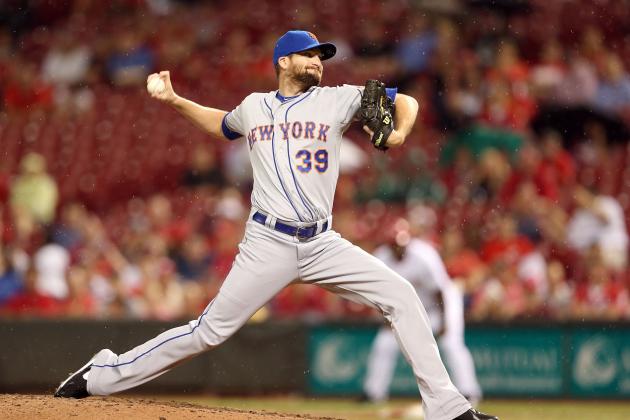 Andy Lyons/Getty Images

With closer Frank Francisco currently out with a sore elbow, Bobby Parnell has been named the Mets' closer for the time being. With this being said, the Opening Day bullpen will most likely consist of Parnell, Brandon Lyon, Josh Edgin, Robert Carson, Jeurys Familia, Jeremy Hefner and Greg Burke.
Lyon will almost certainly be the Mets' right-handed setup man, and he also has closing experience in case Parnell struggles early in the season. Edgin should serve as the left-handed setup man, while Carson is more of a middle-innings left-handed reliever.
As for the rest of the bullpen, Hefner would once again be the long reliever and spot starter that he was in 2012. Burke is a submarine pitcher, so he would be an almost-exclusive right-handed specialist, which should help him earn the roster spot in the first place. Burke, however, has not pitched in the major leagues since 2009.
Last, but not least, the rookie Familia could become, more or less, a "jack of all trades" reliever for the Mets. Originally a starter, Familia should find more success in the bullpen but, if needed, he would have the ability to throw three or four innings in a game.
More than likely, he would pitch one inning and use his powerful fastball to get hitters out. In fact, Familia's velocity is what will most likely help him make the Mets' Opening Day bullpen.