Power Ranking Every Fight on the UFC 157 Fight Card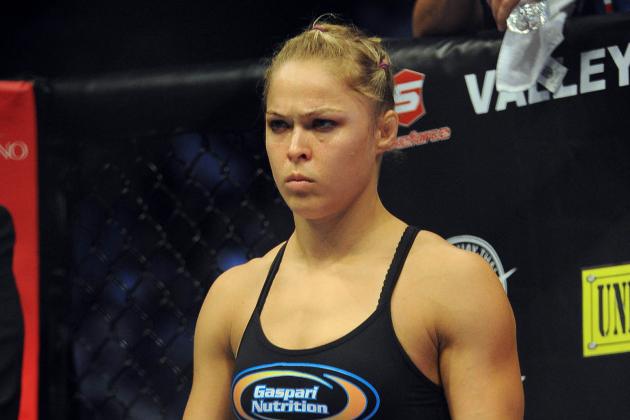 Jayne Kamin-Oncea-USA TODAY Sports

UFC 157 gets underway this Saturday with the first-ever women's fight headlining the card.
Ronda Rousey defends her newly minted UFC Women's Bantamweight Championship against Liz Carmouche.
Eleven other fights line the card. None is more important than the light heavyweight co-main event bout between Dan Henderson and Lyoto Machida. The winner will likely be next in line for a shot at the championship.
There will be fights across seven different divisions in Anaheim. Only the welterweight and lightweight divisions will see multiple bouts. The preliminary card offers up some intriguing battles, but the true action of the evening is saved for the PPV telecast.
Welcome to the UFC 157 power rankings.
Begin Slideshow

»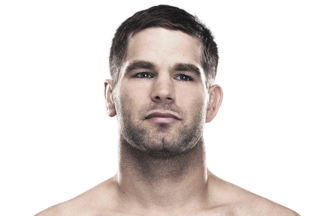 Photo Credit: UFC.com
The final Facebook fight features two men who are winless in their UFC careers.
Kenny Robertson (11-2) and Brock Jardine (9-2) have yet to secure that elusive win inside the Octagon, but someone will pick up the W in this fight.
This fight is not exciting on paper, and probably won't be much more exciting in the cage. That is not to exclude the possibility of a finish.
It is just an unattractive fight for fans, and that is why it'll be relegated to Facebook.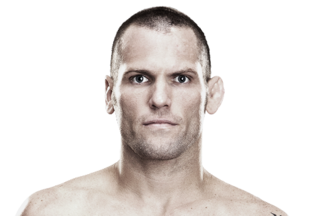 Photo Credit: UFC.com
Featherweight action sees the inside of the cage when Dennis Bermudez (9-3) and Matt Grice (15-4) square off.
Bermudez lost in The Ultimate Fighter 14 finale, but he has since rebounded with two straight wins in the Octagon. Grice returned to the UFC after a couple years away and has posted a 1-1 record at 145 pounds.
If this fight is exciting, it will be because Bermudez lights up Grice. Other than that, it would seem likely that Grice will try to slow the pace and wrestle. Unfortunately, Grice has not been one of the more exciting fighters to grace the Octagon.
This is a good test for Bermudez as he slowly develops. However, if Grice can grind on him, then it may not be the most beautiful 15 minutes.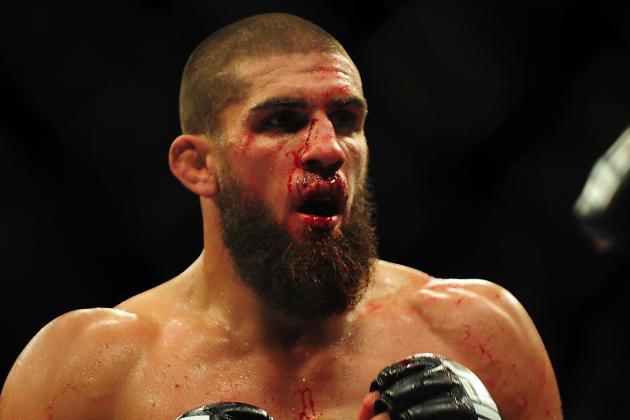 Anne-Marie Sorvin-USA TODAY Sports

To be quite honest, I have no idea why this fight is on the PPV outside of the possibility of a slugfest.
Court McGee (13-3) and Josh Neer (33-12-1) have each lost their last two fights, and neither were exceptionally entertaining.
If there are hopes of a slugfest, those are likely false hopes. McGee likes to strike, but he is more measured in his attacks for the most part. That will draw this fight out.
Neer and McGee could have an exciting fight to shut me up, but I don't see this being one of the better fights on the card. It should have been placed on the prelims in lieu of a better match-up.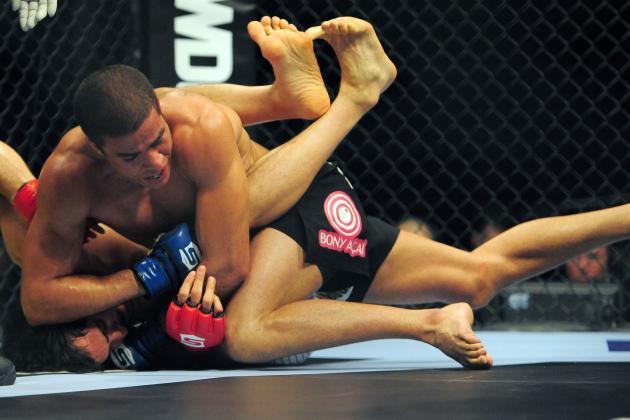 Kyle Terada-USA TODAY Sports

Nah-Shon Burrell (8-2) and Yuri Villefort (6-1) enter the UFC coming off losses in their previous Strikeforce bouts.
Burrell lost to Chris Spang by TKO, and Villefort dropped a decision to Quinn Mulhern. That does not bode well for the loser's future inside the Octagon. This could easily be a one-and-done for whoever does not get his hand raised.
Yet, that can make this fight exciting. They have everything to gain and nothing to lose.
Both of these men are young. It is hard to gauge just how exciting this fight will be, but I think it could surprise a few folks and be an enjoyable encounter.
Photo Credit: UFC.com
The Ultimate Fighter: Team Carwin vs. Team Nelson alums Jon Manley (7-2) and Neil Magny (7-2) will square off on the Facebook prelims.
Both of these men were semi-finalists that season, and this could be an entertaining scrap.
Manley dropped a decision to eventual show winner Colton Smith, and Magny was knocked out by Mike Ricci in his semifinal. Magny did defeat one of the show's favorites in Bristol Marunde in the quarterfinals. That is a significant win for the young prospect.
This fight largely comes down to who has improved more since the end of the show, and he will walk away with his first UFC victory.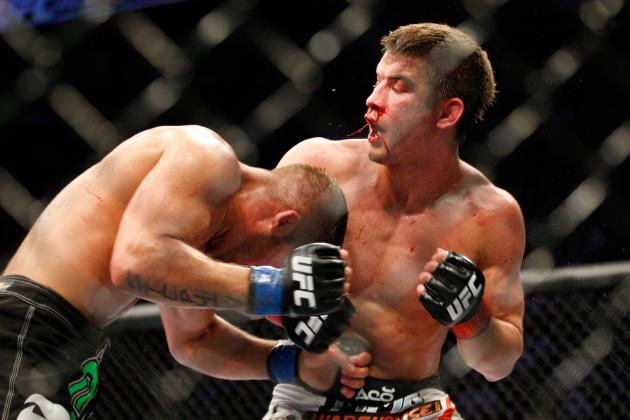 Richard Wolowicz/Getty Images

Sam Stout (18-8-1) and Caros Fodor (7-2) will open up the FX prelims and attempt to erase the memories of their previous fights.
Fodor tapped out to Pat Healy last March, and Stout looked like the wars were catching up to him against John Makdessi.
In any event, this fight looks solid, with two solid lightweights who like to scrap and can grapple as well.
Fodor is trained by Matt Hume, and Stout was one of the late Shawn Tompkins' pupils. This fight could turn into a classic Sam Stout kind of brawl, and that would excite the crowd. Unfortunately, previous performances show that to be less likely.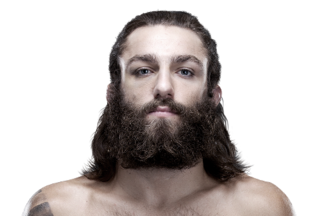 Photo Credit: UFC.com
Michael Chiesa (8-0) returns to the Octagon for the first time since winning The Ultimate Fighter: Live. Awaiting him will be Anton Kuivanen (17-5).
Kuivanen narrowly escaped Mitch Clarke at UFC 149 via split decision to pick up his first UFC win. Chiesa, while a budding prospect, should enter as the favorite.
Chiesa was a great story on The Ultimate Fighter, and winning the show only made it that much better. However, that should not override his skills. He was a consistently fun fighter to watch, and don't look for that to change against Kuivanen.
This is one of those fights that no one is talking about, but it could surprise many in its entertainment value.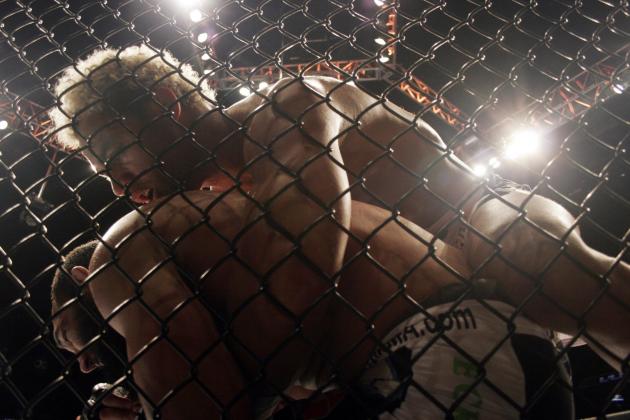 Joe Camporeale-USA TODAY Sports

Two veterans kick off the PPV telecast in Josh Koscheck (17-6) and Robbie Lawler (19-9, 1 NC).
This bout will mark Lawler's return to the 170-pound division.
Both fighters lost decisions in their last fights, and both are wanting to make a final run up the rankings to earn a title shot. This is the first step.
Lawler has routinely been one of the more exciting fighters. His attitude and love for striking is a main cause for that, but Koscheck usually has ideas of taking the fight to the mat against power punchers. That could be a drain, but Koscheck has an entertaining shot.
If Koscheck merely goes into wrestling mode, then this fight will disappoint, but he will try to make it exciting for the crowd. This is a great fight to open the show with.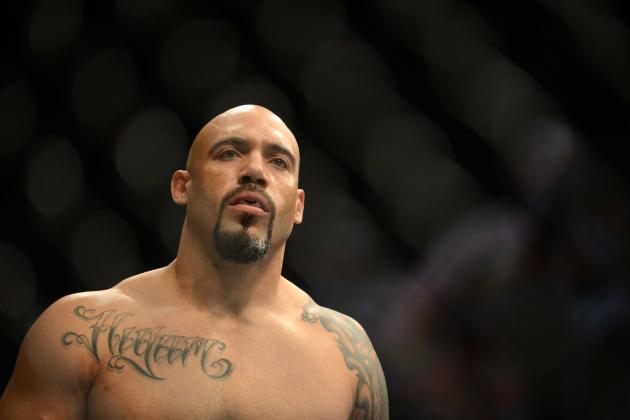 Ron Chenoy-USA TODAY Sports

Brendan Schaub (8-3) returns to the cage after suffering back-to-back knockout losses to Antonio Rodrigo Nogueira and Ben Rothwell. He will try to avoid dropping three straight against the heavy-handed Lavar Johnson (17-6).
This fight has exciting finish written all over it.
Schaub has a questionable chin, and Johnson has power. Johnson lacks good submission defense, and Schaub is not opposed to taking it to the canvas. This will not go to the judges.
Schaub likes to strike and go for the knockout, but that is not his best option for this fight, especially given the outcomes of his most recent battles. This fight headlines FX for a reason. It will give the fans an exciting finish leading into the PPV.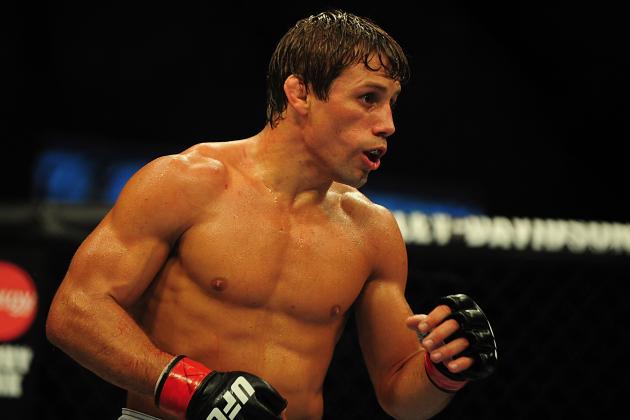 Anne-Marie Sorvin-USA TODAY Sports

Urijah Faber (26-6) and Ivan Menjivar (25-9) have met once before in their careers. It was a 2006 encounter in the old TKO promotion. Faber won via DQ due to an illegal kick. Seven years later, they will settle it at UFC 157.
With the bantamweight division wide open, this is an important fight for both men. A couple of big wins in the division puts anyone in the mix for a title shot. This is their chance.
Faber lost to Renan Barao in the Interim UFC Bantamweight Championship fight, but he is without question one of the top fighters in the weight division still. Menjivar is 4-1 in the Octagon.
If these two bantamweights put on their best performances, it can easily steal Fight of the Night. They are two exciting fighters who, in spite of their extensive experience, are still at the top of their game. It will be an entertaining affair when they mix it up.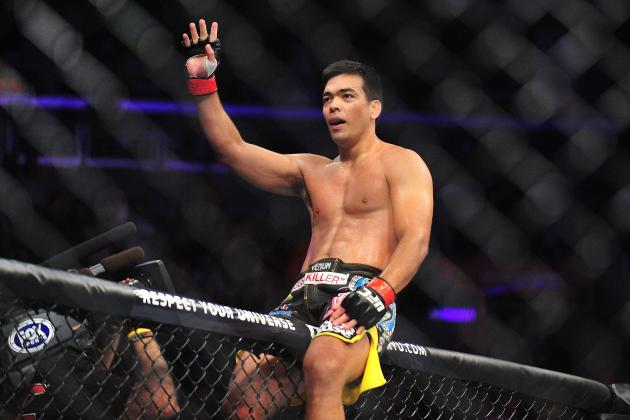 Gary A. Vasquez-USA TODAY Sports

Jon Jones and Chael Sonnen will be glued to their television sets when Lyoto Machida (18-3) and Dan Henderson (29-8) battle in the co-main event of the evening. The winner of this fight will more than likely earn a shot at the UFC Light Heavyweight Championship.
This is a much-anticipated fight with two of the greatest light heavyweights in history squaring off. The pre-fight excitement for this fight will enhance it exponentially.
If the fight will deliver or not depends on how Machida approaches the match. We have seen him be elusive and less than exciting, and we have seen him dazzle us with supreme technique. We know what to expect from his counterpart.
Henderson will look for the knockout.
This may be the most anticipated fight on the card, and for good reason. Any time two legends meet, it is sure to get the adrenaline going.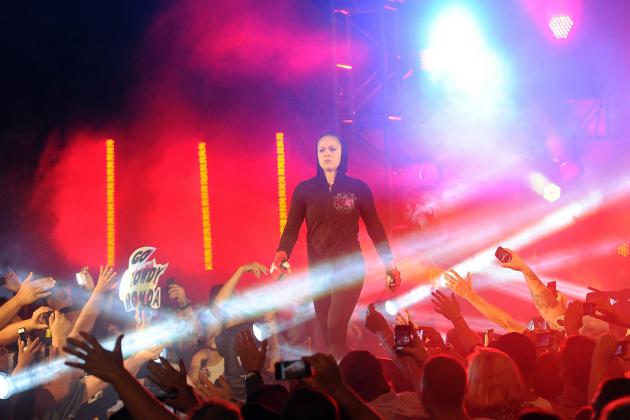 Jayne Kamin-Oncea-USA TODAY Sports

The first-ever women's fight in the UFC is going to set the world ablaze. That is because Ronda Rousey (6-0) is one of the most exciting fighters on the planet today.
She does not give her fights time to be anything less than exciting. She attacks. And she is brutal.
On the other side of the cage will be Liz Carmouche (8-2). She is no slouch, either, and she makes it a point to throw caution to the wind.
This fight will be exciting for however long it lasts. Rousey is for real, and Carmouche is not to be overlooked. They will show the world that women can be just as exciting as the men. They will waste no time in engaging and making fans jump out of their seats.