UFC 157 Fight Card: Info and Predictions for Rousey vs. Carmouche
Photo: UFC.com
UFC 157 takes place on Saturday, Feb. 23, from the Honda Center in Anaheim, Calif. When the bright lights are turned on, all eyes will be fixed on women's bantamweight champion Ronda Rousey when she makes her promotional debut against Liz Carmouche in the main event.
Not only does this mark the first female championship bout in the history of the UFC but also the first time that an openly gay fighter has competed with the organization.
The main card also features former world champions and title contenders from multiple divisions competing in important matchups. Without any further ado, let's take a look at one of the most historically meaningful events of 2013.
Begin Slideshow

»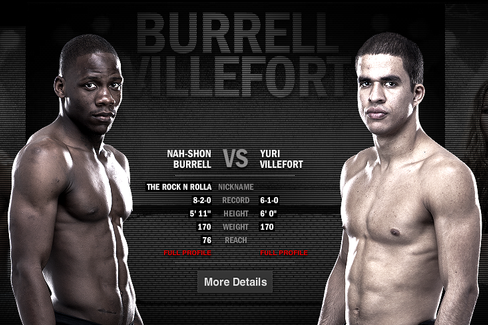 Photo: UFC.com
How To Watch:
Facebook at 6:35 p.m. ET
Preview:
A battle between Strikeforce imports will kick off the show when Nah-Shon Burrell and Yuri Villefort meet in a welterweight matchup. This fight was originally planned for the ill-fated Strikeforce: Melendez vs. Healy event, which was scheduled for last September.
Burrell put together a 3-1 record while fighting in Strikeforce, although his last appearance saw "The Rock-n-Rolla" on the receiving end of a first-round knockout, courtesy of Chris Spang.
Villefort is also on the heels of a loss, which came via split decision in his Strikeforce debut last May.
Burrell should take this contest so long as it remains upright; however, on the ground, I don't like his chances. Villefort has a great grappling game off of his back and is absolutely frightening from top position.
Prediction:
Nah-Shon Burrell defeats Yuri Villefort via unanimous decision.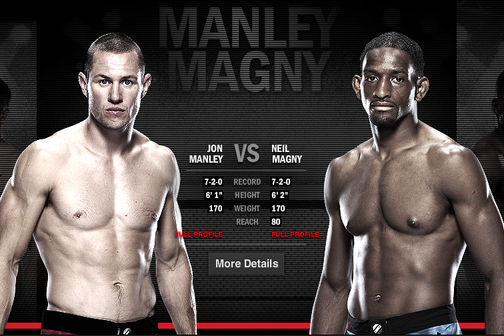 Photo: UFC.com
How To Watch:
Facebook at 6:35 p.m. ET
Preview:
In a battle of The Ultimate Fighter semifinalists, Jon Manley and Neil Magny will compete for the unofficial bronze medal from last season.
With identical 7-2 records, these men make their UFC debuts with a bit of desperation. It's very rare for semifinalists to get more than one post-TUF appearance if they are unsuccessful the first time around.
Magny is a lengthy fighter who should prove troublesome for his opponent. Expect to see him pick Manley apart with combos from a distance as well as with clinch knees.
Prediction:
Neil Magny defeats Jon Manley via TKO in Round 3.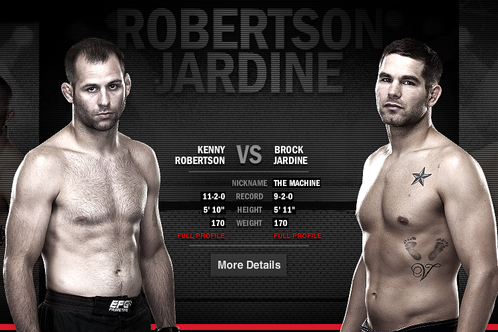 Photo: UFC.com
How To Watch:
Facebook at 6:35 p.m. ET
Preview:
Kenny Robertson might have an 0-2 record while fighting inside the Octagon, but those losses came against perennial grinders Mike Pierce and Aaron Simpson, so they are somewhat forgivable.
Brock Jardine debuted in the UFC with the unenviable task of facing Rick Story, so he too knows what it's like to meet a quality wrestler who has no problem pushing the pace for 15 minutes.
When they meet each other on the Facebook prelims, expect to see a thrilling battle between two finishers who are eager to earn a win under the Zuffa banner.
This one is essentially a coin flip for me, as both men can finish with strikes or submissions on a moment's notice.
Prediction:
Kenny Robertson defeats Brock Jardine via TKO in Round 2.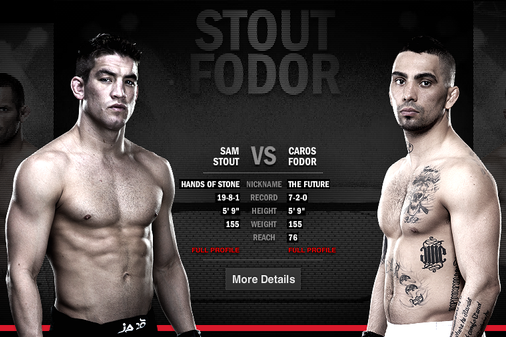 Photo: UFC.com
How To Watch:
FX at 8:00 p.m. ET
Preview:
Sam Stout has some of the best boxing at 155 pounds and has also displayed some excellent submission defense over the years. These skills have earned the Canadian wins over Joe Lauzon, Yves Edwards and Spencer Fisher.
Fodor is one of the brightest prospects to come out of Strikeforce's lightweight talent pool. The Washington native used his well-rounded skills to go 5-1 in the organization, and his sole loss came against top-ranked Pat Healy.
Once a serious contender at 155 pounds, Stout hasn't seemed to have the fire he once possessed since the death of trainer Shawn Tompkins. That alone makes it difficult to predict in what sort of state he will arrive.
Prediction:
Caros Fodor defeats Sam Stout via unanimous decision.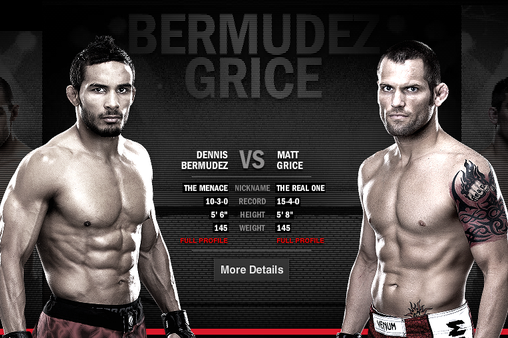 Photo: UFC.com
How To Watch:
FX at 8:00 p.m. ET
Preview:
Dennis Bermudez and Matt Grice may not be the most household of names in the UFC's featherweight division, but each man has some excellent momentum on his side.
Bermudez has back-to-back wins inside the Octagon, while Grice pulled off an upset win over WEC mainstay Leonard Garcia last summer.
Grice has stellar wrestling and will look to put Bermudez on his back in this fight. Although "The Menace" also has a background rooted in wrestling, his pedigree is not on the same level as Grice.
Considering that The Ultimate Fighter winner has no victories while fighting from bottom position, it's hard to see him stopping the grinding that comes in his direction.
Prediction:
Matt Grice defeats Dennis Bermudez via unanimous decision.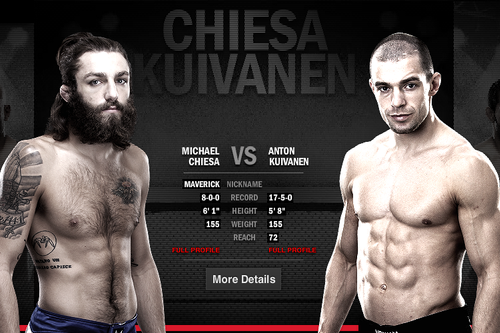 Photo: UFC.com
How To Watch:
FX at 8:00 p.m. ET
Preview:
On Saturday night, The Ultimate Fighter winner Michael Chiesa will be making his first appearance since winning Season 15 of the competition. He takes on Estonian fighter Anton Kuivanen, who has a 1-1 record inside the Octagon.
It looks as if the UFC is looking to set up Chiesa with an easy win here, as Kuivanen is about as low on the divisional ladder as they come.
Chiesa will use superior grappling to score a quick submission.
Prediction:
Michael Chiesa defeats Anton Kuivanen via submission in Round 1.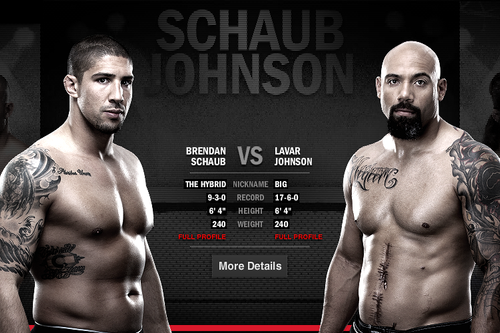 Photo: UFC.com
How To Watch:
FX at 8:00 p.m. ET
Preview:
The big boys collide in the featured contest of the FX prelims, as Brendan Schaub and Lavar Johnson hope to return to their winning ways.
Both fighters are known for their knockout power, and of their six combined wins inside the Octagon, five have come by way of KO or TKO.
Similar to the UFC 132 matchup between Chris Leben and Wanderlei Silva, this fight will come down to which powerhouse brawler has the better chin. Unfortunately for Schaub, that simply isn't him.
Prediction:
Lavar Johnson defeats Brendan Schaub via knockout in Round 1.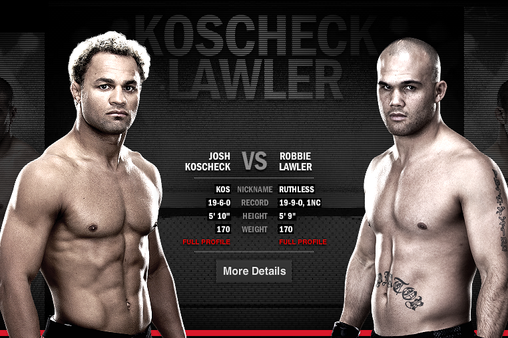 Photo: UFC.com
How To Watch:
Pay-per-view at 10:00 p.m. ET
Preview:
In an interesting battle between one-time UFC standouts, Josh Koscheck and Robbie Lawler will square off to kick off the main card.
Koscheck is technically coming off a loss, although the split decision against Johny Hendricks is somewhat controversial. Otherwise, "Kos" would be on a three-fight winning streak and on the cusp of re-entering title contention.
Lawler was once a top prospect in the UFC's welterweight division, but in recent years he has been competing as a middleweight. In his most recent run, "Ruthless" has lost five of his last eight contests.
Every puncher has a chance, but I don't like Lawler in this fight. Koscheck is better everywhere that this fight could go.
Prediction:
Josh Koscheck defeats Robbie Lawler via unanimous decision.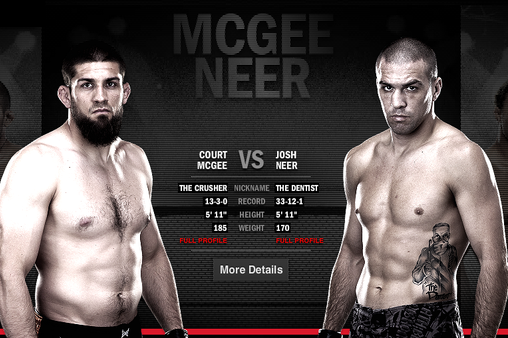 Photo: UFC.com
How To Watch:
Pay-per-view at 10:00 p.m. ET
Preview:
When Chad Mendes vs. Manny Gamburyan was removed from this card after an injury to the Armenian, something needed to be bumped onto the main card. For that reason only, this welterweight matchup between fighters on two-fight losing streaks finds its way onto the pay-per-view.
The Ultimate Fighter winner Court McGee makes his welterweight debut in this matchup against dangerous journeyman Josh Neer.
While McGee started his UFC career with three wins, he has yet to defeat a well-rounded tough guy like Neer. "The Dentist" has more than 30 professional wins and can knock you out just as easily as tap you out with a choke.
I think the strength advantage of McGee will be the deciding factor here, and he will use it to punish Neer from the clinch and score takedowns to earn the win in an ugly fight.
Prediction:
Court McGee defeats Josh Neer via unanimous decision.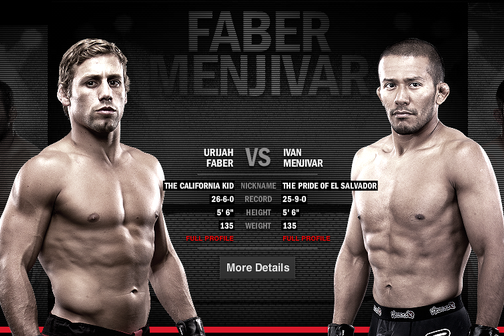 Photo: UFC.com
How To Watch:
Pay-per-view at 10:00 p.m. ET
Preview:
On the third fight of the main card, Urijah Faber meets Ivan Menjivar in a rematch that no one was asking for.
Faber was victorious in the first fight after Menjivar was disqualified for throwing illegal knees. Since that 2006 meeting, Faber went on to be one of the most successful lighter weight fighters on the planet, while Menjivar has struggled to find his footing.
Neither man sports a great record in recent years, as Faber has lost half of his last 10 fights and Menjivar came up short in four of his last nine.
Faber is the overall better fighter here, but he will not be able to use his sharp submission game against a superior grappler in Menjivar. However, "The California Kid" should be able to outwork his Canadian foe.
Prediction:
Urijah Faber defeats Ivan Menjivar via TKO in Round 3.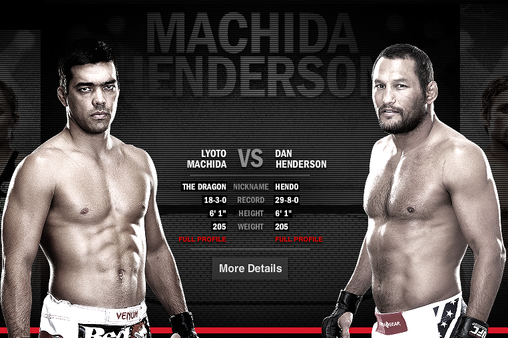 Photo: UFC.com
How To Watch:
Pay-per-view at 10:00 p.m. ET
Preview:
Light heavyweights collide with a title shot on the line in the evening's co-main event. Little introduction is needed for former world champions Lyoto Machida and
Dan Henderson
, who both have titleholder Jon Jones in their crosshairs.
Machida has a speed advantage here and is incredibly hard to land shots on. However, if Henderson is going to be victorious, the iron-fisted powerhouse will only need to land one well-placed shot.
Can Machida avoid the power-striking of Henderson? Absolutely. He is one of the most elusive fighters on the planet and has excellent takedown defense to boot.
This is a stylistic nightmare for Henderson, who will have trouble landing punches and will get counterattacked by one of the most dangerous fighters on the planet. The biggest question lies in whether "The Dragon's" epic standup will allow him to become the first man to TKO the cement chin of Hendo.
Prediction:
Lyoto Machida defeats Dan Henderson via unanimous decision.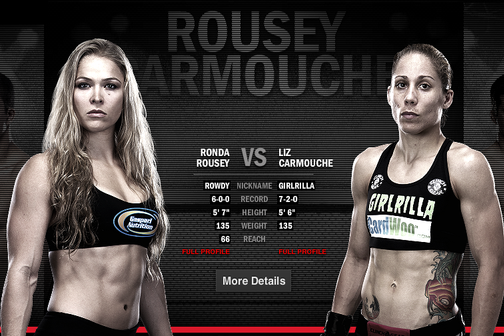 Photo: UFC.com
How To Watch:
Pay-per-view at 10:00 p.m. ET
Preview:
This is a fight that will likely take longer to read about in the history books than it does to actually witness. As the first female fight in UFC history and the first time that an openly gay fighter has competed inside the Octagon, this contest has serious significance.
Ronda Rousey is an Olympian whose judo skills, trash-talking abilities and tendency to secure quick armbar finishes quickly made her a world champion in Strikeforce.
Liz Carmouche gets to be in this fight because she is
reportedly
the highest ranked female fighter who accepted the matchup.
In every single fight of her career, Rousey has scored a first-round armbar, and in only once instance has a fight lasted longer than 60 seconds. There is little reason to believe that Carmouche has found the game plan needed to keep this fight standing or save her arm from being ravaged by her superior opponent.
Prediction:
Ronda Rousey defeats Liz Carmouche via submission in Round 1.