Florida State Football: Orange Bowl Proves Need for Seminoles to Ditch ACC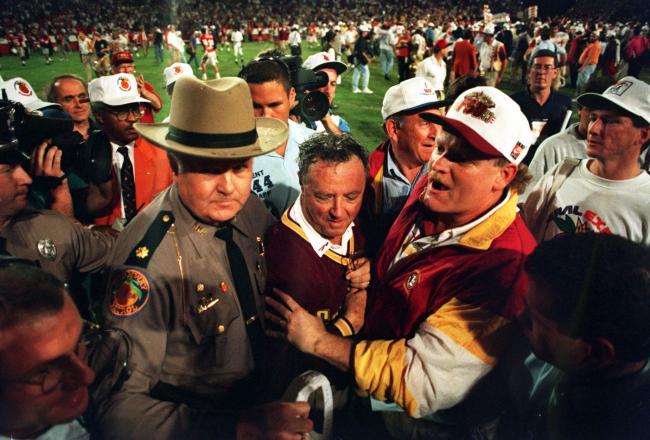 Florida State won its first national championship in the Orange Bowl.
Rick Stewart/Getty Images
The Orange Bowl certainly isn't what it used to be.
Florida State is no longer winning national titles there, and dream matchups like FSU-Miami, FSU-Nebraska, and Miami-Nebraska just don't happen anymore.
Atlantic Coast Conference teams (despite the Seminoles' victory over BCS-buster Northern Illinois) have won only three games in the BCS era, and two of those victories are from the Tribe. Even when the Seminoles won on New Year's, the school left Miami with a $300,000 deficit (though the ACC is helping to cover the cost).
The fans have spoken: The allure of even a BCS bowl is not enough for Seminoles if it comes in the ACC.
The Seminoles should pack up and head to another conference.
Let's list some suitors.
The Big 12, which has been in talks for an out-of-conference scheduling deal with the ACC, wants to get the most bang for its buck. It doesn't want to expand for the sake of expanding, but the conference might be interested in a conference championship game.
While Big 12 Commissioner Bob Bowlsby has appealed for his 10-team conference to have a championship game, he has also considered how an extra game to lose might impact the conference champion in the playoff era.
There is one thing that Bowlsby, or any other commissioner, wants: more money.
Florida State is one of the flagships of college football, a power that stands out despite being surrounded by (as of now) more successful neighbors such as Alabama and Florida.
Where do you think the Seminoles will end up in conference realignment?
With such a great football following and its presence in one of the most populous states in the union, the Big 12 should take advantage of the market Florida State brings.
Of course, there are last year's rumors to fuel the fire for such a move.
A second option is the Big Ten—eventually, and if you believe the rumor. This theory is an offshoot of more a prominent rumor that the Big Ten has been looking to add schools as far south as Atlanta (Georgia Tech).
The Big Ten, which wants to expand south into larger population markets, would get a solid foothold in the South with Florida State (Atlanta is basically SEC country, with the conference championship game there every year).
The question is: Are Big Ten commissioner Jim Delany and other league representatives willing to overlook the Seminoles' "lagging" academics?
Being a member of the ACC has paid off for the 'Noles academically (a huge plus), but not enough to currently satisfy the Big Ten without question. Florida State, despite being ranked as a Top 100 University by the current edition of U.S. News and World Report, is not a member of the American Association of Universities.
Almost all Big Ten members are part of the AAU (except Nebraska, which was kicked out after it joined the league), and while Florida State is a respectable institution, it has yet to attain that caliber of academic prestige. However, the chance to snatch a diamond program out of SEC country might be too enticing for Delany to turn down.
Of course, such events could transpire some time soon. If the Seminoles are desperate, they can join the Big 12, but the Big Ten will have at least a couple of ACC members and will be making money through the roof in the 2020s: enough to cover the $50 million exit fee to leave the ACC.
Note that the Seminoles, along with Maryland, voted against the higher exit fee. Maryland packed its bags and is going to the Big Ten. Florida State can certainly enhance its academic stature by then, and who would want to turn down games with Ohio State and Michigan? Sure, they're farther away, but who is going to go to a Boston College or Syracuse game?
In addition, rivalries with Texas and Oklahoma could be what it takes to invigorate FSU's weak conference schedule. Either way, the Seminoles have a bright future ahead of them, unless you want them to stay in the ACC.
In that case, I highly recommend you buy tickets for next year's Orange Bowl.
This article is
What is the duplicate article?
Why is this article offensive?
Where is this article plagiarized from?
Why is this article poorly edited?

Florida State Football: Like this team?