4 Reasons Red Sox Fans Should Be Optimistic Heading into Spring Training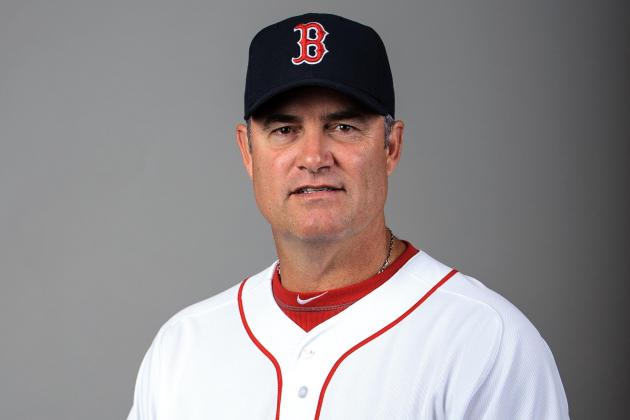 USA TODAY Sports

The 2012 Boston Red Sox squad was a major disappointment from manager to the players themselves. This year's squad has a little bit of the pop from last year, but without all the drama from a crazy manager and players who felt entitled to the sport with lofty contracts and ample amount of playing time.
John Farrell is now in control of everything, including a recent skirmish with pitcher Alfredo Aceves. According to The Boston Globe, after the incident, Farrell said "We're good." The new manager handled the situation really well, and his ability to manage this squad is one of multiple reasons there should be some optimism for 2013.
Begin Slideshow

»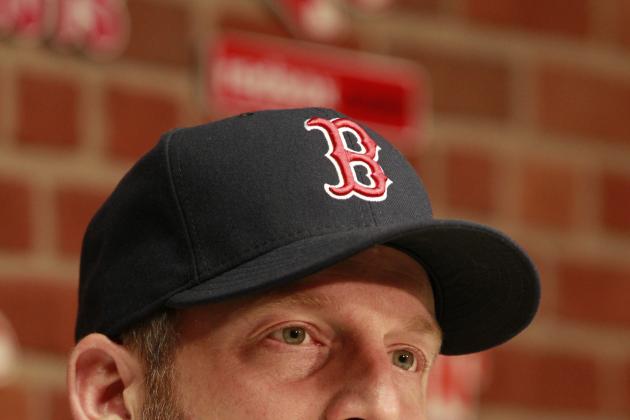 Greg M. Cooper-USA TODAY Sports

Ryan Dempster has 15 years of MLB experience, which can really help the rest of the starting five on this Red Sox squad.
The 35-year-old had really been the leader of the Chicago Cubs' staff for several years before being traded to the Texas Rangers last season. He has a presence on the mound as well as in the clubhouse. He is one of those guys that makes teammates laugh and can show the younger pitchers the ropes throughout the 162-game season.
Dempster may not be the dominant ace he was against the NL Central with the Cubs, but he will be able to put up some quality numbers once he gets situated in the rotation. His leadership ability is way more important than his ability to get 12 or more wins.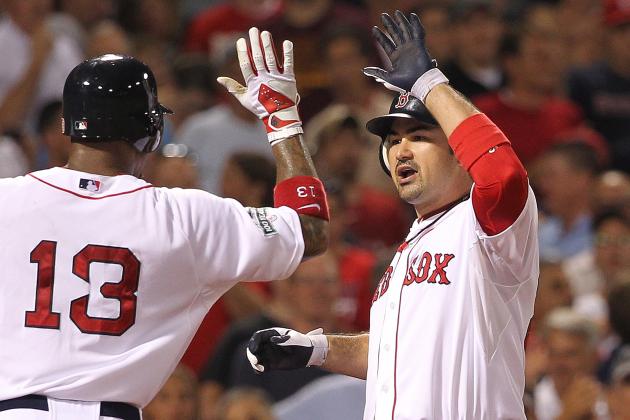 Jim Rogash/Getty Images

Adrian Gonzalez, Carl Crawford and Josh Beckett were traded away last August, and so was the sense of entitlement that was on this Red Sox team for the last several seasons.
The players who complained about the schedule, couldn't perform under pressure and decided to gain weight instead of training as much as they could were shipped off to the Los Angeles Dodgers.
This type of fresh start is rare in MLB because teams would rather spend money on one big free agent and not trade a couple prospects for three salary-eating ones. The Dodgers, however, needed to make a splash and the Red Sox needed a new identity.
That new identity has yet to be found, but being less entitled to schedule changes and other non-issues with most players is a great start heading into spring training.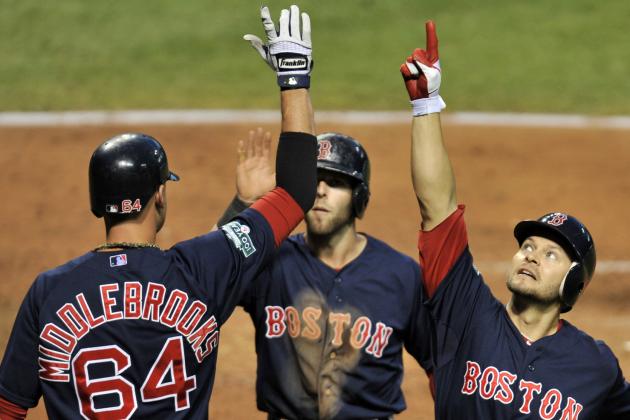 David Richard-USA TODAY Sports

From Will Middlebrooks to Dustin Pedroia, there are some Red Sox players that are trying to prove that they can stay healthy or consistent for a full season.
For instance, Middlebrooks was hit by a mid-90s fastball that fractured his wrist. He will now have to regain confidence in his swing and not be too afraid of the inside. The young third baseman will need to prove that his rookie campaign was not a fluke and have a great 162-game season in 2013.
Other players, such as Jon Lester, Clay Buchholz and Pedroia, all need to show that they can bounce back after dealing with disappointing 2012 season. Shane Victorino also has to deal with the fact that he is coming into a new team, but so far he is melding great with his teammates.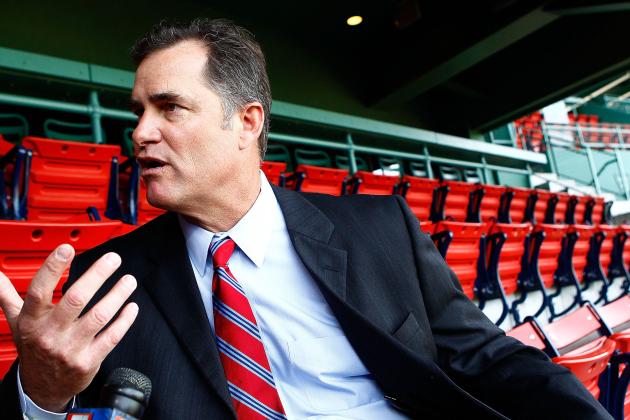 Jared Wickerham/Getty Images

Farrell was a very demanding and respected pitching coach when he was with Boston. The starting staff feared him and would never have had taken advantage of him during his tenure with the Red Sox.
When he was offered the manager position for the Toronto Blue Jays, he was still the respectable man he was with the Red Sox, but demanded even more from his roster. He wanted them to do all the little things right and focused on making the Blue Jays better.
In his two years, the Blue Jays pitching staff slowly improved, but had to deal with some injuries. Also, a couple hitters began to blossom, such as Edwin Encarnacion. He might not be the main factor involved in these changes, but he definitely helped with his firm management style.
This style is perfect for the Red Sox fans out there who want to see a team that wants to win games and motivation is key for Farrell to get this team back into the playoffs.