Kentucky Basketball: Best and Worst Case Scenarios for 2013 Recruits Next Year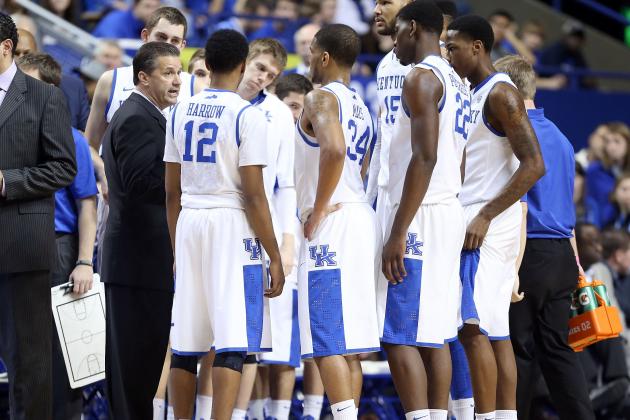 Andy Lyons/Getty Images

We've seen the best and worst case scenario's for Kentucky basketball and John Calipari's recruiting method during the last two years.
With the Wildcats struggling this year, much of Big Blue Nation is already looking forward to the 2013-14 season when one of the highest regarded recruiting classes come to Lexington.
We'll take a look at the best and worst case scenarios for Andrew Harrison, Aaron Harrison, Marcus Lee, James Young and Dakari Johnson. Scenarios will be based on past players in Lexington under Calipari to predict these players' success during their time at Kentucky.
Begin Slideshow

»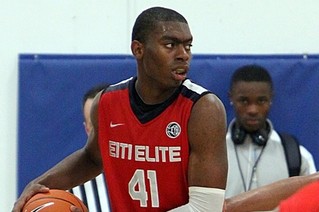 www.wildcatworld.com
Best-Case Scenario
The No. 11 recruit comes into Lexington and becomes the second-coming of DeMarcus Cousins. No: Not the Cousins everyone thinks of now. The one from Kentucky. The one who dominated the post and boards as a freshman. Johnson has that type of talent to overtake a game from the center position.
Johnson constantly puts up double-doubles at Montverde (Fla.) Academy and is averaging 20 points and 12 rebounds. Known for being a hard-worker in games and practice, Johnson becomes the force Big Blue Nation expects.
Best-case scenario is he mimics Cousins, but gains more respect and is named to an All-American team, while averaging a double-double in college leading to a lottery pick in the 2014 NBA draft.
Worst-Case Scenario
While it may not be worst-case scenario for Kentucky fans, think if Nerlens Noel and Willie Cauley-Stein return to Lexington for their sophomore years. Sure, it may be a stretch for Noel to come back. Maybe he doesn't feel comfortable with his knee or NBA GM's aren't comfortable, so he decides to come back for another year to bring his stock back up.
That creates a log jam at the big man spot with Johnson, Noel, Cauley-Stein, Kyle Wiltjer and Marcus Lee. It will drastically cut Johnson's minutes and doesn't allow him to adjust to the college game. He becomes a player more like Daniel Orton who plays minimal minutes and doesn't live up to his high school talent.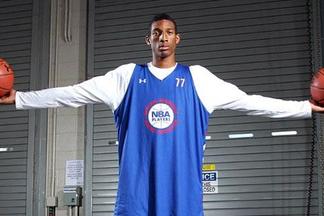 www.espn.com
Best-Case Scenario
Marcus Lee might be the most underrated recruit for Kentucky. Hard to believe that sentence when he's rated No. 18 by ESPN in the class of 2013. However, he averaging 17 points per game, 20 rebounds, seven blocks and four assists at Deer Park High School.
The best-case scenario for the California native would be beating Kyle Wiltjer and Willie Cauley-Stein out for the starting power forward spot. With his length and wingspan he becomes the next great shot blocker under Calipari and breaks Anthony Davis' single-season record. During the season he continues to fly under the radar due solely to his teammates, but he leads the nation in blocked shots and rebounds. Then discussion of the No. 1 overall pick in the draft could begin.
He's not just a defensive presence, though. he can score as well. Lee averages a double-double and becomes close to a triple-double by averaging over six blocks per game. He also averages over three steals a game and makes Kentucky fans forget about the great defender Nerlens Noel.
Worst-Case Scenario
Known as a dominant defender, he beings to defer while on offense. He immediately becomes the lead member of the Calipari doghouse due to his lack of offensive threat and becoming too hesitant. Sure, he may become a decent defender, but you have Dakari Johnson and Willie Cauley-Stein to do that.
Calipari replaces Lee with Kyle Wiltjer for an offensive presence and Lee begins to question his ability even more. We quickly see him fall into a trance like Alex Poythress, and while he puts together a great game he goes another six games in a row with average play.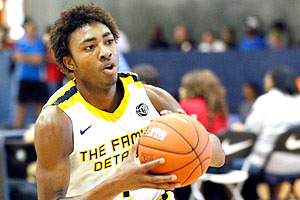 www.espn.com
Best-Case Scenario
James Young can score anywhere. The No. 6 recruit according to ESPN has the ability to shoot almost anywhere inside the half court, and he leads the 2013-14 national champion Kentucky Wildcats in scoring.
He proves he's not just a scorer though—earlier this year he recorded 43 points and 22 rebounds—and becomes a lock-down defender as well as a guard that can crash the boards. Young becomes the most reliable player for Calipari and arguably the most important person to have on the court for the Wildcats.
The left-hander forms a bond with the Harrison twins, and their chemistry helps lead Kentucky to its second championship under Calipari. He becomes a better Doron Lamb in the process and a first round draft pick.
Worst-Case Scenario
He starts the season in a slump shooting from the outside and never recovers. He has a similar year to what Archie Goodwin is currently having. He becomes frustrating for Big Blue Nation to watch, and they begin to turn on him—groaning every time a shot of his goes up.
Worried about his offensive game too much, he slacks on defense and is unable to use his 6'5" frame to help guard small forwards. He finds a spot on the bench next to assistant coach Kenny Payne.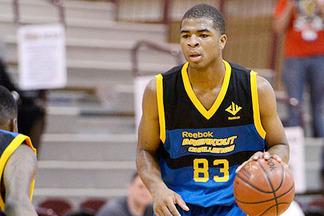 www.nationofblue.com
Best-Case Scenario
With the comfort of running the back court with his brother Andrew, Aaron adjusts to the college game immediately and finds open shots early and often.
Aaron Harrison quickly asserts himself as one of the best scorers Kentucky and in the country. He shows his range early on, causing defenders to have to play him almost the minute he steps into the half court.
While using practice as a method of competitive fire against James Young, Aaron Harrison becomes one of the leaders on this young team and helps guide the Wildcats to a deep March run.
Worst-Case Scenario
Aaron Harrison clashes with teammate James Young early and causes a rift in the locker room. It becomes a battle on who can get their shot up first, and ball movement is minimal once the Wildcats get to the offensive side of the floor.
He forces his brother to pick sides, splitting the offensive side of the court. Too often the bigs are upset that they don't touch the ball, and it forces Aaron Harrison to think of himself and himself only. Calipari eventually goes with a big lineup by moving Young to the 2-guard and playing Wiltjer, Lee and Johnson in the front court.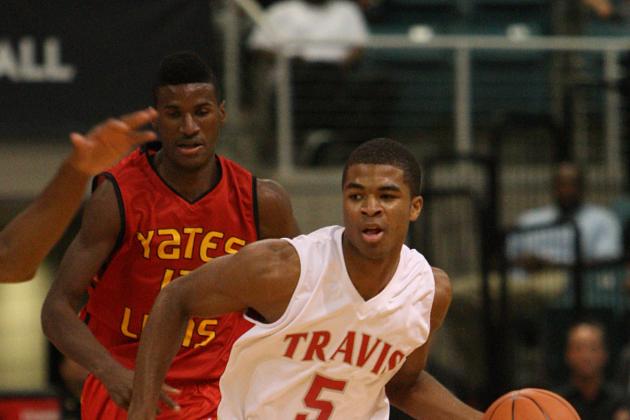 www.ukrecruiting.bloginky.com
Best-Case Scenario
Andrew Harrison has all the skills to be the best point guard to play under John Calipari.
Harrison has some of the best instincts for a point guard coming out of high school, and the tutelage of Calipari will only help his development. Standing at 6'6" and with a 6'8" wingspan, Harrison is incredibly hard to guard.
While Harrison is a pass-first point guard, he also has the ability to score: He is averaging over 13 points per game this season.
Harrison becomes a preseason All-American and preseason pick to win SEC Player of the Year and lives up to the hype. He leads the country in assists and averages a double-double, scoring a shade over 10 points per game.
He becomes the best point guard under Calipari and wins MOP of the Final Four for Kentucky, who watches One Shining Moment again.
Worst-Case Scenario
Andrew Harrison re-injures the knee that has kept him out of 11 games this season. He is forced miss games and becomes a step slower.
Harrison becomes turnover-prone during the season and loses minutes to returning junior Ryan Harrow and senior Jarrod Polson. He lets his play affect him and is upset by the lack of playing time. He shows bad body language and gets pulled from the starting lineup for a couple of games.
Harrison never bounces back, averages under 10 points per game and five assists. He still declares early for the NBA due to his potential, and the greatest recruiting class becomes the one that never was as Kentucky stumbles in the Sweet 16.