Auburn Football: Previewing the Tigers 2013 Quarterback Battle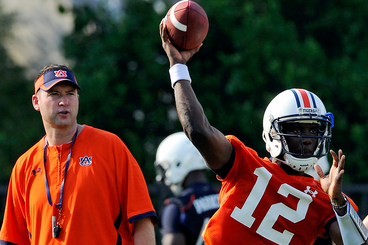 Auburn QB Jonathan Wallace (Courtesy of al.com)
The unpredictable 2013 recruiting cycle has basically come to a close for Auburn, but the toughest part of the offseason may still be ahead. The Tigers coaches must pick a quarterback who they trust to lead the team in the 2013 season.
Auburn is one of a handful of programs that still doesn't know who will take the snaps from center when the season kicks off. No other program's competition is as "wide open" as the Tigers' is going into the spring, and with so many athletes vying for one position, both good and bad will be seen.
Five quarterbacks will battle for the spot as Auburn's top signal-caller—each possessing a different skill set that could set him apart as the future of Gus Malzahn's run-and-gun offense.
Begin Slideshow

»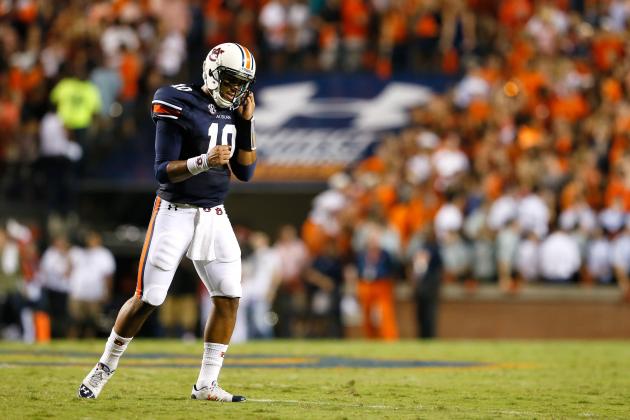 Kevin C. Cox/Getty Images
Kiehl Frazier
Kiehl Frazier is in the most interesting position, as this quarterback battle starts to heat up.
The former national high school player of the year earned an opportunity to start for the Tigers in 2012, but after stumbling out of the gate and "leading" the Tigers to a 1-4 start, the then-sophomore was benched.
At that time it was obvious that Frazier's confidence was shaken, and he was not ready for the role that he was asked to take on; but there's a chance that another offseason and the change to a more familiar offensive philosophy could be all the young quarterback needs to finally live up to his full potential.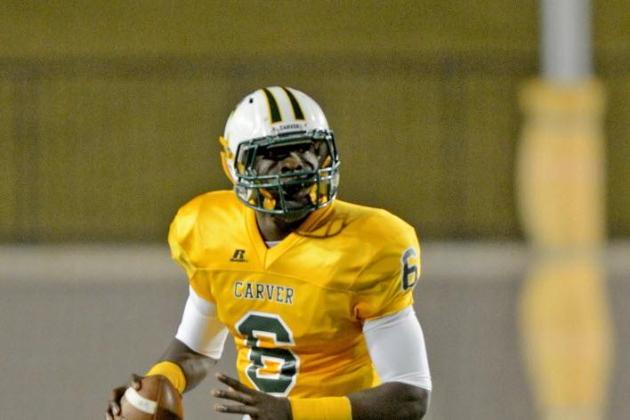 Jeremy Johnson (courtesy of al.com)
One thing's for sure, the nation's fifth-ranked quarterback is the future of Auburn football, but the question remains: Is he ready to start right away?
Gus Malzahn seems to think that Alabama's Mr. Football will be ready to contribute—and soon. On national signing day, Malzahn spoke highly of the top-tier quarterback, calling him one of the "centerpieces" of this year's recruiting class.
"I've got the mindset of going in and playing" said Johnson, who led the Carver Wolverines to a 12-2 record this season while passing for 3,193 yards, 31 touchdowns and rushing for 706 yards in 2012.
Fans won't know if Johnson will have the opportunity to start for the Tigers in 2013 until August, but the young gunslinger has all the tools necessary to make this quarterback battle interesting.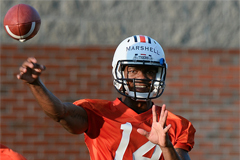 Photo courtesy of 247sports.com
Nick Marshall's path to Auburn has been unconventional to say the least, but it could end with a National Championship and a Heisman trophy. That's right, the junior college quarterback, who set Georgia high school records, has made his goals clear.
"(I want to) bring a national championship here (and) win the Heisman" said the strong-armed signal-caller. The interesting thing about that is, with his athleticism and Gus Malzahn's spread offense, Marshall might be able to do just that.
Marshall excelled at Garden City C.C, passing for over 3,000 yards and rushing for over 1,000 last season alone.
Malzahn did not hide the fact that he sees something special in the young quarterback, calling him, "one of those impact players who throws the ball extremely well and has a very strong arm." He added, "We feel like he could come in here and give us a chance right off the bat."
This strong praise from coach Malzahn is not unwarranted. Marshall has experience playing and succeeding at the college level—something that no other current Auburn quarterback has done.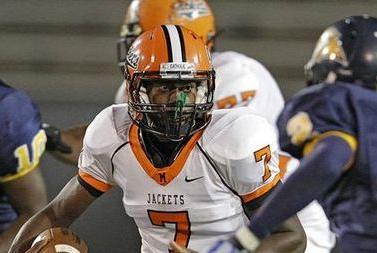 Jason Smith (courtesy of al.com)
Smith might be the most athletic of all five potential starters, but it's very likely he will find himself playing a position other than quarterback once the fall rolls around.
Smith led his high school team on a playoff run in 2012, while passing for over 1,500 yards and tossing in 19 touchdowns. His versatility earned the young athlete a position in the Alabama-Mississippi All-Star Classic, where Smith played wide receiver and hauled in six catches for 134 yards, enough to earn him MVP honors.
According to Coach Malzahn, Smith will get a "shot at quarterback" once camp starts, but with all the talent available in the backfield, fans must wonder if Smith will stay at that position or be asked to make a change.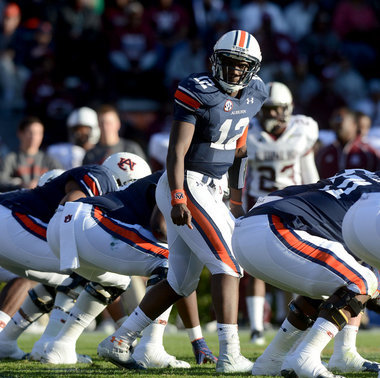 Jonathan Wallace (courtesy of al.com)
Jonathan Wallace came off of the bench and started the final four games of 2012 for the Tigers. As a starter, Wallace lead Auburn to a 2-2 record and saw his share of failures and successes, both on the ground and through the air.
His best statistical performance came in a loss against Texas A&M. Wallace threw for 122 yards and two touchdowns, while adding 71 yards on the ground. By the season's end, Wallace set the Auburn freshman record for QB efficiency (139.60).
Last season, Wallace was praised by his teammates for his work ethic and does not appear to be the kind of person who would simply give up his starting spot. With this hard-working spirit, and the added experience that he brings to the table, Wallace enters the spring as one of the favorites to win this competition.