Tiger Woods is a workhorse. A golfer doesn't make as many successful swing changes as the world's No. 2 player without taking practice sessions seriously. So it was an interesting change of pace to see him tee it up with President Barack Obama over the weekend.
Tim Rosaforte of the Golf Channel broke the news. He called the grouping of Woods and Obama a "historic day for golf." There weren't many updates beyond that point, however, as the round was closed to anybody hoping to follow the duo and their playing partners around the course.
The President is arriving at The Floridian range. Awaiting is Tiger Woods and club owner Jim Crane. Historic day in golf. Their first round.

— Tim

Rosaforte

(@TimRosaforte) February 17, 2013
Woods is preparing for this week's Accenture Match Play Championship, a bracket-style event that he's won three times in the past. Normally, that would mean spending a lot of time practicing at home getting ready for a potential five-day grind.
Instead, he was at The Floridian to play 18 holes with the President of the United States, which is probably one of the few cases where Woods was willing to deviate from his practice regiment. It was their first time playing together.
More details about the round will likely trickle out eventually, but they are limited as of right now. Former Woods coach Butch Harmon, who also worked with Obama on his swing, passed along some of the range fodder to Golf Digest.
"Just to see the interaction between the two on the range was pretty neat," said Harmon, who was on the tee. "The President said to Tiger, 'The last tournament you played was fun to watch. It's good to see you play well again.' You could tell he meant it. It just wasn't a throw it out compliment."
It's the type of round that would have drawn massive television ratings, if made available. Watching one of the world's most well-known athletes playing a sport he's dominated with a sitting President would be can't-miss TV.
Unfortunately, that wasn't the case. But it was still a chance for Woods to get a leisurely round in before a pressure-packed tournament that's set to begin on Wednesday. He's scheduled to face veteran Charles Howell III in the opening round.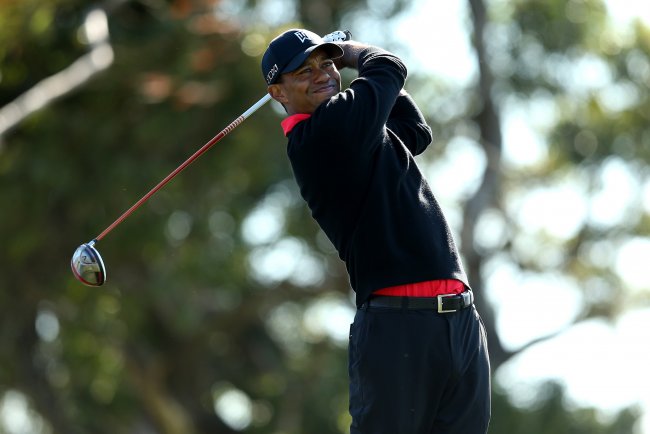 Stephen Dunn/Getty Images
Perhaps the most intriguing aspect of the event is the fact Rory McIlroy was slotted on the other side of the bracket. That means there's a possible monumental collision on the horizon. Both players have to win five other matches first, though.
How far will Woods advance this week?
Will Woods' friendly round with Obama help him at all once the tournament starts? Probably not, but it's something he's been looking forward to for almost four years, according to the Golf Channel, so it certainly won't hurt.
These opportunities to pair up for a round are limited, especially given their busy schedules. But it's something neither guy will soon forget, regardless of how they played. And it was a nice change of pace for Woods.
He's coming off a win at the Farmers Insurance Open, where he showed off some vintage form to pull away from the field. Now he'll try to go back-to-back, maybe with a couple tips from the president up his sleeve.