Colorado Avalanche Reportedly Talked to New York Rangers About Ryan O'Reilly
Use your ← → (arrow) keys to browse more stories
Debby Wong-USA TODAY Sports
Is Ryan O'Reilly headed to New York?
Ryan O'Reilly may soon be a member of the New York Rangers.
The Colorado Avalanche have stumbled to come to an agreement on a new contract for the restricted free agent who led the team in points just a year ago. O'Reilly, who played in Russia during the NHL lockout, has rejected every offer the Avs have presented him with.
The stalemate has to end eventually, and as time drags on, it becomes more and more likely that Colorado decides to trade the young center instead of hoping that he signs on the dotted line to play for them anytime in the near future.
Mike Chambers of the Denver Post reports that, "because of an impasse in negotiations between O'Reilly and the Avs, the team is listening to trade offers."
It appears that one of the teams interested in acquiring one of the top two-way centers in the league is New York. Pat Leonard of the New York Daily News confirmed the interest:
That dearth of consistent centers is also why, according to a Friday report the Daily News has confirmed, the Rangers are one of several teams who have shown interest in restricted free agent center Ryan O'Reilly, 22, who appears more likely to leave the Colorado Avalanche via trade or offer sheet than to re-sign with the Western Conference club.
So what could Colorado get from the Rangers if New York really wanted to get its hands on O'Reilly?
Elliotte Friedman said during Hockey Night in Canada (h/t Adrian Dater of the Denver Post) that Colorado asked for Michael Del Zotto and another prospect that could have been either Chris Kreider or J.T. Miller. Dater notes that Colorado is clearly trying to get the best deal possible if it's going to give up on trying to re-sign him.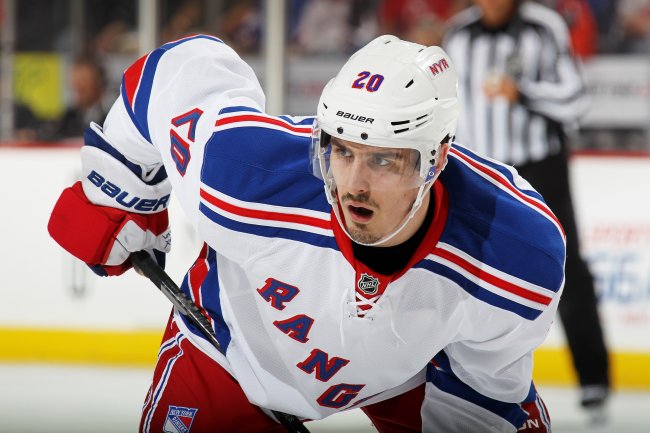 Bruce Bennett/Getty Images
Del Zotto is a good defenseman who would provide a major boost to Colorado's lackluster defense. The Avs are tied for the second-fewest points in the NHL and have given up an average of 2.92 goals per game this season, 19th in the league.
Who would win a deal that sends O'Reilly to the Rangers?
Part of Colorado's problem is that the defense hasn't played well whatsoever. Careless mistakes are constantly being made and goals by the opposition are being scored because of them. The Avs also don't have a goal from a defenseman this season, the only team in the NHL without one.
Several players are banged up and it doesn't seem like things will get better.
Del Zotto would at least give the Avalanche another option that has the potential of putting the puck in the net. Erik Johnson is currently Colorado's top two-way defenseman, but he only has one point in 11 games and no goals on 21 shots.
Looking past Del Zotto, acquiring Kreider or Miller would be enormous for the Avs. Both are two of New York's best prospects and they've already seen time on NHL ice. There isn't a waiting period if Colorado lands one of the two. They can make an immediate impact in the daily lineup for the Avs.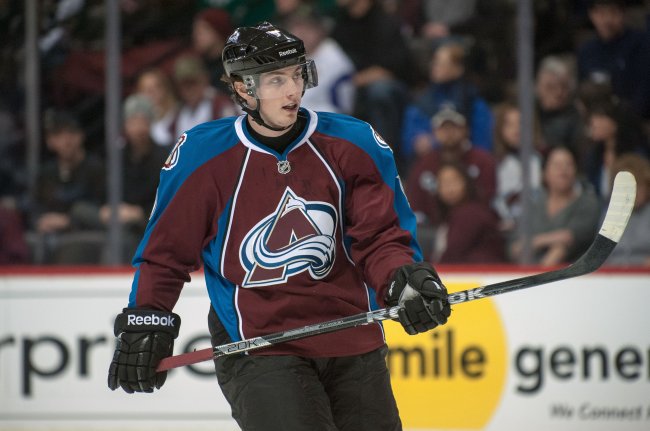 Dustin Bradford/Getty Images
Colorado already has a ton of young talent, but adding more couldn't hurt. The Avs could end up having a team that features Matt Duchene, Gabriel Landeskog, P.A. Parenteau, Joey Hishon, Michael Sgarbossa, Stefan Elliott, Duncan Siemens and either Kreider or Miller, among others.
That, right there, is a team with a bunch of talent and a bunch of potential.
Obviously, O'Reilly brings a lot to the table when he's on the ice, but if Colorado really wanted him on the ice, he'd be there. The Avs have the money to bring him back, but it appears that the bridges have already been burned.
If the Rangers are willing to give up Del Zotto and Miller or Kreider, Colorado general manager Greg Sherman needs to pull the trigger immediately.